League of Light: Dark Omens
Exclusive
The year is 1866. You've travelled for days to reach a castle hidden deep in the Carpathian Mountains only to discover you've been asked to join the mysterious League of Light, a secret group dedicated to fighting dark forces. You've barely said yes before you're sent on your first mission, to investigate a beast that is terrorizing the mountain village of Sorrow's Well. Is this beast real? Who's behind it? What's really going on in the Dark Lord's castle on the hill? No one ever said being in the League would be easy! Face supernatural beasts in the League of Light: Dark Omens, a dark Hidden-Object Puzzle Adventure game.
Game System Requirements:
OS:

10.8/10.7/10.6

CPU:

1.6 GHz (INTEL ONLY)

RAM:

1024 MB

Hard Drive:

877 MB
Game Manager System Requirements:
Browser:

Safari 4.0 or later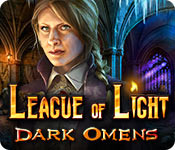 NEW299
The Big Fish Guarantee:
Quality tested and virus free.
No ads, no adware, no spyware.

Reviews at a Glance

League of Light: Dark Omens
0
out of
5 (
0
Reviews
Review
)
Customer Reviews
League of Light: Dark Omens
39
39
LEAGUE OF LIGHT: DARK OMEN...BUT NEVER IN THE DARK
Based on completed game. Using the casual mode, it took me 4:53 to complete. With the transporter map and hint the game was easy. There are three levels of difficulty. Lots of puzzles that were pretty easy overall, some took a bit of thinking and I only skipped one puzzle. The graphics were great. Story came to a fitting end. I really enjoyed this game.
February 21, 2014
value
best value for money game great
September 27, 2013
hidden object
This is probably the most interesting game that I have played. Lots of different aspects that I have not seen in other games.
February 12, 2014
Good stuff !!!!
Great game I really liked it. Fun for every one :)
August 23, 2013
League of Light series is stupendous!
These League of Light series really seem to agree with me. Even some of the most beloved games of this ilk can get somewhat tedious toward the end, but never these. I can not WAIT for them to create another! Do yourself a favor and purchase. You will not be disappointed! A++++++++++++++
November 26, 2014
I Can't Believe I've Never Seen This Game!
Wow! I so enjoyed this game. It didn't have collectibles or morphing objects but it had everything else I love in a game. As a member of the League of Light you are sent to find out what is going on. As you reach the village a girl is kidnapped by a giant gargoyle so you rush off to the castle where something strange is going on. I thought the graphics were nice. There are some really nice cut scenes which are narrated. The music was appropriate and I never got irritated. There are lots of HOS. Some of them you have to find and use objects in the scene others are lists. These are not easy but they aren't hard either -- just right IMHO. The hint button works outside the HOS with directions or pointing to the object in the scene. There are lots of puzzles and they are all mostly easy. I think I skipped 2. There is a great transporting map but the action usually takes place close by. However I did use it often. There is a lot to do in most scenes. By using the map I could check to see if I'd missed something. This game is perfect for a beginner but old pros can find enjoyment in a relaxing game. Play the demo and read some reviews to make an informed decision.
August 19, 2014
Pure Enjoyment.
Everything you want in a game, beautiful, interesting, long and many different mini games.
March 30, 2014
My favorite type of game!
I loved everything about this game. I thought the storyline was interesting, the graphics were great and the puzzles were varied and fun. The music was not overpowering and the background sounds were good. The length was great. Just when you think the game was over; you would have to find more objects and do more things. I really loved this game and I wished that all games followed this format.
November 18, 2013
I Really Liked This One - Review Of Completed CE Game
Story: You take on the role of a detective and have been chosen as the newest member of The Order of Light and must travel to Sorrow's Well to meet with the town elder Elton Finch to save his daughter Penelope who has been kidnapped by the Dark Lord. 9 CHAPTERS: Bonus review and CE extras listed at bottom WIDESCREEN: Filled my monitor just fine. No tech issues. There is voice overs. There is a journal but I didn't pay any attention to this and didn't need it for any of the puzzles. I was way too involved in the game. 3 PLAY MODES: CASUAL: Has sparkles, fast refill for hints and skips. Has a transporter map that shows all locations and active tasks. ADVANCED: Has no sparkles, longer refills, and the map "shows active tasks after you use a hint." I'm not sure what this means, since the active tasks are marked when you open the map? This is transporter. HARDCORE: Has no hints, no skips, no sparkles, no map indicators. I played Advance mode. I can't comment on its helpfulness outside of HOS as I didn't use it. HOS: There are two different kinds. SILHOUETTE: You have to find the objects at the bottom. Finding one will lead you to another as you have to place them back into the scene. Very interactive here. WORD LIST: The ones in a different color are the interactive ones. There's also like a "mini-game" puzzle in some of these. I had no problem here. Didn't need to use the hint. PUZZLES :The usual run of the mill found in many games. I didn't come across anything new. Most are repeated throughout the game but I found most of them doable. I did skip a couple of these. The skip seemed pretty quick for me. There is also an info button to get directions on the puzzles and some have a reset button. The main game here for me didn't come to a satisfactory conclusion as I felt the bonus chapter was needed. MAIN GAME LENGTH: 6 hours. May be more/less for you. OVERALL IMPRESSION: I've played and reviewed the CE and I must say I was hesitant to download this but thought I'd give it a whirl and so glad I dd as I was hooked from the get go and held my interest to the very end. I thought the graphics and especially the comic style art work for the cut scenes which told further back story to the story being told just awesome. I also liked the characters and the voice overs a well done here. While the game play overall wasn't very challenging as the inventory was pretty much used right away or I didn't have to travel too far to use it I still enjoyed a lot especially the HOS scenes and the puzzles while I'm not a fan of these for me most were doable, I still found this a lot to do and places to go. Overall a 4 stars from me. I usually don't rate games this high if the ending is abrupt but other than that I really liked this one and the bonus chapter does address it very well at least for me. I enjoyed this game too much to rate it lower than 4 stars but I can't give it 5 because of the abrupt ending and while there were no sparkles on the Advance mode but there were still black bar tips. Please do future games where I can chose to have no sparkles/black bar tips and keep the hint and skip available in case needed. Thanks Big Fish and Developer for a very good game. As always, give it a whirl and decide for yourself. BONUS CHAPTER: This seemed to be a new story to me however does address and wrap up the abrupt ending of the main game quite well. A very well done here. Still have your transporter map if needed. I liked the balance of HOS, puzzles and traveling back/forth. I enjoyed this with the exception of needing it to complete the main game. BONUS CHAPTER LENGTH: 1 1/2 hours. May be more/less for you. CE EXTRAS: Bonus chapter STRATEGY GUIDE: Pages 1-50 is main game 51-68 is bonus chapter. 34 OWLS and 11 BESTIARY SCROLLS to find. FRESCO PARTS, which can be put together if you find them all. ACHIEVEMENTS which includes 20 trivial questions about the game which I thought was pretty neat as I've never seen this before. WALLPAPERS CONCEPT ART MUSIC
August 23, 2013
Solid Entertainment
BASED ON COMPLETED CE GAME FIRST IMPRESSIONS The intro is interesting, if not devastating. We find out much about the story in sepia animations with an excellent voiceover. Throughout the game, we continue to find scrolls which will tell us more about the characters and history of our world. The animations are well done, the voice acting very good, and I love the view over our horse?s neck. SIGHTS & SOUNDS The graphics are very good, not astonishingly beautiful or artistically inspired, but easy on the eyes, very clear and bright, and with some great animations, like the banshee. Character animation and lip sync is also very good. There are a lot of cut scenes early on, they are active and exciting, speed up the story rather than slow us down, and display the impressive talents of the animation team. WHAT?S HAPPENING As a newly inducted member of the League of Light we set forth to eradicate an evil presence in a village in the mountains. Things get exciting the minute we arrive, and we are soon attempting to save a damsel in distress, fight demonic beasts, and overcome the dark lord. In other words, the usual heroics. Looks like fun ;) MAKING PROGRESS HO scenes come in two forms. We have ?find & use? (progressive) grey shaded pictures. We also have interactive lists which include small puzzles as part of the interaction. The puzzles and mini-games are not as frequent, but they are well conceived and fun. None of them really struck me as being too hard. Getting around is fairly straightforward, I used the interactive jump map a fair bit, but didn?t miss the hint (it?s a ?nothing to do here? one). There?s also a journal, but I didn?t make much use of that either. It is not a long game (9 chapters, timer said 3.5hr for me), but is enough so that you don?t feel you?ve missed out. The ending is very abrupt, but is not setting you up for the CE. BLING! The CE has some top quality extras. The stock standards are there, bonus chapter (nothing special), SG and gallery, as well as achievements that are brilliant and diverse and include one for a simple trivia test about the game, different collectibles, and a jigsaw game that you can only play if you get the other awards. The concept art is marvellous and seems to be scenes cut from the game. They are so good I was really disappointed that they had been cut, and that they could not be saved to my pc. I would have loved them as wallpapers. FAMOUS LAST WORDS Is the CE worth the additional cost? I just don?t know, but it?s a good solid game in either edition. Interesting and pleasant to play, not going to give you brain strain, but I doubt it will bore you either.
August 23, 2013
The Apple logo is a trademark of Apple Computer, Inc.
The Windows logo is a trademark of Microsoft, Inc.