Left in the Dark: No One on Board
Left in the Dark: No One on Board is a hidden-object puzzle-adventure game with a moody ambience and creepy setting. Private Detective Charlotte Austin knew this case was going to be an odd one after reading the letter from the Mayor of Portsmouth. In it, he asks her to solve the mystery of a ship that disappeared at sea and then reappeared a few weeks later with neither crew nor cargo. Her initial attempts to draw logical conclusions based on the evidence fail utterly. Charlotte realizes there may be something to the curse the local press is writing about. After encountering a hooded figure with a hook on a supposedly abandoned ship in a series of eerie events, she fears the mystery is much darker and deeper than she originally thought. Charlotte has to discover what connects the ship's disappearance with Devil's Island and a family's unsolved murder. But will she find the allies she needs to break the Curse of the Traveler?
Unique puzzles with different difficulty levels
Gripping storyline
Unique hand-drawn art
Game System Requirements:
OS:

Windows XP/Windows Vista/Windows 7/Windows 8

CPU:

2.0 GHz

RAM:

1024 MB

DirectX:

9.0

Hard Drive:

613 MB
Game Manager System Requirements:
Browser:

Internet Explorer 7 or later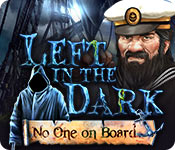 NEW299
The Big Fish Guarantee:
Quality tested and virus free.
No ads, no adware, no spyware.

Reviews at a Glance

Left in the Dark: No One on Board
0
out of
5 (
0
Reviews
Review
)
Customer Reviews
Left in the Dark: No One on Board
48
48
Review of Completed Game...
It was such a chore to finish this game let me tell you. What a yawner!! Artifex Mundi are one of my favorite developers but there is nothing new or exciting going on in this game. Its the usual ship disappearing of its people, ghost leading the way to the truth type game. There are lots and lots of hidden object scenes and each one you play twice. They start out interactive but as time goes on, they just become basic lists. The puzzles were all the basic ones we normally see, I really didn't come across anything new. It was pipes, rolling the circles to form a picture, put the pieces together to make a map etc Artifex Mundi really, really, really needs a new person doing voiceovers. This is the same lady from the Nightmares from the deep game and the Enigmatis games. As nice as her voice is, a new female voice for other games would be a nice touch. But I guess the reason this game didn't hold my attention is just because its so predictable. I knew who the bad guy was right away although I had no idea why and even after finding out, I didn't really understand but of course it has to do with either love or greed because thats how most of these go. Also, the bad guy reminded me of the villain in "I know what you did last summer". Creepy guy, black cape covering the face and hook arms. Not so scary when there is a look alike like him in every game like this. There was just nothing new, nothing to grip me. I felt like this during the trial but kept hoping it would improve since its my favorite developer and it didn't. Also, usually this developer has some of the most real graphics ever yet a lot of the graphics were fuzzy, objects were hard to spot in the scenes because I couldn't make out what they were. And don't get me started about the shades of blue and brown this game had. So dreary. I get its an abandoned boat but it was dismal and made the game seem really heavy. I could not wait for this game to end. Definitely not on the "to replay" list. I reckon a lot will like this game especially if you are new to hidden object games but I've played wayyy tooo many for this to hold my interest. Play the nightmare of the deep games instead. They are by this developer and yet 500 times better in all ways.
November 24, 2013
YE OLD ABANDONED SHIP CURSE MATES!
You are a detective with the ability to solve unsolvable cases, and you are investigating the disappearance of the entire ships crew. A fun and adventurous game, however the graphics aren't the best, grainy and fuzzy, and the acting is bad with the detective seeming a bit too wimpy for this case. The HO scenes are slightly interactive, you simply click on a rag to reveal an item. The mini games are simple and nothing new such as turning skulls with different color bones in order to make each half of the gem between them the same solid color. All in all this game isn't a waste of time, it has it's moments, there just isn't enough content to write home about.
August 28, 2013
It IS a dark and scary tale...
And it IS! This one definitely has that dark spooky threatening atmosphere down to a T. And if that was all I was looking for, we'd be at five stars. I was nervous out on the deck, so heading into the dim ship's interior was scary. The artwork was very well done. But. You knew there was a but, didn't you? I had enough clues to solve the mystery and just did not care beyond the trial of the game, which I finished well ahead of the hour. So here's the mechanics: 3 levels of play to choose from, lockable inventory bar, detailed journal with your objectives, hint that functions outside of the HOS, interactive map shows your available actions and transports you there. Lots of puzzles, not too tough. HOS are not terrifically challenging, are typical junkpile, but do have some color to them. VOs are fairly good. And cutscenes were also fairly good. As usual, the storyline was the pitfall. I wanted more mystery, less obvious outcome. Just once it would be great to have a hero/heroine who was actually smart. (So when the harbourmaster gave her a lantern to help her light her way on the ship, it would have been nice if she at least held on to it to the end of the pier.) And electric ells inside a boat that has been thoroughly inspected? Not to mention the hole in the side of it? And (spoiler alert)no one inspecting the boat noticed survivors/bodies? Please take a look at this and try before you buy. As for me, not even a free credit would tempt me this time.
August 28, 2013
A decent length but not much challenge
Played on hardcore mode: way too easy, obvious black box hints. HOS pretty good, minigames few and far between and easy. A good amount of gameplay for a SE, and nicely creepy graphics at times. Had to play the whole game on mute due to the awful, montone voiceovers (no way to turn them off) and the dreadfully annoying sounds, like a screech/wail for each object found in HOS, and something that sounded like indigestion as background noise, I think it was supposed to be scary. Worth playing if you get it on sale.
September 22, 2013
Good but not exciting
The graphics are good and has voice over. Has a lot of voice over and I mean lots. The HOS are good and easy. Nothing really new here. Has a map and hint button works good. Really not a bad game just easy to play and average to me.
September 15, 2013
But only three stars
The story line is good and the game is excellent but for one thing? no 'expert detective' would be frightened of a snake or squeak every time something happened and would certainly not pick up a hot dish with a wet cloth? for some reason she didn't get burnt! The makers must not make their female heroins so stupid and childish? BUT once I turned her off and read the conversations instead all was fine and I really enjoyed the game. It was fun and relaxing and kept my interest.
March 29, 2014
If You Have Nothing Better To Do
Game is mediocre in terms of its challenges, screen visuals, storyline, and puzzle difficulty. While enjoyable for the casual player, not a real challenge for the HOG/puzzle enthusiast. Graphics are somewhat grainy and HOs are a combination of evident and not-so evident. Scene interaction is limited with occasional requirements to make a significant shift. Clues are fairly evident and require little thinking. Storyline and dialog is somewhat corny and more of a fill in than an integral part of the game. Action scene interruptions are somewhat distracting and disconnected from the flow of the game. The game itseIf is of average length and play.
February 15, 2014
Just Average.
I was excited by the title, but to be honest, the game wasn?t really interesting. I played out the demo, but I won?t be buying. The story sounded exciting at first, but really wasn?t that great. I wasn?t thrilled at all, and at times found it boring. The story just seemed to be going along, and nothing interesting really happened in the demo. To me, the story felt like a flat road, with no corners or anything. You just keep going along and nothing interesting happens. The gameplay was pretty good though. It was sort of similar to Artifex Mundi, even though the credits and their website say that they didn?t develop it. So, I concluded Artifex ?helped? with this game. The gameplay was very simple and straightforward, with no way to get stuck, as there is a helpful hint and an interactive map. Beginners should find this pretty easy. Puzzles and HOS are not that challenging and nothing new. I think I had to skip 2 puzzles in the demo, but I didn?t mind. The puzzles had very simple, helpful instructions. The HOS were easy and had some extra step objects. There were quite a few, but why is everyone complaining that there is too many? I?ve seen some with a LOT more! Overall, I found the gameplay to be easy. The graphics were good, but not great. Maybe a bit more work and they would be, but they seemed to be pretty standard for 2013. The sounds, on the other hand, were annoying. The music was FAR too loud, and I had to turn it down to almost mute. I found the music to be rather annoying. FEATURES - Diary. Makes notes of case findings and also holds objectives. - 3 modes of difficulty: Casual, Advanced and Hard. I played Casual. - Hint and Skip- both recharge fast and the hint is very helpful. - Interactive map. Highlights locations with available tasks. So, the best I can do for this game is 3 stars. The gameplay was good, but everything else was average. This is a very average game. If you are new to Hidden Object Games, I?d recommend this for you, but I can?t recommend it for anyone else.
August 30, 2013
OK..BUT ENTIRELY TOO SHORT
IN MY OPINION THIS GAME WAS WAY TOO SHORT..EVEN FOR A SE...WOULD HAVE RATED HIGHER IF IT WAS LONGER THAN 2 HOURS OF GAME PLAY...FEATURES : * 3 levels of play * Jumpable map * HOSs and puzzles straightforward * Hint and skip recharge quickly in casual Graphics and music are pleasing to the eye and ear. Character voices could be more convincing - the sailor's accent had me in stitches! This game has no whistles and bells. It is a straightforward game with an intriguing storyline, ideal for relaxing game play. Worth a try. I have bought with a voucher and might have waited for a sale if I hadn't had one.
August 31, 2013
game not that spooky
i played this game well over an hour n i didn't see any SNAKE pop up! n i don't game all that scary at all!!
December 4, 2013
The Apple logo is a trademark of Apple Computer, Inc.