Left in the Dark: No One on Board
Left in the Dark: No One on Board is a hidden-object puzzle-adventure game with a moody ambience and creepy setting. Private Detective Charlotte Austin knew this case was going to be an odd one after reading the letter from the Mayor of Portsmouth. In it, he asks her to solve the mystery of a ship that disappeared at sea and then reappeared a few weeks later with neither crew nor cargo. Her initial attempts to draw logical conclusions based on the evidence fail utterly. Charlotte realizes there may be something to the curse the local press is writing about. After encountering a hooded figure with a hook on a supposedly abandoned ship in a series of eerie events, she fears the mystery is much darker and deeper than she originally thought. Charlotte has to discover what connects the ship's disappearance with Devil's Island and a family's unsolved murder. But will she find the allies she needs to break the Curse of the Traveler?
Unique puzzles with different difficulty levels
Gripping storyline
Unique hand-drawn art
Game System Requirements:
OS:

10.8/10.7/10.6

CPU:

2.0 GHz (INTEL ONLY)

RAM:

1024 MB

Hard Drive:

333 MB
Game Manager System Requirements:
Browser:

Safari 4.0 or later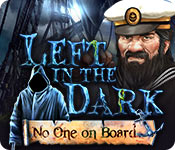 NEW299
The Big Fish Guarantee:
Quality tested and virus free.
No ads, no adware, no spyware.

Reviews at a Glance

Left in the Dark: No One on Board
0
out of
5 (
0
Reviews
Review
)
Customer Reviews
Left in the Dark: No One on Board
48
48
Short Easy But Fun - Review of Completed Game
STORY: You take on the role of a detective. You have received a letter from the Mayor of Portsmouth to investigate where the ship first set to sea, and then returned some weeks later with neither cargo nor crew. A little into the game a ghostly figure Isabella appears to help assist you and giving you some back story. 9 Chapters WIDESCREEN: YES (at least for me) VOICE OVERS: Yes 3 PLAY MODES: Casual, Advanced, Expert. The first two have sparkles. Hint/Skip quick on charge up. Expert no sparkles and slower of course. Hint is also directional outside of HOS. I played Advanced mode. JOURNAL: Holds notes, objectives, and map. Objectives also pop up on screen. MAP: Instead of going to the journal the map is also right next to the journal. This is transporter and shows where you are and things to do except for in Expert mode doesn't show things to do. HOS: These are found by word list and slightly interactive. There are quite a few scenes and some visited twice however a different word list. These were well done for me. One hint here. PUZZLES: The usual run of the mill. I didn't come across anything new. Instructions are located at bottom or some of them are in your journal but pop up next to the puzzle and you just enter it in. Skipped two of these cause they were puzzles I don't like. THE ENDING: This ended with a satisfactory conclusion however seems to hint at a sequel. GAME LENGTH: This was 3 hours for me. May be more/less for you. OVERALL IMPRESSION: Well I really liked this one. Hooked from the get go and held my interest to the very end. I found this to be a nice mystery to be solved. Definitely suspenseful and spooky. This definitely kept me guessing. I loved the sounds in the game of stuff creaking. The graphics for me were really good right along with the cut scenes. I also liked the characters especially the ghostly one Isabella who does assist you from time to time throughout the game and she also tells back story. This isn't as long as most of the games I've played on here but still satisfied me and still seemed to have a lot to do and places to go. I'd much rather have a shorter game and enjoy it than a longer one getting bored with it and wondering when is it going to end. Oh and while it's not necessary but I'd definitely welcome a sequel to this game. Thanks Big Fish and Developer for a very good game. As always, give it a whirl and decide for yourself.
August 28, 2013
A cracking little game!
Based on the demo The crew and cargo of a ship have disappeared and our detective heroine (with a very irritating voice) has been asked to investigate. With a ghost and a shadowy,evil (?) person popping up every now and then, there is clearly more to this than meets the eye. * 3 levels of play * Jumpable map * HOSs and puzzles straightforward * Hint and skip recharge quickly in casual Graphics and music are pleasing to the eye and ear. Character voices could be more convincing - the sailor's accent had me in stitches! This game has no whistles and bells. It is a straightforward game with an intriguing storyline, ideal for relaxing game play. Worth a try. I have bought with a voucher and might have waited for a sale if I hadn't had one.
August 28, 2013
A fun "Shiver-Me-Timbers" dip into a spooky mystery
Now that I have enjoyed the demo, this is going to be a purchase. This is based on playing the easiest mode: Casual. The graphics are absolutely lovely! The voice acting is excellent and the storyline is quite good. There is an interactive map that shows your task locations. The music is pleasant and you can adjust the volume. I have a 19" monitor and it filled it completely. (There is an option for aspect ratio adjustment.) The mini-games are fun, but there is a "Skip" button. The hint refills quickly, but you may not need it often. You can speak to characters that you find during your investigation. You have a lovely ghost of a young girl to assist you and a dark menacing figure to provide a few chills. A lot of thought and work went into this entry from our friends at Artifex Mundi. If it were longer, it would certainly be worthy of CE status. (In fact, other the length, it is better than some of the recent CE's.) There are a lot of locations, and when you do revisit one of the Hidden Object Scenes, anything you previously removed will not be there. The dialogue is grammatically correct, which shows extra care was taken. The demo only lasted 48 minutes for me, but it is certainly worth using a PCC to enjoy this beautifully executed game.
August 28, 2013
A Good Old-Fashioned Spooky Tale
The game begins as you receive a message from the mayor of Port Providence, asking for your help in solving the mystery of a cargo ship that was found off shore without its cargo or crew. The missing crew has the town?s residents very worried so the mystery needs to be solved as soon as possible. When you arrive, you meet with the grizzled old mayor who gives you a permit to board the ship and this is where your challenges begin. The technical aspects of the game are fairly standard with not a lot of bells and whistles. The game does have voiceovers and some are fairly decent, however, the gravelly voiced mayor reminds me of someone who has had too many cigarettes. Graphics are good but not spectacular a d at times they appear misty but maybe that is intentional. The one complaint I have with this game is that there are bright flashes of light that occur periodically in the HO scenes. Aside from that fact that we are on a ship during a storm and the flashes are related to lightening, I see no reason for them and they are extremely annoying. Not only are the flashes annoying they can be dangerous to those who have a seizure disorder. When I did the beta test for the game I mentioned this to the developer but I guess not enough people were bothered by the flashes for the developer to make programming changes. The puzzles appear to be very easy and I didn?t encounter any that were too difficult or frustrating during the demo. It is refreshing to have a great game released as a SE rather than a CE for a change. The story is a great mystery with a lot of intrigue and I had to buy the game to solve the mystery. Aside from my comment above on the flashes of light in the HOS, the game is very good and a bit spooky. If flashes of light don?t bother you, I would highly recommend that you try the game before purchasing. That being said, Artifex Mundi has recently evolved into a developer who is at the top of my list for creating games that I know I will love.
August 28, 2013
Nice little game.
I bought this with a credit after playing the demo for 30 minutes. Nice graphics, a decent story, and a bit of thinking needed for the adventure elements. Note for all developers - you could learn from these people - if I've removed an object from an HOS scene, I don't want to see it again next time. I liked that about this game. We get very few standalone games, ie, not SE versions of CEs, these days. This is worth it if you've got a Free Game code to use up.
August 28, 2013
I Don't Know Why
But I like it. Very delightful game. I was expecting this game to be ho hum. It did remind me of older games but some of those are so so good. From reviews I was expecting the game to be only HO's but there is lots to do in this game. There was a few surprise moments meant to scare and did fair on that. Graphics were good, hint button recharge very fast. There is a map, Journal, and task list.
August 29, 2013
Good Fun but Short game
This one was a surprise. No whistles or bells. Just a basic straight-forward HOPA. The storyline is very interesting. Graphics are good. Music is appropriate for the setting. HOS are easy and visited more than once. There is a journal and a map which allows you to travel and shows you where you need action, which is a good thing, since there are many areas to cover. The game took me a little over 3 hours. It kept my interest the entire time. Puzzles were simple but fun. This is a kick back and relax type of game. I enjoyed it.
September 24, 2013
This maritime mystery provides a merry time!
My name is Charlotte Austin, and I am privileged to be a private investigator of mysteries and crimes. I recently received a letter from the Mayor of Port Providence requesting my services. A ship had set sail from the harbor, then disappeared at sea, only to return several weeks later devoid of cargo and crew. Naturally, I was intrigued and traveled with all haste via train to the oceanside city of Port Providence. Upon meeting with the Mayor and Harbormaster, I learned that a security detail had been placed on watch at the ship, and that no one else had been aboard, save for the search party who had determined that cargo and crew had gone missing. I soon learned that their search had been anything but thorough. My search of the ship was continually impeded by a malicious figure in a black, hooded robe who, it appeared, was missing a hand and had substituted a sharp hook for the lost appendage. This figure not only hindered my search, but menaced me and even attempted to physically attack me. The mystery, it seemed, had become a crime. As it turned out, the ghostly figure of a young girl appeared to me and, after warning me away from the ship, agreed to help me if I would catch her killer. Most definitely a crime and, it seems, one that had gone unsolved for far too long. Once I had searched the ship, I was off to the scene of said crime to uncover the truth and capture the miscreant! Locked and blocked doorways abounded, as well as puzzles to be solved and piles of junk to be sorted through if I was to discover any items that might aid me in my quest. Fortunately, Mr. Pinkerton had trained me well, and my observational and intellectual skills were worthy of these daunting tasks. In the end, brains triumphed over brawn, the mystery was solved, and the people of Port Providence were able once again to sleep soundly. Notes: Moonrise Interactive has presented a decent HOPA with well-drawn but gritty graphics, a well-developed plot, excellent voiceovers, appropriate music, and good animation. There are a number of anachronisms, unfortunately, which detracts a bit from the immersive aspect. For example, Charlotte comments that she wonders if more than six planets will ever be discovered, placing the time of the game prior to 1781, yet the mansion has electric power, she wears pants, and the English of the characters is modern. However, the storyline and gameplay make Left in the Dark well-worth playing, and I do recommend it.
September 2, 2013
Ghost Ship
the makers of this game has done some great games in the past. so I tried this at first I didn't like the game but stuck with it I bought this game because they tried hard to give you a game to play and I've got the rest of the games they do the graphics on this is not up to there high standards if they took a bit longer to make it a better. lets hope there next game that come out is a better one then this. this game has a lot of HO in it good speech all in all its a good game to play just the rough looking graphics let it down or maybe my 28" monitor is too big for this game I all ways tell people to try it for them self we are all different some will love this game and same will hate it that's live the makers did an nice job I could knot make up any of the games on big fish and the people that make the game are very talented people
August 29, 2013
I LIKED IT!
doesn't have the unique and interesting puzzles and morphing items to collect, like other newer games, but the storyline is good ... again not as complex as newer games ... no technical issues, a big plus for me ... i am just enjoying this one ... used a free game coupon, but that doesn't mean it isn't worth buying ...
August 28, 2013
The Apple logo is a trademark of Apple Computer, Inc.
The Windows logo is a trademark of Microsoft, Inc.