Left in the Dark: No One on Board
Left in the Dark: No One on Board is a hidden-object puzzle-adventure game with a moody ambience and creepy setting. Private Detective Charlotte Austin knew this case was going to be an odd one after reading the letter from the Mayor of Portsmouth. In it, he asks her to solve the mystery of a ship that disappeared at sea and then reappeared a few weeks later with neither crew nor cargo. Her initial attempts to draw logical conclusions based on the evidence fail utterly. Charlotte realizes there may be something to the curse the local press is writing about. After encountering a hooded figure with a hook on a supposedly abandoned ship in a series of eerie events, she fears the mystery is much darker and deeper than she originally thought. Charlotte has to discover what connects the ship's disappearance with Devil's Island and a family's unsolved murder. But will she find the allies she needs to break the Curse of the Traveler?
Unique puzzles with different difficulty levels
Gripping storyline
Unique hand-drawn art
Game System Requirements:
OS:

10.8/10.7/10.6

CPU:

2.0 GHz (INTEL ONLY)

RAM:

1024 MB

Hard Drive:

333 MB
Game Manager System Requirements:
Browser:

Safari 4.0 or later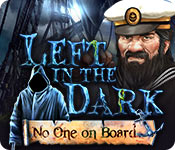 NEW299
The Big Fish Guarantee:
Quality tested and virus free.
No ads, no adware, no spyware.

Reviews at a Glance

Left in the Dark: No One on Board
0
out of
5 (
0
Reviews
Review
)
Customer Reviews
Left in the Dark: No One on Board
43
43
A Nice Enjoyable Game ...
Nice Graphics, Sound, Voice & Video Bits ... Nothing Too Fancy, Just A Good All Round Game ... Enjoyable Story And Easy To Keep Pace With ... I Would Not Say The Game Was Short, But It Seemed To End Too Abruptly ...
September 1, 2013
A delightful afternoon's SE
A charming game that has that addictive 'one more quest step' feel to it. The plot - WHAT happens in the story - is pretty standard HOG fare. Detective, ghost, curse, mystery, etc. There's nothing unusual about the puzzles or HOGs either. Both aspects are perfectly serviceable and do not detract from the gameplay experience. Graphics are also competent, but not exceptional, and the voice acting reminds me of that in the Nancy Drew games (in a good way). This is one game where average components add up to more than the sum of their parts. I can't quite put my finger on why, but the whole thing is just FUN. From the moment I fire up the game, there's nothing that makes me want to stop playing, and plenty of carrots that make me want to keep going, just a little bit farther, into the tale. Artifex Mundi is quickly becoming one of my favourite developers, as all of their recent games share this kind of compulsive charm and make excellent use of modest resources. As a collector's edition, 'Of Glass and Ink' was slightly more elaborate, but I'd say that this title is the equivalent of Serpent Creek, another excellent SE. This game is well worth the purchase price, and an absolute no-brainer if you have a spare credit or free game coupon. It's an SE that delights from beginning to end, feels complete and provides more enjoyment than most SEs.
September 15, 2013
Fun Hidden Object Game
Enjoyed playing, very interesting story . Good Graphics and game play, will buy.
August 28, 2013
Good Solid Game.
Enjoyed playing this game. It seemed short, but all the great scenes and locations to interact in made up for it.
December 9, 2013
I Love the Spooky Haunted Theme!
The best part of the Game was it's Spookiness! The Graphics were rough, especially in the Hidden Objects scenes which could have been clearer in my opinion. The ending was a let down for me. We know who did it but WHY did they do it? No answer was given as to why. I got this Game with my Free Credit. I certainly wouldn't pay full price for it.
November 12, 2013
NOTHING NEW BUT WHAT'S THERE IS ACCEPTABLE
Nothing was outstanding, but neither was anything dreadful in this adventure. You play a 19th century detective, called to investigate a disappearing crew from a now-abandoned ship. You learn that crew have gone missing for decades. The story of ghosts, ghost ships, spooky villages and inhabitants is familiar. By its nature, the story is an entertaining adventure. The visual effects are moderately okay; but definitely not spectacular. Voice-overs are okay. Standard HOS are also run-of-the-mill acceptable, but you search for the same things over and over, so the searches do become somewhat boring. Puzzles are okay, just not exciting or difficult. So I guess a good summary is that game is moderately acceptable, being neither exceptional nor clunky. It fails to be as suspenseful as it could be, considering the story. A newbie to HOGs-adventure might be more inclined to like than a very experienced gamer.
August 28, 2013
No extras, but not bad...
Wasn't too sure about this one at first. Didn't care for the cursor at all. I wish when they allow you to remove the custom cursor, they would actually remove it and not just make it a smaller version. Anyway, not a bad game. Graphics and game play are nice. Colors are very bright and clear. HOGs were quite simple, as were the games...nothing new here either. Nice voice overs, but the "detective" made some really silly remarks, e.g. "oh no, a skeleton." Really, it's a ghost ship! I didn't see anything that scared me, but it was a bit of fun. Hint system is quite helpful and fills very quickly. This isn't a bad game for an SE and since I have a pile of credits to use up, I'm going to get it. Lost another credit yesterday, not happy about that, but we haven't had any good SE games for quite some time now. Sometimes you just need a "no brainer," and this is it. As always, try it for yourself and see what you think. We all have different tastes in games and you may not care for this one at all. Thanks for the reviews.
August 28, 2013
YE OLD ABANDONED SHIP CURSE MATES!
You are a detective with the ability to solve unsolvable cases, and you are investigating the disappearance of the entire ships crew. A fun and adventurous game, however the graphics aren't the best, grainy and fuzzy, and the acting is bad with the detective seeming a bit too wimpy for this case. The HO scenes are slightly interactive, you simply click on a rag to reveal an item. The mini games are simple and nothing new such as turning skulls with different color bones in order to make each half of the gem between them the same solid color. All in all this game isn't a waste of time, it has it's moments, there just isn't enough content to write home about.
August 28, 2013
It IS a dark and scary tale...
And it IS! This one definitely has that dark spooky threatening atmosphere down to a T. And if that was all I was looking for, we'd be at five stars. I was nervous out on the deck, so heading into the dim ship's interior was scary. The artwork was very well done. But. You knew there was a but, didn't you? I had enough clues to solve the mystery and just did not care beyond the trial of the game, which I finished well ahead of the hour. So here's the mechanics: 3 levels of play to choose from, lockable inventory bar, detailed journal with your objectives, hint that functions outside of the HOS, interactive map shows your available actions and transports you there. Lots of puzzles, not too tough. HOS are not terrifically challenging, are typical junkpile, but do have some color to them. VOs are fairly good. And cutscenes were also fairly good. As usual, the storyline was the pitfall. I wanted more mystery, less obvious outcome. Just once it would be great to have a hero/heroine who was actually smart. (So when the harbourmaster gave her a lantern to help her light her way on the ship, it would have been nice if she at least held on to it to the end of the pier.) And electric ells inside a boat that has been thoroughly inspected? Not to mention the hole in the side of it? And (spoiler alert)no one inspecting the boat noticed survivors/bodies? Please take a look at this and try before you buy. As for me, not even a free credit would tempt me this time.
August 28, 2013
Just Average.
I was excited by the title, but to be honest, the game wasn?t really interesting. I played out the demo, but I won?t be buying. The story sounded exciting at first, but really wasn?t that great. I wasn?t thrilled at all, and at times found it boring. The story just seemed to be going along, and nothing interesting really happened in the demo. To me, the story felt like a flat road, with no corners or anything. You just keep going along and nothing interesting happens. The gameplay was pretty good though. It was sort of similar to Artifex Mundi, even though the credits and their website say that they didn?t develop it. So, I concluded Artifex ?helped? with this game. The gameplay was very simple and straightforward, with no way to get stuck, as there is a helpful hint and an interactive map. Beginners should find this pretty easy. Puzzles and HOS are not that challenging and nothing new. I think I had to skip 2 puzzles in the demo, but I didn?t mind. The puzzles had very simple, helpful instructions. The HOS were easy and had some extra step objects. There were quite a few, but why is everyone complaining that there is too many? I?ve seen some with a LOT more! Overall, I found the gameplay to be easy. The graphics were good, but not great. Maybe a bit more work and they would be, but they seemed to be pretty standard for 2013. The sounds, on the other hand, were annoying. The music was FAR too loud, and I had to turn it down to almost mute. I found the music to be rather annoying. FEATURES - Diary. Makes notes of case findings and also holds objectives. - 3 modes of difficulty: Casual, Advanced and Hard. I played Casual. - Hint and Skip- both recharge fast and the hint is very helpful. - Interactive map. Highlights locations with available tasks. So, the best I can do for this game is 3 stars. The gameplay was good, but everything else was average. This is a very average game. If you are new to Hidden Object Games, I?d recommend this for you, but I can?t recommend it for anyone else.
August 30, 2013
The Apple logo is a trademark of Apple Computer, Inc.
The Windows logo is a trademark of Microsoft, Inc.