Cooking Academy: Restaurant Royale
Exclusive
You're the Cooking Academy valedictorian, on your way to culinary stardom in Cooking Academy: Restaurant Royale, the latest game in the popular Cooking Academy series! Compete in a kitchen showdown, creating mouthwatering dishes and delights from around the globe – baking, slicing, dicing and chopping in dozens of cooking mini-games. Deck out your restaurant with fancy counters, tables and elegant décor to attract more customers and earn more tips. It's up to you to build the ultimate restaurant and win the Restaurant Royale competition!
Run your own restaurant as you compete in Restaurant Royale.
Master cooking games to unlock all 60 dishes.
Boost your popularity with more than 100 unique elements of décor.
Plant and grow your own spice garden.
Complete daily goals to earn more Coins and Bucks.
Game System Requirements:
OS:

Windows XP/Windows Vista/Windows 7/Windows 8

CPU:

1.0 GHz

RAM:

1024 MB

DirectX:

9.0

Hard Drive:

69 MB
Game Manager System Requirements:
Browser:

Internet Explorer 7 or later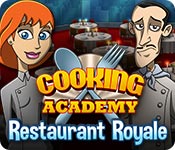 Top In-Game Purchases
1.

Speedy Kitchen Boost

$ 9.99

2.

Extra Time Boost

$ 9.99

3.

Discount Spices Boost

$ 9.99

4.

Super Skill

$ 9.99

5.

Dash of Bucks

$ 0.99
Game Club members
SAVE 30% on
in-game items.
The Big Fish Guarantee:
Quality tested and virus free.
No ads, no adware, no spyware.

Reviews at a Glance

Cooking Academy: Restaurant Royale
0
out of
5 (
0
Reviews
Review
)
Customer Reviews
Cooking Academy: Restaurant Royale
50
50
Good fun for a free to play game
I enjoy this game while never paying anything to play it. If I can't get the daily challenge I just accept that and move on (though the fact that the fish tacos challenge disappears when you log off is very frustrating as they take a very long time to make). I won't pay to play and realise this means it will take me a long time to get through the levels. Can manage most mini-games without difficulty although the churros are quite challenging and some are very tedious when you are getting to higher levels and need 1500 carrot sticks for instance! Prizes from the special planters can also be very disappointing. 10 bucks for 50,000 gold is not a good exchange rate!
August 12, 2014
Academy
I love all the game. Thats all make my day
May 15, 2014
Well Liked!!! Addictive!
This is my first time downloading a free game thru my membership...was not sure what to expect. I love the storyline, the mini games and the strategy. It is a very good cooking game but at times the goals can be unrealistic...such as, you have 22 hours to cook a certain dish and you need 10000 + dishes which takes about 15 - 20 hours to cook. I know the strategy is to have enough appliances but at times it is not possible when you have other things cooking or not enough room. My second complaint would be having to buy extra bucks or additional things to help you through the game. I have been playing this game for weeks and have spent over $20... Now I understand the word free is not always so. Like I said, this is my first time playing a free game so this maybe the norm. I don't play free online games. Although this game is very addictive,,,I play 2-5 times a day just so I can make some money!! My suggestion to BG would be to lower the prices on high-end items for bucks or put them on sale like they do for the purchase of more bucks and other things.
May 11, 2014
I'm Not Impressed
This is a Free To Play Time Management game based upon a culinary contest. You start out with an empty room and purchase a cutting board, oven, counter and a table and chair set. You receive a task from a customer, find that recipe and follow the steps required. Each recipe gives you a serving count, a Mastery level, a revenu and skill points of various amounts. You play a mini game such as clicking on a knife to chop radishes or clicking and dragging across a set line to slice carrots, there is a time limit to finish or you won't get skill points. Here's the problem, it's just ho hum, there's really nothing exciting to do. If you are into cooking shows and culinary arts you may enjoy this game.
April 1, 2014
Would have loved this as a regular game
This has the potential to be a fun adaptation of the original cooking academy game. You basically cook, set up a buffet and let customers serve and seat themselves. Dishes take real time to complete, there is no penalty for losing customers (and you will lose a lot because you won't have adequate seating). The problem is, like most "free" games, this one's fun factor is dependent on real money. I like games like FarmUp where you can do anything if you have the patience. This is not one of those games in some aspects. Within the first hour of playing, I already have a quest that requires me to spend real money if I wish to complete it because I do not have enough of the scarce in-game dollars they start you off to tease you with. (The quest is buying a very expensive jade dragon for the restaurant). So I'll play it until I'm tapped out of dollars and then I'll give it up.
April 1, 2014
A great combin but crazy setting
The game start with a empty small room, then the lesson teach how to edit room, buy application, counter and seat tables. cooking step same as old 3 versions cooking academy game, a mini game shows how to cook main part for receipts. wait time until food is ready, then put on counter, customers will pick up food (looks like buffet but only one plate per person) and find a seat. When player level up skill, more receipts unlocked and other decoration, application, etc. Another skill bonus is add herb to receipts which have to choose the best match. I loved time management and simulation games, and played tons of them. Some of restaurant game is similar for the click cooking and waiting to finish , some of cooking lesson app mobile game is more sample like old 3 version Cooking Academy, a show about how to cook. This is a great combine for both of cooking and restaurant. However, after cooking to gain skill exp, a challenge will pop up to level up receipt which request hundreds of exp points. Played the mini game, one time is fun, 5 times still got interest, 10 times maybe boring, 100 times kill time, more and more turns to be crazy~~~~ Why can not just choose if play the mine game for cooking step after receipts get lv1 and above, leave performance as 0 percent better than repeat the same mini games time and times over 100 times~~~~
April 1, 2014
Fun Game Bit of Time Sink
This game is a lot of fun if you enjoyed the previous in the serious. Some issues with it in that first off you have to check back at a minimum several times a day in order to advance. The most fun is in completing the challenges. The most annoying thing is not having food stack with similar food if you forget to stow one of your counters then it occupies any available open counter before stacking. If you do not have several minutes every couple of hours to spare then don't bother with this game.
April 8, 2014
Fun, but could be better
When I initially got this game, I loved the idea of creating your own restaurant. However, as the game as gone on, I've started to dislike the restrictions on the number of appliances, tables, counters and decor you can have in use. Also, the recipes start to get repetitive as the skill level for each individual portion doesn't increase as the overall recipe skill level increases. So in order to increase the recipe skill level, things have to be made upwards of 1000 times in to boost the skill level. The number of quests seem to get smaller as your level increases so in order to get enough special bucks to expand your restaurant, you have to complete multiple daily quests but those can be time consuming, a waste of time and boring. Started fun but now It could be better.
May 21, 2014
Needs be more user Friendly
Over all its not a bad game. But you can't sell your items that you don't want anymore to get the refund they claim is there. Other than that its really isn't a bad game.
April 29, 2014
Like the game but it needs work! IMO
I'm a big fan of time management games and am NOT a big fan of micro-purchase games.. I buy time management games based on their replay abilitiy. I still don't know if this free one is replayable. Couple of things I really don't like about this game is there is NO WAY to start over like most games offer and the cooking times for the recipes are beyond ridiculous. Its all designed to force you to spend real money to move the game along. I'm sorry but I can't see anybody spending $40 for the boosters to speed things up and anywhere from 99 cents to $60 for game bucks. I broke down and spent $5.99 on game bucks to fix my early mistakes. This game really doesn't fit into the pricing structure of Big Fish where I think the most expensive Buy-To-Play game I've bought is $19.95 because I wasn't willing to wait patiently for a sale.
October 31, 2014