Grim Tales: Bloody Mary
Exclusive
You're driving home from work when you get an urgent call from your favorite niece, begging you to pick her up from her boarding school. The teachers have gone missing, her classmates are becoming violent, and shadow creatures are haunting every corner. Search the school, but remember this one simple rule: Never look into a mirror after sunset. Bloody Mary is always watching.
Gorgeous visuals!
Haunting soundtrack
For a more in depth experience, check out the Collector's Edition
Game System Requirements:
OS:

Windows XP/Windows Vista/Windows 7/Windows 8

CPU:

2.5 GHz

RAM:

1280 MB

DirectX:

9.0

Hard Drive:

818 MB
Game Manager System Requirements:
Browser:

Internet Explorer 7 or later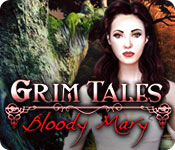 NEW299
The Big Fish Guarantee:
Quality tested and virus free.
No ads, no adware, no spyware.

Reviews at a Glance

Grim Tales: Bloody Mary
0
out of
5 (
0
Reviews
Review
)
Customer Reviews
Grim Tales: Bloody Mary
44
44
Loved the "Creepy" Factor
Storyline was dark, which I liked. Good visuals as always. One of my favorites.
January 20, 2014
If you like CREEPY, this is it!
Definitely a creepy atmosphere! Loved the story line of Bloody Mary in the mirrors! You're summoned to an old dark mansion that has recently been made into a boarding school to save your niece. Be careful, Mary and her "student helpers" are just around the corner. Lots of fun.
January 19, 2014
great game!
The graphics in this game are great! The storyline was good, the puzzles were medium difficulty, the sound effects were perfect (not annoying), and the amount of scenes you had to get through to the end was well worth it. Would recommend this. Great buy for $2.99.
January 5, 2014
Excellent!
Just completing the game and want to congratulate you on the creativity, challenge, visuals, and fun Elephant developed in GrimmTales: Bloody Mary. Thank you for providing one of the greatest games I have bought on Big Fish.
January 4, 2014
Creepiest Game Ever
I understand how this game won the "Creepiest" title for 2013; I could not finish it. Maybe one day I'll start early with lots of people around; more than just playing you could feel this game, I did want to get to sleep at night. When I grow up some more, I'll finish it...I'll recommend it for those who love creepy, but for those who just love Grim Tales, you might want to skip this one too
December 30, 2013
Great story well told.
The Grim Tales series is a topnotch one and this one is in their number. If anything there is a narrative tightening, and a better control of the game flow. There is the elephant trademark of the cute animal helper (a chipmunk) and minigames and HOS that stay in the mood of the story. Great game.
December 27, 2013
Lots of fun
Very balanced game for my level. The graphics were first rate, the storyline was interesting and logical, and the puzzles were fun. I never felt like I was totally lost.
November 29, 2013
Bloody Mary - A Red Game!
Based upon completed CE game, and SE demo. Although not my personal favourite in the series, this is a fine, good quality game. The story is engaging, but predictable. The main plot is minimally supported in the dialogue and gameplay. The bonus chapter gives a more in-depth understanding of the villain, and is a prequel to the main story (SE). However, the plot is resolved in the SE version, and you don't need the CE for a conclusion. Game graphics are outstanding in their clarity and detail, although I found that the red hue overshadowed the beautiful artistry. After playing the demo, I thought that the red hue was clever, but it became quite tiresome after several hours of gameplay. With so much red, it was difficult to appreciate the beautiful details of clouds passing by, rippling water, moss on trees and the grain in wood. There are 3 modes of play: Casual, Advanced and Expert. Although there are no sparkles in Advanced and Expert mode, there are still black bar tips, and clues (often animated#. For me, theses animated clues were amusing, and I wasn't upset as they merely pointed to the obvious. e.g. Stick figure hitting a lock with a sledgehammer. There are voiceovers, but no lip movements. There is a diary. There is a transporter map. Current location and active areas are indicated. Note: For those who may be sensitive to bright light, there are bright flashes of white light when you try to transport to the mirror world via its own icon in the map. I chose to go to the mirror worlds via the mirrors in the "normal" realm, rather than the icon on the map, as there were no bright lights and movement was seamless. HOS: There are 13 HOS. There are some interactions in HOS, and scenes were crisp and clear. Scenes were visited only once in the main game. Hints: Hints provide the next step outside of HOS, but will not give directional help....so, if you don't remember locations, you'll have to peruse the map. HInts refill in approximately 35 secs in casual mode, 1 min in advanced mode, and are disabled in expert mode. Puzzles/Minigames: There are 18 puzzles/minigames. There were the typical matching patterns, but some were more unusual. I consider myself a puzzle novice, but I found 14 of the puzzles to be ridiculously easy, involving entering codes or simple trial and error. The rest were simply time consuming and of medium difficulty. Puzzle experts looking for a challenge will most likely be very disappointed. Skip: Puzzles can be skipped in approximately 1 min in casual mode, 1 min 15 secs in advanced mode and cannot be skipped in expert mode. Overall, I found that there was a nice balance between HOS and Puzzles. Although puzzles slightly outnumbered HOS, most were too simple, and even I would have welcomed more of a challenge. However, the simple puzzles helped me to move smoothly through the game with a minimum of frustration. I completed the main #SE# game in a little over 5 hours and enjoyed it immensely. I would highly recommend the SE version.
October 22, 2013
Needs a bit of work...
I was really excited when i saw this game was out, I love the Grim Tales series, and this looked like a promising one. I bought the game, installed and began playing. As I started the game, the graphics were amazing. When I hit play, the quality seemed a bit poor in the small clip, showing the aunt driving to her niece's school to pick her up from a possible threat. The first hidden objects scene was, to be completely honest, disappointing, ugly and VERY jumbled. Either the adults at the school weren't mature enough to pick the toys up, or the kids are very ungrateful. I was disappointed how there wasn't a penalty for randomly clicking, but I guess that's also nice if you are stuck(?) The aunt has to find her niece, Jackie, but has terrible luck. Children are going berserk. You should think Blackhill once was a mental hospital where the spirits were still haunting. The first scene had some great scenery, the music was out of place though. It didn't exactly fit the story so far. The game was fun, had the quality and sound, a bit out of place sometimes, random HO-scenes (as always...) and a great storyline. The challenge was too easy though (I'm an avid gamer, so it might be easy for me. I don't know)
January 10, 2014
It had a good beginning but...
This game is not available in the Brazilian Big Fish website. Yes, I was impressed by the beginning, and thought it would keep me thrilled. It almost did, but I am a bit tired of the producer's same old trick with the animal minion (this time, a chipmunk or else). At least the last six games from the same producer I played, all had a sort of animal to bring me things I couldn't reach otherwise. Cats can do it, monkeys, squirrels can do it, etc etc (maybe a fish, next time?). Also, I didn't like the hurried finale of this game (I mean, you spend all this time collecting items etc, and suddenly, someone else has ALL the items you need to defeat the demon, finish the game, in her pocket!!!! I felt hugely disappointed with a sloppy, hurried ending). The game has great features, graphics, music and story, and the terror, thrilling mood you got is the best of them. But I wish the producers could rethink this game a little bit. It was almost perfect, except for those things I mentioned.
January 1, 2014
The Apple logo is a trademark of Apple Computer, Inc.