Forest Legends: The Call of Love
Exclusive
Deep in the heart of an enchanted forest, a forbidden love blooms. Guide the human Eveline as she sets out to rescue her beloved from the clutches of a tyrant, learns the truth about magic and discovers her extraordinary destiny! Epic in scope and exploring themes of love and belief, Forest Legends:The Call of Love will captivate you from beginning to end!
Game System Requirements:
OS:

Windows XP/Windows Vista/Windows 7/Windows 8

CPU:

2.5 GHz

RAM:

1024 MB

DirectX:

9.0

Hard Drive:

1167 MB
Game Manager System Requirements:
Browser:

Internet Explorer 7 or later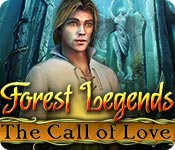 NEW299
The Big Fish Guarantee:
Quality tested and virus free.
No ads, no adware, no spyware.

Reviews at a Glance

Forest Legends: The Call of Love
0
out of
5 (
0
Reviews
Review
)
Customer Reviews
Forest Legends: The Call of Love
23
23
excellent
I didn't expecting this excellent graphics, great romantic story I purchased SE nice ended and I enjoy it
September 9, 2013
A Beautiful Gem!
This is one of those games you will remember.From the gorgeous graphics to the surreal music score.This game is interactive throughout like I knocked on a window and someone looked out! I love the music that makes you want to relax..And,alas,a Map!.Who doesn't need a map to tavel to distant lands and one that transports you there is a major plus! I was totally immersed from beginning to end.This is not a difficult game,it is a memorable one.A beautifully set fairy tale kind of game.One that is not of the dark sort.This game for me,anyways,had all the qualities I love about gaming! .
September 8, 2013
Loved the story and the entire game
Story was great, graphics were fantastic, dragon was so cute and so helpful with the tips to finding locations. Just loved the story line and the ending was great and did not leave you hanging up. Could not find any fault with the game it was just enjoyabe to play.
September 5, 2013
Recommendable Adventure!! :)
Played the Collector?s Edition of this game and tried the Standard Edition to find any differences? There are not many! The main-game (which is this SE) ends conclusively after about 3 hours. Extras offered in the CE are only music, wallpapers and concept art and a bonus-chapter with an additional story and another 45 minutes to play. As a great fan of fairytale-based games I was looking forward to this one? but it left me a bit disappointed. Graphics are slightly kind of washed-out, especially the cutscenes are blurry. Characters are not good animated? We have 6 chapters, 2 modes to choose from (can be changed during the game), lockable inventory, useful map showing available action and allowing you to jump, a very detailed journal, 70 memos to find, but they are not hidden, you?ll find them anyway? A baby-dragon is your direction giving hint and he also helps you out. There are NO hidden-object-scenes, but a lot of puzzles and minigames: Some very easy ones, but also some difficult ones. And you have to prepare lots of different potions for different purposes. It is a nice game, worth a game credit!! Especially if you don?t like hidden-object-scenes!!! :)
September 1, 2013
Light and Airy
BASED ON DEMO N.B. No HOs In This Game FIRST IMPRESSIONS Everything about this game is light. The music in particular seems to float in the air, a series of stringed instruments plucked with a delicate touch. The graphics focus on a fragile beauty that is pastel and thin, and eerily magical. So even while it is a story of war and disharmony between races, it is also a story of love conquering all, a romance in the traditional sense. SIGHTS & SOUNDS The imagery abounds with fantastical flowers and animals, delightfully imagined and rendered. The detail is wonderful, the brushstrokes clear and light, and the overall impression is of delicacy. This is the world outside the one we know, and we must adjust to this strange and lovely forest. The voiceovers in this game match the rest of the art in quality, and nothing can match the music for beauty. WHAT?S HAPPENING These love sick kids have got it tough. They are of different races ? our character?s human, and Aurelio is a felize, a shape-shifting cat/human with magical abilities. We have fallen in love with his human form, but the felize and their magic have been prohibited in the human world. An unhappy encounter leaves Aurelio wounded and before we can evade capture by the humans, the felize people drag Aurelio off to their world. We seek a healer?s help to follow him there. MAKING PROGRESS Well, puzzles, puzzles and more puzzles. There is a lot of adventure-style tasks to be completed too, but it is the puzzles that characterise the game. These are new or newly-devised, in keeping with the tone of the game. I didn?t find any of them especially hard. Hint is directional, and will keep directing you till you get to the right place, without penalty. There is a journal with story and objectives, and an interactive jump map. We have a Potion Pot that allows us to whip up magical potions on the go, with all the devices we need, and a recipe book to instruct us about ingredients. FAMOUS LAST WORDS I didn?t find anything in the CE that I thought justified the extra cost. There are the usual items, of course, but nothing that screamed ?buy me!?, and I haven?t changed my mind after trialling this. As an SE, this is a definite buy and makes a nice change, being light and airy compared to most games, but while beautiful, not exactly cute.
September 1, 2013
GETS MORE INTERESTING AS YOU GO
This is a different type of game than I normally play. It's an adventure game with an intriguing story which gets you more interested as you go deeper into it. I found myself liking it more and more, though I was somewhat mediocre about it at first. WHAT YOU GET: 3 sound volumes automatic widescreen relaxing music 2 game modes journal with map, notes, tasks and memos separate map without opening journal if wanted tasks listing without opening journal if you prefer a potion lab GAMEPLAY: You'll find 70 memos along the way that will give clues and tell the story of the felizes and humans, the war, disappearances, and other interesting facts. You will also be given potion recipes periodically and ingredients you find will automatically go to the potion lab instead of into your inventory tray. The potion lab is given to you by a shaman in the forest and she will appear periodically to help you since she knows the land of the felizes as well as the humans so well. Something always seems to happen that gives you clues as to what direction to head to next. That's good because there are a few unexpected twists and turns to the story. HINTS are in the form of a dragon, which will go so far as to show you where you can do something and what inventory item to use (which is helpful because it isn't always clear that an inventory item can be used there). There are little balls of light in various scenes that will recharge the dragon. But unlike some games, you won't waste the charge by clicking on it if your dragon doesn't need recharging. OTHER STUFF: Dialogue is written and spoken; clicking on a dialogue popup will hurry it along (since you can read faster than listen to the spoken words). Voices are middle-of-the-road - neither great nor terrible. Visuals are pleasant to look at. Animations are very, very good. I think this game was listed as a HOG, but it's not the usual type where there are HO scenes. You do have to find stuff to complete the puzzles though, but they are in the various environments. If there's one drawback to the game, it's that the story is occasionally a little slow to develop - but I prefer fast-paced stories. Well thought-out story and gameplay.
September 1, 2013
Romeo and Juliet
A good story. A father disapproves of his daughters involvement with a supernatural creature, it's all downhill from there. She finds ways to help him. Only based on demo. Played on difficult. Still too many hints. Graphics are nice if a little stilted.
September 1, 2013
several hours of mindless fun!
I enjoyed this game as something to play just for a few hours when I needed a break. It isn't particularly hard but it kept my attention with the storyline and the visuals. Some of the voice work was irritating but you could click through those parts. I would definitely recommend this game as a simple, enjoyable adventure.
September 2, 2013
YOUNG FORBIDDEN LOVE!
Long, long ago mankind and Felize lived in harmony, that is until war broke out and the Felize werecat's were hunted and nearly brought to extinction! Now the Chief Hunter's only daughter, Eveline has fallen in love with a handsome werecat named Aurelio who has been mortally wounded and won't survive unless you find the correct ingredients for the cure. Now you must explore the forbidden forest for the potion but when you meet the Healer she enlightens you about your true identity....In my opinion this is a really good SE game and more of a value than the CE. You still get to collect 70 notes hidden throughout the game as well as glowing orbs to recharge your baby dragon helper/hint icon which apparently loves his belly rubbed! This is mostly an adventure game of which you get to collect ingredients to mix in your cauldron as well as a ton of mini games most of which are fun. There are a ton of puzzles to solve so put on your thinking cap and enjoy!
September 7, 2013
Not really my thing, but..........
Surprisingly enough.......I enjoyed it. The game runs smoothly from scene to scene, and there's an excellent transporter map that works very fast { some do take a time, don't they ? } overall a good game.....the only con for me was the making of the potions, a bit tedious and repetative...{ cant we just find them ? } I could have done without that !!! anyway it was a buy for me and I'm glad I did, a little light hearted but thats a plus sometimes.Happy Angling, Fishes xx
September 27, 2013