Lost in Reefs 2
While other Match-3 games support only one gameplay mode (Swap or Chain), Lost in Reefs 2 goes a step further by now including Group, a third, new gameplay mode. Swap pieces between spots, trace a "chain" between identical pieces, or – now – explode groups of similar colors. And to complete a level, destroy the marble plaques. It's harder than it sounds! Another game exclusive is the shape of the playing field: Lost in Reefs 2 offers a traditional rectangular field as well as an innovative six-sided one for a greater challenge.
Three gameplay modes: swap, chain, group
Relaxing music and smooth sounds
Amazing underwater town to restore
Game System Requirements:
OS:

Windows XP/Windows Vista/Windows 7/Windows 8

CPU:

2.0 GHz

RAM:

1024 MB

DirectX:

9.0

Hard Drive:

78 MB
Game Manager System Requirements:
Browser:

Internet Explorer 7 or later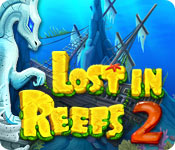 NEW299
The Big Fish Guarantee:
Quality tested and virus free.
No ads, no adware, no spyware.

Reviews at a Glance

Lost in Reefs 2
0
out of
5 (
0
Reviews
Review
)
Customer Reviews
A gem
Reviewed after about an hour of playing. First thing's first: the art is very nice in his one; even the pieces for the match-3 levels are nice to look at. Story: You're given an introductory cutscene (you can skip it) telling you briefly of a city that existed long ago where once people coexisted with dragons but has long since been covered by sea, and now it's up to you to find it again in the present day. Your semi-typical Atlantis story with a cute dragon twist. How the game plays: Match-3, Chain and Group. You start out being able to only play the Match-3 types, but as you play more levels, the other gameplay types are unlocked for you and you get to choose which way you'd like to play the next level every time, just by going to the menu first. There's also some diagonal match-3, which confused me a lot at first but once you realize it's just diagonal, is pretty fun too. As you match/chain/group gems and artifacts, you are accumulating gold and other resources (mostly gold) with which you can buy items and decorations for your scenery, and upgrade already-purchased items. (Think a mix between Gardenscapes [where you can't choose where to place your decorations] and Aquascapes)There are also five types of power-ups you can gather during each level to help you along, just from matching large amounts of certain pieces. Extras: There are trophies and achievements to collect! It doesn't seem to be too many trophies, but each are held in a trophy gallery for you and hovering your mouse over the shapes of the missing trophies also tells you how to obtain them. Sound: I personally enjoy game ambiance and music being turned on, unless it's truly unbearable or overly repetitive. The music and sound effects in Lost in Reefs 2 is quite nice to listen to, and it doesn't annoy after great lengths. The sound effects are generally pleasing as well; the noise made when you break a stone tablet under a matched set is a satisfying, realistic crunch! I think I will be spending many more hours on this one. Definitely a good buy.
September 2, 2013
GLUG GLUG GLUG... Come on in, the water's FINE!
I LOVE this Match 3 game -- and dare I say: SO much BETTER than the 1st version! As Big Fish described, there are 3 modes of matching: Swap, Group, and a new one, groups of matching COLORS. At first the only mode you can use is Swap; the others have to be unlocked as you go along earning your $$ and re-building the city. You need to upgrade your buildings too, before you move on. The "buildings" are different types of sea items, creatures, and the like, that are considered the building blocks for the city. Not sure what the city looked like BEFORE it sank, but it's now becoming part of the Sea with its unusual buildings of shells, reef sections, etc.! [so far, in my Demo hour] The graphics are bright and clear, and the music and sounds are nice, not intrusive... but of course, they can be turned all the way off. There's a story at the start, to give background on the city and how it has sunk to the reef below... but, you can skip the intro if you want [it's a little corny, but the narrator has a great voice!] So, if you like some background with your Match 3, you'll be happy to follow along. Honestly, I could have done without the intro, but that's just me - I just want to get to the matching! This is the type of Match 3 game that I find the most fun! You're not just matching items on the screen and that's it: match, clear screen, new screen, and repeat. Instead, you clear the screen, earn your points/$$, then use your $$ to buy parts and rebuild. If you're a Match 3 fan, or just want to try a new genre [this game would be a great one to try if you're new to Match 3, especially!!], you won't be disappointed that you downloaded the free Demo to try it out -- Enjoy! [I just finished D/L the entire game -- so, I can't wait any longer, gotta get back to matching while listening to Pandora!]
September 2, 2013
What I call mindless fun :)
It's a simple M3 that's colorful with little "thinking" involved. No wandering around wondering what to do next .. no dark tale you're trying to follow .. just a simple mindless game of M3. If you like these kind of games - then it's right up your alley. You can whittle away the hours. Next thing I knew I'm on level 50...lol. Very similar to the first game, tho it's been a while since I played. If you liked Lost in Reefs, you'll like this one as well.
September 2, 2013
Fun, colorful match 3
I really like this game, reminds me of Lost in Night, which I played twice already. I like the graphics, smaller tiles, but very detailed, I especially enjoy playing hexagonal tiles. You earn coins which you can use to buy stuff to upgrade your ocean. It is relaxing most of the time but gets harder in timed mode as you go on. Very nice colors, achievements, upgrades to buy, bombs, magnets etc.to collect during the game which come in handy as the game gets harder. As you play along you open up more game styles such as swap, group and chain style. This adds to the fun so it really never gets boring. When I need a break from the adventure games, this is what I go to.
September 2, 2013
Great, but not all that new
I loved Lost in Reefs 1 and played it several times. Then I played Lost in Night several times. I've bought this game as well and will undoubtedly play it several times also. The games have (to me) very pleasant graphics and music, and get harder at an appropriate pace. You get rewards for playing by being able to build or restore a town. All the things one would expect from a high-end Match-3 are there -- timed or relaxed play, multiple game modes, trophies, etc. My only criticism is that everything is too much the same -- board shapes, game tokens, power-ups, types of obstacles to board completion. This does not keep me from enjoying the game, but some may find it too little like a "new" game.
September 2, 2013
Great Game!
I had to try this game because I have the first one.This version is just as good.The graphics are good and the music is worth listening to.There are even whale and dolphin sounds.It has several variations of M3 modes and you can play timed or untimed.The game play was smooth and the sounds were not overwhelming.If you liked the first one you will love this one.It is not a game that you will get through quickly which is a plus for me.I purchased it immediately.
September 2, 2013
Love these "Lost In" games
3 match 3 choices; group, swap, line. Timed or non-timed modes. Love the beautiful graphics. You build up a town that is underground by earning points. Just plain fun and relaxing. I've replayed Lost In Night several times. Lots of achievements. A must have game for me
September 2, 2013
great match 3
Great game. Everything I look for in a match 3. You can play relaxed or timed and you have to rebuild the city. You get power ups with the more matches you make. Just over all a great game. Wish they would keep making more
September 2, 2013
Match 3 Honeycomb Style!
What a beautiful Match 3 game, the Lost reefs of dragon city where long ago man lived side by side with beautiful dragons! Now you can rebuild this mesmerizing reef city with the money you earn by purchasing various items like corals and statues, then upgrade them as you conquer new levels. At first you only get the option of match 3 and after a few levels they introduce I new concept I haven't seen before, the game board becomes a honeycomb grid and you match 3 or more diagonally. It takes some getting used to but once you catch on it's actually a refreshing change of pace. The levels progress quickly and different styles of matching become available such as colors or groups. The graphics are very colorful and the music is non evasive, they did a nice job of making the fish as realistic as possible and the game itself is addicting so enjoy!
September 7, 2013
A Nice Relaxing Match Three Game
This is a game you can play to relax and still have lots of enjoyment and fun. The colorful graphics the relaxing music and the building aspect as well as more than one way to play make this game a must if you are stressed and need to relax. Thus game also has a challenge aspect to see if you can match the required items to get a tool. I absolutely loved this game.
September 2, 2013
The Apple logo is a trademark of Apple Computer, Inc.