Golden Trails 3: The Guardian's Creed
When Jacques regains consciousness in a tavern, he finds a strange seal on his shoulder. Where does it come from? Who did it? Why? Join Jacques in his daring and dangerous adventure as he tries to solve the mysteries of the seal. Scour numerous locations, travel Europe from Paris to the Vatican, explore ancient writings of the monks, and solve tricky puzzles in search of the truth. Get ready to find out the secrets of the Templar Order in Golden Trails 3: The Guardian's Creed.
Travel around Europe
Over 30 locations to explore
Engaging mini-games
Game System Requirements:
OS:

10.8/10.7/10.6

CPU:

1.0 GHz (INTEL ONLY)

RAM:

1024 MB

Hard Drive:

373 MB
Game Manager System Requirements:
Browser:

Safari 4.0 or later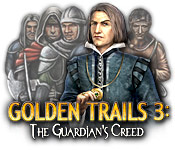 NEW299
The Big Fish Guarantee:
Quality tested and virus free.
No ads, no adware, no spyware.

Reviews at a Glance

Golden Trails 3: The Guardian's Creed
0
out of
5 (
0
Reviews
Review
)
Customer Reviews
Golden Trails 3: The Guardian's Creed
57
57
Fun, charming, surprising, and filled with rewards
I love this game! I don't recall Golden Trails 1 and 2, but this one is fantastic. The voiceover actor is wonderful so we don't get sick of his dialogue, but you can skip any dialogue you wish. There are dozens of beautiful locations, with a couple of rooms at each site. With a detailed map to show us the cities (Paris, Rome, maybe more), we always know where we're going and how many things we have to find at each place. We earn trophies for reaching various levels, and unlock unlimited play and bonus play as we find more and more of the surprises. The plot is a good mystery, but it's not gory or creepy. It's just fun. It's kept me up way past my bedtime and I'm going to be so sorry in the morning (today). But right now, who cares? It's really been worth it. it's the kind of game that I want to keep starting over to see if I can play it perfectly without hints just to see how far I can go. It's challenging but not exhausting. I didn't lose my place as I have been lately in some of the more complicated HO games. This one is really just fun and beautiful, too.
December 5, 2012
CE Quality ... Lots to Do!
I've always enjoyed the Golden Trails game. This is probably my favorite. For a SE this one has some of the qualities of a CE game without having to pay the price -- Achievements, collect 150 items to get extra play, find special objects that sparkle, plus hidden object scenes. You also have a map that at a minimum lets you know areas that you still have things to do, and yes, it takes your there. Finally, you can collect extra hints throughout the game by shooting the bandits. Another plus for this game is its replay value. I started the game three different times to see if the objects change, and Yay, they did. There are also mini-games. While this is not a difficult game to play, I'm enjoying it. Kudos to the developers. So for the great price today, you can't go wrong. I've purchased the game and I'm enjoying it.
December 5, 2012
Wonderfully Difficult!
Sometimes you get a game that you fly through, then other times you get one that really challenges you not to use your hint button. This game is easy to follow, not to difficult to figure out, but finding the secret places and secret things was a nice challenge. This is Collectors quality without the price.
December 5, 2012
good hidden object game
i loved the game, and defo buy it, the hidden objects r there but u really have to look for them, a good story for the free hour hope it like it through the rest of the game, and little mini games r excellent, graphics were excellent,
December 5, 2012
An Original HOG
Golden Trails 3 is exactly what I've been asking for..a true HOG, just like in the "old days". This game is challenging enough for those of us that want "just" HOG's to play. There are the occassional puzzles but they can be skipped. The graphics are beautiful, music is pleasant and and storyline is interesting. Please keep creating this type of HOG, without adventure, for those of us who love games like this. Golden Trails 3 doesn't let you down!
December 9, 2012
The Ultimate HO Game!
BASED ON COMPLETED GAME This is NOT a Hidden Object Puzzle Adventure, even though it combines all those elements in a unique style of gameplay that it is the best of any HO GAMES I?ve seen. I find this series of three games get better with each replay, and I feel at a loss about doing them justice. The ADVENTURE is there in the STORY, a little mystery, a little danger, some romance and a touch of greed and treachery. But you?ll not be traipsing around looking for a crowbar. Instead you?ll play a LINEAR game, where each COMPLETED HO SCENE will lead you to the next. There are also PUZZLES, but they are simple and very much a part of the HOS as well. With this game (and the others before it in this series) you will have a number of PICTURED OBJECTS to find, some INTERACTIVE, some for INVENTORY use. You only see a half a dozen at a time, so more turn up as you find things. The items are CLEAR though CRAFTILY HIDDEN, and the GRAPHICS are EXCEPTIONAL. Within the scene, you will also find COLLECTIBLES, in this case fleur-de-lis, which will UNLOCK REPLAYABLE HO SCENES. As well, there are MYSTERY items, which sparkle with cursor hover. (The only sparkles in the game, BTW) These make up some of the 80 odd ACHIEVEMENTS you can get. You also get to SHOOT bandits that pop up at random. They do not affect the progress of the game, but UNLOCK extra HINTS. When all scenes in an EPISODE are complete, you will see a SUMMARY of the evidence you have discovered and the implications of it. At the end of the MAIN GAME, you will open the SECRET MISSION, a BONUS CHAPTER much like you?d find in a CE. In fact, this game COULD have been a CE without any significant changes. The VOICEOVER is EXCELLENT, and the AMBIENT sound very well done. The MUSIC is CONSISTENT with the STORY. You wake up in a tavern with a nasty headache and a strange tattoo. Trying to track down your assailants leads you to a mystery involving the LEGENDARY KNIGHTS TEMPLAR TREASURE. What have you to do with the Knights Templar? Does the treasure really exist? Who are the good guys, and the baddies? Questions that can only be answered by playing this WONDERFUL HO GAME.
May 28, 2013
Wonderful/Challenging Game
This game has excellent graphics and a clear speaking voice. Under different Profiles, you can play this game over-and-over and have different items to look for every time. The only items that stay the same, per each HO scene, are the ones that are needed in other scenes. Some items are partly hidden, and others somewhat blend into the background. That makes for a challenging search. The placement of the Fluer-de-lis changes with every new profile. I am on my 2nd time through the game, and enjoying every minute of the challenge of searching for different items. I almost forgot to add, you get to shoot bandits to get extra hints. Keeps you on your toes. Enjoy the game everyone.
December 13, 2012
Awesome
This game was beautiful to watch and it wasn't saturated with too much dialogue. What surprised me was this game went on for a very long time, I kept waiting for it to end and I feel like I got my money's worth on this game. I liked the trophies to try to get.
March 12, 2013
a really absorbing and enjoyable game
Reviewed after completing the game. I was surprised at how much fun I had with this mystery-solving game, based on the ancient little-known order of the Knights Templar. The plot is pretty complicated, but luckily the player doesn't have to keep track of all the turns and twists. I found the artwork absolutely gorgeous, more like fine book illustration. There is one scene in particular, of a snowy landscape, that I wish had been made available as wallpaper. When the characters speak their mouths don't move (as in old-style games), but it is completely appropriate given the art style. Each new location is introduced with a a birds-eye cityscape scene, and functions as a location map. Among the buildings tiny moving figures engage in day-to-day activities,appropriate to the period. This is a charming touch, and not overly cute. The hidden objects were pretty difficult to find, which I like, although it caused some eye strain as it did for some other reviewers. The objects are different enough that it doesn't become tedious. As the main focus of the game is "looking for clues," several scenes are visited more than once. The main character/narrator was very personable and appealing, as was his pleasant voice. (The voice the creators gave to the female character, though, was extremely irksome, to the degree of fingernails on a chalkboard. ) There are trophies and awards to win (which I discovered a little too late), based on how many assassins you spot and shoot, and how many "special objects" you find in each scene. After the game is completed, there is a bonus HOG, where there are three new rooms to explore, but access depends on how many bad guys you are able to shoot. I am very fond of this game, obviously, and am looking forward to trying the other Golden Trails game(s).
January 5, 2013
Best Game in a Long Time
This game ROCKS! It is one of the best games Big Fish has put out in a LONG time. For those of you still heartbroken over the mess that was the new MCF game, come and quell your sorrows with some serious fun!! Excellent graphics, nice quick game play, challenging puzzles. Trophies which are hard but way fun to get. A timer in Unlimited mode. I've had this game for a couple of days, and I've played it four times!! This one is a keeper!! The story actually resolves like you're solving a mystery, and best of all NO CUT SCENES!! I HATE having my game play interrupted by pointless cut scenes throughout. This story provides you with clues at appropriate intervals. I just cannot say enough good things about this game, I'm really happy with it :D
December 8, 2012
The Apple logo is a trademark of Apple Computer, Inc.
The Windows logo is a trademark of Microsoft, Inc.