Dance of Death
The magic of music and love against black magic death. Dance of Death! Will good conquer evil? Investigate the mysterious disappearance of young Luciano Folgeri from the orphanage. Immerse yourself in the atmosphere of an old Venetian mansion full of mysteries. Defeat your fear of ancient curses and prove that love is stronger than death. Do not be afraid! Save the boy! The universe of good spirits is on your side, and the great power of music will help you to succeed.
Five different types of hidden objects scenes
Unique "Golden Mask" mini games
Mystic story component
Game System Requirements:
OS:

Windows XP/Windows Vista/Windows 7/Windows 8

CPU:

1.6 GHz

RAM:

512 MB

DirectX:

9.0

Hard Drive:

420 MB
Game Manager System Requirements:
Browser:

Internet Explorer 7 or later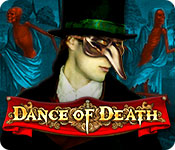 NEW299
The Big Fish Guarantee:
Quality tested and virus free.
No ads, no adware, no spyware.

Reviews at a Glance

Dance of Death
0
out of
5 (
0
Reviews
Review
)
Customer Reviews
REALLY FUN LITTLE GAME
Really like this game. There are 2 modes of difficulty and a diary and task list. A boy has been kidnapped from a Venice, Italy, haunted orphanage and you have to find him. ENTERTAINING: Music can be suspenseful or energetic - always appropriate to the scenes and what goal you are trying to accomplish. Ghosts in various shapes appear throughout in the most unusual places and really add to the atmosphere as you explore the various environments. The artwork is very nice - not too vivid or dull. ANIMATION is really good and sometimes makes you wonder if you really saw what you thought you saw. HOS AND PUZZLES: Lots of HOS - of most every kind there is. Objects are well detailed and not difficult to find, although occasionally you really have to look. Also lots of puzzles which have varying degrees of difficulty. Some were rather new and ingenious or had twists and turns of well-known puzzles. Missing pieces of puzzles were usually not too far away, although you had to explore the entire location (ex: the house and its grounds) to find them. The ratio of HOS to puzzles seemed to be about even. REALLY LIKED THE TASK LIST: One thing I really liked was the way the task list worked. You are given a list of tasks to be performed at, say the orphanage. As you complete each one (ex: find out who took the boy and in what direction did they go), your task list reappeared with that task greyed out. New tasks appear periodically. You could not leave a place until all the tasks that were required were completed (ex: you could not leave the orphanage to go to the homestead until all orphanage tasks were done - there is limited back and forth only in each location). So the game is rather linear in that respect. Game is an amusing afternoon of entertainment.
September 4, 2013
Spooky Game Find!
This is a twisted little game, very original and little if anything is copied from other HO games. It is for adults as there are some pretty frightening scenes in it. If you like darker kind of games this one is a must try.
September 6, 2013
A another good Halloween game
This was a very scary game. The graphics and sound were great. The story was very scary. The ghosts that kept coming in and out made you think that you were really in a haunted place. The HO's were kind of hard to find, but with the help of the hint button, you can find them. I would recommend this game.
September 5, 2013
"The Dance of Intrigue"
A mysterious and fascinating game. From the beginning this game tweaks your interest. It joggles the mind and holds you captive. It's adventurous, hidden danger abounds, your walking on slippery ground and trembling in the balance, but you totter on. I kid you not. No dillydallying here.
September 21, 2013
Very Good Game to Play.
Who ever that is out there Do Not Play this game if you don't like Horror. There are scenes that are in this game that might really scare you. There were a couple of scenes that I even jumped at. I really did enjoy playing this game. It was a long one to play also. You will really like this game if you love Horror Games. I wish they will make more of these types of games too. So go ahead & buy the game as I did.
September 5, 2013
Creepy but fun
Can't find any fault with this game. If your into creepy, this is a good one. Played best in the dark!
September 15, 2013
REVIEW OF COMPLETED GAME
I do not recall seeing these devs before, so if this is a first-time effort, I shall keep my eye out for anything else they may offer, as I think they have the right idea. Not great graphics-wise - a little rough, but not bad either. Lots of variety in the iHOS and very good, artistic and interesting puzzles that I really enjoyed. Nothing special about the story, but the game play is interesting enough to compensate for that. 2 modes of play. Music not bad. Cut scenes and voiceovers could have been better, but again, not bad at all. It does not have an over-abundance of locations so that lack of a map does not matter. Hint button is directional and although the game trailed behind itself once, sending me back and forward between two locations a few times, it soon caught on to the fact that I had already done that task and we moved on. Navigation is quick and smooth and at 3.15 hrs long I say, yes, the levels of creativity and innovation are good enough to rate it an enjoyable, fun experience. Plenty of room for improvement, but certainly no dud, this game I consider well worth my pcc.
September 4, 2013
Creepy game that I really enjoyed!
This game has it all if you like spooky games. Has real actors too. Accents were good, and not irritating as so many are. Two modes of play, easy or more difficult. The HOS were excellent, varied and mainly very clever. The first time I've really looked forwards to seeing them. Not too many either. A bit too much hand holding if you read the clues. The hint system was excellent too. Length was about 3 hours playing more difficult level with no sparkles. One of the best non CEs of late...
September 4, 2013
FUN
I got a big kick out of this one! There is a lot of shock value spooky stuff...things jump out at you unexpectedly, scenes are red, amorphous thingys drift in and out of the scenes. I really enjoyed all of these little additions..true, not a lot of expense has gone into this game, but still it turns out to be fun and engaging. The HOs are very well drawn and are quite challenging. The different types of HOs add a little twist for us, as well. The mini games require a little more time to figure out than the usuals and I found them interesting. The one draw back I found is the lack of a map. There seemed to be a bit of back and forthing in the demo. The hint button is directional, and I used it quite a bit...fortunately, it refills quickly on the easy setting. By the way, there are only two settings: easy or hard. I don't agree with some regarding the graphics; I found them excellent in each scene. I think this dev could bear watching in the future.
September 4, 2013
Dance of Death
This is a brief review of the Dance of Death, Graphics are clear , sound is good, you have to find Luciano a young boy who has disappeared from the Orphanage. The puzzles are so far pretty good, not too difficult, the music I find ok pleasant and bearable, the only thing I find is the pop up Goal page, it can be annoying it gives you the goals you have to complete, to me it distracts from the game but that is my opinion, the HOG's are clear and the game is enjoyable. I think it can be for beginners through to expert who feel they want a relaxing game to play.
September 4, 2013