Dance of Death
The magic of music and love against black magic death. Dance of Death! Will good conquer evil? Investigate the mysterious disappearance of young Luciano Folgeri from the orphanage. Immerse yourself in the atmosphere of an old Venetian mansion full of mysteries. Defeat your fear of ancient curses and prove that love is stronger than death. Do not be afraid! Save the boy! The universe of good spirits is on your side, and the great power of music will help you to succeed.
Five different types of hidden objects scenes
Unique "Golden Mask" mini games
Mystic story component
Game System Requirements:
OS:

Windows XP/Windows Vista/Windows 7/Windows 8

CPU:

1.6 GHz

RAM:

512 MB

DirectX:

9.0

Hard Drive:

420 MB
Game Manager System Requirements:
Browser:

Internet Explorer 7 or later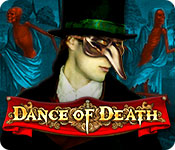 NEW299
The Big Fish Guarantee:
Quality tested and virus free.
No ads, no adware, no spyware.

Reviews at a Glance

Dance of Death
0
out of
5 (
0
Reviews
Review
)
Customer Reviews
Seriously creepy little game...but entertaining!
I certainly can see where a few peeps would be turned off by the creepiness....as I get older my interest has severely waned for the creepy and macabre. Which this little game has in spades. I found it easy to maneuver but did need to use several hints so am grateful for the hint feature. I liked the task list and found the HOS's very entertaining and fun, although challenging. The graphics were quite gory and each scene had at least one ghostly character. certainly a perfect SE game and I enjoyed it immensely. I did find it rather short....but that's my long standing complaint about almost every game.
September 5, 2013
Very atmospheric..
Fun and lovely spooky game. Sound effects and visuals are subtle and creepy, old Venetian manor. The mini games were unique: morphing objects.. I really enjoyed this game. Quick though, completed in under 3hrs. I would love to see more from this developer.
September 6, 2013
A bit short, but different than the standard fare
This review is based on a complete playthrough. First, as far as "scary" and kids - they've got worse stuff on cartoons (especially if they watch anime). It does try to keep a 'creepy' feel going, though not as much as some games (Bloody Mary). I beta tested this game way back and really tore it apart. The devs listened though, and they fixed all the issues by release. Great job of a dev team listening to feedback! THE GOOD: It's different. In a sea of "same" HO/HOPA's we get one that isn't cut from the same cloth. That's worth a star right there. This is much more an adventure game than a HO game. You don't interact with characters much though, like a pure adventure game (Nancy Drew or Syberia). The HO scenes are interesting: find morphing objects, or find objects with items popping up and down in the screen, and naturally a few 'interactions' for you to figure out. On hard they had sparkles, but they were light. You could miss them if you aren't paying attention. Puzzles are great. Some are variations on standards, but there are a few that stand out as different from the normal rings and swaps. I think there are more puzzles than HO scenes, but honestly there's not a whole lot of either. You can skip puzzles in hard mode. Journal that fills in as you find things. Pretty much everything important is recorded there, along with some of your characters thoughts and conclusions (you're a detective). THE BAD: This is a short game. Took me about two and a half hours. I skipped one puzzle (and one other accidentally). Basically was taking my time with it. So this isn't something that's going to fill up your day. No map. If you look at this game as an 'adventure' game, that makes sense, as those games generally don't come with things like maps or journals: that's what your notebook is for. But as a HOPA, it really could have used one. I think this game suffers a bit for being 'in between' two genres. It's also not nearly long enough for an adventure title. If you're not careful you can click past info that doesn't repeat. Did that at a couple of puzzles and when switching screens. That and constantly backing out of HOS because items are too close to the bottom (pet peeve of mine). THE UGLY: There's not a lot of voice over, but what little there is sounds off (but is MUCH better than it was in beta). The lip synching is off (nothing to help that, English wasn't the first language). BOTTOM LINE: I got this as a DD. For that price, I think it's worth it. Would be a good punch card filler if you need that sixth punch. . Because the game is different, and dared to try a few new things, I'm giving it four stars (3 1/2 rounded up). Have to knock one off for its length and they didn't really do anything with a standard story line: you don't learn new and interesting things about characters as you go on, or any plot twists. I'm giving this game a recommendation with the caveats above. Play the demo and you'll be a fair bit through the game so should know if you want to finish it or not.
August 27, 2014
very scary horror game, like that!
Nice game, with some really creepy effects! I jumped up several times.... sorry to say that I sometimes also jumped up from the tasklist, that really 'sprung' in your face, that was a bit too much I thought. The idea of the tasklist and how it was presented I liked. The 'turn around' locations were great too, you don't see that often. Gameplay was a little challenging, there are games around that are a lot easier! Nice touch! I really liked the different styles of HOS, the morphing objects variety was a lot of fun. A lot of screams, whispers and sighs, sometimes some scary violin music. Yes, the storyline is known, but this take on it was very nice! I had great fun with this very atmospheric, creepy game! See if you like it too!
September 15, 2013
Dance of Death
I thoroughly enjoyed this game! It reminded me of the Ravenhurst games( which I think set the bar for game makers) except that last one. I liked the music and the graphics, the mini-games were fun, not typical rotate pipes etc . Enough macabre scenes without being too gruesome. I liked the story line, ghost actors, and the goal of the whole game is to find & help the boy who was kidnapped. Never saw this game maker before, would be interested to see if they come up with another one I enjoy as much as this one. I recommend giving it a try, I used a "free" game and I'm not sorry!
September 6, 2013
I'm Glad I Got in on this Dance!!...
...But I have to admit, I'm not sure why!! This is a very strange game indeed. I didn't understand much of what I was doing and if it weren't for the generous hint system I'd have hung up my ballet slippers early on in this dance. Instead, I played the whole thing and quite enjoyed it. The storyline...a boy is kidnapped and we need to find out who, what, when, where, how and why. Sounds fair enough, right? Well answering those questions makes for a few nights of intense fun. What I enjoyed most about the game (and this is true of a couple of games I've played lately) was the "feel," the "ambience." None of the individual parts were spectacular, frankly. And it was a very confusing game (and I think I'm a pretty insightful person). You won't find this review helpful I'm afraid. It's very short on specifics. What I can be on point about (dancing reference:)) isn't particularly complimentary. This is a game where the total is far greater than the sum of its parts. There's a lot of moving back and forth to utilize found objects. Nothing about the puzzles or HOGs stood out. I very much enjoyed the dark atmosphere which was supported by the gloomy visuals and scary background music. Aside from that, the game play was ordinary: find an object, use the object, achieve the proximate goals (which, by the way, were very clearly explained) and solve the mystery. I did exactly that. Not sure how. But I had fun doing it. I recommend you give this a try...but for sure do the free trial first before spending money or a coupon. Apologies for the lack of specifics. Despite that, I'm confident in my positive recommendation.
December 13, 2013
Creepy.....
Long time did not have something like this.... Love it .... not for children..... Be ware....
September 16, 2013
A Nice Enjoyable Game ...
Nice Graphics, Sounds And Creepy Visuals ... I Am More Of An Adventure Fan, Yet I Also Really Enjoyed The Style Of The HOGs ...
September 7, 2013
Only Some Will Love
This game was creepy and I Like It! It was different and some parts were too easy while other puzzles took some patience. I like the game, but people who do not like to get creeped out or like a game more deluxe will hate it or be bored by it. Graphics were great. Lots of Creepy. HO's had two different kinds. No Morphing, No map, but a hint button to help when confused at where to go next. Oh and the game was a bit Creepy. :)
September 4, 2013
Absolutely Middle Of The Road
BASED ON DEMO If you have issues with the occult, forget this game, you?re gonna hate it. FIRST IMPRESSIONS Weird. Also creepy and scary. The ad blurb says ? ?5 types of HO puzzle? , so yup, this is my kinda game! Venice and carnival masks? Bonus! But after the 45 mins demo I am still undecided. This game rates on a direct 50/50 split of like/dislike. SIGHTS & SOUNDS The game is dark, in graphics as well as theme. Most scenes are blood drenched , black magic saturated. And while the game is fairly static, there are quite a number of disturbing animated ghosts and other ghouls that just pop up as if from nowhere. This game is definitely for the horror crowd. The quality in the locations art is poor, I can see where objects have been pasted in. But the HO scenes are very clear and much better drawn. There are some scenes (like the canal ride) that are quite gorgeous. The sound track is very good. It sometimes enhances the sombre mood and sometimes contrasts it. Nicely done. This not, I suspect, a big money production, so there are no VOs after the intro, but we actually have a live actor, with an odd accent and almost lip sync. WHAT?S HAPPENING Kidnapped boy, mysterious medallion, Venice, black magic and music. Just how all these things add up together is the mystery. The story is presented as a crime whodunit, so you are collecting evidence to meet specific goals, what happened to the boy?s parents for example. One really annoying thing about this game is that as you complete each of these goals, game play is stopped by a pop up message. MAKING PROGRESS Yes, there are different types of HOPs, as advertised. I saw 3 in the demo. Interactive lists, multiples (e.g. 15 cutting tools) and ?move things aside? to find inventory item. There are a couple of puzzles, a slider, and another I simply didn?t get. Didn?t get to see the golden mask mini-game mentioned in the blurb. Hint is directional, there?s a journal, but there is no map. So far, nothing here to get excited about. The progress through the game is not always obvious, but it generally has logic to it. The whole game has an unexpected alien feel to it. I can?t describe it better. FAMOUS LAST WORDS This is definitely a try before you buy. After playing for almost an hour, I still don?t know if I want it or not. One for the punchcard filler list, I guess. I wouldn?t pay full price for it, but I think it definitely has ?something? that works.
September 4, 2013
The Apple logo is a trademark of Apple Computer, Inc.