Dance of Death
The magic of music and love against black magic death. Dance of Death! Will good conquer evil? Investigate the mysterious disappearance of young Luciano Folgeri from the orphanage. Immerse yourself in the atmosphere of an old Venetian mansion full of mysteries. Defeat your fear of ancient curses and prove that love is stronger than death. Do not be afraid! Save the boy! The universe of good spirits is on your side, and the great power of music will help you to succeed.
Five different types of hidden objects scenes
Unique "Golden Mask" mini games
Mystic story component
Game System Requirements:
OS:

10.8/10.7/10.6

CPU:

1.6 GHz (INTEL ONLY)

RAM:

512 MB

Hard Drive:

407 MB
Game Manager System Requirements:
Browser:

Safari 4.0 or later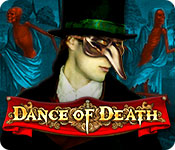 NEW299
The Big Fish Guarantee:
Quality tested and virus free.
No ads, no adware, no spyware.

Reviews at a Glance

Dance of Death
0
out of
5 (
0
Reviews
Review
)
Customer Reviews
Only Some Will Love
This game was creepy and I Like It! It was different and some parts were too easy while other puzzles took some patience. I like the game, but people who do not like to get creeped out or like a game more deluxe will hate it or be bored by it. Graphics were great. Lots of Creepy. HO's had two different kinds. No Morphing, No map, but a hint button to help when confused at where to go next. Oh and the game was a bit Creepy. :)
September 4, 2013
Absolutely Middle Of The Road
BASED ON DEMO If you have issues with the occult, forget this game, you?re gonna hate it. FIRST IMPRESSIONS Weird. Also creepy and scary. The ad blurb says ? ?5 types of HO puzzle? , so yup, this is my kinda game! Venice and carnival masks? Bonus! But after the 45 mins demo I am still undecided. This game rates on a direct 50/50 split of like/dislike. SIGHTS & SOUNDS The game is dark, in graphics as well as theme. Most scenes are blood drenched , black magic saturated. And while the game is fairly static, there are quite a number of disturbing animated ghosts and other ghouls that just pop up as if from nowhere. This game is definitely for the horror crowd. The quality in the locations art is poor, I can see where objects have been pasted in. But the HO scenes are very clear and much better drawn. There are some scenes (like the canal ride) that are quite gorgeous. The sound track is very good. It sometimes enhances the sombre mood and sometimes contrasts it. Nicely done. This not, I suspect, a big money production, so there are no VOs after the intro, but we actually have a live actor, with an odd accent and almost lip sync. WHAT?S HAPPENING Kidnapped boy, mysterious medallion, Venice, black magic and music. Just how all these things add up together is the mystery. The story is presented as a crime whodunit, so you are collecting evidence to meet specific goals, what happened to the boy?s parents for example. One really annoying thing about this game is that as you complete each of these goals, game play is stopped by a pop up message. MAKING PROGRESS Yes, there are different types of HOPs, as advertised. I saw 3 in the demo. Interactive lists, multiples (e.g. 15 cutting tools) and ?move things aside? to find inventory item. There are a couple of puzzles, a slider, and another I simply didn?t get. Didn?t get to see the golden mask mini-game mentioned in the blurb. Hint is directional, there?s a journal, but there is no map. So far, nothing here to get excited about. The progress through the game is not always obvious, but it generally has logic to it. The whole game has an unexpected alien feel to it. I can?t describe it better. FAMOUS LAST WORDS This is definitely a try before you buy. After playing for almost an hour, I still don?t know if I want it or not. One for the punchcard filler list, I guess. I wouldn?t pay full price for it, but I think it definitely has ?something? that works.
September 4, 2013
Venice, mysterious death, and a kidnapping.
Based on 30 minutes of the demo. You are in historical Venice and have to rescue a boy kidnapped from a local orphanage. The mysterious deaths you need to unravel are the death of his parents. I enjoyed the Venice locale very much. Nice atmosphere. The puzzles are pretty standard and of medium difficulty. My problem with this game is with the HOSs. In the "list of items to find" HOS, when you find an item it gets crossed off the list for a second and then it remains on the list. The item's color and appearance stay the same. Unless you are really paying attention and memorize the items you have already found, you can't tell what items still need to be found. I don't like this at all. In the "find 15 like items" HOS, the graphics are so blurry and undefined I couldn't tell what was what. I just randomly clicked hoping to hit on one of the items. This is when I stopped playing the game. I love the challenge of hunting for items in an HOS, but I really need to be able to tell what I'm looking at on the screen. This game had promise. I am sorry it was so disappointing.
September 4, 2013
Got a Few Good Laughs
*Demo Only* This one was quite amusing. I laughed at the developer's attempt at being scary or frightening. Their efforts were hokey, silly, and way over the top, which made it oddly enjoyable for me. This game was so cornball that I almost wonder if the developers did it on purpose. There were plenty of puzzles and HO scenes, some were familiar, some slightly different from the norm. At least the developers tried to inject variety by offering several different types of HO scenes (morphing objects, finding multiples of the same type of object, etc.). In opposition to what others have said, I actually like the type of graphics displayed here. I don't really dig the hand-drawn art that looks like oil paintings, so the totally crisp, computer generated look of this game was fine with me. Sound effects were a little dramatic and goofy as well?but again?I thought this was funny rather than annoying, but I can see how it may wear thin further into the game. I turned the music off straight away as I normally do in games, so I can't comment on that (although if the music is anything like the other elements, I would imagine it's very dramatic and unnecessary). The story was nothing we have not seen before. As one other member wrote, there is a very heavy dose of the occult and dark magic involved, so for those who find this sort of stuff unappealing, it's probably best to skip this one. And definitely do NOT let young children play, for there are some moments that could be too much for the little ones (i.e, there's a ghost who appears and his head falls of; there's a creepy crying infant walking upright down a hall, which was even a little disturbing to see as an adult!). Peeves: No map; the journal kept malfunctioning; and the inventory bar stays visible for too long. Biggest (possibly game-breaking) peeve for me: I arrived at a scene and discovered there was another scene if I backed up. I can't stand this in games. It should always be that when you back up, you find yourself in the scene you were in a moment ago, not an entirely new one. It just throws off all orientation. If it's true that this is the developer's first born, then hopefully the next one will be a little better polished and can actually be taken seriously...especially if horror is their goal. I'd recommend this one if you really cannot find anything else worthwhile, and you have a couple punch card codes laying around.
September 5, 2013
Death Dances Easily
Dance of Death intrigued me when playing the demo so I used a free game coupon to purchase it. I really like the storyline-- somewhat familiar, you are of course, a detective out to find the Italian son of parents who were murdered and has been kidnapped. The artwork is appropriately gloomy and spooky and I really loved the mini-games. The only complaints I would have is that the game is a bit short and it leads you around by the nose even in advanced mode. It would have been better had it been harder, but since I have not seen anything else by this developer, it is good for a first effort. Someone who is not an advanced player will love this. Overall, it is not a bad game to own, has some replay value to it and is fun.
September 5, 2013
Too much occult; yet enjoyed the creepy atmospherics...
If this game had stayed away from overt occult, I would have given it 5 stars. As it stands, there was too much occult activity and I don't appreciate occult depicted in my gaming at all, let alone participation in same. Unfortunate this game didn't stay on track with strictly the incredibly good 'spooky' atmosphere because I would have purchased this for Halloween thrills. As it stands, I can't buy. What a shame... the developer has what it takes and outshines every game in creativity and creepiness factor, yet it took that one step too far IMO. :( If this dev goes back to the drawing board and doesn't cross the line of religious respect, it would be incredibly great. Thumbs up for originality and full-blown scary impact... please try again for folks such as myself and IMO you will have a 5 star WINNER.
September 9, 2013
Bringing back the Old?
I played this game a couple of years ago..not sure which site..Plot of story is good--find out why an orphan boy has been kidnapped...Graphics are so-so (outdated by today's standards)...Not much interaction...Hint button is good and quick to reload..No "sparkles" even on easy mode--have to watch cursor turn "red"...Demo was ok but don't think I'd buy this one ...
September 5, 2013
BLINK & YOUR DONE....
THIS GAME HAS POTENTIAL "IF" THE DEVS SPENT MORE TIME ON IT...I WAS FINISHED IN 1 & A HALF HOURS...TOO QUICK OF A GAME..MORE LIKE A BONUS CHAPTER WITHOUT THE MAIN GAME...BUT IT DID HAVE A OK STORY LINE!!!
September 27, 2013
Average Game with Gothic Theme
Great graphics and visual style, but gameplay lets it down. I found it very slow and the mini-game descriptions unnecessarily complex. Very atmospheric world to explore, but boring game to play.
September 7, 2013
Dance of Death
It was an alright game, I wish I hadn't used my free credit on it, it wasn't worth more than 1.99. It didn't last very long and was over in about 2 hours. Not challenging at all.
September 11, 2013
The Apple logo is a trademark of Apple Computer, Inc.
The Windows logo is a trademark of Microsoft, Inc.