Joining Hands 2
On a starry night, the adorable little Peablins are jolted awake by a blazing fireball, crashing into the Whispering Woods! What could it be? Help these sleepy critters find out in Joining Hands 2, the adorable sequel starring a cast of never-before-seen Peablins! Perfect for players of all ages and skill levels, this game offers hand-holding hints to help kids through tougher spots, while puzzle enthusiasts will enjoy working through more difficult stages as the game progresses. Join together sweet Starblins, gentle Geoblins, elder Grandlins and affectionate Peablins until all the happy critters are lit up, smiling and holding hands! Try to collect all the stars from each level, too!
140+ fun and challenging levels
Eight kinds of adorable Peablin characters
Cute graphics and joyful soundtrack
Game System Requirements:
OS:

Windows XP/Windows Vista/Windows 7/Windows 8

CPU:

800 Mhz

RAM:

256 MB

DirectX:

8.0

Hard Drive:

32 MB
Game Manager System Requirements:
Browser:

Internet Explorer 7 or later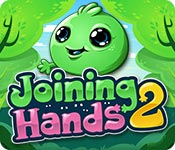 NEW299
The Big Fish Guarantee:
Quality tested and virus free.
No ads, no adware, no spyware.

Reviews at a Glance

Joining Hands 2
0
out of
5 (
0
Reviews
Review
)
Customer Reviews
As good as the first!
If you like challenging puzzle games, then this is for you! It may appear simple at first, but anyone saying that it's easy or for kids hasn't gotten very far into the game. I haven't finished it yet, but if it's anything like the first one, it gets very difficult near the end. Difficult, but fun! It's basically a brainteaser game, there is no timer and there's no quick action required. Just you and your brain. My favourite type of puzzle game! :)
September 5, 2013
Mega Cute!
I don't usually try puzzle games. I thought today it would be fun to try something different and I'm glad I did. The graphics are attractive and colorful - though the opening sequence did make me seasick. There is no oppressive music during the gameplay, just incidental sounds and cute noises that the characters make as you move them around. The tutorial is very good and the first 15 levels were simple and required very little concentration to work through. About 35 screens in, I actually had to pause and try some different things. There are new characters and pieces added regularly that change the gameplay enough to keep it interesting and sometimes challenging. For very young children, the game might be a bit hard after the first 20 levels, but 8-10 would not have too much trouble. As an adult, I played a lot longer than I intended because I was having fun!
September 5, 2013
Can't help but cheer!
Just like the 1st in this series - it's terrific. Some cute new little characters that will keep you a smiling. Don't be fooled that it's easy because it really makes you think and arrange just like a great puzzle game should do. Give this happy little game a try and you just may find yourself cheering too!
September 5, 2013
I WANNA HOLD YOUR HAND!
Those cute bubbly Peablins are back and just want to join hands! The object of this game is to place Peablins onto various spots on a hexagon bubble grid and they must have all of their hands connected, some have only one hand while others have multiple hands and the old Peablins have beards to hold onto. You want to place a Peablin on the spot with a star and there are obstacles such as rock piles to overcome. There are very basic graphics but it really doesn't matter because this game is very addicting. At first I thought this game was surely for young children but as the levels became more challenging I realized it was designed to make adults go crazy, enjoy!
September 7, 2013
Guide the Peablins to the Fallen..............What?
This sequel to the original Holding Hands has a great storyline, great bright graphics, advancing map and relaxing music despite the popping sound when you finally get them to hold hands. Storyline: One starry night, the cute creatures called Peablins were knocked out of their sleep by a meteorlike fireball zooming across the sky and crashing into the Whispering Woods. No one knew what it could be. Can you guide hese adorable little sleepy Peablins to find out what it is? Graphics: Amazing, bright, cheerful and adorably cute Peablins. The map is big and easy for little ones to see. As are the special bonuses in the game. Sound: Background music is fun and upbeat but not annoying. Sound effects still the same plopping. Game Play: Just as in the previous game, your goal is to help the Peablins join hand. When all hands are joined, they light up and smile - what could be a more feel good game than that. Some have 1 hand, some 2 and some 3 or more. There are new characters in this sequel who are just as fun-loving and helpful. Although there are a few that can pose a hand-holding dilemma - lol. But, that's the fun of the game. This is a game to be enjoyed by the entire family. I enjoyed playing with my granddaughter (who is 7) and my grandson even tried to help the Peablins hold hands (he's 4). I strongly encourage anyone who needs a pick-me-up, fun loving, feel-good game or wants a family evening game to try this. The demo is an hour long and it's free to try. I think your whole family will love it.
June 24, 2014
As Charming & Upbeat As The Original
BASED ON DEMO This sequel to Joining Hands is a fun slightly more sophisticated version of the first. Our progress is now followed on a map, there are ten achievements to be won, and the graphics are a little more complex. There are also new peablins to play with, new kinds of connections to make and something very close to a story! A falling star brings starblins to our home, who have no hands and so we welcome them with a group hug. There are grandlins who are very fragile and cannot move their hands. And geoblins, who can stand on rock but can?t move away from it. All of which adds new ways to enjoy this entertaining little gem. This game also has added hint ? and they?re very useful. If you?ve not played the original game, here is a brief run down from my previous review. ?The gameplay is straightforward but much harder than it first seems. Peablins are little round blob creatures with varying numbers of arms. It is important for their happiness that all their hands are held by someone else. So, on a grid of hexagons, you must place them all so that their hands join. So if I have a peablin with 2 arms and 2 others with 1 arm, the 2 armed one will be in the middle, a one armed peabin on either side. It starts from there and gets more complex as each new level is beaten. There are obstacles around which peablins must connect, stars for bonuses, peablin relatives whose own beliefs mean they have different hand holding traditions, etc. ? FAMOUS LAST WORDS Like its predecessor, this is a cute little game, more difficult and certainly more addictive than you?d first suppose. One could lose a few hours to this original and charming game.
September 5, 2013
Sweet Little Diversion
Joining Hands 2 is a fun, light-hearted game. I wasn't familiar with the original game, but that doesn't seem necessary to enjoy the second installment. There's no storyline, so if that's important to you, it'd probably be better to skip this game. But if you're looking for something that will provide a diversion for a short while here and there, this is a good game to try. The sound effects make me smile every time at the end of each round. It's not complicated or scary or dark - just fun.
November 15, 2013
not comparable to the level of difficulty of the first one
seriously, didnt even break a sweat. i have to admit, i enjoyed the game a lot but it was over way too soon. and it was much MUCH easier than the first part. now that was a disappointment.
October 8, 2013
Very easy and quick game
I have just played the demo and I was almost at the end. It is nice to have something other than HO. The puzzle of joining all hands is OK. Very much for children in terms of challenge. There is a hints button so you can complete each level if you do get stuck. Something to fill 60 mins but nothing special
September 5, 2013
The Apple logo is a trademark of Apple Computer, Inc.