Dark Cases: The Blood Ruby Collector's Edition
Exclusive
Your worst fears came true the night your father never arrived home. Someone killed him during his latest investigation. As you sort through his remaining possessions you discover his diary recording his last moments - and a strange amulet that sends you hurtling back through time to the day before his murder. Time is running out as you race to not only prevent his murder but also to catch the mastermind behind it all.

Unravel the trail of clues to locate a deadly ruby before its gruesome powers are unleashed in Dark Cases: The Blood Ruby, a heart-pounding Hidden-Object Puzzle Adventure game.

This is a special Collector's Edition release full of exclusive extras you won't find in the standard version. As a bonus, Collector's Edition purchases count toward three stamps on your Monthly Game Club Punch Card!

The Collector's Edition includes:
Bonus Chapter
Concept Art & Wallpapers
Soundtrack
Re-playable Mini-games
Cinematic Collection
Game System Requirements:
OS:

Windows XP/Windows Vista/Windows 7/Windows 8

CPU:

1.6 GHz

RAM:

1024 MB

DirectX:

9.0

Hard Drive:

815 MB
Game Manager System Requirements:
Browser:

Internet Explorer 7 or later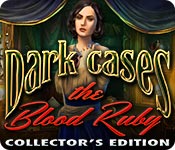 The Big Fish Guarantee:
Quality tested and virus free.
No ads, no adware, no spyware.

Reviews at a Glance

Dark Cases: The Blood Ruby Collector's Edition
0
out of
5 (
0
Reviews
Review
)
Customer Reviews
Dark Cases: The Blood Ruby Collector's Edition
48
48
Atmosphere Review
I figure everyone else was going to give you the mechanics of the game, I'd give you the "feel". The story throws you into a mystery revolving a red ruby, and you get thrown back a month in time to prevent the death of your father. I liked the storyline very much. The voiceovers were well done, there were lots and lots of puzzles, which I prefer, and when you did come across a HOG, it was occasionally and the drawings were so well done it didn't aggravate me at all. I found myself actually trying to find the objects rather than trying to get the HOG over with - adventure gamers will understand. No, nothing was hard, I never had need of the hints or strategy guide so hardcore gamers may take issue with that. The music was delightful, atmospheric, and actually relaxing. The map was interactive so you always knew when an area was needing attention or totally complete. For those who have large screens, I had no issues with it filling the screen completely and maybe one or two items total were in a darkened area. When my hour was up, I felt relaxed and longing for just a few more minutes to finish the puzzle I was on. I do believe I will take advantage of the sale today and get this game.
September 14, 2013
Kept me fascinated the whole time!
I've just finished playing this game, including the bonus chapter. Took me about 5 hours, but I'm a slow player. I did it in one sitting though, could not get away from it, had to know what was going to happen next! The game is creepy, but not scary or dark. The music really adds to the atmosphere. The storyline is really great, the dev's obviouslyt thought long and hard about this one. Not a second I got bored or wanted the game to be over. The graphics are very beautiful, handdrawn. Sometimes I even stopped playing just to gaze at the fantastic scenes and get the 'feel' of the landscape. Cutscenes are sometimes spectacular with great VO's and sound-effects. The maingame has a very good ending and wraps things up perfectly. The BC is a prequel and not necessary for the story, although it's been done really well and actually is scarier then the maingame, and has some fantastic effects in it! There is a very good interactive jump-map, and once you get out of the mansion, you really need it, or otherwise you will be wearing out a lot of shoeleather! Hint is fantastic too, really helps out when you get stuck. Puzzles are really fun, some very new ones, and range from easy to fairly difficult; HOS are easy and clear, and interactive in a very fun way. There are no special extra's, no achievements, no collectables, no morphing objects, just the "normal" CE-extra''s. You can replay the puzzles and HOS afterwards. Not really worth the CE-price, but with the sale today at 8.99 it was a great deal!! I really had a fantastic time in a beautiful, but slighly grim world and hope you will enjoy it too. Have fun!
September 15, 2013
Awesome!!!
I rarely am able to click excellent on all accounts, What can I say this is a GREAT game! The story line is unique, the puzzles are actually challenging, and you actually have to think about where to go and what to do next. I am definitely going to get the CE because I feel the bonus game will be worth it and that the story is no where near done with just this game. I look forward to sequels of this one.
September 14, 2013
One Very Great Game!!!
I bought this the day it came onto Bigfish, and it just happened to be a sale day for collectors editions! Which I took total advantage of, and grabbed this one up! I have to admit, the game did not look too appealing from the screen shots. But to my great surprise...It was awesome. The graphics were wonderful, as was the storyline. The HOS were few and far between, which I love! And their is a map, that allows you to travel and shows available actions. The puzzles are fun, and creative, and as the length goes it wasn't disappointing, especially with the bonus chapter! Love this game, and hope more publishers take a cue from this one. Great graphics, storyline, and less HOS that are interactive, ad a lock for inventory, is what we look for!!!!! It isn't too much to ask, is it? Apparently not! Get this game! Happy gaming gamers!!
September 14, 2013
Excellent Game
This is the best game I have played in a long while. Normaly I just play them and then move on to the next one but with this game I just had to put in a review. Everything about it is top quality . It's the first game I have played all the way thourgh without any breaks. Only thing is now I am finished I want to just start all over again.. Well done Big Fish.
September 16, 2013
A very immersive, interesting, good-looking game and a dark case, indeed!
"Dark Cases: The Blood Ruby" was an amazing, very atmospheric and very entertaining game to play. Not only is it one of the most beautiful games I've ever played, but it has a great cast of gripping characters and it possesses a very somber storyline. The story is all centered in the small town of Easthaven and in the famous "Blood Ruby", possessed by the woman who founded the town. By being given a second chance of saving your father's life, you find yourself involved in a web of deception that leads you to the background of the town itself and, of course, of the murderous ruby. One thing that disappointed me in the game was that there are no other types of hidden objects scenes besides the ever-present "shopping list". Almost every game nowadays brings lot of different types to these scenes (one of my favorites being the ones where you put objects in the scenes), and, so, I was really let down with this. The main game is really long and it will always keep you on your toes, dying to find out what happens next. However, the bonus chapter, although really interesting, is very short, and besides that you are left with the usual extra content: mini-games, wallpapers, music and so on. Besides the gripping bonus chapter (being in the skin of Diana at the moment she finds the ruby and entering the Temple of Blood, while trying to resist its power was just amazing), and the beautiful concept art that you can save! (no kidding, it's the best concept art I ever laid my eyes on), there's nothing more when it comes to the Collector's Edition. So, I recommend that you play the Standard Edition first, and, if you find yourself loving this game like I did, then maybe go for the CE. I loved being after one suspect at first and then going for another and so on. I actually felt in the skin of a detective, but also never forgetting why I came to Easthaven in the first place: to save the main protagonist's father. The storyline and the artwork all helped to make a really immersing and atmospheric game (I just loved the '20's setting), as well as the voice overs, who were believable and nice to listen to. The music was another wonderful thing. It wasn't annoying whatsoever and was really calm and beautiful. One track was even reminiscent of the '20's feel, really! Nothing but an amazingly produced and created game here. I loved this game. I really hope my review will help you in deciding whether to buy or try this game or not! Some people may find it a bit slow and too calm, but I just loved this. If I ever want to watch a movie (nothing but pandemonium), I turn the TV on! A casual game is to make you think and to make you engrossed in its story and setting, all the while relaxing you, too. "Dark Cases: The Blood Ruby", has all that to offer you!
September 23, 2013
Excellent in every way! Based on Full Game
I will remember Boolat Games after this one. I am not familiar with this developer and hope they can keep up this level of interest and gameplay. Most everyone has summed up the plot.....so I'll skip to more of the fun. This was not gory or violent or dark in the sense that some games are so demonic and sickening with rotting corpses and bones and evil everywhere. THIS was a THRILLER! YAY! Just what I've been waiting for. There are still several murder scenes, but they are hardly violent and even the bones are not gory. They get the point across that this Blood Ruby is a source to be reckoned with. There are a lot of twists in the plot that leave you guessing who might be the real antagonist. One thing that I have to mention and hope they can change, is that the screen shots with this game title above have NOTHING to do with the full version of this game. They are shots from the Bonus game that is set in an entirely different part of the world. I have no idea why they did that. It is very misleading and not in a good way.. This game really captured my interest from the very beginning. I played it on and off for over five days ....like a good book you don't want to put down. The CE had the SG which I never used. The map is interactive and gives you several choices of places you can return for an active area. I personally loath the "collectables animals, or trophies etc" and HAPPILY this does not have any. I don't understand that attraction, but each to their own interest. The hint button does not recharge very quickly so this is a bit more challenging to find other ways to move along. It does at least point a direction when no action is needed in the current scene.....but the map is more useful. There are just enough HOS which have a little turn where you must find three outlined items that interact with the HO inventory. This was a little confusing, but the developer added in a two step tutorial just on the first HOS. It helped and I appreciated it, even though I did not opt for the full tutorial. One reviewer objected to this, as they said "no tutorials means no tutorial." Which I would agree if they forced you through a full series of "help", but this was more of a starter tip on a creative NEW change in game play. Don't be put off by it. You'll understand when you see it. The graphics are fabulous.....and the MUSIC was outstanding. This has been a pet peeve of mine for a long time.....when you play a game and the music just loops throughout the game and you want to go bonkers or just mute it. This developer has been listening to customers and thought out the music to adapt to the mood of EACH setting. It was VERY helpful and entertaining to hear a soft tune in a calm setting, or hear tension in escalating violins playing an eery off beat sound that added excitement. The Extras have a nice Bonus Game that gives you a hint to the origin of the Blood Ruby and how it got into Lady Campbell's hands. There were also repeats of some of the strategy games that were challenging. It's nice to go back and test my brain teaser skills on the ones I chose to skip. I HIGHLY recommend this game. More please!! It has bumped up to the top as my newest favorite game!
September 18, 2013
very interesting story
very interesting story, and well done graphics
September 15, 2013
dark cases The Blood Ruby
I have only played a short part of this game, so far have found it to be very good. Graphics can be a bit grainy In places, but not distracting, the music I like, the hidden object areas are interactive, the puzzles are very good different ones here. You are transported back in time to try to save your father, he was murdered whilst investigating a crime. The scenes in the places you visit are good. Hint refills quickly, there is the skip button for some of the puzzles, but they are to me interesting puzzles and worth some time to work them out, of course if stress takes over SKIP them. I think this game would be an interesting challenge for a beginner as well as the seasoned player's give it a go . enjoy
September 15, 2013
Great Game
If you're like me and a bit over the doom and gloom of HOG's then this is a lovely surprise. The graphics are life like and crystal clear, there is an interactive map, great mini games and story line. I brought the CE based on the Trial which I don't usually buy CE's but had to have this one.
September 16, 2013
The Apple logo is a trademark of Apple Computer, Inc.