Dark Cases: The Blood Ruby Collector's Edition
Exclusive
Your worst fears came true the night your father never arrived home. Someone killed him during his latest investigation. As you sort through his remaining possessions you discover his diary recording his last moments - and a strange amulet that sends you hurtling back through time to the day before his murder. Time is running out as you race to not only prevent his murder but also to catch the mastermind behind it all.

Unravel the trail of clues to locate a deadly ruby before its gruesome powers are unleashed in Dark Cases: The Blood Ruby, a heart-pounding Hidden-Object Puzzle Adventure game.

This is a special Collector's Edition release full of exclusive extras you won't find in the standard version. As a bonus, Collector's Edition purchases count toward three stamps on your Monthly Game Club Punch Card!

The Collector's Edition includes:
Bonus Chapter
Concept Art & Wallpapers
Soundtrack
Re-playable Mini-games
Cinematic Collection
Game System Requirements:
OS:

10.9/10.8/10.7/10.6

CPU:

1.6 GHz (INTEL ONLY)

RAM:

1024 MB

Hard Drive:

790 MB
Game Manager System Requirements:
Browser:

Safari 4.0 or later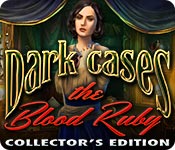 The Big Fish Guarantee:
Quality tested and virus free.
No ads, no adware, no spyware.

Reviews at a Glance

Dark Cases: The Blood Ruby Collector's Edition
0
out of
5 (
0
Reviews
Review
)
Customer Reviews
Dark Cases: The Blood Ruby Collector's Edition
48
48
Beautiful
Lots of fun - Beautiful scenes
September 14, 2013
One of the Better Games Ever!!!
Took a while for me to actually get started, however, just finished this game and it was totally magnificent from story line, puzzles, objects, voice overs, cut scenes, artwork, music. I could go on an on, the game was very enjoyable. Each time I started playing for some reason, I got distracted. That was my loss. Glad I went back to it as it's now one of my favorites. The Bonus Game is just as great and blends very well to the main story. More, more, more! Bravo! Enjoy! -Mama Mia-
January 11, 2015
Great Game
A grim story that begins with the murder of your Father who during his investigation is fatally shot by an unknown culprit. From his remains, a heirloom with mystical powers is returned to you and immediately you are transported through time to the day of his murder. It is now up to you to prevent his death and solve the mystery behind the Blood Ruby. Excellent sharp graphics, good voice-overs and good storyline has all the attributes of a film noire feel to it which transports you to another time and place. Main menu offers three game modes to choose from and game features a map that allows for travel and a journal. Unfortunately our game offers no extras like morphing objects, collectables or achievements are involved which is rather disappointing. However the one thing this game does have is a certain level of challenge that will make it interesting for hard-core players. If you can resist using the SG, you will find that you need to use your little grey cells to go through the game, a good memory for back-tracking and some patience during the mini-games. HO scenes are standard with some interaction just but easy enough to solve. I liked the story, a mystery artifact that has immense power, time travel, an naturally a villain. Be warned, it may prove to be a bit violent for some ( too many senseless shootings at the beginning of the story). I would have liked some extras that CE games do offer but nevertheless, I really did enjoy the gameplay. As there is a sale today on CE games, I will definitely be adding this to my collection. Kinda reminds me of the earlier Nancy Drew Games what with the 2D graphics, music and puzzles. Perfect game for a rainy week-end at home.
September 14, 2013
Original & Well Designed
BASED ON DEMO FIRST IMPRESSIONS This game looks good from the start. Not spectacular, not gorgeous, just very well done cut scenes, good voiceovers, and an exciting crash of music at the scary bits. SIGHTS & SOUNDS The graphics are very good hand drawn, lots of detail and very clear. Not too dark, but still a bit spooky. HOs are easy to find. The music is fairly unnoticeable until it suddenly rips you out of your complacency. The voiceovers are a little stilted at times, but no real problem. This is not one of those games that relies heavily on cute or beautiful. It does real very well, and avoids those awful fly and rust fests many developers go for as an alternative to cute. WHAT?S HAPPENING You dreamed of your dad (a cop) dying on the job, and he did. Looking through his personal belongings, your tears activate an amulet said to protect your family, and you are hurtled back in time to 2 hours before his death. Now both of you must solve the mystery and survive. MAKING PROGRESS The gameplay is the appeal in this one. A unique style of HOPs that are an interactive list, plus a couple of silhouetted items that must be found to be used in the scene. It?s really great fun, combining the two favoured types into one. The list is very long, so all the items are not listed upfront, and others will appear as you go along. I like that because it makes the list more spontaneous. There are also some great new puzzles too. Some taking an old idea and revamping it, but always into something that?s totally new. They weren?t very hard, but the instructions on at least one were too vague to understand, I had to check the SG to get it. There is an interactive jump map, which shows completed locations as well as active tasks, a directional hint, a journal, and task list. This should appeal to our hard core element. Even on the lowest level of difficulty, the sparkles are rare and discreet, just the HOPs really, and black bar hints are not automatically dished out, you must click on something a couple of times to get not much more info. BLING! CE extras are the staples only. Gallery items, bonus chapter, SG. FAMOUS LAST WORDS I think I?ll wait for the SE myself ? I?m on a budget. But a really good recommendable game.
September 14, 2013
The Blood Ruby is cursed!
It is hard to tell how long this is, as the Strategy Guide for the demo only has 3 Chapters. The game itself is fun and interesting, but without the bells and whistles found in most CE's. You play the daughter of a detective who has been killed by the evil man possessing the Blood Ruby. A family heirloom lets you travel back in time to a month before your father is killed, hopefully to save him. You arrive the home of Lady Campbell, who owns the ruby after discovering it at the Temple of Blood. Her jeweler warns her to get rid of it, as it has evil powers. You see Lady Campbell die, and the murderer steals the ruby. The murderer is just a minion, and is shortly killed by the true villain (who is maybe Lady Campbell's son Kay, who was made into a body from a doll using the ruby.# Whew! Great storyline! You get a hint button, an interactive map with available actions clearly marked, a bonus chapter, and a strategy guide which is useful in the very beginning. Once the map takes effect, it is sufficient to use as a guide. There are the normal 3 modes of play, but no achievements or collectibles as in most CEs. The HOS are all lists with a few silhouettes within the list to find and use to complete the HOS. None of these are hard. Also, the mini-games, mostly unique, are also fairly easy -- only used the SKIP button once! Inventory items are combined to make new items #and marked which ones to combine.) All in all, this is a very good game -- but not sure if it is worth the price of a CE.
September 14, 2013
Atmospheric - Thrilling - Engrossing - Review Of Completed Game
Story: Your father, a police office has been murdered. You receive a package of his remaining possessions. . As you sort through his remaining possessions you discover his diary recording his last moments - and a strange amulet that takes you back in time one month before his murder to Easthaven to try and prevent his death along with solve the mystery behind The Blood Ruby. 6 Chapters (bonus review/extras at bottom) 3 Play Modes: You can change at any time. I played Expert mode the hardest mode. There are some black bar tips but for this game I didn't find them too intrusive. I didn't come across any sparkles. You may or may not. Hint I can't comment on its helpfulness outside of HOS cause I didn't use it but did notice the charge up and it's very slow along with the skip. Several minutes. Diary: Notes and some puzzle clues. MAP: I didn't use it but checked it out during the demo. This is transporter. In the easier modes shows where you are, things to do and areas that have been completed. Expert mode only shows where you are. HOS: These were for me few and far between. Found by word list. There are 3 off to the side that are find by silhouette and when you find those you fit them back into the scene. I had no problem here. These were very well done and fun for me. No hints here. INVENTORY: You do have to combine some items to be able to use them. The easier modes shows you which ones with a green plus sign next to them. In expert mode doesn't "highlight" them for you. Puzzles: The usual run of the mill however some had a different "style" to them. Most of these I found pretty easy and even fun. I did have to skip a couple of them. Main game came to a satisfactory conclusion for me. Bonus Chapter. This is a prequel and seemed to be a little on the short side but I thought it was very well done and is relevant to the main game. All new locations. None from the main game and the HOS are still the same as main game that is find the silhouettes and fit back into the scenes. There's puzzles of course. CE Extras: Bonus Chapter Strategy Guide 17 Concept Art 12 Wallpapers 12 Music 24 Mini games 30 videos MY PLAY TIME: Main game: 7 1/2 hrs. Bonus: 45 minutes. No hints. 2 skips. OVER IMPRESSION: I'll start by saying if you are sensitive to guns you may not like some of the scenes in this game however nothing gory. For me this game was... Wow! What an atmospheric, thrilling and engrossing game. I was hooked to this right from the get go and didn't stop playing until I got to the end. I was so into this game. I loved the story line. I thought the graphics and especially the long cut scenes at the beginning just excellent. I also really liked the characters and voice acting great. This to me seemed to be more on the adventure/task side than HOS and puzzles for me. It did start out where I was using things pretty much right away or didn't have to travel far but more into the game there was some back tracking (several scenes). I did get a little hung up where to go/do next but didn't take long to figure out and this game was definitely long enough for me. I thought this was great length. So why 4 stars? Well there was one thing that REALLY annoyed me about this game. It asks me if I want to do the tutorial and I say no but had to take it anyway. Why bother asking if I have to take it anyway? And it was a good 5 minutes long! LOL! Oh and of course for a CE the achievements and collectibles should be there. Yes I know some don't care and that's fine. To each their own but I do care. I love the achievements and collectibles. Thanks Big Fish for the sale getting it for $8.99 the reason I bought this to begin with and developer for an overall excellent game but do stop the madness with the tutorial and please include achievements/collectibles in your next CE offering. As always, give it a whirl and decide for yourself.
September 14, 2013
Cursed gem and time travel! Original and very good!
Based on demo. The game starts out with the death of your police officer father. When you receive his amulet, you are transported back in time to before his death. A chance to change fate! But will the cursed ruby thwart your efforts?! The graphics are very good. Clean, crisp, and artistic. The VOs and cut scenes do not disappoint. The HOSs are mildly interactive and the puzzles of medium to hard difficulty. The music is fine---not too overwhelming. There is a journal to help you keep track of your progress and to record hints. The map lets you jump quickly from one scene to another and there is a task list to keep you focused. Now for the "However." However, this is a CE that has no collectibles, morphing objects, or achievements. These are the perks that make a CE a CE in my opinion. The extra game play, which is included, is never enough to warrant the extra money without collectibles, morphing objects, or achievements. Thus four stars and not five. I will definitely buy the SE when it arrives, but see no reason to pay twice as much for the CE without the perks.
September 14, 2013
A CURSED RED RUBY!
First of all I want to point out that the daughter of a police detective has a vivid dream about her fathers death, and it turns out to be true. Dad was wearing a protective amulet that was returned to his daughter after his death, she cries on it and it put's her smack dab into the past with a murderer! Her dad shows up to investigate the murder and the daughter explains that he is going to die and she shows him the amulet and he says "The stories are true it does protect our family" What? he was wearing it he dies, she was wearing it she gets trapped with a murderer! Now lets move on, Dad decides to leave her in the house alone with the uncaught murderer while he goes back to the station for backup! I'm thinking Father of the Year award! Anyway this is still a pretty good story and I always have to give a thumbs up to developers who think outside the box, in this case it's with the HOS. I liked the fact that in the left side of the HOS items list you will see some silhouetted items and after you find those items you use those items in the scene such as you find the silhouetted scissors then use those scissors to cut a ribbon on a package. There are a ton of mini games because of all the locks around the house that the owner had installed to keep her blood ruby safe. They are really fun puzzles and not too difficult. I was hoping to see achievements or collectables, anything to make this CE a little more worthwhile, otherwise I would have given it 5 stars, enjoy!
September 14, 2013
Bloody Good!!!!
This game is very good but falls short of excellence. But why? Fun Factor: What makes a game fun for me is everything below...the sound and visual quality, the challenge, the storyline. What makes a game great is when all these factors are greater than the sum of their parts. I find this to be the case with Dark Cases: The Blood Ruby CE. I didn't want to stop playing. It's 2am now and I'm tired, but I've kept going, I've only stopped so I can write this review before turning off the computer. If a game motivates me like this it isn't because it's a big bore! I think the sound quality if very good; The voice overs are understandable, with use of good English and they tell the story as you progress through the mystery of your dear father's disappearance. There's a bit of a "fairy tale" feel to this edition which means a combo of a flight of fantasy and a bit of mystery. Background music is very important to me. I think it rounds out the experience, at a minimum. When it's great it improves the story and evokes emotional highs and lows, suspense, thrill, nervousness, peace, etc. Because the music is so repetitive, I can't give it an excellent rating, but only good. I think it communicates a certain "feel" but that feeling is monotony. While the music doesn't hurt this game, it doesn't take it to the next, higher level. Visually the colors are rich and deep and warm. Characters are well drawn and individual items look almost photograph-like rather than just illustrative. Level of Challenge: The puzzles were retreads but were well done. So, they were good, not great. The hidden object scenes offered no great challenge but were clear, well-identified and fun. There is a little but of interactivity as two items are combined to make one for quick use. Also, there's a bit of bonus feature: the silhouettes of an item or two are shown and the items must be found for immediate use. They complete the HOS and help move the story forward. The storyline is good: as I mentioned, your father is a policeman who's disappeared. Though not exactly clear how, you travel through time to before your father death and have an opportunity to save him. This is not a spoiler. You'll experience it in the first couple of minutes of play. One common feature of these HOG/Adventure/Puzzle games is the "feminine" personality of the "star." Seldom is it a male persona. So your dear policeman father who's missing, is the father of young lady. This is annoying (as I am a man) but it's not big enough problem to ruin it for me. I have completed a couple hours of this game and am enjoying it immensely. As is the norm for me, I opted to use the instruction. It's very minimal and unobtrusive, unlike the teaching portion of some other games which goes on for hours and is simply annoying. It would be terrible to miss the fun of this game because you don't like the teaching mode...it's clear and concise and the game rises above it, even if you are REPULSED by the extra help at the beginning. Just a note: the reason I always do the instruction mode isn't because I'm a dumb dumb, but because good games have unique characteristics and I'd rather know from the beginning what they are in terms of navigating the experience. Some hate this. Others, like me, prefer it. It's not a moral dilemma. Opt out of it. And if there's a little instruction despite opting out, don't let it ruin the whole game for you. It's a fun game! I'm not sure if there's an SE yet, and I don't care because of the great sale going on for CEs. If it were full price, I'd be unhappy with the expenditure (Not the game, just the $ for a CE) because there's nothing really CE about this. There is a strategy guide included and there is an interactive map which will hurry you along from one place to another if you choose. But I really like the other things: morphing objects, collectibles, achievements, etc. There is none of that. I guess the CE distinction is because there's wallpaper and music and re-playable mini-games and HOGs. Does anyone ever really use the wallpaper? Really? There is a bonus chapter...which I haven't gotten to yet. Hopefully it's excellent and not just a 10 minute gratuitous addition to justify the CE designation. So, as I said, a great game is better than the sum of its parts. This game is that. I love it. As an SE it would be 5 stars easily. Only because it's a CE and there are none of the extra fun things that I like in a CE it's gotta be a 4 out of 5 stars... but again, this is punitive because of the weak CE features. I heartily recommend this game. If you need a game NOW, buy it. If you can wait for an SE (or if you can find one for Mac right now) get the SE and save the money. Whatever you do, get this game at some point.
September 15, 2013
The year's best storyline!
This is a really great game. As previous reviewers have said, not a lot of bells and whistles that many CE games have. I actually found that refreshing as I could get really involved in the storyline and challenge myself to figure things out without distractions. The storyline grabs you right away and while there are a few spots where you are so busy accomplishing tasks that that wears a bit thin, it picks right back up. I liked the characters and wanted to know what happened. There is a map for the going back and forth so it's not tedious. The music score is one of the best. Adds ambience without being annoying or distracting. My only reason to give it 4 stars is that the HOS were pretty easy.
September 15, 2013
The Apple logo is a trademark of Apple Computer, Inc.
The Windows logo is a trademark of Microsoft, Inc.