Nearwood
Can a young woman single-handedly change the fate of a magical kingdom? Set out on a voyage with Jane Lockwood into a mysterious world of danger and adventure, into a whirlwind of magic and wonder! As you encounter a host of unusual and amusing creatures and help them in their troubles, you will inch closer and closer to your final goal – finding Jane's long-lost parents, all the while freeing the great and wise Time Keepers from the grip of oblivion. Find out why time came to a standstill, and drive the ancient evil out of Nearwood once and for all! Bring back peace and quiet to the land! Save Nearwood!
Game System Requirements:
OS:

Windows XP/Windows Vista/Windows 7/Windows 8

CPU:

2.0 GHz

RAM:

512 MB

DirectX:

9.0

Hard Drive:

812 MB
Game Manager System Requirements:
Browser:

Internet Explorer 7 or later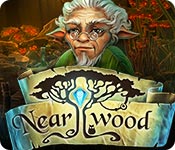 NEW299
The Big Fish Guarantee:
Quality tested and virus free.
No ads, no adware, no spyware.

Reviews at a Glance

Nearwood
0
out of
5 (
0
Reviews
Review
)
Customer Reviews
Excellent opening cutscene and play
I originally played the demo version and found it to be a fun, but not too challenging game. The story is the typical person saves a world genre and the characters can get a little wordy, but still worth it. It went on sale and I bought it and glad I did. This is a long game but not boring or repetitive and the mini games are varied and not just HO. You get to a few spots in the game where you think, "OK, this is the end" but, lo and behold, another part of the 'world' becomes available and you go on. The graphics are great for an inexpensive game and rival some of the so called "collectors edition" games to the point they are put to shame. Another plus is it is not a dark game. Plenty of color and colorful characters. One recommendation I have is watch the opening cutscene all the way through. Looks like a video but it is all computer generated and amazing. Only about 2 minutes and is on a loop but worth it. Buy this game and have FUN!!
August 24, 2014
NOT YOUR RUN-OF-THE-MILL HOG
Refreshing change of pace. Very imaginative floral and animal artwork and animation. Environments are a real pleasure to look at. Nice adventure with cohesive story and a helpful hint system when you're stuck. The "guide" is a bit too talkative for my taste. Provocative puzzles are usually unique and very well constructed - many take a little thought. The environments are carefully crafted, with a lot of attention to detail. Nice relaxing music. Real joy to play.
September 6, 2013
So Very Pretty And Light-Hearted Fun!
BASED ON DEMO FIRST IMPRESSIONS This game is pretty rather than beautiful. From the opening seconds it is filled with wonder. The intro to the game has us flying low over a river in a canyon, swooping over the falls and down towards the water. I almost felt the vertigo. The music is light and serene, and everything about this game seems designed to relieve stress, rather than agitate us, as so many of our favourite games do. There are plenty of beautiful flowers, babbling brooks, cute critters, and magic in the air, so some of you may find this a bit too sweet. WHAT?S HAPPENING We?ve just come into our inheritance, a family home we have not seen in years. Not since our mother died when we were just a child. Not since our father disappeared without a trace. It seems that secrets were being kept from us, all our life, for our own protection of course, but now we must face our destiny. Going back to the family home, we come upon a weird elf-like guy, and he tells us that we are the only one who can save Nearwood, a world we?ve never heard of, but which may reveal the secrets of our childhood. All we have to do is step through that mirror... MAKING PROGRESS There are more puzzles than HOs in this one. But the game really is adventure-based. The puzzles are fairly familiar, and the HOs are simple FROGs ? fragmented object games. These are clear and detailed and the pieces are not too small to find, but this is still not my favourite style. The adventure tasks are not too difficult, but there have been some complaints about the map. It is an interactive and transporter map, but the transporter function must be recharged, like a hint. Seems fair to me, because that?s its role in this game. There is no hint outside the HOs. Hints also need to recharge, but you can capture glow bugs everywhere that will recharge it for you. BLING! Should you go for the CE? I didn?t. There are the usual extras and a bunch of admittedly adorable snoop-sees (funny animated little critters which all look different) as collectibles, but it wasn?t enough to sway me. FAMOUS LAST WORDS This game really is ?cute? in overdrive, so it?s not going to be for everyone. And I don?t think it?s worth the cost of the CE, but as an SE, even better, a punchcard coupon, it?s a nice treat and very relaxing.
September 6, 2013
When Dreams Become Reality
Jane Lockwood lost her mother and father when she was just a child. The aunt that raised her left vital information in her will, along with the key to the family home, all to protect her, but from what? This is an adventure filled with beautiful creatures and glowing magical flowers where dwarfs and humans alike are living in harmony until Jane's father tries to bring his wife back by rewinding the very clock of time that is keeping evil at bay between the two worlds. Now you realize that the fantasy dreams you had as a child are real and if you can repair the clock you might even be able to reunite with your father! Everything about this game is different, the HOS are actually "find 12 turtles and snails" or find the silhouetted fragments to piece together a fishing net and they are truly well hidden. The puzzles or mini games aren't the same ole same ole either! Some of the games are familiar but definitely fun such as trying to place jeweled clock hands of different angles so that none of them are overlapping. This is a professionally produced game with beautiful graphics and quality videos. Nearwood is so realistic you just might want to live there as well, enjoy!
September 6, 2013
Relaxing game for a change
I got tired of all the creepy & dark HOGs for now. I'm glad I gave this a go...HO is different it's interactive but not to myliking as I do not enjoy FRAG types but the objects were not too small and not too many so it was ok. AS mentioned by all fishies excellent VO and sceneries. Lots of puzzles which I truly enjoyed - some too easy others make you think which is great. I have hundreds of HO games & this will sit in my top five. Great work devs & thanks Big Fish for a lovely game.
September 22, 2013
Beautiful game, confused by ending
I found the artwork beautiful, and spent time on many of the scenes just looking the details. You meet many creatures and people during the game including one you could pet while looking for objects in a HO scene! Cute, but not objectionably so. I also enjoyed the Alice-in-Wonderland springs to grow and shrink things. I found the many of the puzzles very different from the usual fare. Usually solvable, although I often had to use the "?" to figure out what the goal was. I had to use the "Hint" feature more than I would like to learn to do next. And there was a lot of back-tracking. There were two annoying things at the very end of the game. First, you finally get the hands for the clock and the character says "I wonder what I should set it to". I had to pull up the walkthrough which gave the time but no explanation. Why not 3:35 or 8:15? Why not have to set a sundial to tell you the time? Then the weird ending. It seemed apparent from the beginning that the father has tried to alter time to bring the mother back to life and this meddling caused the time rift. I half expected when I placed the "eye of truth" that the terrible monster would turn into the long-lost father! Maybe I've played too many goth games. On the whole, it was enjoyable. Try the game, if nothing else just to watch the opening sequence all the way through.
July 27, 2014
Immersive story, relaxing gameplay, quite enjoyable
Nearwood SE Review based on Completed Game PREFACE? I recall enjoying the CE demo, but deciding to wait for the SE, as I felt there were not sufficient extras to warrant CE status. And I'm glad I did. Nearwood is not an overly-challenging game, but a lovely and immersive story to enjoy on a relaxing afternoon. ONCE UPON A TIME... Jane Lockwood lost her parents at an early age and was raised by her aunt. Now an adult, Jane's aunt has passed and left her a cryptic note regarding a secret about her parents. And so Jane sets off to her childhood home, where she's greeted by Fey, an elfin creature who reveals to her the world of Nearwood. Nearwood is an alternate world where magic is a reality, and Jane must travel there to not only uncover the secrets of her past, but also to rid that world of an unspeakable evil. PLAY THE GAME... Nearwood is mainly adventure with puzzles and some HO scenes. The HOs are of two types: multiple items and FROGs. The puzzles include both retreads and originals; both types are graphically-beautiful. Some are quite simple, while others take some planning and thought. All in all, it's a nice mix. SIGHTSEEING? Don't miss the cinematic running behind the menu. They're truly gorgeous. Game graphics are fanciful, evoking a magical fairy tale world full of giant mushrooms, strange flowers, magnificent architecture, adorable woodland creatures, and the like. Animation is done well. SOUND WAVES? The music is lovely, mostly ethereal as you would expect fairy tale music to be, but dramatic when events dictate. Voiceovers were professional, which is just as well as the characters talked a LOT. Environmental sounds were extremely well done. TOOLBOX? The map, unfortunately, is rather useless. It's not graphic enough for you to distinguish your current and destination locations, and the transportation function must recharge before you can reuse it. While it does show active areas, it shows them all, not just current objectives. You won't find yourself getting lost, however. Each area is made distinct by the artists through its design and color, and navigation is intuitive. A satchel serves in place of the customary journal, and the inventory panel locks open. THE LAST WORD? I enjoyed my visit to Nearwood, and look forward to the sequel that was hinted at near the end. Unlike some, I don't feel a game has to be difficult or challenging to be enjoyable. I find relaxing gameplay fun as long as the story captures me. This is a game appropriate for all ages as well. Other notable games by the same dev include the Brink of Consciousness series.
June 4, 2014
Not really an HOG but it grows on you
I really wanted to love this game. However, within the first 2 hours I thought about quitting several times. I'm glad I stuck with it because after you settle in, the game gets more fun and the last half of the game definitely beats the first. Note: It is not a Hidden Object Game. It is an adventure game with a couple of hidden object puzzles. Mini-puzzles make the bulk of the game. Pros: Graphics. Wow. From the waterfall opening to the beautiful colors and puzzles - this is a great looking game. Puzzles medium to hard. All make sense and are understandable. Payoff ending is good, no abrupt "and its over' kind of ending. Cons: Too many open places at ones. You go through the map at breakneck place creating opening after opening. You're dragging around stuff you won't need for quite a while - and you have 10 puzzles needing pieces all over the map. So there is a lot of back and forth and a laundry list of places and needs to remember. Poor planing. The game is talky in the beginning. Jane and the gnome prattle on. The things to use aren't always logical and there's too much to keep up with at one time. It's tedius and boring in the beginning. But, once some of the openings get closed and the story is more linear, it helps. Toward then end - things start moving quickly, dialogue gets cut back and it's a more pleasant game.
November 2, 2013
Well...
If I had had to really rush back and forth from one point to another in real time I would have been exhausted by the third trip and angry with the fact that I had to return to do more in the same place? BUT other than that, I enjoyed the game. I think probably more for the scenery and the Nearwood elf who acted as the 'hints man' and who saved me much travelling back and forth by guiding me through to the next stage, although not by transporting me, sadly. The story was nice, and the ending was good, so not a bad game and well worth the time if you have a rainy afternoon.
June 14, 2014
Unexpected fun
i normally go for more edgy things - darker things - but this game has shown me that sweeter games can be really fun too. most of the mini games were easy to medium in rating, with only one or two difficult ones thrown in. i loved the silhouette HOGs and the interactive ones, and the overall look of the game was amazing. not too sweet, not very difficult, but very enjoyable. i could have watched the opening all day - they really out did themselves with the graphics. do yourself a favour and try it out.
May 13, 2014
The Apple logo is a trademark of Apple Computer, Inc.