Nearwood
Can a young woman single-handedly change the fate of a magical kingdom? Set out on a voyage with Jane Lockwood into a mysterious world of danger and adventure, into a whirlwind of magic and wonder! As you encounter a host of unusual and amusing creatures and help them in their troubles, you will inch closer and closer to your final goal – finding Jane's long-lost parents, all the while freeing the great and wise Time Keepers from the grip of oblivion. Find out why time came to a standstill, and drive the ancient evil out of Nearwood once and for all! Bring back peace and quiet to the land! Save Nearwood!
Game System Requirements:
OS:

Windows XP/Windows Vista/Windows 7/Windows 8

CPU:

2.0 GHz

RAM:

512 MB

DirectX:

9.0

Hard Drive:

812 MB
Game Manager System Requirements:
Browser:

Internet Explorer 7 or later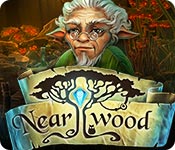 NEW299
The Big Fish Guarantee:
Quality tested and virus free.
No ads, no adware, no spyware.

Reviews at a Glance

Nearwood
0
out of
5 (
0
Reviews
Review
)
Customer Reviews
Delightfully Different ...
The best thing this Game had going for it was it's amazingly beautiful and colorful Graphics. The Storyline wasn't that interesting in my opinion - a girl goes out to "save" her parents? Couldn't they think of anything better than that? The Elf assistant was more annoying than anything else, not cute at all, and I wished he would just shut-up - especially in the end where he say "You must Hurry to save your parents ..." Really? Why do you need to hurry if Time is standing still? Doesn't make any sense, does it? The Creatures you meet along the way had way too "Human" characteristics which I think were totally unrealistic. Otherwise a good Game with some very interesting Puzzles also.
January 3, 2014
Brilliant Game well worth purchasing
Bought a few games this week many of which were a disappointment but not this. The reviews are right, this is a very good game which is nice and long but doesnt get boring. Some of the puzzles are a little simple and I think a few more challenging ones would of made it a five star game for me.
October 20, 2013
IF YOU LIKE PASTELS.
Colorful, fanciful artwork and cute (too cute) inhabitants are pluses for Nearwood. The story is rambling, but gets there eventually. The puzzles are fun, not challenging. Admit I became bored a little over halfway through and relied on the hint button to navigate. There is a jump map which indicates areas of interest. The Mermaid Queen seems to have jumped from a Frank Frazetta illustration. When I returned her tiara, felt I should stop by Walmart and pick up a t-shirt for her as well. One for the younger player, I assume.
September 10, 2013
Interesting story just wished it was longer.
I really liked the story and I thought the graphics were great. All the puzzles were fun; however, the overall game ended to soon. I was actually surprised when it ended because I'm used to most adventure games being much longer.
September 7, 2014
Good game exempt for the map
This game was a lot of fun, however, the map was really useless.
September 2, 2014
Pretty alright... pretty vapid.
It looks like I'm the sole dissenting voice on this, but this game managed to irritate me enough to make my first game review on this website. A lot of work has gone into the look of the game and that shows - the visuals and animation is top of the line for this genre, and the puzzles themselves are varied and entertaining, though largely unchallenging. However, it's first sin is a horrible map - a cardinal sin of this genre. To begin with, it doesn't distinguish active areas, it only shows you every room that still has something to be done at some point in the game. But to make it worse, the ability to use the map to room-jump is limited with a timer in the same style as the hint button. No no no. Pretty graphics does not excuse the annoyance of having to look at the same dozen room shots again and again, trying to figure out which room you're supposed to be looking in. Then the storyline? Ugh. Naturally, anyone who plays a lot of games from this genre gets used to a certain amount of fluff in the genre, ranging from tame horror to outright rainbows everywhere. But games like the Awakening series are unapologetically drenched in femininity and yet carry strong and capable female characters. In contrast, at one point in this game, a woman is telling the player that all the men in their small village have been kidnapped; she laments that there is "no one left to fix things" or to "hunt and fish", after the player had just finished rescuing them from another night of cold, dark and loneliness by replacing two simple and narratively obvious gears on the water cog. Good grief. Not having to deal with these tired old 'helpless women without their men' tropes is one of the reasons I enjoy this genre as much as I do. With as much budget and technical skill as has obviously gone into this game, you'd think they'd come up with an equally skillful storyline.
September 7, 2013
Started strong...
I played the Demo for the CE but thought the game would be as good in SE and waited for the release and bought without replaying the Demo. Yes, even if I had replayed the Demo, I probably would have purchased as the game didn't loose it's charm until about half way. The graphics and storyline are very good, but found the challenge somewhat easy that got easier and easier. The last quarter of the game totally bored me and couldn't wait for it to be over. Ended abruptly with everyone happy...
September 15, 2013
A Frilly Game for :Young Girls
This would be great if I were a 10 year old girl. I am not, there fore I am just not interested in this.
April 25, 2014
OK but Not Special
There was very little hidden object but a lot of puzzles. There were a lot of locations but it turned into a chore to move around because the map relocator button had to recharge between uses. And, it seemed that the main purpose was for you just to have to click a million times between locations. Like pick up object A and click 20 times to get to the spot to use it, just so can you pick up object B and click 20 times just to get back where you started in order to use object B. It got o-l-d by the end of the game.
June 19, 2014
Thank goodness a freebie!!!
A childlike story not for me. I hate those hidden objects. A few I don't mind. So far none of my favorite. I could deal with some of these not all. Usually I play the trial I just went for it. I really hate this game.
September 9, 2013
The Apple logo is a trademark of Apple Computer, Inc.