Magic Cauldron Chaos
Lisa is an inventive witch, highly skilled in the art of crafting potions. One day, however, one of her potions goes awry and opens a rift that drops her in another world. This strange world is made up of floating islands inhabited by peaceful gnomes and thieving imps. Only the gnomes know how to get Lisa back home to her own world. But first, she must help them defeat the imps who have been stealing all of their magic potion ingredients. By constructing resource buildings and matching potion ingredients, Lisa can clear the way across the five islands for the gnomes to gather the artifacts that will open the portal home.
Construct various buildings to produce potion ingredients.
Guide the gnomes to match ingredients to make potions.
Purchase dozens of upgrades to create more valuable potions.
Game System Requirements:
OS:

Windows XP/Windows Vista/Windows 7/Windows 8

CPU:

2.0 GHz

RAM:

2048 MB

DirectX:

9.0

Hard Drive:

89 MB
Game Manager System Requirements:
Browser:

Internet Explorer 7 or later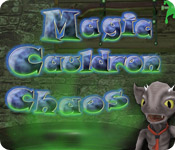 NEW299
The Big Fish Guarantee:
Quality tested and virus free.
No ads, no adware, no spyware.

Reviews at a Glance

Magic Cauldron Chaos
0
out of
5 (
0
Reviews
Review
)
Customer Reviews
Magic Cauldron Chaos
12
12
It's Fun...Until....
I like this type of TM game where you're given specific tasks and can collect jewels and such. But this game has a serious lack. No untimed option. The simplistic graphics and silly backstory lead to an excellent challenge. Make needed potions before those sneaky imps steal your stuff! Of course the levels get more intense as you pprogress and the objectives grow in number and kind. An untimed mode would've let not so nimble players like me enjoy the challenge with a lot less pressure. But for players who have low blood pressure and can sail calmly along under the merciless hands of time, this is a fun and funny game that you might want to try.
September 9, 2013
pretty good
I don't like games too chaotic, either, but after playing maybe 6 or7 levels, I haven't had trouble yet. The imps are slow, but I did buy a spell to make them slower. It is interesting, not the best, but not bad at all. Something different to play. It will probably get faster later, but I bought it for something different to play. It is not a bad game.
September 9, 2013
Certainly Chaotic!
BASED ON DEMO Okay, I admit it, I am not good at these timed games, I get flustered. But this one is stress on hyperdrive. There are sure to be some experts of this genre, though, who?ll find this game easy enough to be fun. In production terms, this is a very basic game, but surprisingly, you can adjust the aspect ratio in options which greatly improves the visuals. They are, however, low def cartoon graphics, and there is no voiceover for the (lengthy) introduction to the story. You are spun off into an alternate world where the gnomes are friendly and besieged by imps. They can help you get back home, but only if you can help them get rid of the pesky imps. Music is quite good, upbeat but not the usually irritating few bars. To explain why this game is not for everyone, I can only describe the gameplay on a level (even the early ones). You must make potions, cast spells, raise money, collect gems, outrace imps and beat the timer. Once you?ve managed all that, you get a rift stone, many of which you need to get to the next of 5 islands. POTIONS ? there are 5 types of potions to make, each a different colour. To make them you must first build a well and a flower garden, and with each choose a colour for the potion, because once chosen, only that colour can be made on them or go into the cauldron. The annoying thing about this action is that to get these items to the cauldron, you must click on the item hovering over the building then click on the right cauldron, all before an imp gets there. CAST SPELLS ? these are the usual power ups (freeze imps, increase speed etc.). You get them with progress in the game or you can buy them at the shop using the gems you find, but only between levels. They use up your limited supply of magic power. COLLECT GEMS ? this is my favourite bit because I don?t have to do anything other than hover the cursor in the general area to pick them up. They are used in the shop. IMPS ? they walk towards your buildings, if they get there before you?ve collected the products, they destroy it (both your water and your ingredients). From as early as level 3, there seem to be an awful lot of them! NO UNTIMED MODE ? no good for me, I?ll be lucky to get more than I have in the demo. I?m already repeating levels. There are, according to the promo video, also puzzles, but I unfortunately don?t have the skill or fortitude to get that far into the game. It has perhaps a greater appeal to children than adults ? and they usually have a better ability to play with these types of high tension games. But if all this complexity sounds great to you, then you?ve got yourself a nice little game here.
September 9, 2013
MAKING POTIONS ONE COLOR AT A TIME!
This story starts out with a young wizardess who hates cleaning toilets so she tries to make a toilet cleaning potion, really? The potion fails, and sucks her into a portal and into a floating island of which Gnomes are fighting with imps over their own potions so the young wizard agrees to help them in exchange for helping her get back home to clean toilets. You need to build wells to produce potion bottles of a specific color as well as flower gardens to produce the same colored flower. You need to mix the potion of 3 flowers and 3 potions by clicking on the ingredient and then the cauldron and collecting the colored gems that are produced as well. You can hire extra gnome workers and cast spells and you must collect the ingredients before the slow moving Imps get to it first, but there's also a spell of sludge to slow them down and a spell to speed up the gnomes. I really thought that you would have to mix primary colors in order to get orange potions or purple but apparently that isn't the case. I found the game a bit boring but I really think kids will like this game, enjoy!
September 9, 2013
Meh
The graphics are Meh. The gameplay is very chaotic. I found if I didn't click just right the action never happens. so it was a lot of clicking with no result. So it is nothing to write home about. The demo was as much as I ever want to play of this game.
September 11, 2013
Very repetitive
This game is the same level after level, it is very boring. Too bad because I was happy to finally see a time management game instead of hidden object and match 3 games, which I think are way too easy and no fun at all.
September 23, 2013
Interesting idea, very badly developed.
This game could have been pretty good. It's not one of the same restaurant/building/clear the paths games that have been so common lately. Unfortunately, the execution fails miserably. Flaw one - no untimed mode. And if you don't get at least silver, you have to replay the level to advance. Lots of frustration issues right there for an awful lot of people. In addition, you have multiple stress factors. You have imps trying to steal your ingredients. Your gnomes must return to "home base" before you can reassign them and you can't queue tasks. Instead, you have to first click the place where the ingredient is produced, then you have to click again to select the little gnome (if you started a different gnome on a task instead of waiting for it to get there) and then a third time on his destination with the item. It's absurdly easy to forget one step...in which case the game may simply auto-select one of the gnomes for you. It may not be the one you're planning on sending, and there's no way to intercept them once you click wrongly. Your ingredient is then wasted if it went to the wrong color cauldron. In addition, you sometimes have to change the target color (of a garden, or the bottle factory, or whatever), and it's not easy to do. The game first assumes you're clicking on the ingredient, making you click multiple times before it gives you what you want, and wasting valuable time when there isn't much to spare in the first place. I have to agree with those who said this game is a mess. It had potential, i'll say that much - I've been waiting for a TM with an interesting and well-developed concept to appear. Interesting, yes. Too clumsy & frustrating for me, however. I'll give it a 1.5/5, for effort and the attempt to make something that's not "just another building game copycat". It's really not playable, though.
September 27, 2013
Really?
All I can say about this game is that there must have been a time warp in the selection process for this one. It is soooo old and bad, I can't believe they even put this on the site.
September 9, 2013
Yes it's that bad
I could not believe this game was even offered as a selection. The graphics are awful and looks aged. I can't think of one positive thing to say, so nuff said.
September 9, 2013
Boring
I love TM games but I could only stand a few levels of this one. I could live with the graphics, but the game mechanics are not user friendly. If you try to make different colored potions in diff pots, it is hard to see which color ingredient you are sending where. If you send the wrong one, it gets wasted.
September 10, 2013