Voyage
An epic adventure inspired by Jules Verne`s From the Earth to the Moon, Voyage will take you beyond imagination and into a realm of discovery, fascinating events and extraordinary experiences. Live the dream that begins with the tale of three scientists whose vision is to pioneer new explorations to far off places of discovery: an ancient temple, mysterious ruins, and an unusual subterranean civilization.
Thought provoking puzzles.
Combine and create tools.
Beautiful graphics.
Game System Requirements:
OS:

Windows 2000/XP/Vista/7/8

CPU:

800 Mhz

RAM:

128 MB

DirectX:

9.0

Hard Drive:

1361 MB
Game Manager System Requirements:
Browser:

Internet Explorer 7 or later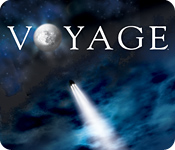 NEW299
The Big Fish Guarantee:
Quality tested and virus free.
No ads, no adware, no spyware.

Reviews at a Glance

Voyage
0
out of
5 (
0
Reviews
Review
)
Customer Reviews
A Massive Success that Ranks with Syberia!
I don't even know where to begin to critique this massive game! It is the l-o-n-g-e-s-t game I have ever played. So long, in fact, that an "intermission" should have been included! I fell in love with the sometimes arrogant and sometimes humanoid Selenites (lunar creatures#, and became very attached to them. I was so enthralled with the moon and its beauty that I did not want to return to earth, much like the way I felt after i reached Syberia, in that masterful game. There are SO MANY THINGS TO DO in this game! Deciphering ideograms, solving many logic, math, intelligence tests, #including extremely difficult audio exams!#, and discovering how to get from place to place in the Selenite caves #there are SIX levels!), on the moon's surface amid fierce, giant plants, and playing a giant organ in different ways to summon the Selenites working in the fields back to the caves, are just a handful of examples of what the player can look forward to. You will need to consult a walkthrough from time to time, but even a walkthrough won't help you with many of the "random" puzzles or in many other areas. You'll have to find the solutions on your own because YOU ARE completely on your own, and there are no hints. I must say, with all candor, that this game touched me more than any other I have ever played. I will NEVER forget the "disarmingly loveable" Selenites, and I will visit them again and again, just as I do Syberia! BRAVO, KHEOPS! BRAVO, BIG FISH GAMES!
September 2, 2012
Exciting voyage into the unknown
With "Return to Mysterious Island" from the same developer being one of my favourite games from the collection here at Big Fish I approached this with high hopes. I was not disappointed. Just like Mysterious Island this is loosely based on a Jules Verne story, in this case "From the Earth to the Moon". Like most games by Kheops the game has plenty of charm and in this case a healthy dose of humour. It also offers a good level of challenge for somewhat more experienced players, although it may be too hard for someone new to the genre or someone who has only played hidden object games (some of the other reviews here suggest this may be the case). The story, while based on serious science fiction, isn't too serious but rather takes a humorous approach to the exploration of a different planet topic and it succeeds brilliantly at mixing humour, charm and the excitement involved in exploring the unknown to produce a very enjoyable gameplay experience. Graphics, while not of exceptionally high quality, do quite a good job at conveying the alien nature of the game world. Puzzles are fairly varied and offer a good level of challenge. They are also well integrated in the game and feel like natural tasks to undertake in such an alien environment which help makes them fun to solve. The uniqueness of the alien game environment also helps make the puzzles feel a bit more unique which also contributes to making them fun to solve. The end result is fairly challenging puzzles that are a lot of fun to solve. In conclusion I think this is a very good game with a charming, humorous and exciting story and good, fun to solve puzzles. I would recommend it to anyone who is experienced with and likes this type of games, but perhaps not to newcomers to the genre (Emerald City Confidential is a great starting point for newcomers).
June 4, 2012
A Great Long Lunar Experience
It's a long file game and I love long files games. They're my favorites!!! They're like movies with the difference that in this games you are the main character. BEAUTIFUL and colorful graphics and interesting line story. Challenging in some sections but I was able to get through. I had little problem taking the Selenites in their stables and I couldn't find an answer to my problem in any walk-through. I used logic and it worked out! Just follow instructions carefully when given during the game play. Although this story has a good end, I can wait for the second Voyage since it's announce a continuation with new adventure at the end of the game.
September 20, 2012
long-awaited but it delivered
I once bought this game together with 'Return to Mysterious Island'. I loved the other game but, alas, couldn't get the 'Voyage' CD to work! So I was over the moon (heheh) to find it here on Big Fish some years later. It did not disappoint, even if it had some high expectations to meet after my long wait. I liked how the storyline was adapted from Verne's work and how it tied in with the other game. I've had hours of fun with it.
January 17, 2013
Want to learn a new language? Visit the Moon.
Another great game be KHEOPS. Yes it is a 360 view. Yes, you may have to refer to a walkthrough, it is a difficult game. YES IT IS A FUN GAME AND IT IS LONG. Worth every penny spent to buy it. In the capsule, I could not move the blanket off either man laying down, until I my character discover he was in space. I thought my game was improperly downloaded. Once you get to the moon, you get to meet moon characters and learn their written & verbal language. Also their math system and use their machines. You learn about plants and their fruits. THIS GAME IS FOR THINKERS. Anyone can find a HO, but not everyone can make explosive out of moon plants or grease or glue. You get intelligence points to get keys to get access to what you need. The moon is fun place to visit and don't be in a hurry to leave.
September 2, 2013
A fun game full of good ideas
I appreciated several aspects of this game, but in particular: 1) the selfish, strutting, suspicious, and SO fun inhabitants of Moon. They are so realistic that you can almost believe they exist 2) lots of puzzles based on sounds and music. 3) the last cut scene, a genial and unexpected link between this game and others of the same publisher. Overall visual quality was nothing exceptional, but not bad either. Level of challenge was well balanced, neither too low nor excessive (hmm.. just a couple of visits to UHS walkthroughs :-) ). So I recommend to give the game a try. It's worth the price
December 6, 2011
hard
I found this very difficult, but with the help of a walkthrough I was able to enjoy it. Graphics and story line were very good. The reason I rated fun factor a 4 and not a 5 was because without the walkthrough I wouldn't have had the patience to have completed it.
October 3, 2013
So frustrated...
This didn't have the 1 hour trial so I bought it blind. I had the worse time with this game. I kept running out of oxygen, and had to depend on a walk-through to get anywhere. Ended up uninstalling and watching most of it on Youtube. (Thank you to whomever it was that did that.) If you are intuitive enough to play this GREAT! Have fun. I just couldn't wrap my head around what I needed to do - and never got to the moon. ah well.
May 17, 2012
I lover of Kheops games...except this one.
Not a fan. I love this game developer and the 360 experience. However, I didnt even bother to finish this one. Forced myself to stick with it thinking that it would get better. Not worth the time or money.
January 25, 2013
Frustration is the name for this game
uuuhhhh! had to use the walkthrough for most of the game. Made the game way too complicated to the point, you could not enjoy it.
May 24, 2012