Echoes of the Past: The Kingdom of Despair
Exclusive
End the witch's evil reign at last! Explore the twists and turns of a mysterious world as you travel through a strange, cursed kingdom, where the characters have been robbed of their beauty and talents by a cruel sorceress. Test your wits as you gather the missing amulets, restore the lives of the cursed characters – and open the portal to return home!
Game System Requirements:
OS:

Windows XP/Windows Vista/Windows 7/Windows 8

CPU:

1.0 GHz

RAM:

1024 MB

DirectX:

9.0

Hard Drive:

818 MB
Game Manager System Requirements:
Browser:

Internet Explorer 7 or later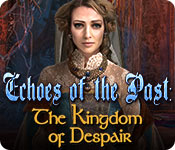 NEW299
The Big Fish Guarantee:
Quality tested and virus free.
No ads, no adware, no spyware.

Reviews at a Glance

Echoes of the Past: The Kingdom of Despair
0
out of
5 (
0
Reviews
Review
)
Customer Reviews
Echoes of the Past: The Kingdom of Despair
23
23
ABSORBING, INTERESTING, ODDLY CREEPY
BASED ON COMPLETED GAME ON HARDCORE LEVEL Pros: Intriguing story Lots to do Many interesting places and scenes Puzzles are all levels, simple to a little challenging Music adds to the mood Story clearly separated into manageable "chapters" Logical use of items Moderate back tracking Clear graphics, easy to find objects Adventure moves quickly so you're never bored Map (limited in hardcore) Voice overs are adequate Characters engage frequently with you Each chapter has a different feel and place Some puzzles are very unique Relatively long game Cons: Contains scene of child torturing her pets Contains scene of doll that chops heads off of puppets Contains scene of chopping block with bloody pet animal parts Part of story contains child who enjoys mistreating her animals Pretty standard story, nothing new (other than above) Graphics could have been crisper Ending is abrupt, somewhat confusing and unsatisfying
September 15, 2013
A good series
This is the fourth in a pretty decent series of games. This one is a little different with regards to the hidden object scenes making them a little more interesting than they normally would be. The puzzles are a mixture of easy to fairly hard. The graphics are good and the music is varied although seemed quite familiar so I suspect they used the same music in other games. My only real criticism is that the map could have used indications of scenes where actions could be completed as I found myself using the hint button a little more than I would have liked. I like the idea of having different themes within a game although I was amused by the odd mix of different eras within a section like the Tudor queen in a Georgian house which obviously could not happen. But that's just me nitpicking in a game I really did enjoy. I'm happy when a standard is maintained throughout a series of games and that's certainly true with Echoes of the Past.
September 13, 2013
Not quite like the others but still good
Lots more to do in all the other echoes of the past games. The graphics were not all that great and not much for voice over. The game is still fun to play. It to me is easy. has a map and hint button works well if needed. The HOS are interactive which is fun and different in just looking for HO all the time.
September 15, 2013
Echoes of the Past taken in different direction
I just wanted to basically echo what JustTheFacts posted. I enjoyed the different direction the developers took this game when compared with the previous games, and returning each character's key virtue to them while exploring differently themed areas was particularly interesting. I have to admit, I wasn't really sure what the opening scene and ending scene had to do with the story (was the girl who got sucked into the book the main character, or just a random girl? Or was she not random, have we met her before? None of it was very clear to me, but I haven't played the other games for a while so maybe just forgot something). This game can be kind of dark at times, and the "baddies" in each area and their guardians can look pretty creepy, so wouldn't recommend it for younger players or if that sort of thing makes you uncomfortable (but it is just a game at the end of the day). There are quite a mix of different styles of puzzles, some of which my brain simply could not figure out and I had to skip, but I think most people will find some they really enjoy and others where they just don't get it. Some of the voice acting is a bit hammy (the witch in particular grated quite quickly), and you can't turn the voices off, but it didn't really detract from the game for me as the character design was really good and the cutscenes weren't long. Overall, I really enjoyed the game and am looking forward to the next instalment!
September 15, 2013
Good Solid Game, Nothing New.
Can't see that CE would have improved the play. Five doors, five tales. The final chapter is rather disturbing as it features a child abusing animals (of course, she was bewitched, so I guess it's to be expected.) Good graphics, good music, good puzzles. A good, not great, game
September 18, 2013
Solid Entry in Echoes
This is a solid Entry in the Echoes of the Past franchise - not too amazing but not terrible either. A fun game, nice interplay and decent graphics. Pros: Map, generous hint button, distinct rooms and puzzles, good graphics, Puzzles med to hard. Good length - not too short, but I was ready for it to end when it did. Fun, new challenges then normal HOS. Sly humor. Cons: More of an adventure than an HOS, back-and-forth between rooms makes it hard to pick this game up after a few day's break, abrupt ending, Story lacks a strong narrative. Each area has its own small story but there is no thread tying them together with the larger story. Functional and fun, but once you're done - you won't think about it again.
December 2, 2013
Very enjoyable game!
I really enjoyed this game. It's pretty much the standard set-up where you have to find objects, some hidden, and then figure out where to use them. You will find yourself running all over the place, back and forth. But part of the challenge is remembering where you saw certain things that might need one of the objects you've found. If you are having difficulty, there is a hint button that will show you where to go next. In the game you're trying to defeat a witch that has put spells on various people in a castle. In order to break the witch's spells, for each different person you have to find and give them a certain object. As you free each person you get an amulet, and at the end you use all of them to defeat the witch. I thought the game was very high quality. Great graphics, carefully but fairly hidden objects, and very logical steps to follow. I definitely recommend this game!
November 25, 2013
Hard, Hard, Hard. Dare you to play it in Expert!
This was one of the hardest games I have ever played. Even the puzzles were difficult. . .and there's lots of them. The objectives were not obvious and if it wasn't for a hint button or map, I'd have given up.
October 10, 2013
So so...
I am going to be the black sheep of the reviewers, probably...but I didn't like this as much as others did. I have all the others in this series and I do like them, but I found this one not as much fun. The movements are slow; it takes too long for newly found items to go into the inventory, and I don't like the up-top inventory. The graphics are nice and most of the sound is good...except..WHY does the young a beautiful (some would say hot, even) witch have an old lady voice? Even the dialogue is slow and some of it cannot be skipped over. Also, I really dislike HO lists that have 4 of something, 3 of something else....I've said this in the past, this comes off as a dev short cut. Some of the tasks seem over done as well...I mean, do we really need to repair the piano, then go hunting for sheet music, just to find a candle? I think I must be getting tired of sequels...bring on some new stuff!
September 11, 2013
Paint by numbers
The title for me says it all. Let me explain. There was nothing fundamentally wrong with the game it had a good story-line, the music was good and for SE there was a VO. The puzzles were good and very unique with most I had not seen before (in any shape), and others that were a good variation on the theme. The puzzles all tide in well, and even the HO were not all the standard 'junkpile' ones, yes there were some of those but they were others where you had to find 12 of 'something', e.g leaves. Others were where you had to interact objects with each other in order to get all items on the list. The variety was good and the mini-games were good, the VO was there as was the story, but even though all elements were positive, there was something that just didn't make for me a good game. I am glad I bought it but I will try to explain why I didn't fully rate it. The title said 'paint by numbers' and this is basically what I did, put the level on to casual, and just literally followed the map icons from one scene to the next, completed the task within that scene and moved on. Thus just completed the game in an almost regimented way. This I know does not do the game justice and if I did that with all the games I purchased I would just be wasting my money. I don't of course, but I think the reason I did with this one was the fact that the Advanced and Hardcore modes gave absolutly nothing away. I can understand the hardcore not doing so as that is for people who like real challenges, but the advanced mode whilst it allowed you to skip and hint, the map didn't offer any clues as to where to go next (in some games on advanced the map is still a bit more helpful, obviously some people may feel that this is a bit 'above and beyond' what the hardcore mode should do, personally I don't as I believe it give just enough nudge to where to go but not what to do when you get there), in this game however the advanced mode does none of that and you could be wondering aimlessly wondering what to do next. Well I have 'bought' the game use that loosely as it was a free game when there was a sale on, and all the elements are there to make it a good, game and whilst I do recommend it I can't fully put the finger on why I don't 100% endorse it myself, I think though it had a lot todo with the map feature.
November 25, 2013
The Apple logo is a trademark of Apple Computer, Inc.