Echoes of the Past: The Kingdom of Despair
Exclusive
End the witch's evil reign at last! Explore the twists and turns of a mysterious world as you travel through a strange, cursed kingdom, where the characters have been robbed of their beauty and talents by a cruel sorceress. Test your wits as you gather the missing amulets, restore the lives of the cursed characters – and open the portal to return home!
Game System Requirements:
OS:

10.8/10.7/10.6/10.5

CPU:

1.0 GHz (INTEL ONLY)

RAM:

1024 MB

Hard Drive:

804 MB
Game Manager System Requirements:
Browser:

Safari 4.0 or later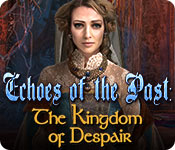 NEW299
The Big Fish Guarantee:
Quality tested and virus free.
No ads, no adware, no spyware.

Reviews at a Glance

Echoes of the Past: The Kingdom of Despair
0
out of
5 (
0
Reviews
Review
)
Customer Reviews
Echoes of the Past: The Kingdom of Despair
27
27
Best Of The Bunch
BASED ON COMPLETED CE GAME FIRST IMPRESSIONS 5th in this series, this game is both representative of it, and something new. We still have our nemesis the witch, and we still must fix things she has destroyed before we can travel back to our reality. Something I didn?t notice immediately ? this game is not a time travelling one. The ?past? is merely the kingdom we are stranded in, which is not Orion, but the witch?s home world. SIGHTS & SOUNDS Graphics are superb, they have those sharp edges I?m none too keen on, but even that became unnoticeable quickly, because otherwise, the art was beautiful. Cut scenes are exceptional, and I love the witch?s new look. The voiceovers are very good, done without any attempt at lip sync, the characters? mouths don?t move. Some of the most majestic and uplifting music I?ve heard was mixed with the original theme, which I?m tired of, but I guess is a way of connecting this to the earlier games. WHAT?S HAPPENING We are, once again, sucked through a portal to another world, this time the witch?s. She has scattered the 5 amulets we need to get back, throughout the realm, so we must go on 5 quests to redeem her poor subjects in order to get them. She has removed each victim?s greatest virtue, turning them into opposites of their real selves. It is very well done and told, with each part of the world being quite different, but connected by the one theme. MAKING PROGRESS Loads and loads of puzzles. Some of them are really clever adaptations of old ones, some completely new, all of them engrossing, and none too easy. I had to skip a few. There are also a fair number of HOs ? multiples of, interactive lists, and misplaced items. I particularly like that the items to replace are actually items you picked up earlier from a previous scene. The multiple items are handled differently as well. Skip and hint are quick. Hint gives you advice, or sometimes shows where you should be. The interactive jump map allows you to toggle (on or off) indicators of active areas and completed scenes. One of my favourite things about these games ? the inventory is at the top. BLING! Well, the CE does have achievements and a ?spell book?, which is a little bit of fluff at the end of the game. And of course SG and bonus chapter and some puzzle replays. The only gallery items are concept art. The main game ends satisfyingly, and the bonus game is wedged in seamlessly at the end. Another quest, but unnecessary to the feeling of completion. FAMOUS LAST WORDS Always of two minds about this series, I can finally say I love this one! For me, the SE would have been just as wonderful. So finally, I can give a game in this series an unequivocal five stars. Either way, I?m glad I bought it.
September 11, 2013
SO THERE I WAS.....
Minding my own business in the bookstore when a young lady with an emblem matching the book I was looking at, came strolling in and the next thing I know the two of us are sucked into the witch's portal! Now the witch has her new body and she informs me she is taking the amulets from the book and my only way home, and she's hiding them in different portal worlds. Man I'm having a bad day Now I must travel through portals guarded by the witch's monsters, and the bag of bones gatekeeper needs to be supplied with bling before I can enter! This game is all about the puzzles, there are a ton of em like finding and inserting voodoo needles into a voodoo doll to allow the green slime to travel from needle point to needle point and to the finish with a limited amount of needles. The HOS are a mixture of very interactive list finds and find 12 of a certain item such as piano keys or torn picture fragments. My favorite mini game was a bed of rosebuds with a squared grid around each individual bush, some with one bud others might have 2 or three. The object was to put fertilizer in the lines around the roses to make each bud bloom so if a bush had 3 buds then 3 lines needed fertilizer and the fourth empty, but, the fertilizer is in limited quantity so it has to be precise. Here is a tip: you can scoop up the existing fertilizer in any line you don't have to reset the whole puzzle if you make a mistake. I think this SE is the better buy than CE it is a quality game with quality graphics and cut scenes. Enjoy!
September 11, 2013
My Favorite of the Series
This game isn't creative on story, but it is definitely creative in its other aspects. This is not earth-shatteringly original; it's about all the little touches. For example, one of the HOS asks you to find a number of piano keys. Once you've finished, you aren't zoomed out of the scene--instead, it turns into a regular scene where you have to find a key to unlock the piano. In another case, you find certain objects in one HOS, and then you use those objects by placing them in another HOS. Little things, as I said, but fun. The storyline is very simple. You are trapped in an in-between world by a witch, who has hidden 5 amulets in 5 different worlds. You need the amulets to get back home. A skeleton/River Styx kind of guy is the gatekeeper to the 5 worlds. You must give him a bracelet to open up each world. I like stuff like this -- 5 discrete locations, easily manageable, all different. The graphics are nicely done if not 100% crisp. My favorite thing was the weird monsters guarding parts of the worlds. They were hideous in a fun way. The voices are entertaining, especially one character who keeps telling you you are getting on her nerves. The puzzles are particularly fun in this game, and varied. I usually hate most puzzles, but the developer has shown real creativity in places. Most of them are easy, but fun. This game was challenging enough to keep my interest, but easy enough to be relaxing. There was lots to do and see without getting lost or frustrated, and clever little tasks to get done. I had a blast.
September 15, 2013
Great Interactive Game
Graphics are phenomenal in this game---play reminds me of the Secrets of the Dark series...LOTS of interaction--some going back and forth to same HO or finishing up a task, but the Map is extremely helpful of where you need to go..Hint button is spot on and refills quickly...Loved the trial so much, went ahead and purchased!...Won't be disappointed..
September 16, 2013
Fabulous!
I highly recommend you try and buy this game. All the way through it has provided surprises and some of the most beautiful artwork I have ever seen in a game, especially after you reach the halfway mark and meet the artist. Some of the puzzles I had never seen before and were quite challenging, but very very interesting. My benchmarks are Dire Grove and Return to Ravenhearst, the likes of which have never really been equalled in my opinion. This game is high up there. It is not really like the previous games of the title, I think it is easily the best of them so far. I really liked the graphics and the music, have no dislikes at all in this game, thoroughly immersing and enjoyable.
October 22, 2013
Another great Echos!!!!! This one was alot of fun!!!!
I enjoyed this Echos very much!...the mini games were alot of fun and not too challenging so i could enjoy getting through all the twist and turns of the game as a whole. I love all the Echo games and have been a fan since I played the first one years ago! Highly recommend the whole collection!!!! Thank you for keeping it fun, intriguing, colorful and adventurous as all the rest!!!
February 2, 2014
Strap yourself in for long game
Great to have something that took me hours to complete. I returned over and over again during the last few weeks to progress the game, slowly meeting all the challenges. They were not necessarily difficult, but they often needed several pieces to complete and these were strewn across different worlds, so there was a lot of back and forth. The HOS were very, very easy, and filled with variety - would have liked a bit more challenge there. I couldn't' play this game on my small laptop - as I can't many of the bigger games coming out. Something about the OS and small screen.
November 8, 2013
One of the better HO Games out there!
Not straight HO, good puzzles with challenging difficulty on some. Good length of game with many levels and challenges. Love this developer!
November 4, 2013
Hidden Object Game
The puzzles were challenging and fun. The visuals are very good. There was enough challenge to make it fun, but at the same time I was able to get through it without using the strategy guide.
October 28, 2013
an enjoyable game that is relaxing
played casual, low/no sound. hints/skips charge super fast!!! you are trying to solve the mystery of why the people keep changing into evil beings and you meet the evil queen that is doing it and she isn't evil at all in the "real" world. only when she compares her necklace and the one on the book. she then turns evil and transforms all the others and you have to find the one thing that will transform them back and apply it to them to get the "real" person back. the hints show you the place you need to go and if you look at the map (interactive) it will take you there. it also shows the areas of interest so you don't need the hints all time. the areas glow on the map!!!! there is a diary, as well. sequel.....there have been ones in the past and i feel sure there will be one in the future. the scenes are putting things back in where they belong and some HO scenes and also picking up items as you progress through the game.
October 5, 2013
The Apple logo is a trademark of Apple Computer, Inc.
The Windows logo is a trademark of Microsoft, Inc.