3D Puzzle Venture
Take puzzle gaming to a whole new dimension with 3D Puzzle Venture! Solve breathtaking puzzles in full 3D view! Get creative with our easy-to-use puzzle editor and create your very own puzzles using your own images! You can even travel through a spatial gallery of achievements and stroll along a visual display of puzzles you've solved. With multiple levels of difficulty and 40 high-resolution puzzle images included, this is a game that every puzzle enthusiast will love!
Multiple levels of difficulty
Easy-to-use puzzle editor
Spatial gallery of achievements
Game System Requirements:
OS:

Windows XP/Windows Vista/Windows 7

CPU:

1.0 GHz

RAM:

512 MB

DirectX:

9.0

Hard Drive:

59 MB
Game Manager System Requirements:
Browser:

Internet Explorer 7 or later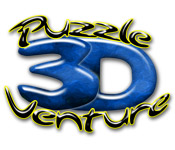 NEW299
The Big Fish Guarantee:
Quality tested and virus free.
No ads, no adware, no spyware.

Reviews at a Glance

3D Puzzle Venture
0
out of
5 (
0
Reviews
Review
)
Customer Reviews
Nice 3D Puzzle
If you like puzzles, you'll be pleased. The game is smooth. Nice idea with the gallery. I would recommend.
October 2, 2013
3D puzzle
I love doing puzzles and I think this game is the best so far. It's challenging and the fact that it is in 3D makes it all that more fun. Thanks BF.
September 11, 2013
kasiulka361
I am very happy with this game, I recommend it to all who love the puzzle. 3D is great, easy Room game, many levels, I was fascinated recommend :)
October 3, 2013
Highly addictive
If you like jigsaw puzzles this is for you. You can choose how hard or easy to make it, take your time, and then put the result in the gallery. You can move it closer or far away (it can get a bit disorienting when you do that). Nice pictures. Hours of fun
September 11, 2014
A Slippery Encounter, With Promise
The devs had a wonderful idea. Make a puzzle clear, vibrant and 3D. What could be wrong? Well, nothing exactly wrong, but the slippery control and oddly warped shapes add nothing good to the game. There's a small number of puzzles in similar categories (i.e. architecture and landscapes) and you can add your own pics. But having to almost constantly swing, slide or turn the board for more pieces or to connect them I found awkward and distracting. But if you're looking for a puzzle title that's different and challenging then I suggest trying this one. The drawbacks may just prove assets for you.
September 11, 2013
Great 3D Concept!
I love jigsaw puzzles, I do so many puzzles that I started to preserve them and hang them up, until I ran out of room. That's why people like myself need to make the switch to virtual or computer jigsaws, and the beauty of this game is that you don't have to flip over a million pieces, you don't have to take up table space and this game has an art gallery where I can view my puzzles anytime I want. A cooler concept would be to use my puzzles as screen savers that still look like puzzles not photos. There are good categories such as landscapes or animals, and I did like the fact that you could zoom in and out as well as click and drag the entire puzzle around which gives it a 3D vibe. What I didn't like was the lack of options such as showing only border pieces but maybe I just didn't look hard enough. Enjoy!
September 11, 2013
It's not your every day jigsaw puzzle game!
I really enjoy this game. I'm a jigsaw nut, and was pleased to see a new one offered. I wasn't too sure about the whole 3-D thing, but I demoed it and really found it intriguing. There are 40 puzzles offered and each can be built in many different ways, depending on the number of pieces you choose - up to more than 1,000 pieces. If you don't care for the puzzles offered, or want more, you can use your own pictures or images from the internet and make them into puzzles, so there is really no limit to the number of puzzles you can enjoy with this game. You don't find that in most puzzle games. The game board itself is a little hard to get used to, but I found a puzzle I liked and started with about 200 pieces, so I could learn to use my mouse to correctly control the board. By the time I had finished the little puzzle, I wasn't having any trouble at all in moving around the board. One of my very favorite things is how big you can make the puzzle and pieces. You can zoom in and really get SO much detail in the puzzle pieces that I almost enjoy it like a hidden object game. I choose to have the image beneath the pieces. I decided on an area to build, zoom in, see what I need, then go searching for the pieces I need and it works really well for me that way, and does give it that "hidden object" feeling. There is, I admit, a drawback or two. I really, really wish there was a sort button for the edges. I'm one who likes to build the entire frame of the puzzle before beginning the rest, so I must spend some time sorting and then building the frame. There is no place to sort pieces to - or to remove some pieces to get them out of the way. Jigsaw Boom, for example, has a "box" you can put pieces into to get them out of the way. You won't find that in this game, but the game "board" itself is quite large and there is lots of room for sorting. It's just not quite as convenient as some other games. I also wish the pieces "stuck" to the board like they do in Jigsaw Boom. In Jigsaw Boom, when you find a piece, it "sticks" to the board, so you don't have to worry about the pieces wandering about or getting knocked loose while you're doing other building. This is a feature that would really make this a better game - add a sticky feature and a sorting option or two, and this would be a great game. As it is, it's a good game for someone like me who adores jigsaw puzzles and I appreciate the challenges that this game offers. If you get "sea-sick" when games move, you won't like this game at all. Also - when you complete a puzzle, you are automatically taken to a 3-D gallery where you can "hang" your completed puzzles on the wall. Try it - give the demo an honest try. Start with a small puzzle to get familiar with the best way for you to control the game and I think you might enjoy it. I know I really do.
September 22, 2013
Nice
Good clear puzzles, with a twist. Nice to play, plenty of choice in puzzles, amount of pieces can be altered to suit any age or experience.
September 11, 2013
Okay Jigsaw Game, Done 3D Style
BASED ON DEMO At first glance, this is a not especially good jigsaw game. There are the features you?d expect... *40 pictures in 4 categories (nothing really wow?d me) *choose number of pieces 40 ? 1030 *choose background *completed image display options *3D gallery for completed games *timer And some you may not expect... * a puzzle editor to create your own (not available in trial) *choose windowed or full screen, resolution, aspect, graphics quality *sliders for sound and music (which is pretty good) And there is the selling point ? do all this in 3D! Well, it?s novelty value working for it. Imagine your jigsaw is stuck on the joy stick of your game controller. You can use the mouse or the arrow keys to swivel it around in alarming ways, up/down, forward/back (zoom), left/right. It gives you some interesting viewpoints of the jigsaw, and I quite enjoyed playing around with it. But I?m unsure if it serves any real purpose. I didn?t find it as appealing as other jigsaw games out there.
September 11, 2013
3D?
This puzzle is easy enough to work through but.. I've done 3D puzzles before and I can tell you... This ain't it. This is a 2D puzzle presented a little differently, granted. It is first and foremost a 2Dpuzzle.If you enjoy puzzles then this might be of interest to you.If you're looking for the challenge of a real 3D, don't waste your time.
September 11, 2013