Web of Deceit: Deadly Sands Collector's Edition
Exclusive
Track down a venomous killer in Web of Deceit: Morgana's Legacy! After receiving a distressing message from your uncle, you travel to the remote village of Transvaal. But when you arrive, your uncle is nowhere to be found. As you search for him, you learn that he has been traveling the world, hunting down a woman named Morgana, and that this is not the first town to encounter her deadly wrath. Soon, victims start piling up, all of them bearing the same strange bite mark, dripping with venom. But is this the work of Morgana...or something even more sinister? Tread carefully - the sands are always shifting in this thrilling Hidden-Object Puzzle Adventure game!

This is a special Collector's Edition release full of exclusive extras you won't find in the standard version. As a bonus, Collector's Edition purchases count toward three stamps on your Monthly Game Club Punch Card!

The Collector's Edition includes:
Stunning concept art and wallpapers
Videos and mini-games
Integrated Strategy Guide
Team up with Morgana in an exciting bonus game!
Game System Requirements:
OS:

Windows XP/Windows Vista/Windows 7/Windows 8

CPU:

1.6 GHz

RAM:

512 MB

DirectX:

8.0

Hard Drive:

1200 MB
Game Manager System Requirements:
Browser:

Internet Explorer 7 or later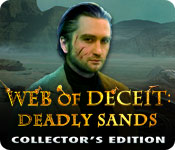 The Big Fish Guarantee:
Quality tested and virus free.
No ads, no adware, no spyware.

Reviews at a Glance

Web of Deceit: Deadly Sands Collector's Edition
0
out of
5 (
0
Reviews
Review
)
Customer Reviews
Web of Deceit: Deadly Sands Collector's Edition
44
44
WHAT? NO SPIDERS?
The last Web of Deceit had a bunch of spiders so I think they toned this game down a notch for the people with arachnophobia. With or without spiders, you're still going to hate Morgana, the evil black widow villainess who prays upon men by injecting them with spider venom! At one point in the game you are a witness to Morgana's lasts venom victim. As the venom is coursing through his veins, he slumps down upon the Hotel stairs and I whip out my analyzer to extract the venom from this poor man! Then not only do I leave him there, but I rob the man blind! Anyway, this game is chock full of mechanical gadgets and doors to tinker with and each and every scene has a lot of thing to do. There are the usual achievements to earn such as not using the hint button in a hidden object game, AND there are 30 posters to find throughout the game and they have done a nice job of making the posters inconspicuous. The HOS are interactive list finds, and some players might complain that they are just piles of junk lumped together and I did find some of the interactive tasks to be somewhat confusing, but it may be more helpful on a casual setting. Mini games are good some require swapping red and green circuits by guiding the circuits around a circle others are locks of which you need to place all gears of three different shapes in the correct place so it will open. The only complaint I have is the black bar tips that continually say's "maybe if I had eight legs" that annoyed me and again maybe it doesn't say that on the easier settings. Enjoy!
September 21, 2013
PUZZLES MAJOR FUN FACTOR, Other goodness
BASED ON COMPLETED GAME IN HARDCORE 3rd of 3 MODES, no black bar hints (Excellent!), no sparkles, twinks, or blinks. I loved this game and took my time. Folks who require Collectors Edition to offer certain features may be disappointed. No morphing objects. There are 30 cool posters from a by-gone era that are tough to find, and achievements, but that's it for fancy features. LIKES --------- GAME MODES: This is one of few games that truly does turn off the distraction of a black bar dropping down with a phrase that gives unwelcome and blatant hints with each mouse click. KUDOS For a job well DONE! Other games give a token nod in advanced mode- The black bar still drops down with each click of the mouse but the hand holding hints are replaced by a single, typically sassy, remark that is repeated until end of game. This gets old fast especially when an extra click is required to clear it. So again BLAM! job well done! THANK YOU for job well done! SHOWING ACTIVE AREAS: Another nice option is the choice on whether to see active areas on the map regardless of chosen game mode. Did this one have a jump map? I did not find a way to transport to locations but it wouldn't be the first time I've missed something like that. MINI-GAMES: The puzzles truly are excellent with quality and creativity maintained to the end. Rather than carelessly peppering thread bare, seen before, boring puzzles every few moves we are given well thought out, creative and fun, games that integrate naturally into game play. At one point we play chess on a dart board - The darts are shaped like chess pieces and the field is the dartboard (round). What hoot! These guys went for quality over quantity and it pays off in FUN-FACTOR. HOS: Normally I am not much into HOS but these were all very well done, with clever interactions that required thought and resulted in me laughing at the ingenious way of getting a Polar Bear to fish for a Crab. The HOS and MINI-GAMES: were very well integrated into game play and complemented each other so progression of the story was smooth and natural. CUT-SCENES: I don't really get much out of cut-scenes, but for those who do, they are excellent in this game. The artwork, characters, and voice overs are all very well done and lifelike - to a point. ARTWORK/GRAPHICS: Nicely done. The motif is a deserted desert town with lovely old style buildings including plenty of stained glass. There is a lot to find and some things are very cleverly hidden so it helped to have the beautiful scenery. MUSIC: This was fine and in keeping with the theme. So What's NOT to like? ------------------------------ PERFORMANCE: On my system game performance became slow toward the end of the main game. Not a big deal, but something to know. I have a high end gaming system so this doesn't often happen. STORY CONFUSION: The story never really made much sense-at least to me. The villain is a shape shifter queen with an army of spiders. We rarely see the spiders or interact with them (maybe that should go in the likes category) and any character attacked gets 3 scratch marks across the face as if from a cat not a spider. Can't really think of anything else not to like. This is a game I will play again and high recommend to others.
October 4, 2013
Another Great Game In This Series ...
Great Graphics, Sounds, Visuals, Voice & Video Bits ... I Really Thought The Video Characters Worked Well In This Game, Almost Perfect Gesturing And Lip Sync On My Old Maxed Out Dual Core ... The Story Was Well Done, And The CE Extra Game Was Good In It's Own Right And A Great Conclusion ... For Now ? Surely We Have Not Seen The Last Of Morgana ? I Got Mine On A Special Deal, So I Am Very Pleased With My Purchase ... Although I Could Have Lived Without Of A Few Of The Puzzles In Exchange For More Exploration To Keep The Movie Style Theme Thing Moving Along ...
September 22, 2013
Holly cow!!!
I played the trial. It has everything I love. The graphics are awesome. The ho's are so beautiful and clear. I wish they were cheaper though. It's a lot for a game.
September 21, 2013
Great Sequel !
If you haven't played the first Web of Deceit, find it here on Big Fish and do so!...The first game was outstanding---great storyline and lots of "detecting"...This one is a little easier (based on Demo), without too much going back and forth...Puzzles are great---not too hard, not too easy..HO's are great---interactive and items aren't so small like a lot of games...Graphics are great in this game along with the storyline..Can't wait to purchase!!
September 22, 2013
Excellent Sequel
Going to buy this one this week on pay day. This was better then the first one. Loved the HO's Graphics and story were fantastic. Plenty to do. Interactive map and collectable and achievements. So fun to see characters from other games in new games and sequels. Nice paced and fun for all ages.
October 16, 2013
Love it!
This continues with the black widow story. Just like the other one this is challenging with a great story line. I play it in hardcore mode with no help at all. Which I like having that option. The puzzles are all new. Great attribute!
September 21, 2013
GREAT FOLLOW UP GAME & WELL, A GREAT GAME ON IT'S OWN
first, on a personal note. I absolutely loved the art nouveau graphics!! I didn't want to stop playing! Ok back to the game review. I really loved this follow up game. Great graphics, voice overs, story line and music. I played on "hardcore" and only had to cheat once because of a very annoying mini game. This is one of the best I have played since the new "awakening" game. Worth the buy! I never reveal anything about the game, better that way. So Happy Gaming.
September 24, 2013
Really enjoyed playing this game.
Graphics and story were great the the HOs were easier than most others. Bought it before ending the demo.
September 22, 2013
Seems like a lot to do! *demo only review*
You start out with the game like a lot of others out there, you get the curious letter from a long lost relative and you have to drop everything to go help. This game however feels a bit different once you start into the game play. It has a great story line for as far as I got into the demo. I played the entire hour and didn't reach the end of the demo version. Lots of picking items up and using them to gain other items or fix puzzles to play with them. There is not an over abundance of hidden objects scenes and the puzzles that I got to varied on difficulty although most were simple enough to figure out. There is an interactive map that not only will transport you to a scene you were already in but also tells you if you have completed a scene or if there are still things to do left whether that would be at that moment or later in the game. The graphics are clear although some of the HOs were a little jumbled but it did not distract from finding most of the objects. The music was not intrusive and I did not have to turn it down during gameplay. There is cut scenes and short movie scenes to watch as you go through the game but I did not find them annoying as in some other games. They were an added bonus to the storyline. There are voiceovers for the text throughout and sometimes it feels as though it is slowing the game down a little because you actually stop to listen to them but there is an option to skip through them if you would like. Normally I finish the demo versions before the hour is up so I was surprised when I never made it to that end. I may have had something to do with watching the cut scenes but I really enjoyed that part as well. Overall the game is quite enjoyable to play.
September 26, 2013
The Apple logo is a trademark of Apple Computer, Inc.