Web of Deceit: Deadly Sands Collector's Edition
Exclusive
Track down a venomous killer in Web of Deceit: Morgana's Legacy! After receiving a distressing message from your uncle, you travel to the remote village of Transvaal. But when you arrive, your uncle is nowhere to be found. As you search for him, you learn that he has been traveling the world, hunting down a woman named Morgana, and that this is not the first town to encounter her deadly wrath. Soon, victims start piling up, all of them bearing the same strange bite mark, dripping with venom. But is this the work of Morgana...or something even more sinister? Tread carefully - the sands are always shifting in this thrilling Hidden-Object Puzzle Adventure game!

This is a special Collector's Edition release full of exclusive extras you won't find in the standard version. As a bonus, Collector's Edition purchases count toward three stamps on your Monthly Game Club Punch Card!

The Collector's Edition includes:
Stunning concept art and wallpapers
Videos and mini-games
Integrated Strategy Guide
Team up with Morgana in an exciting bonus game!
Game System Requirements:
OS:

10.9/10.8/10.7/10.6

CPU:

1.6 GHz (INTEL ONLY)

RAM:

512 MB

Hard Drive:

1142 MB
Game Manager System Requirements:
Browser:

Safari 4.0 or later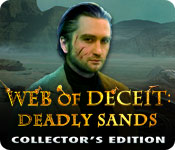 The Big Fish Guarantee:
Quality tested and virus free.
No ads, no adware, no spyware.

Reviews at a Glance

Web of Deceit: Deadly Sands Collector's Edition
0
out of
5 (
0
Reviews
Review
)
Customer Reviews
Web of Deceit: Deadly Sands Collector's Edition
44
44
Great Game
I liked it for a lot of reason. ease of play, searching clues was a challenge but not ridiculous. A game within the search for things, needed to get a hammer , or find a article that goes with something else in the scene. Wish it wasn't a collector's game, i'd buy it. more like this game is needed, leave the gore and guts out for awhile.
September 21, 2013
A must buy for me
Very challenging enjoyed it I will be buying this one just started to get into it before my trail was over very curious as how it ends.
September 21, 2013
GRAND
I LIKED THE GAME VERY MUCH HPP
September 21, 2013
Fantastic Ho game!!
I was actually sorry when the game ended, it was so well done! I love the artwork (to me it is important), as well as the story. I wish games such as this one were issued every day! Very well done, enjoyed it remendously!!
October 6, 2013
Morgana, Morgana, what deceit!
Excellent graphics, excellent artwork. Characters were real, voiceovers very good. I can see another installment for this series, only, . . . I once held a tarantula in my hand for about 2 seconds. I can't imagine holding a spider as big as the one Morgana had at the end of the game, let alone PETTING it! The only drawback was a few of the mingames, without the guide I couldn't make them work.
October 2, 2013
Insy Weensy Spider......
Today our week-end begins with the return of the Black Widow Morgana. If you recall, we met her once before with her army of mechanical spiders and it looks like she has returned with a vengence, this time terrorising the town of Transvaal. Our Uncle is missing and as his dutiful nephew, we must find him and defeat Morgana and her deadly venom. Arachnophobias bewarned, an excellent HOPA with just enough thrills to excite the avid player. The challenge begins with play options, you have three and unless you play casual mode, there are no sparkles and no black bar tips. Your map will allow you to travel and indicate areas of interest if you choose so. There is a journal that will hold clues and have video playbacks as well. With sharp and colorful graphics, we also have live actors playing their roles. Albeit the acting is a bit over the top but at least mouths are in syn with dialogues. Music is quite good and not obtrusive. I liked the artwork and overall atmosphere of the game. Adventure gameplay has you picking up clues and inventory items and HO scenes are a bit junk-piled, standard list of items with some minor interaction. Puzzles are somewhat challenging to solve and mini-games are quick and easy to solve. A bit more challenge or vatiation would have been better. I do think its time for all game developers to get on board with adding a variety in HO scenes and coming up with more clever mini-games to solve. THere is a slight case of "Seen that and Done that". Still the story has merit and once you get into the gameplay, you are drawn into a cat and mouse chase which becomes interesting. I played the demo at hard-core level and was pleasantly surprised as to how many times I got stuck and had to resort to the SG. This is definitely a good sign and has warrented me to continue. Ofcourse there are the extras that needs mentionning, collectables (30 posters scattered throughout each scene and easy to find) along with a list of achievments. A well rounded game that does have some bells and whistles but also could have been alot more interesting. Like I said, a bit of a deja vue feeling while playing, familiar scenes and familiar gameplay. Nevertheless, a sequel to an interesting story that does have me scratching while playing as I do have a slight adversion to spiders. Have a nice week-end. I
September 21, 2013
CE bling and possibility of spiders!
Based on demo played in casual mode. You are summoned to help your uncle in Transvall and, although your plane crashes just outside the town, you emerge unhurt and set off to find him. Although you catch fleeting glimpses of him and a mysterious woman, you only discover his problem through a series of clues he has left behind. Men are vanishing and being poisoned by spider bites. A pleasant change that 'our hero' is a man. CE 'bling' is all present and correct: * Strategy guide * Achievements for completing HOSs, puzzles and other challenges * Collectables - 30 posters to find * Wallpapers/Music/Concept Art/Mini Games/Video * Bonus game play Three levels of challenge: Casual/Advanced/Hardcore plus you can customise the map Map is jumpable once you have visited a couple of areas and shows current location, immediate tasks and where to come back later. As mentioned above, you can customise this. Graphics are excellent, in cut scenes characters/voices etc are good and well synched, though these can be quite lengthy at the start. Music is subtle and appropriate. HOSs are encountered fairly often and are all word lists with some objects needing one or two stages of interaction. Puzzles are straightforward with one or two new challenges so far. Objects quite easy to find. In casual mode there are subtle but noticable sparkles in scenes and in HOSs and some 'hand-holding'. Experienced gamers may wish to try the demo in a more challenging mode. All in all I liked it and would have bought it today if the sale included CEs :-(. As it is I will wait as it just didn't have that special something, that WOW factor, to make it irresistable.
September 21, 2013
Follow Morgana Across the Deadly Sands
After receiving an urgent message from your uncle imploring your help, you are off to the city of Transvaal. As you arrive, you are surrounded by a mysterious sandstorm and your plane crashes. Fortunately, your plane crashed very close to your uncle?s home so you don?t have far to go to find him. When you get to the house you think you see your uncle but he is acting very strange, in fact he doesn?t even acknowledge you. Is he really your uncle or are you having delusions after your plane crash? As the story develops you find that your uncle is on the trail of the evil black widow Morgana who he thought he had put an end to years previously. Have you arrived in time to save Sam and find out what is causing the strange deaths in Transvaal? Follow Morgana on a cat and mouse chase across deadly sands to solve the mystery in Web of Deceit 2. Web of Deceit 2: Deadly Sands uses live actors as did the first game in the series but to me the acting as a bit over the top cheesy. IMHO, I think I would have preferred a game without the live actors since I really don?t think they add a lot to the game. The graphics are overall very good but not exceptional. Sometimes, particularly in the HOS, they seem slightly blurred, and most likely this is intentional to add more challenge to finding items in the junkpile rubble. There are voiceovers in the game and the sound quality is good. At least the actors speak a lot faster than they did in the first game and the dialogue is not agonizingly slow. I found that I liked the music and ambient sounds and felt they added to the game?s overall quality. I didn?t turn the music off (as I often do) so it wasn?t too intrusive. As far as tools go, on the lower left you have a tape journal that contains important information to help you on your adventure. Besides containing the tapes that you acquire along the way, there is also a section that has all the collectible posters you find. Next to the journal you have a transporter type map that shows where there is something to do and where there will be something to do at a later time. Many times when I just wasn?t sure what needed to be done to move forward I found the map to be a great resource. The HOS are interactive but, IMHO, some are junkpiles and I found it difficult to find many of the items. I?m not exactly sure why I had so much trouble with some of the early HOS but it appeared that many items were blurred or somehow not very clear. That being said, the HOS do improve in clarity later in the game. What I do like with the HOS in this game is that with the extra step items, the associations or steps required to find them are not always clear cut and that presented an extra challenge. Where I think this game excels and offers a lot of challenge is with the puzzles or mini games. Some are typical (after all how many different new puzzles can the devs come up with for those of us who constantly play HOGs) but many of them are quite challenging and this always adds to my enjoyment of the game. The bonus content is fairly standard and what we have come to expect. It seems that only a few devs give us really great extras in CEs these days. If you are like me however, having the SG integrated into a game usually makes it worth the CE price even though I rarely use it. I find it more convenient to have the SG readily at hand if I am really stuck. There are not a lot of extras included but we can earn achievements as well as search for 30 collectible posters that are scattered throughout the game. For some of you there may not be enough extra content to justify purchase of the CE but it was okay for me. Because of the great puzzles and the storyline, I had to have this game and purchased it right away. As always, I recommend that you try it for yourself to see if you agree.
September 21, 2013
Better Than The First - Review Of Completed Game
STORY: This is the second in this series. The first being Web of Deceit: Black Widow. In this game you are traveling to Transvaal and must find your Uncle Sam who has went missing and once again defeat Morgana. I honestly didn't care much for the first game in this series and ended up not completing it but for me this game gave enough "back story" to where I didn't feel I was missing anything by not playing the first game all the way through. 6 CHAPTERS 3 PLAY MODES: You can switch at any time. The hardest mode has no sparkles/black bar tips. Hint/skip are also disabled. JOURNAL: Keeps track of notes, clues and video play back. MAP: I just checked to see if it was transporter. Other than that I didn't use it. This is transporter and no matter what mode you are in you can turn on/off the indicators were there are things to do. HOS: There are some but I wouldn't say A LOT and these for me were spaced out quite well. I did find these to be a bit on the Sanford & Son junkyard side. I found these in the hardest mode since there are no tips a bit challenging and some very well hidden. PUZZLES/MINI GAMES: These definitely varied in challenge for me. Some I found quite easy and got through them pretty quick and some took a little thought and took a bit to get through them. I'm not a fan of these but my patience meter was quite high today for these. ENDING: This came to a conclusion for me. I didn't feel the bonus chapter was needed. BONUS: This to me seemed to be a new story. Some locations from main game along with some new ones and ended just fine for me however I do believe Morgana will be back. CE EXTRAS: Bonus Chapter Strategy Guide Achievements Collectibles 30 posters 9 Wallpapers 7 Music 3 Concept Art 9 Mini Games 9 Videos OVERALL IMPRESSION: For me this was a huge improvement over the first game. It did take me a good 15 to 20 minutes to warm up to this game but once I did I was there. I ended up really enjoying the story. I also really liked the graphics/artwork to this game. It seemed very fitting to me the colors used considering this has to do with "sand." The live actors for the most part I thought did a really good job but at times they were a bit off the mouth movement and sometimes I found them to be a bit over the top. What I really enjoyed about this game was the game play. The balance of HOS, puzzles and adventure just right for me. No sparkles or black bar tips! Woo hoo! I do like to try and figure out on my own. MY PLAY TIME: Main game 7 hrs. Bonus: 1 1/2 hrs. No hints, skip, map or strategy guide. Thanks Big Fish and Developer for a very good game here. As always give it a whirl and decide for yourself.
September 22, 2013
Very Well Done Sequel
BASED ON DEMO FIRST IMPRESSIONS A very good intro to this one. The video of the plane crash is wonderful, the voiceover is good, and the commentary well written. The live actors did alright. You get a good sense of the game from those opening minutes. We arrive at a really really sandy place called Transvaal, looking for Uncle Sam, who is investigating Morgana, a woman we are painfully aware of from our previous adventure (as Sam) in the original Web Of Deceit? game. Nicknamed the Black Widow, Morgana controls an army of robotic deadly venomous spiders. Now a woman who looks suspiciously like her is glimpsed at the scene of a spider-murder. Is it her? Well, the first thing I noticed was that there were definitely fewer spiders so far. And many more puzzles. Although I didn?t come across any puzzles I thought were totally new, I did like the way they?d been adapted to the different location. There were also fewer HO puzzles, which were interactive lists, with some whacky ideas for interaction. For example, find the knife to cut the pouch that is hanging above the fire, which allows the toy fireman to use his extinguisher on the fire that has engulfed the item you?re actually looking for ? the tin knight. There was an interactive jump map, with a on/off toggle so you can choose what is flagged, active areas, where you need to go back to later, etc. As well as a directional hint. I particularly liked the different ways the backstory videos were activated within the game. Not just the same method each time. And the back story gives anyone who didn?t play the first game all they need to know. BLING! Collectible posters, plus the usual gallery items, SG, bonus chapter, and achievements. Fairly standard fare. FAMOUS LAST WORDS I wasn?t overly impressed with the first ?Web Of Deceit? game. Though it was quite enjoyable, it just didn?t wow me. I found myself unable to really get into it. I like what I?ve seen of this sequel much more, and I lost track of time in the demo (always a good sign), but it is still not going to make it to my favourites list. It just doesn?t have pizzazz.
September 23, 2013
The Apple logo is a trademark of Apple Computer, Inc.
The Windows logo is a trademark of Microsoft, Inc.