Surface: The Pantheon Collector's Edition
Exclusive
It should have been a tremendous achievement, but the tunnel through the Ridge of Leviathan became the site of a great disaster. What really happened that day? You were supposed to have been on the train with your husband and daughter, but you missed it. And then they disappeared from your life forever.

It's one year later, and a strange man - a scientist who thinks this is just like the Bermuda Triangle and other such vanishings - invites you to take part in his greatest experiment: To recreate the conditions of that fateful day in Surface: The Pantheon!

This is a special Collector's Edition release full of exclusive extras you won't find in the standard version. As a bonus, Collector's Edition purchases count toward three stamps on your Monthly Game Club Punch Card!

The Collector's Edition includes:
Collect flowers throughout the game
Unlock puzzles in the Pantheon Treasury
Gorgeous wallpapers and concept art
Bonus soundtracks and screensavers
Integrated Strategy Guide
Game System Requirements:
OS:

Windows XP/Windows Vista/Windows 7/Windows 8

CPU:

2.5 GHz

RAM:

1280 MB

DirectX:

9.0

Hard Drive:

1318 MB
Game Manager System Requirements:
Browser:

Internet Explorer 7 or later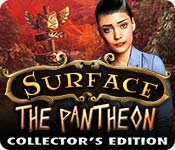 The Big Fish Guarantee:
Quality tested and virus free.
No ads, no adware, no spyware.

Reviews at a Glance

Surface: The Pantheon Collector's Edition
0
out of
5 (
0
Reviews
Review
)
Customer Reviews
Surface: The Pantheon Collector's Edition
119
119
Not the Best
I read other reviews that commended the game and bought it....boy was I mistaken...This game was one big un-fun running in circles to get items and solve things---too MUCH....AND if you like the characters talking ALL the time, this is a good one for you (although they talk about nothing of significance in my opionion).....Personally I felt the game was geared toward the Grade school level.....Also, not enough Hidden Object games to my liking...But, whatever floats your boat.
September 23, 2013
Not so much for me
Although the reviews were good, I was so disengaged that I didn't even pay attention. It was over before I knew it, and just felt "meh." I wouldn't buy it again. I am not even sure I am going to play the bonus content.
September 28, 2013
Eh it wasn't so bad
It was an okay game. Really cluttered unfortunately. But people have different taste in things so maybe they had more fun with it than I had. I liked the fact that you could collect items along the way then later on could use those items in HO scenes. That was the only fun factor for me and made the cluttered HO scenes a bit more entertaining.
September 20, 2013
Better than the Other "Surface" series ...
People being stolen and taken into Slavery against their will? Isn't this what HUMANS did for thousands of years? And that very "melodramatic" woman says the Aliens are Evil for doing this? I found her extremely annoying and stupid! She trusts people she doesn't even know and then complains when they betray her? How dumb is she? Fancy trusting someone you don't know? How stupid is she? I don't even trust the people I do know! I spent almost an hour looking for the "Hair-band" - which was NO WHERE to the found in the Strategy Guide! This was extremely frustrating and I was about to give up. Luckily I found the location of the Hair-band on another site. This shows you how INCOMPETANT the Hint system is. If it wasn't for the BAD Hint System, I would have given it a much higher score.
October 18, 2013
surface adventure game
I played this game 30 minutes and then stopped. The graphics are great, almost a 3D element to it. It has many voice overs and although I believe it is geared more to moms with kids and husbands because she lost her family on a train that disappears, from a male point of view, I can't get into it, but that is ok. Many others might like it, it is a fine game, just too mommy like for me. I am a dad with 2 grown children. Perhaps a game more for us dads.
September 20, 2013
ok hidden object game
The story line was ok, graphic was great, but too much talking, a bit boring, not the one for me. sorry.
September 19, 2013
Not The Best Sequel
Other reviews give this game a glowing, raving review: "The Surface series is one of the best series in the world." "This is over a 5 star rating." Really? I think reviews on this site in general are way too generous. There needs to be more criticism about aspects that really need attention in order to get better quality games. I think criticism helps the developers grow from being good to great. This game is 2.5 stars, but since I can't give half-star ratings, I'll go with 3. The graphics are not, as some would say "amazing" and "so beautiful." Now, don't get me wrong. The graphics in static scenes are impressive, but in the transition scenes and action scenes they are most certainly not. They are choppy and blurry. These style graphics are standard with Elephant Games, as in other successful series, such as Mystery Trackers, but they can really use improvement in the transitional and action scene areas in order to make them impressive all the way throughout the game. The music is good, and fitting for the theme of the game. Elephant Games does this well, but there are times when the music is entirely absent. Most of the bonus chapter does not have any music whatsoever. As someone who likes his music, I found this a disappointment. The storyline is ... interesting. I found most of the beginning prologue quite unbelievable. In a bad way. If an entire train were to disappear, I sincerely doubt after only a year, people would give up hope and board up the entrance to the tunnel. Really? This was believable? I also found the voice acting average. It seemed just as choppy as the graphics at times. The script for the main character was disappointing. I mean, come on. She sounded so artificial, I was astonished. Another pet peeve with Elephant Games is the use of hand written notes to others or, more absurdly, to oneself. Case in point: Bors writes a note to himself saying "I keep my most important documents in my briefcase," or something along those lines. Really? Why would he write a note like this to himself? And then just leave it around? How about the use of items in the game: the bottle of ether that just happens to be lying around to drug the security officer in the bonus chapter? There are so many more examples I could list. THE BOTTOM LINE: The main storyline is a good concept, but could use a serious polish. The voice acting needs work, as does the script. The graphics are average at best in some scenes, but other scenes are quite beautiful. The puzzles are easy to moderate in difficulty, and won't stump most people. Some may simply take a while to complete, but are not difficult. The modern use of technology needs to be made more apparent in these games, as does common sense (i.e. do not write notes to oneself!). I would give this game 2.5 stars at best. Sorry guys! Unfortunately, I can't recommend this game, but I would HIGHLY recommend The Noise She Couldn't Make.
March 13, 2014
Surface: The Pantheon Collectors Edition
I didn't like this game as much as the other games in the series
December 21, 2013
I MUST HAVE PLAYED A DIFFERENT GAME THAN THE OTHER REVIEWERS
BASED ON DEMO IN HARDCORE MODE WITH INTENTION TO BUY Wow! I downloaded the demo with the full intention to buy this game based on the reviews. I couldn't believe how poorly made this game is. The first thing that struck me is that the voice over and the written dialogue are running at two different times. The voice over is way behind the dialogue. The graphics are ok if you like RED. It's as if the devs wanted to use up their left over red crayons. I found the scenes visually garish, red, orange....anything bright the devs could come up with. The music at times disappears leaving you with just the HOS and silence which didn't add to the story at all. In fact, I found this story to be the same old same old and became bored within a few minutes. There is nothing original here....at least not for me. The puzzles that I played were ridiculously easy and also boring. I usually like trying to save children, but this game didn't give me a reason to care about Melanie or Robert. I kept thinking..."this woman waited a YEAR to go find her child? I would have moved heaven and hel to find my daughter..." Perhaps I wouldn't have been so annoyed by the lack of talent in this game if I hadn't been expecting a 5 star game. Compare this to Rite of Passage: Child of the Forest and then we can talk.....I'm sorry. I really wanted to like this game. Instead, I was so bored I had to get some iced tea just to stay awake. If you're an expert gamer, I don't see how this game will interest you. Pros: Red, orange and yellow hues Easy puzzles Easy to follow story line Easy HOS Good beginner game Cons: Red, orange and yellow hues used excessively Easy puzzles Voice overs not matched to dialogue boxes Same old story Boring x infinity + 1
September 21, 2013
Not so fun hidden object game
This game was tedious for me. I disliked the scenes because they were jumbled and filled with just junk. I had to skip all over the place back and forth and I hate that. I found an item I could use in the scene I just left. I'm sorry I spent the money on a game like this. The story line was hokey, I never really understood the story. I do have one good thing to say about the game: It had some tough hidden object puzzles. Although I had a hard time getting the hint button to work properly. Some of the puzzles I just couldn't figure out, so I used the skip button a number of times.
September 24, 2013
The Apple logo is a trademark of Apple Computer, Inc.