Surface: The Pantheon Collector's Edition
Exclusive
It should have been a tremendous achievement, but the tunnel through the Ridge of Leviathan became the site of a great disaster. What really happened that day? You were supposed to have been on the train with your husband and daughter, but you missed it. And then they disappeared from your life forever.

It's one year later, and a strange man - a scientist who thinks this is just like the Bermuda Triangle and other such vanishings - invites you to take part in his greatest experiment: To recreate the conditions of that fateful day in Surface: The Pantheon!

This is a special Collector's Edition release full of exclusive extras you won't find in the standard version. As a bonus, Collector's Edition purchases count toward three stamps on your Monthly Game Club Punch Card!

The Collector's Edition includes:
Collect flowers throughout the game
Unlock puzzles in the Pantheon Treasury
Gorgeous wallpapers and concept art
Bonus soundtracks and screensavers
Integrated Strategy Guide
Game System Requirements:
OS:

10.9/10.8/10.7/10.6

CPU:

2.5 GHz (INTEL ONLY)

RAM:

1024 MB

Hard Drive:

1293 MB
Game Manager System Requirements:
Browser:

Safari 4.0 or later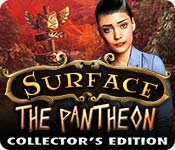 The Big Fish Guarantee:
Quality tested and virus free.
No ads, no adware, no spyware.

Reviews at a Glance

Surface: The Pantheon Collector's Edition
0
out of
5 (
0
Reviews
Review
)
Customer Reviews
Surface: The Pantheon Collector's Edition
119
119
All aboard next stop 'who knows where'!
This game is more of a storybook game, in that the scene is set (mother loses husband and child) in a train 'crash' but all is not as it seems. The scene is set and you have to find your family. The game as with others in the series had just the images of the characters and didn't really even try with voice synchronisation just the text/VO and the character, which for me was far better. The game was very much story lead, with a few HO and mini-games thrown in, this I suppose is similar to other Surface games and the story is very absorbing and though this review is based on the hour demo it has certainly intrigued me enough to want to buy the full game. The sound and music are the usual 'atmospheric soundbytes' and just occur at critical moments within the game. There is no on-going background music that detracts from the overall gameplay. Overall the game was good but as was a mainly story-led game with a lot of dialogue it may not appeal to everyone, especially people who like it the other way round (more interaction and less passivity) I have been on the 'hardcore' mode and didn't find any difficulties with either the mini-games that I played (though I must admit some were trial and error rather than actually fully understanding the instructions), or the Hidden Object games. I would if you are unsure but have enjoyed others in the series certainly recommend the download, as I have not know an hour go so quick whilst demoing a game for a long time.
September 20, 2013
Surface The Panheon
I really enjoyed the hour I played. Sound was good and graphic, The gamed flowed really well. I would say play the hour and I am sure you will be hooed too. Happy gaming.....
September 21, 2013
A Si-Fi Adventure
Another Elephant gem. I enjoyed this game. You have: - Live actors [but their lips don't move]; - 3 modes [Casual, Advanced and Hardcore]; - Find red, silver and gold flowers [I found 150 I think]; - Voiceovers; - You open the secrets of the Pantheon Treasury in the Bonus content; - Integrated map where you can jump around [I didn't use this as I think it is cheating]; - Use items in inventory in some HOS. I played Hardcore all the way through, including the bonus, and didn't skip any HOS or mini games. The HOS and mini games were easy to medium. Some you had to do in the right sequence so it took some time to nut them out. But none of the mini games were too frustrating or hard. I found quite a few of them fun to do and some did take a bit of time to finish. The graphics I found a bit too garish - especially the red, but that might just be me. Not much in music - pretty quiet most of the way through, but that didn't bother me much either. A very long game and the bonus is lengthy too, which carries on from the main game. Overall a very good Si-Fi game and definitely recommended.
October 16, 2013
TECHNICALLY AMAZING, BUT....
Science fiction fans will rejoice with Surface's Pantheon as the developers return to their roots with an "Alien" storyline. While this game had all the bells and whistles that is now expected from the Surface series, I found it's predecessor, The Noise She Makes, a psychological thriller/mystery game, way more creative engaging and interesting. What I clearly discovered while playing this game was that the storyline matters to me... a lot. And as good as the game is technically, the engagement factor was really missing for me. While I wanted to rescue the family, friends and adorable bulldog, I couldn't help think it would be way cooler to do it in another setting. As I kept playing, I realized that this was much more about enjoying the "Surface experience"; rather than my actual emotional involvement in the game. So the satisfaction for me was in the actual completion, as well as in the quality of the game itself, which is remarkable. On the other hand, if you are into Alien's then this is the game for you.
September 30, 2013
Game flow sporadic but challenging and interesting!
Tremendous amount of work went into this game. No doubt about it! Elephant Games is one of my favorite developers. However, the intro was quite long, and there were a few too many cut scenes but very well done, It made for a very interesting, virtual reality type game, in my opinion. The acting was awesome. All the characters were great. The artwork is stunning. No journal but you had lots of VOS, text and notes just about in every scene. HOS interactive and quite tedious. You have your inventory items plus some of your items' list that go hand-in-hand with the HOS. If you don't have all your items in the list, then you need to search by way of the map and find missing items in other locations so that you can complete your HOS. I enjoyed those a lot. You do have tasks to perform and there is a tab that shows the task at hand. Puzzles were basically connect the lines or the usual, not overly crazy about those; not difficult but annoying at times because I wanted to get on with the game. You will collect loads of flowers, that is, if you remember to, and other achievements as well, And there is a good bonus game. The map was my saving grace; hint button and strategy guide available for you if you need it. One thing for sure, I wasn't bored once! Mainly because you're all over the place, and #2, there are so many items to find that you will need to remember which goes with what and where to find them. I love good game-flow, but it's healthy to have a little of crazy and smooth-sailing at times! Stick with it and you'll either love it or hate it. I loved it. I would have given this game a 5-star but at times it lacked direction. I believe the developers love to play head games with us gamers! I love the Surface series and would definitely recommend this game.
March 2, 2014
Best Surface Yet
This is a must have game. I was very pulled in by story and task. Loved the HO's. I could brag all night on this one. The only thing that makes me smile a little is on the first HO when looking for whistles; I was hoping to find a train whistle and hear a train whistle when I found it. But no train whistle. Great game.
November 7, 2013
Surface: The Pantheon Collectors Edition - FUN!
My review is based on the full version of the CE. I have very mixed feelings about this game, but when it was done, the bottom line was an unusual level of enjoyment along with some question marks about where this story was going. For me....the visual and sound quality, along with the voice overs and cut scenes really made this game quite fun. Put your imagination goggles on and sit back a relax and enjoy this one. There really are no annoying glitches or too much back and forth.....the game is nice and long, yet moves right along at a steady pace. The "Capital Express" is about to make it's maiden journey through a newly engineered tunnel saving three hours off a train trip through the Ridge of Leviathan. You are trying to catch up with the train to meet up with your husband and daughter, but fate has you being tripped up and missing your scheduled trip. From there.....time passes and after a year of grieving, you are determined to go and find out the fate of your husband and daughter. Gameplay is fairly standard....HOS and games...the games are mostly easy and a nice distraction.....and the HOGs are fairly typical with the exception that a few items are actually from your inventory list, or items yet to be found. It's nice to have a little switch in the middle of a HOG to go find something to bring back to finish the mini game. There are also collectible flowers as usual from this developer.....the colors you collect have different point values. I would be happy to leave that out, but some gamers like the extra "hunt" in each new scene. Midway through the game, you've found yourself in a "settlement" of other lost passengers or searchers that is sort of like "Hippie Hollow" or the "Lost Boys". The characters are interesting and you interact with them.....not knowing if they are there to help or hinder you....and that's for you to find out. Throughout the game, there are cut scenes where you are "thinking out loud" which serves the purpose of explaining your actions. I really felt this added to the total composite of the game. The last third part of the game gets a little fantastical....not so demonic or scary, but definitely the "bad guys" are explained and you understand the nature of the beast you are following. This game is great for any age. I almost did not buy it, because the demo really did not grab me. I decided to give it a try based on the very clear and well done graphics and visuals. I was not disappointed. While the subject is a little off my usual interest, it was refreshing not to see monsters, demons, endless skulls and dungeons and death. I definitely recommend this game!
October 24, 2013
Great story. Terrible voice-overs!
I loved this game! Very challenging and fun to play. But wow, the main woman's voice-over acting was dreadful. Very over-done. i literally turned the sounds down when she would speak. I've noticed this seems to be a trend with these games. The actors sound like they are just reading scripts. It's certainly not enough to deter me from playing a sequel or recommending it, which I highly do!
October 23, 2013
Complex Game
This was my first Surface game. Overall I thought it was a good game. There is a lot going on with the adventure to find and free your family; there are many hidden objects to find and use (and you never go to the same one again, which I like); and there are a lot of puzzles to solve. You have a map, a hint button and the strategy guide. However, I found that if you follow the hint button it isn't always in sync with the guide.
October 1, 2013
A Bit Confusing
I played the trial version and liked this game,but for some reason the game really irked me. I think what really got on my nerves was the hos. Some of the objects needed to complete them were from my inventory. I didn't always have all of them so I had to go on a wild goose chase to find them to complete the hos. The story line was confusing because I never really understood why part of the family was taken. It seemed that the aliens wanted the child because should could be productive for approximately 75 years according to their study of the human race, but why did they take the father and the other adults?I didn't care for the hint system, or more to the point, the continous same remark that came up everytime you tried to use something that wasn't right. It was "silly me,what was I thinking. Geesh, they could have changed it up a bit now and then. The art work was nice, and the music was pleasant. Other then that, I can't say much about the game. In my opinion it is forgettable, and not one I would replay.
September 30, 2013
The Apple logo is a trademark of Apple Computer, Inc.
The Windows logo is a trademark of Microsoft, Inc.