Clockwork Tales: Of Glass and Ink
Earthquakes are causing cities around the world to crumble! Dr. Ambrose Ink, one of the foremost scientific minds, has vowed to stop this unnatural phenomenon. All the clues point to Castle Barber, overlooking the quiet mountain town of Hochwald. Shortly after arriving though, Dr. Ink vanishes. Now it's up to you, Agent Evangeline Glass, to save him. You'll have to think fast to outwit soldiers, golems, and a crafty mechanical genius who always plans one step ahead. Stop the earthquakes before more cities fall in this thrilling Hidden-Object Puzzle Adventure game.
Game System Requirements:
OS:

Windows XP/Windows Vista/Windows 7/Windows 8

CPU:

2.0 GHz

RAM:

1024 MB

DirectX:

9.0

Hard Drive:

887 MB
Game Manager System Requirements:
Browser:

Internet Explorer 7 or later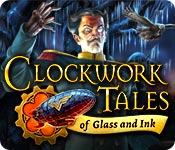 NEW299
The Big Fish Guarantee:
Quality tested and virus free.
No ads, no adware, no spyware.

Reviews at a Glance

Clockwork Tales: Of Glass and Ink
0
out of
5 (
0
Reviews
Review
)
Customer Reviews
Clockwork Tales: Of Glass and Ink
18
18
a very good game
the hints charge crazy fast...skips a little slower not by much. played casual, low sound. you are helping your mentor dr. ink figure out how to stop the madman from taking over the world. not too hard. hints show you where to go. some fragmented and some HO scenes. sequel...i feel sure.
October 7, 2013
Short and Easy.
While it was a very short game, about 3 hours I guess and very easy, it was still quite enjoyable. I loved all the little gadgets and machines. I would recommend trying it on a non-casual difficulty.
September 6, 2014
Much too short
BASED ON COMPLETED CE AND ONE HOUR SE DEMO I found this to be a good game, but was very disappointed with the length. I would recommend the SE version. There are voiceovers throughout the game. There are 3 modes of play: Casual, Advanced and Expert. You can change modes mid-game. There is a transporter map. Current location and areas of interest are circled in casual and advanced mode. Only current location is circled in expert mode. HOGs: There are 3 types of hidden object puzzles. The hidden object scenes are clear and I found the objects easy to locate. I would have preferred more hidden object scenes. There were only 8 scenes in the main game, and most were revisited. 1. There are 2 "Find and Use" Silhouette HOGs. There is only one scene, which is re-visited. Silhouettes of the objects are shown, and once you've located the object, it is added to your inventory to be used in order to progress in the scene. I enjoy these, and was disappointed that there were no more in the SE game once you get past the demo. 2. There are 4 fragmented pictorial HOGs. 3. There are 8 "find items on the list" HOGs. Hint: The hint refills very quickly and does work outside of HOS. It refills in 10 secs in casual mode, 30 secs in advanced mode and 1 min in expert mode. Puzzles: There are 25 puzzles, which can be skipped in 1 min in casual mode, 90 secs in advanced mode, and 2 mins in expert mode. There were 2 puzzles that I would consider "different from/ variation of typical puzzles". I am not a puzzle expert, but still I found 20 of the puzzles to be extremely easy, and the rest were of medium difficulty/time consuming. Puzzles experts looking for a challenge will probably be disappointed. Possible Spoiler - Several of the puzzles would be just considered simple interactions in other games, e.g. entering a code, or moving objects around in a suitcase to find an inventory item. Overall, this was a decent game, with beautiful graphics and cut scenes. However, it is extremely short. I played most of the game in expert mode and did not skip any puzzles, dialogue or cut scenes, and I completed the SE in 3 hours 45 mins. The story began well, but faded as the game progressed. The ending is abrupt and unsatisfactory for me. The bonus chapter does not clarify any loose ends. I would strongly recommend the SE as a DD, COTW or BOGO sale.
September 21, 2013
SHORT
My only complaint about this game was the length. It was so short. I played in expert mode, looked at everything and talked to everyone. Didn't need one single hint. Only draw back is that I don't feel I got my monies worth and for that I give it a 3 star rating. ('13)
September 19, 2013
Beter than the CE but better games out there
I did not like the CE for this game so wanted to see the how the SE was. To me it was an average game. Gets boring real soon and you get tired of playing it. The music gets under my skin after awhile and needs to be turned off. Graphic are not great either. Most of the puzzles I have seen before. The HOS are easy and does have some interactive to them. All in all not a great game. Too many good ones out there now.
September 18, 2013
I Wish I Could Rate It Higher...
This is probably the poorest Artifex Mundi game I have played. Time and time again, we have seen masterpieces from this developer, but this just didn't cut it. For starters the story was boring. Nothing happened in the demo that shocked or excited me, and the demo did not end well. I usually love a good spy game, but this just didn't cut it. The main story involves the disappearance of Ambrose Ink, who called you, Evangeline Glass, to help him investigate them. However, there was an evil general, which seemed interesting. What killed it for me was the setting. I didn't get the setting, and I hated the accents. They were so poor it kind of put me off the game. Overall, not a very interesting story. I had some issues with the gameplay too. It's the Artifex gameplay we've come to love, and I enjoyed that and had some level of fun in the game, but I didn't really like the HOS as much as I should have. Instead of the usual junkpile, we instead have Fragmented Object Scenes (FOS) and Silhouette Scenes. I did not find a junkpile scene throughout the whole demo, much to my disappointment. The puzzles were okay, though, and I thought they were better than the HOS (which is something that's never happened before). The puzzles were fun and challenging at the same time. Although I had to skip one, I still liked them. The graphics, as always, were outstanding from Artifex. There was so much detail and the character design was outstanding. Everything was clear, and was a visual delight. However, I did have a problem with the voice-overs. The accents were awful and just drove me up the wall. This took out some of the fun for me, as voice-overs were a key part of the game. FEATURES 3 modes of difficulty: Casual, Advanced and Hard. Only differences: Hint and Skip Recharge and sparkles. I played Casual, as always. Hint and Skip- both recharge fast on Casual and the hint is very helpful outside HOS. Diary. Diary keeps track of events and contains an objectives tab. No map from what I could recall. To conclude, I'd have to say this is one of the worst Artifex Mundi game I have played. The game was just downright boring. Not at all like the reviews said. The demo was an extremely short 22 minutes. This, from experience, indicates a very short game. Most players will be turned away by this, however, I do not judge on length, I judge on quality, and the quality of this game was way below par.
September 19, 2013
Excellent game, but short
This game is everything I want. Great story line and good graphics. HOS were easy, but liked the interactive ones a lot. A lot of steam punk elements. The only problem I had was the length. I finished the demo in 30 minutes. So according to the walkthrough, I would be 35% finished in an hour, so less than a 3 hour game. Might buy anyway due to the other qualities.
September 18, 2013
Boring and Tedious Steam Punk Adventure
Had I realized this game would involve so much steam punk and mechanical engineering I would not have bought it, but it wasn't that which made it so boring for me... it was a combination of the story (which started out well but deteriorated following the demo), the silhouette and fragmented object HOGs, plus the heroine's constant praise of the mechanical crow helper -- the same phrases over and over and over again, which might not seem like a big deal, but after a while, I wanted a padlock for her mouth. The hints and skips do refill quickly, however, much of the time the map was more helpful than the hints. If you do get this game, I suggest using the map instead of following the directional hints. Thankfully, I got the game on a 50% off sale. I would not recommend getting it except as a DD, COTW or BOGO sale.
April 17, 2014
The Apple logo is a trademark of Apple Computer, Inc.