Clockwork Tales: Of Glass and Ink
Earthquakes are causing cities around the world to crumble! Dr. Ambrose Ink, one of the foremost scientific minds, has vowed to stop this unnatural phenomenon. All the clues point to Castle Barber, overlooking the quiet mountain town of Hochwald. Shortly after arriving though, Dr. Ink vanishes. Now it's up to you, Agent Evangeline Glass, to save him. You'll have to think fast to outwit soldiers, golems, and a crafty mechanical genius who always plans one step ahead. Stop the earthquakes before more cities fall in this thrilling Hidden-Object Puzzle Adventure game.
Game System Requirements:
OS:

10.8/10.7/10.6

CPU:

2.0 GHz (INTEL ONLY)

RAM:

1024 MB

Hard Drive:

516 MB
Game Manager System Requirements:
Browser:

Safari 4.0 or later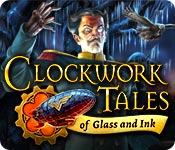 NEW299
The Big Fish Guarantee:
Quality tested and virus free.
No ads, no adware, no spyware.

Reviews at a Glance

Clockwork Tales: Of Glass and Ink
0
out of
5 (
0
Reviews
Review
)
Customer Reviews
Clockwork Tales: Of Glass and Ink
18
18
Still a wonderful Adventure!!! :)
Played the Collector?s Edition of this game and tried this Standard-Edition to find the differences? This game definately has it all!! Graphics and cutscenes are tremendously welldone. Loved all those brilliant animated charakters (some with german accent), it was a lot of fun to listen to their conversations, made me laugh more than once! This Standard-Edition guarantees at least 4 hours gameplay in the 2nd mode!!! 3 modes to choose from, 9 chapters, lockable inventory, direction giving hint, map shows you available action and takes you there. A mechanical raven, Mathew, is your helping friend! Lots of different hidden object scenes: fragments, silhouettes, find and use items, and slightly interactive from list. Even more minigames, most of them wellknown and good to solve, like slider-puzzles, rotate rings to form a pattern, turn all lights red? Extras ONLY available in the Collector?s Edition: 30 different hidden steambugs, lots of achievements, re-playable minigames and hidden object scenes, strategy guide, concept art, music, posters and bonus-chapter with an additional story and one more hour gameplay. Still a high recommendable adventure!!!! :)
September 18, 2013
PROBABLY AGAINST THE GRAIN BUT I LOVE IT
Very lovely game with lots to do. If you don't like dialogue, you probably won't like it much because you sometimes have to talk to people to find out what needs to be done. Large variety of well-done HOS and fun puzzles, which aren't too complicated. Some people say this is a short game, but if you're like me and prefer to play casual and like to explore in well-crafted environments (i.e., take your time and look at everything), it will be average length. I play to enjoy, not to see how fast I can finish. Game has very good production values and beautifully conceived and very well-executed details. Can't wait for the ending, even though it's probably what I'd expect.
September 18, 2013
Brilliant, not-too-hard adventure
About 20 minutes into playing this, my husband (from across the room) said: "Wait. Are you playing a casual game where the voice acting DOESN'T suck?" And that's a good summary! This game has GREAT production value. Good scenes, good plot, good acting, good clockwork fun without being over the top in steampunk theming. I didn't find any of the puzzles too terribly challenging, which I do prefer. The plotline was fairly linear, but avoided most of the usual pitfalls. ("I need an elaborate key to unlock this glass case? I HAVE A CROWBAR") I enjoyed playing it! And, against all odds, so did my husband. I enjoyed this a lot. It's not long, and it's not difficult. But it's fun.
September 25, 2013
Artifex Mundi brilliance!
I absolutely loved this game. I played the regular, non-CE version, and I wish I had purchased the CE version just for a little extra length. The game was fun, and the graphics were stunning. The mini games were just challenging enough, but not hard enough to slow down the flow of the game. I absolutely adored the whole steam punk theme!
June 25, 2014
Steam Punk Lite!
BASED ON DEMO FIRST IMPRESSIONS This game is definitely about the fun. Pure fantasy and light hearted in even the most dire of circumstances, it?s a game to bring a smile to your face one way or another. Mind you, if you?ve got a thing against bugs, you might want to give it a miss. This appealing combination of steam punk and spy game is beset with robots and zeppelins and a great mix of appealing characters. Including the ever-present cat, who isn?t interested in helping you, because, well, ?it?s a cat?. And that light touch of humour sets the tone for the whole game. SIGHTS & SOUNDS The game looks excellent. Graphics are top quality, in the locations we have a nicely ?hand drawn? snowy landscape with a touch of the cartoon about it. The ?HO? scenes are more precise and realistic and are beautifully lit. Music is light, and there?s a lot of earthshaking ambient noise. Voiceovers are a total blast, I love all of them. WHAT?S HAPPENING You (Evangeline Glass) are a spy ? hey, cool! Nice change from the usual detective work. Our mentor is a befuddled professor type called Prof. Ink. He is investigating distressing events (unnatural earthquakes) in a remote village, and we get there just in time to see him carried off to a fortress castle by a giant robot. Our investigations start with the local villagers, and how nice it is to see a populated town! Every person in the inn has his own story to tell, and his own contribution to make in your investigations. MAKING PROGRESS This is not strictly an HOP really, but there are puzzles that are basically a HOP. We have progressive (find & use) silhouettes, and fragmented objects, and a puzzle board that has you searching for specific items in a dollhouse. Other puzzles are for the most part familiar, but there isn?t a lot of them. Adventure tasks are straightforward, although not always obvious. The hint is directional and there is an interactive jump map. The emphasis is on light hearted fun, not challenge. BLING! We have an offsider, now don?t leave yet ? he?s not overly cute! He?s a robot crow who can replay videos the prof has made, as well as fetching things. The CE has a bunch of good stuff ? achievements, as well as the usual gallery items, replayable puzzles and really cool collectibles. They are mechanical bugs that move around on the screen, so you have to catch them. FAMOUS LAST WORDS If you?re into the bling! the CE is probably the better buy, but for me, this time around I?m sticking with this SE.
September 18, 2013
That Earthquake Ain't Natural!
Evangilina Glass and Professor Ink are investigating strange and frequent earthquakes which they believe are man made and coming from the castle. You will quickly notice that this game is full of mechanical gadgets with steam technology and centered around the uncertainty of a war era. Although the CE has steambugs hidden throughout I feel this game is the better value. The HOS are a mix of fragmented objects to put together and progressive finds where you find one item and use that item in the scene to uncover the next item. Puzzles are very simple such as making a drink by mixing red, blue and yellow liquids in specific amounts and the only measuring vials available are a 5oz and 3 oz. It's not a bad game but there were part's that were a little too slow moving. Enjoy!
September 18, 2013
Short but fun
After I played the demo and read the reviews to see if anything was not to my liking in the rest of the game, I finally used a game credit because of the reports of the short game. I was not disappointed in this game although I was a little surprised at the ending. I thought there would be more to it, but it was still good. The game was fun and I loved the characters especially the professor. Matthew was an added feature I also loved. It seems many of the games are now using a helpful creature to do our bidding. As for the challenge the game was pretty easy, although a few of the puzzles where a little tricky but fun. Some were a little different than the norm. I liked story line. The German accent gives the game a feel of reality.
September 21, 2013
Clockwork, Ink an Glass
The most unusual thing about this game is the "bonus" play, which is the same story from another character's point of view. I enjoyed both games, there was not too much "backing and forthing", and the puzzles and game play test your logic skills. The artwork is great, the Steam Bugs you must collect are fun and easily visible. The overall feeling of this game is retro-Steam Punk, and I highly recommend it as an addition to your collection of all time favorites. Took me about 2.75 hours to play the first time.
October 4, 2013
Based on Demo
I love Steampunk and a great adventure, but I'm not sure if the storyline of this is for me. Don't get me wrong, the visuals are beautiful and express the "steampunk era" nicely, the puzzles were creative and not too challenging, and the characters I had seen so far weren't bad by any means. But the accents made me cringe a bit, and without giving away spoilers, what happens at the very beginning of the game seemed a bit rushed to me, as I felt I hadn't really gotten a feel of the characters much at all. Where the demo ended did seem intriguing, though. I'd recommend this to those who love steampunk and solving out-of-the-box puzzles. :)
February 22, 2014
Fun game with good HOGs
Enjoyed talking to characters, with their interaction. The HOGs were a challenge. Use to just finding objects, was a little more difficult to find pieces of objects and then figure out what to do with the object.
September 18, 2013
The Apple logo is a trademark of Apple Computer, Inc.
The Windows logo is a trademark of Microsoft, Inc.