Awakening: The Sunhook Spire
Exclusive
Long ago, a kingdom was cast into darkness. Its king and queen were cursed to a deep sleep. Their daughter, Princess Sophia, ascended the throne and brought hope to the kingdom. In her quest to awaken her parents from their slumber, Sophia learned of a powerful Enchantress who could undo the spell. Alas! On her way to the Enchantress' lair at Sunhook Spire, she was beset by treacherous mercenaries. Can the young Queen escape the mercenaries and get to Sunhook Spire safely? After a thousand years of separation, will Sophia finally meet her parents? Scale the heights of Sunhook Spire, rescue the Enchantress and uncover the tower's mysteries in this epic journey!
Game System Requirements:
OS:

10.9/10.8/10.7/10.6

CPU:

800 Mhz (INTEL ONLY)

RAM:

512 MB

Hard Drive:

467 MB
Game Manager System Requirements:
Browser:

Safari 4.0 or later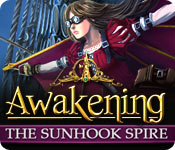 NEW299
The Big Fish Guarantee:
Quality tested and virus free.
No ads, no adware, no spyware.

Reviews at a Glance

Awakening: The Sunhook Spire
0
out of
5 (
0
Reviews
Review
)
Customer Reviews
Awakening: The Sunhook Spire
33
33
Keeps getting better and better
Finally made it to the 5th episode and I enjoyed it the best of all. Some other reviews mentioned it was the final episode but apparently not. There are two more episodes that I will eventually get. Not sure if they will be the last. There are some new and different things in this episode that I liked. One was the new HOS where you have to find different colored objects that are only visible when you change the color of the screen - red objects with red screen etc. Water scenes had reactions to clicking on the water or objects in the water. There were multiple matching pairs and pictoral matches to be done. There are a lot of minigames many with little direction and I found a few I skipped as I could not figure out what needed to be done. There are a lot of puzzles to figure out to advance the game and move to the next chapter. most are fairly easy to figure out but if you get stuck just click on the goals tab and the owl will give you directions. There is a map but I found it easier just to travel to locations on my own as the labels were written in some language and you had to hold the cursor over a location to see the translation. The pocket dragon is back and in this episode he can be changed to do different things like fire, cold, wind, etc. Fun Game
November 24, 2014
Creative creatures and puzzles
While the art has always been top notch in this series, it is the most original and creative in this game. There are several characters known as djinns (genies) of different types that are not your standard fantasy creatures. They seem to be original creations that are breathtakingly beautiful. The puzzles, which have always been very simple in this series, are more challenging and while fitting into the standard categories of the genre, they have an added element of challenge/originality that make things more interesting. E.g. the standard "match pairs" puzzle has the objects in 3D space, rotating at different speeds around an axis, making the puzzle non-trivial to solve. A delightful game, just like all of the others in the series.
August 29, 2014
I Love the Awakening series
I bought "Awakening; The Dreamless Castle", first. It sounded fun. I was not disappointed. After that, I bought the rest of the "Awakening" series, and played them in order. The story line is wonderful, continuing through each game and leading into the next game. The puzzles and hidden objects are challenging. But, they aren't too difficult, so I don't choose to skip them. There is always help. Everything is connected to the quest. I like the characters I meet along the way.The graphics and sounds are not too bold, yet not too mild. It's just right. Since I own the entire series, I can go back to the "Dreamless Castle" and start over, at the beginning. I doubt I will ever lose interest in the adventures of Princess/ Queen Sophia.
April 11, 2014
Shock To The System
BASED ON DEMO Many players have reached the maximum of their cute tolerance, so this game, the latest in a series that has specialised in cute for years, will no doubt suffer from the overload of sweet companions and magical offsiders and baby animals that need rescuing. Which is a shame, because they really do it really well, whilst maintaining a high level of ?gameplay IQ' and design. So perhaps some of you who are bothered by the sickly sweet (not me, I love it), will forgive this game and enjoy it, if I tell you a little of the challenge and imagination that can be found in the HOs and puzzles, and the general adventure tasks. In fact, a quick glance through the reviews of the CE will show something you rarely see ? almost everyone, whether they liked the game or not, said the puzzles were hard! I think that?s a first. The new style of HOP is the first new thing you encounter. It is interesting and a little challenging to start with. The scene is lit by 4 different colours, and each (silhouetted) item is connected to a particular colour. You must switch the lighting to find all the items. Other HOPs are the usual interactive list, but there are several other kinds of visual puzzles as well. Including multiples of, matching pairs and other pictorial puzzles. All of these are more difficult any of the previous Awakening games. The other puzzles and mini-games are beautifully woven into the story of the game, and have varying degrees of difficulty (from hard to hardest according to the reviews), and I found some of them quite difficult, had to skip a couple. The SG wasn?t much help. The map, even though it was a jump map, was also no use as it didn?t contain any helpful information, like active areas, but there was a very helpful hint system in the person of a wise and knowledgeable owl. And yes, there is a pocket dragon as well, and various other cute creatures who help out. As I chose not to buy the CE of this one, I can?t tell you what the extras would be, except there are morphing objects and achievements plus the usual items. There are at least one other, not mentioned, item: something called ?Glass House?. Based on the fact that no one mentioned it in the reviews, I have to assume it?s not something all that exciting. I am still of 2 minds whether to buy it or the CE. Either way, I think it?s a good play, if you can overlook all that beauty ? if you need to.
September 15, 2013
Another winner from Boom Zap
I confess to a bias. I've never been disappointed by a game from this developer. The Awakening series is my favorite. I love the mini games here that are always different. At first they might seem difficult but all the clues you need are on your screen. This one is also a good length. I finished the demo with 3 minutes to spare and the walkthrough shows the end of the demo is 19% of the way through the game. So a five hour game as well. The only reason I didn't give it 5 stars is that I like the maps to show where there are areas for you to do something. This map just allowed you to jump between areas. A sure buy for me and a great addition to the Awakening series.
September 15, 2013
Definitely worth a go!
Overall, this game is very enjoyable and quite different to many other similar games. The HOS have a new little twist to them, which I like very much. There are only a few HOS though and actually wished there were more - not something I often wish for! I also enjoyed most of the puzzles - especially the ones that I haven't seen before. The reason for 4 stars is because of the MAP. It does provide quick access to other rooms and shows you where you are, but it doesn't indicate active areas. I must admit, I do click the help button quite a bit because it basically tells you what to do next!
September 30, 2013
Nice Game
This game has nice graphics and a typical storyline. It is interesting enough to keep playing. It was quick to play and of course you have to go back and forth to get clues to unlock other clues. It was easy to play but the same tedious back and forth for clues gets old fast. Nice game.
September 15, 2013
kind of hard game.
played casual. low/no sound. hint/skip charge fast. mini games were mostly hard for me. great story in a series of other great games. queen sophia is looking for her parent's spirits. there is a gnome that has cast a curse over all at sunhook spire. it is up to her to fix things. you have to think about what to do sometimes. there is a diary and map. i didn't really use the map so i don't know if it is interactive or not. sequel.....i don't doubt it.
October 6, 2013
Great but.....
Just like the others this one was great, however it was over to quickly.
October 6, 2013
Not a bad game...
I did demo the CE and didn't feel that it was CE worthy for reasons you can read in that review. I decided to demo the SE version and found the following: The graphics and game play were very nice. Vibrant colors throughout the game. Very nice voice overs. HOGs were well done and a little different. Games were not all that difficult, although they did take some thought and time to complete (I did skip one). Music is nice, but gets annoying after awhile. Hint recovery is very quick. Didn't care for how the hint system was set up though...too much reading to get to the point. Did not care for the jump map set up either...everything too close together and not clear. There is a lot of running back and forth, so you really need to use the map a lot. This wasn't a bad SE, but still don't think it was CE worthy. I am going to get this SE, only because I now have 13 punch credits and need to use one before I lose it. Nothing new in the story line, but the games made this one challenging, and I think all level of players would find this one interesting. I think this one is closer to 3.5 stars. As always, try it for yourself and see what you think. We all have different tastes in games and you may find this one not quite what you are looking for, or it may the perfect game for you. Thanks for the reviews.
September 15, 2013
The Apple logo is a trademark of Apple Computer, Inc.
The Windows logo is a trademark of Microsoft, Inc.