Enigmatis: The Mists of Ravenwood Collector's Edition
Enigmatis: The Mists of Ravenwood is the sequel to the smash hit Enigmatis: The Ghost of Maple Creek. It is a detective story rich with horror, plot twists, and shadowy intrigue.

A year has passed since the events of Maple Creek. But for the past few months, our detective has been hot on the trail of the demonic preacher she fought one year ago. Yet he has managed to always stay one step ahead. She hoped to bring an end to the chase in the redwood forests of Northern California. But like so many times before, the trail went cold...

Then she encountered an abandoned camper in the middle of the highway. Enormous claw marks scored the roof and the lost family's personal belongings were scattered everywhere. All signs pointed to the scene being fresh.

And all clues led into nearby Ravenwood Park...

This is a special Collector's Edition release full of exclusive extras you won't find in the standard version. As a bonus, Collector's Edition purchases count toward three stamps on your Monthly Game Club Punch Card!

The Collector's Edition includes:
36 achievements to unlock
Music tracks, wallpapers and concept art
30 collectibles butterflies to find
Witness the origins in the bonus game
Game System Requirements:
OS:

Windows XP/Windows Vista/Windows 7/Windows 8

CPU:

2.0 GHz

RAM:

1024 MB

DirectX:

9.0

Hard Drive:

945 MB
Game Manager System Requirements:
Browser:

Internet Explorer 7 or later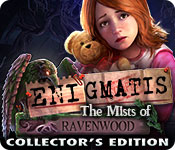 The Big Fish Guarantee:
Quality tested and virus free.
No ads, no adware, no spyware.

Reviews at a Glance

Enigmatis: The Mists of Ravenwood Collector's Edition
0
out of
5 (
0
Reviews
Review
)
Customer Reviews
Enigmatis: The Mists of Ravenwood Collector's Edition
146
146
Terrific - right up there with the best of the genre.
The story is gripping and utterly logical. The scares are surprisingly genuine. The hidden object scenes are carefully conceived to propel and enhance the plot without being littered with the silly anachronisms to which so many shabbier offerings succumb these days. The mini-games are a little too simple (and too few, if I'm being picky) but the well-groomed, albeit rather macabre, plot makes a welcome change from the many mind-numbingly formulaic offerings with which the broader market is currently awash. If you enjoyed the pinnacles of this genre - Dire Grove, Return to Ravenhearst and the best of the Hidden Expedition series, go right ahead and buy this - it is as good as the best of them.
October 21, 2013
Going to find the first of the series now...
Great story, great puzzles, easy to navigate. Definitely moments when it was a little scary/made me jump :) Little movie segments are enjoyable and characters look great, fitting with the remainder of the graphics rather than little movies of real actors.
October 18, 2013
Amazing, breathtaking, heart pounding game!
Oh my goodness! I played the first Enigmatis game (maple creek) and it was the reason I got hooked on detective games in the first place. Maple Creek was an amazing game and actually scared me while playing it. This game is just as amazing and frightening, beautiful quality graphics and amazing mesmerizing sound. You feel like you're in the game. The puzzles were challenging and they didn't overload you with hidden object scenes, the story was amazingly developed and really gave you something to sink your teeth into. The only thing I was dissapointed with was the fact that there is no extra bonus level in the collector's edition. Hoping this means they are going to make another game to continue the story!
October 17, 2013
Excellent!
Excellent graphics and sound. The storyline was logical and well done. The game length was very good, taking several hours to complete. The many minigames were unique and challenging. Looking forward to the next installment!
October 17, 2013
Another Great Game In This Series ...
Great Graphics, Sounds, Effects, Story, Video & Voice Bits ... Right From The Movie Scenes At The Beginning This Game Ran Smoothly All The Way To The End, Including The Bonus Chapter ... The Story Blends Essences From Many Fiction Movies ... And The Endings Of Both The SE & CE Parts Suggest Another Will Follow ... Great Value For The Special Deal Purchase ...
October 6, 2013
Excellent game
This game had me hooked from the very beginning. It's definitely on par with the first Enigmatis in every way. The story was exciting and I couldn't pull myself away from it, from wanting to know how it ended. The graphics are stunning, the music is pleasant, and the puzzles were all very good, if a bit on the easy side, but that's easily forgiven since the rest of the game is so good. I enjoyed the mix of different types of HO scenes, but was glad that the majority seemed to be of the regular list type. I wasn't able to get all the achievements, but that will just be incentive to replay.
October 4, 2013
LITTLE AGAINST THE GRAIN
Like the achievements, morphs, and the collectibles, as well as collecting evidence. There were also a couple things in the CE that are of interest, but there was no preview of them. Also like that there are 3 types of HOS: fragments, silhouettes and list (which also allows you to switch to a matching game). All were very and/or accumulating interactive. One PROBLEM I found was that you could have your cursor a full 2-3" from the target object and pick it up or interact with it. I'm not particularly fond of objects that have to be clicked exactly (especially thin objects like a needle), but this is too much leeway. It seems to take the adventure portion of the story forever to unfold. Too much talking, even if you can speed through it by clicking the scene again. Getting information from the prisoner in bits and pieces if okay - he's a bit entertaining and raises questions of why he is an enemy of the park owner, why hasn't he escaped already if he can help you escape, etc. Like the spookiness - keeps you interested in finding out more. The evidence board is a good aspect, but it seems that some evidence is collected but can't be put on the board yet. A detective would probably classify it somewhere, at least tentatively. SUMMARY: I think this is a great game and certainly worth buying, but I just don't think it quite warrants 5 stars along with some of the other games out there lately. That said, I will likely buy the CE over the SE because it offers quite a few benefits.
September 26, 2013
Long Awaited Sequel! Great Story, Lots of Bling!
After waiting 2 years I was thrilled to see this game! I thoroughly enjoyed the first game in this series; "Enigmatis: The Ghosts of Maple Creek". This game can be played without having played the first one even though I would recommend it because it was great. Based on completed demo: This time the story takes place in the redwood forests of California instead of Maple Creek, Vermont but it seems that the stories are interconnected! You are still the same detective that was on the case of the previous game. Many improvements have been made since the 1st game. The graphics were upgraded to a nice crisp HD and the colors are vivid. The characters now appear in 3-D instead of flat. The story intrigued me right off the bat when I found a little girl alone in an abandoned camper due to mysterious circumstances. If you like a good story with your game as I do, you will like this one. I don't want to give it away. There were spooky surprises that made me jump out of my seat a few times and I enjoyed that. It has been quite a while since a game had that effect on me. If you like surprises this one is for you. I also like how this game plays more like a detective than other games. You actually collect evidence, compare it and make deductions. The other plus about this CE verion of the game is TONS of bling! There are several collections to collect as you go. There are butterflies and "illusive objects". The "illusive objects" are similar to the morphing objects that we are used to but with a slight twist on how we pick them up which I found interesting. There are also achievements, music soundtracks and other goodies that we are accustomed to seeing in the CE games of today. The game seems a tad on the easy side so far for me but it may get harder as I progress. This game is definitely a buy for me! It seems to be a great value for the money and incredibly entertaining!
September 26, 2013
Artifex Mundi brings us another epic game!
It's been a year since I uncovered the preacher's sinister plot and scores of murders in Maple Creek. In that time, I managed to trail him from the autumnal beauty of New England to the redwood forests of California. Just when I thought I'd lost him, I came upon an abandoned camper outside the gates of an equally abandoned nature park. The family's belonging were scattered around the area, and gigantic claw marks gouged the roof of the camper. It was clear I'd just missed whatever happened. Where had the family gone? What had occurred here? A dark apparition led me to suspect I'd once again found the preacher, and that I'd soon discover more bodies and signs of his demonic activities. What I did find shocked even me. The plot was bigger than I could have imagined. And more horrible. Once again, my sanity would be tested, as well as my investigative and deductive skills. And, once again, it would be up to me to put a stop to it. Notes: Artifex Mundi has put together a worthy sequel to Enigmatis: The Ghosts of Maple Creek. The plot is a masterpiece of storytelling, with twists and turns that will blow your mind. Gameplay is fairly traditional for a HOPA, with three types of HO scenes offered (interactive list, sequential silhouette, and FROG), find and use inventory items, and puzzles. Music, sound, and voiceovers are very well done and really add to the immersion. Graphics are nicely detailed without being photo-real. Animation, including poser characters, is excellent including lip-synch. There are the traditional extras in the CE, along with 30 animated butterflies to find and "illusive" morphing objects which are very easy to spot and almost amateurish in graphic style (a disappointment for me). The bonus adventure is a prequel of sorts and sets up the sequel, which I hope we won't have to wait two years for! I highly recommend not only The Mists of Ravenwood, but also The Ghosts of Maple Creek. And just about Artifex Mundi's entire catalog of games. They're fast becoming one of the leading developers, in my opinion. My overall rating is 4 and a half stars.
September 29, 2013
Not perfect, but what is...
I have the first Enigmatis and really liked it. This one is a little different, with a nice location and scenery. Graphics are nice, but some are a little fuzzy, especially in the SG. SG is nice, but it seems that some steps are missing, e.g. back one, turn left to owl tree. That may seem like hand-holding, but when the SG doesn't list everything, it helps for clear instructions. Game play is nice. There is a jump map, but it doesn't actually take you where you need to go, it just gets you in the general direction...if you remember about where it might be. Not every location is marked (at least not that I see so far in the game). There are morphing objects to find and collectables, which I really like. Haven't seen too many HOGs yet, but I like that you can either find the item, or play the matching game. A change now and then is nice during a game. Some items are well hidden. You have to find evidence in order to solve the mystery of the game. That is different and fun, but you have to continually go back to the dungeon. Again, the jump map puts you in the general area and not at the dungeon door like other games will. Not too sure about the guy that is "helping." Got the feeling that it's another one of those "ha, I got you" kind of helpers and he is just using us for his evil deeds. I could be wrong, been wrong before, will be again. All that being said, I did enjoy the game and have the need to see if I'm right about the dungeon guy. This game is not as challenging as the first in the series, but it was interesting. This looks to be a fairly long game and with today's special, who can pass this one up? I'm losing another punch credit today, so not happy about that at all. Either we need some good SE games, or I need to quit completely. Haven't decided yet. As always, try it for yourself and see what you think. We all have different tastes in games and you may not care for this one at all. Thanks for the reviews.
September 26, 2013
The Apple logo is a trademark of Apple Computer, Inc.