Enigmatis: The Mists of Ravenwood Collector's Edition
Enigmatis: The Mists of Ravenwood is the sequel to the smash hit Enigmatis: The Ghost of Maple Creek. It is a detective story rich with horror, plot twists, and shadowy intrigue.

A year has passed since the events of Maple Creek. But for the past few months, our detective has been hot on the trail of the demonic preacher she fought one year ago. Yet he has managed to always stay one step ahead. She hoped to bring an end to the chase in the redwood forests of Northern California. But like so many times before, the trail went cold...

Then she encountered an abandoned camper in the middle of the highway. Enormous claw marks scored the roof and the lost family's personal belongings were scattered everywhere. All signs pointed to the scene being fresh.

And all clues led into nearby Ravenwood Park...

This is a special Collector's Edition release full of exclusive extras you won't find in the standard version. As a bonus, Collector's Edition purchases count toward three stamps on your Monthly Game Club Punch Card!

The Collector's Edition includes:
36 achievements to unlock
Music tracks, wallpapers and concept art
30 collectibles butterflies to find
Witness the origins in the bonus game
Game System Requirements:
OS:

Windows XP/Windows Vista/Windows 7/Windows 8

CPU:

2.0 GHz

RAM:

1024 MB

DirectX:

9.0

Hard Drive:

945 MB
Game Manager System Requirements:
Browser:

Internet Explorer 7 or later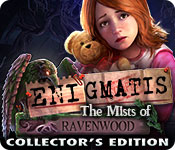 The Big Fish Guarantee:
Quality tested and virus free.
No ads, no adware, no spyware.

Reviews at a Glance

Enigmatis: The Mists of Ravenwood Collector's Edition
0
out of
5 (
0
Reviews
Review
)
Customer Reviews
Enigmatis: The Mists of Ravenwood Collector's Edition
146
146
Great Game
It is a really good game it holds your concentration as it is also interesting but why oh why do they not make these games long enough!!!
October 12, 2013
Good!!!
This game is better than enigmatis maple creek ,the storyline is interesting and it is fun!!!
October 7, 2013
Good game - not CE worthy
I enjoyed this game after having avoided hidden object games for quite a while. It had the right amount of searching, mini-games, and hint recharge for me. It is not worth the CE price unless you want music, wallpaper, and replays. The CE did not have a story continuation.
November 14, 2014
Dark story line
I thought this was going to be like the Ravenhurst games but it was much darker. I liked the puzzles and there wasn't a lot of hidden objects which was good. But there was a LOT of story, which I found tedious, particularly since it's not my favorite sort of story. You can also switch out of the hidden object mini games to do a match game instead which I liked much better, even though it was the same pictures that were to be matched in every game. Would have been nice to have new ones for each game. The tasks were fun and it was an okay game but not my favorite. I played it through pretty fast - in one evening.
October 11, 2013
Good Game; Mediocre Graphics
I really enjoyed this game. The story is a continuation of the first game. There is much to do, collect butterflies, find morphing objects. The HO games are a mix of traditional and the newer "collect and construct" type. I enjoyed that. And if you get bored with the regular HO you can do a better than average matching game. There are achievements and an interactive map. The complexity and length were great. Complaints, and they are really not important as the game itself is fab, is that the characters are not particularly well executed, kind of wooden, and the voices can be grating--the main character (you the player) says her s's like a snake. The child character has a horrible voice. Sometimes the speed of the voices is so slow you could scream. But in general a really good game that I really enjoyed.
October 8, 2013
Worth of a CE
A different story, good lenght in expert mode, collectibles, nice graphics. Love it!
September 26, 2013
Different
A slightly different HOG...nice change
September 26, 2013
So close to a 5 but...
Played CE in Expert mode. Did not use SG except as noted below, and only used Hint a couple of times when I was too tired to keep looking and thinking. Did not really try to achieve Achievements because I don't care about finding hidden objects quickly, etc. but the Achievement Room was quite pretty. This was an exceptionally good game except for a few things that kind of spoiled it. But first, the accolades: Beautiful scenery with lots of nature -- mostly trees and critters. Would have liked more water but can't complain. Some great YOW and WOW moments. The game certainly keeps you interested and alert. Good puzzles, mostly not too hard but fun, and most all in keeping with the story. Loved "Feed the Bear" and the cardboard cut-out ones. Good tasks involving old electrical and mechanical devices. I like these much better than the modern or futuristic gizmos that a lot of games have. Good balance between non-linear (crossroads and some backtracking to use newly-found objects in places you've been before) and natural progression. The map does come in handy at times. Illusive objects were mostly pretty easy to spot if you take the time to admire the scenery. I missed a few and used the SG to find them. Never did find the second one. Strange. Intriguing story (kind of gory but only in a few spots) and plenty of things to stop and think about as you look around. CONS: Most are minor, but unfortunately added up to a -1 star for me: The worst thing was the "Bonus Chapter" which frankly I would have missed had another reviewer not talked about it. It was not in with the other extras; you had to click PLAY after finishing the main game to find it. It was pretty awful. My impression was that the A Team turned it over to the B Team to finish up. Other reviewers have offered some details, so I will just say that I did not like it, and wish I had not paid extra for the CE. The soundtrack was okay but not great. It was mostly soft piano music, even in the dark and scary scenes that should have been accompanied by eerie violins or minor key music. The Intro screen was so pretty that it bothered me to see it cluttered up with the ugly detective badge and oversized "Premium Adventure" logo. This, of course, is no reason for anyone not to buy the game. I'm just hoping the developers will see this and maybe tone it down for their next great game. Ditto with the pudgy, swaying avatars. They have improved somewhat, but I still find them unrealistic and annoying. The ones in the "Bonus Chapter" were really bad. Please just use realistic animations like the wonderful animals, and please don't show a fat arm and hand. Mine really don't look like that. I love the Artifex games, and have played almost all of them. The artwork is wonderful and I greatly admire the opening "Please play with sound" screens -- so beautiful and clever. Sorry for the criticisms, but when something is so close to perfect, the little bad things tend to stand out more.
October 27, 2013
Great Story, and story within a story
This game was full of great things. The story of an evil tree, and an evil preacher, and a giant raven - then there are interesting mini-games, good HO scenes. I was pleasantly challenged. Sometimes when you have to stop playing and finish on a second or third session, it is easy to forget what you were doing, and where the story was going. Because the story was different and interesting, I was able to stop and start a number of times and fall right back into things. I liked the evidence board as a good way to remind myself of what I knew so far. Oh, and the map is actually helpful. I love that!
October 25, 2013
Maybe I am tired of the same old same old
I can't believe this game has such high ratings all around. I found the story incredibly obvious. The voice acting was horrible. Maybe I am playing too many AAA games like Mass Effect and need something more in my casual games when it comes to characters and story. Some of the puzzles were very nice with the right amount of difficulty but only half of them seemed fun to me. I love HO puzzles usually but didn't in this game. Many items were unclear, the puzzles too short. Of the other types of puzzles, too many of the type where you press a button or turn something and 3 or 2 things move . There may be some people who use some kind of strategy and realize that if x moves a and c and z moves c and b they should press x first and then z but I just press and turn until everything clicks into place with no thought. I hate one of those in a game and in this game there were quite a few and one you had to do 6 or 9 times. On the good side, I didn't have to randomly click too long to solve them. Maybe I am tired of games where you throw away your knife, crowbar or full book of matches after you use them when you should obviously keep them through the whole game. A few games have done this and I and I loved it. It actually makes sense. Someday someone will think of a way to have an adventure game that doesn't have bizarre locks all over the place where you have to find pieces in the strangest places. Where you don't have to go through crazy effort to locate all the parts to a lock to open a box and find some mundane object like a screwdriver in it. Or where your life and another's is at stake but you won't just grab that towel next to you and push away some glass. It is just lazy thinking. There have been games where you had to find ingredients to make a potion or do things that make more sense and are fun. This was not one of those games. I also found it irritating that some of the morphing objects were very hard to click. Some took me to a new scene and by the time I thought to go back and get it the way was blocked. This happened twice. This game took all the overused tropes of every other HOG Adventure game ever released, put them together with a few innovations in HO puzzles but it didn't make it that fun. As a CE, I can't recommend this.
October 10, 2013
The Apple logo is a trademark of Apple Computer, Inc.