Enigmatis: The Mists of Ravenwood Collector's Edition
Enigmatis: The Mists of Ravenwood is the sequel to the smash hit Enigmatis: The Ghost of Maple Creek. It is a detective story rich with horror, plot twists, and shadowy intrigue.

A year has passed since the events of Maple Creek. But for the past few months, our detective has been hot on the trail of the demonic preacher she fought one year ago. Yet he has managed to always stay one step ahead. She hoped to bring an end to the chase in the redwood forests of Northern California. But like so many times before, the trail went cold...

Then she encountered an abandoned camper in the middle of the highway. Enormous claw marks scored the roof and the lost family's personal belongings were scattered everywhere. All signs pointed to the scene being fresh.

And all clues led into nearby Ravenwood Park...

This is a special Collector's Edition release full of exclusive extras you won't find in the standard version. As a bonus, Collector's Edition purchases count toward three stamps on your Monthly Game Club Punch Card!

The Collector's Edition includes:
36 achievements to unlock
Music tracks, wallpapers and concept art
30 collectibles butterflies to find
Witness the origins in the bonus game
Game System Requirements:
OS:

10.9/10.8/10.7/10.6

CPU:

2.0 GHz (INTEL ONLY)

RAM:

1024 MB

Hard Drive:

862 MB
Game Manager System Requirements:
Browser:

Safari 4.0 or later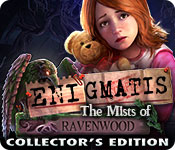 The Big Fish Guarantee:
Quality tested and virus free.
No ads, no adware, no spyware.

Reviews at a Glance

Enigmatis: The Mists of Ravenwood Collector's Edition
0
out of
5 (
0
Reviews
Review
)
Customer Reviews
Enigmatis: The Mists of Ravenwood Collector's Edition
146
146
Didn't seem much different from other HOGs
I'll mention up-front that I tend to find HOGs to be pretty repetitive... I've mostly stopped buying them because they're all basically the same thing, and I started to find them boring. The only things that save them (in my opinion) are top-notch puzzles, or excellent stories, or both. For example, I really liked the first Empress of the Deep, the Drawn series, Return to Ravenhearst, and Eternal Journey: New Atlantis. They were creative and different. This one had a decent story, but it was pretty obvious from the very beginning where it was going. I mean, it's not a "twist" if it's immediately clear what the twist is. The puzzles were easy. The thing that stood out for me was that the hidden object scenes had a lot of interactive clues, and you could switch to a pair matching game instead if you didn't want to do the hidden object. That was great, because in my opinion the hidden object scenes are just a cheap way to pad games out for length, without adding much to the playability or content. This time I actually did play the majority of the HOs, and even with doing that, the game still only took a little over 3 hours for me to finish. I didn't skip any of the cutscenes either. So overall, it was nice, but it wasn't really anything out of the ordinary. The story was well told through cutscenes, but it was a pretty typical story, really. I can think of a twist that would have been amazing... SPOILER (kind of)... what if they had made it that the preacher was actually the archangel Raphael, and was there to kill the Reapers? They could explain away his actions from the first game by saying that those people who he killed had been turned evil by the Reapers, and that the only way to save their soul and send them to Heaven was to kill them with the same blade that kills the Reapers. Now THAT would have been a twist! Or he could be the archangel but he turned evil, and is now out to replace Asmodai. But instead it turned out in the most typical way. It's too bad. Better story or better puzzles could have elevated it to something really great. As it is, I'd recommend it to people who typically enjoy HOGs, this one's nicely done.
October 1, 2013
Very good game!
Everything is good about this game, though there is one thing that irritates me: the little girl. The only thing she could nag about was to find her parents. Understandable, but a little bit too much imo.. They could have given her some more interesting text. But this is just a minor thing, for the rest: bravo!
September 27, 2013
I was really excited to see a sequel!
I'm one of those people who finds a really good game, and then I hope and hope and hope that they make a sequel! However, I normally get my hopes dashed as there are only a few string of games that have consistently made improvements to the right areas while still holding on to the core of the story-line. This game begins as the continuing adventure of getting to be the Detective on the hunt for the bad guy from the first game, Enigmatis: The Ghosts of Maple Creek. (Just an FYI: You do not have to play the first in order to understand this game!) The graphics were good, not the best. You could tell this game was connected to the previous through artistic style and appearance... but the graphics certainly were not the worst! The story line was pretty good. It had a few "huh" moments, but that was easy enough to figure out. It's a nice adventure for a beginner/medium player but not a real challenge for someone who plays a lot. I'd tell someone, especially someone who hasn't played the first game, to give either/both a try! In all honesty,when I buy a game, especially the Collector's Edition, I hope that it takes me longer than a day to finish it. That was the one area where I was the most disappointed. I by no means sat here all day long playing the game, yet it didn't take long to finish. I'd like for there to be more of a challenge, and for the mini-games to take a little more intellect to solve. In general (and not just specifically this game), I think it'd be nice for companies/programmers to add more regular level game play for a CE. If you're going to pay twice the price, give the customer twice the product. This would be a game I'd recommend especially the Standard Version! I think most people will have fun with it. Have a good one! ~Liz aka Elizabeth1975
October 1, 2013
Enigmatis, the mists of ravenwood collectors edition
Just finished the whole game and sooooo dissapointed thats theres no extra bonus game in the collectors edition. When I was getting to the end of the game I was so looking forward to more game play. Having said that, its a brilliant game. Very impressed and loved all the scenery and backdrops. Its got a very morbid story line so dont know if I will go back to play it very often, cause once you know, you know. It saved my weekend so thankyou for that. Keep the spookiness coming!
September 29, 2013
Not as good or challenging as the first one
I loved the first one! Played it again about 4 months ago. Even on hardcore mode this game was too easy. You get a few items in your inventory and than you use them. I like the challenge of having items for awhile and remembering where to utilize them. The only thing better about this one vs. the second is the graphics. Not a bad game I just prefer a challenge when playing adventure games. It seems as though many of the games coming out recently are geared more for beginners.
September 27, 2013
Premium quality game. Budget store graphics.
Ahh Artifex Mundi - This developer never stops me from scratching my head in bewilderment. They obviously have a great deal of talent - they hire the best writers for a comelling page turning story. They have the best programmers that can put together a top notch game with with just the right ballance of freedom and linier movement in the progression. They have big budget cut scene animations that compliment the game perfectly without taking it over. They even hire some high quality scrip writers and actors. And then they completely mess it up by using really cheap, badly rendered in-game graphics. It's like the developement team have a meeting where everything is planned out with pride and then someone says "well I SUPPOSE we had better put some graphics in there - who is the cheapest and quickest?" . It's almost like the graphics are an afterthought and a chore done with resentment. As a game this is exellent but be aware that the graphics are at best Beta quality and quickly become, well, pretty bad. If that dosen't bother you then you are in for some serious hours of enjoyment and escapeism.
February 1, 2014
Good game, but first one is better
Second game from Enigmatis series by Artifex Mundi. ------------------------------------------------------------------ The story from the 2nd game in the Enigmatis series picks up from where it left off, but a little bit different with a twist. So if you are playing Enigmatis for the first time, I suggested you play the first game first. Compared to the previous game, this game offers more suspense than spook. There are lots of cut scenes. Voice over is great but IMO too slow. I found the central character (detective) too bland and lack emotion in the voices. The music, is the same with the first game, however since the atmosphere is not spooky, I found it not suitable for this game. It reminds me of ERS games which use recycled melodies in all their games, if you know what I mean. The HOG scenes are more diverse than the 1st game, where we are presented with regular hidden object search, fragmented objects and objective search. Many of the items are also not junk, which is great. However there're not many puzzles and HOG scenes in this game. In this game you also can collect ethereal butterflies and shape shifting objects, which were difficult to find in early chapters but as the game progressing become more visible and easier. The image, as in all other AM's games are rich in detail. The use of pastel colors are soothing to the eyes. Map is interactive, better than the 1st game, but still not detailed enough to bring you to the exact location. Game length is pretty good. It was long. Especially since I am not that good with game puzzles, I spent lots of time wondering around figuring out what I should do next. Overall, a fine game, but to met the first one is the winner.
June 5, 2014
Pretty and interesting!
This game is my current favorite! Graphics are beautiful, sounds are amazing and gameplay is CLEAR and EASY TO UNDERSTAND. I had to write this in caps because sometimes it is hard to find games with clear objectives, strong storyline, and interesting plots. The only reason I didn't give you 5 stars are movies and animations. I am used to playing 2d games, and everything 3d really annoys me, so it was hard for me to watch 3-dimensional solutions you had for cutscenes and animations. If it didn't make me nauseous I would give you 5 stars all the way! Great work!
February 10, 2014
Similar to the first with some drawbacks
Make sure to download the trial first. The Enigmatis games have very unique storylines in comparison to your run of the mill hidden object games...I love both of them and my husband was so bored he couldn't finish the first. There are a lot of fascinating puzzles and hidden object scenes in this game, but I was very disappointed by the endless cut scenes/dialogue (over half of the game) and how predictable the story was. Aside from pushing the cut scene skip button over a dozen times, I think the game has enough puzzle/HO content to even it out.
December 20, 2013
Definitely worth buying as a CE...
I loved the first Enigmatis game and I also love the developer that makes this series, so I bought this game without trying it and I don't regret it. The game ended up being just as good as I imagined it would be.The plot has already been well covered by other reviewers here, so I am not going to describe it, but I will say that I found the story to be enjoyable and very well thought out. The plot did have some aspects to it that we have seen in previous games, such as a detective searching for missing people and their disappearance having to do with mysterious evil forces, but the developers managed to put an original spin on these themes and the story did not feel cliche to me. The game has all the toots and whistles that make it worthy of being a CE, and I know that people will be happy that it has morphing objects and achievements. I can take it or leave it when it comes to morphing objects, but I do like achievements and trying to earn all of them adds to the fun and also gives the game re-playability. The game had good length and I played it in more than one sitting over a few days. I would guess that it took me at least 6 hours to complete the main game (I play a bit on the slow side, so for faster players it may take less time) and about an hour to finish the bonus game. Another reason why I think this game is worth buying as a CE is because the bonus game actually adds to the story, and doesn't just feel like filler. That is my biggest gripe about most bonus games in other CEs, that they seem disconnected from the main story and feel like they were slapped together at the last minute, but such is not the case here. I thought the bonus was just as well thought out as the rest of the game. Another thing I really enjoyed about the game was the puzzles. I got the achievement for finishing all of them without skipping. I liked how a lot of them had to do with logic, and that most of them were challenging without being too hard. I also liked how the H0 scenes had lots of interactivity, and that they mixed things up by having some scenes be Frogs (fractured objects). And there was also an option to play a matching game instead of doing a H0 scene and I liked that as well since sometimes I do get sick of looking for hidden objects. If you like morphing objects, achievements and a bonus game that adds to the story, then I recommend that you buy this game as a CE, but if those things don't matter to you as much you might want to wait for the SE. Either way I think this is a very well made game from an awesome developer and I definitely recommend it!
October 16, 2013
The Apple logo is a trademark of Apple Computer, Inc.
The Windows logo is a trademark of Microsoft, Inc.