Solitaire Mystery: Four Seasons
In the City of Magic Cards, time is standing still. Wise and foreboding Nature has imposed a curse as punishment for the greed and avidity of the city's entitled inhabitants. Now, it is perpetually autumn in the drizzly district of Spades. Clubs are frozen in time by a never-ending winter. Hearts have halted at the very budding of a spring that may never blossom, and Diamonds are drying out in the scalding summer sun. It's up to you to jumpstart the Magic City clock and get it turning again! Test out myriad solitaire layouts, solve dozens of unique and exciting puzzles, and save the City of Magic Cards!
100+ unique layouts
Two solitaire modes
Intricate and colorful HO scenes
Exciting mini-games and brain-teasers
Game System Requirements:
OS:

Windows XP/Windows Vista/Windows 7/Windows 8

CPU:

1.6 GHz

RAM:

1024 MB

DirectX:

9.0

Hard Drive:

111 MB
Game Manager System Requirements:
Browser:

Internet Explorer 7 or later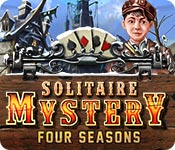 NEW299
The Big Fish Guarantee:
Quality tested and virus free.
No ads, no adware, no spyware.

Reviews at a Glance

Solitaire Mystery: Four Seasons
0
out of
5 (
0
Reviews
Review
)
Customer Reviews
Solitaire Mystery: Four Seasons
25
25
Game and music..FABULOUS!!
I am having a WONDERFUL time with this lengthy game. It's solitaire with either higher-lower or match a pair..BUT WAIT, there's also hidden objects. The music sounds like the music from a mystery movie I had seen and I was thrilled then and now...A dog barks in the background and this hypnotic music is a perfect touch for a game, if ya buy it, to play over and over!! BUY IT!!
September 29, 2014
Fun, But Where?d The Story Go?
BASED ON DEMO This is an interesting mix of genres, having several HOPs and other puzzles (so far, they have been easy, spin the tile and sliders), as well as two styles of solitaire. It was certainly very appealing to me when I saw it as one of the top games of 2013, and I?m surprised that I had somehow missed it. It doesn?t live quite up to expectations though. I loved the idea of ?SOLPA?, solitaire puzzle adventure, but that implies a story to hold all the action together. Unfortunately, we don?t seem to get much of that. We are thrown straight into a solitaire game the second we press play. The notebook records almost nothing, and really, what else can it do? We receive very little input about the game other than instructions if required. We move about from one place to another on the map, with no warning, explanation or reason. The gameplay itself is quite addictive. The two types of solitaire (standard match-one-up-down, plus one where we must find pairs) are fun and varied enough by the large number of layouts offered. In some ways the game is pretty basic. There are no fancy powerups or other gimmicks normally found in these sorts of games, no points, no achievements. Just the special locked and unlocking cards. But I found this much more soothing to play, and easy to lose myself in. The HOPs also come in two types ? word list, and ?place the related item?. There have been a couple of slider games, one very easy, the next one not so much. Also one quite nifty spin the tile game. I guess I should mention that the graphics are clear and the backgrounds interesting. It opens in widescreen, but looks a lot better without the adjustment, even though that means black bars. The card backs are not much, and there is no option to swap them. But the game looks nice. Sounds good too, with cheerful melodies that, at times, could have been a little quieter. Still, there are options. There are 96 (4 suits x 24) levels, and I made it to 15 before the demo time ran out ? on that basis, there would appear to be 8 hours worth of play in this game! Apart from the confusion caused by not knowing what the story was, this is an excellent game, an old fashioned solitaire game, mixed with various puzzles to provide a 'richer gaming experience'. *grin*
December 30, 2013
SOLITAIRE , MAJONG AND HOG
ALL IN ONE. BROUGHT THE GAME WITHIN 15 MINTUES. IT GREAT, RELAXING. TRY IT.
September 24, 2013
Good solitaire mis
It is a good relaxing game. No score just win or loose.
October 14, 2013
try a bit harder
I'm nearly finish with the game, and the lanes become a bit boring . The music i brain damages.. I would love, if you could lost a game or you cold Se point or somethings.. overall a oki game
September 25, 2013
I REALLY, REALLY wanted to like this game
Based on full demo. I love solitaire games & after all of the glowing reviews I was sure that I was going to love it. Boy was I ever wrong!! The story & graphics are very good BUT the music was atrocious & the game was so very B O R I N G. The first HOS game you had to match what was in the inventory with the cluttered, teeny, tiny objects in the junk pile. The second HOS was the usual find thing in the junk pile with 2 interactive things to find. At that point my trial mercifully ended!! The card games just repeat over & over in a never ending loop. If you miss a play you cannot go back & there does not seem to be any award for perfect games or having a long run of cards. Cannot tell you what a disappointment this game is. A definite NO BUY....
September 25, 2013
Wanted to like, but...
Very slow moving. I really wanted to like because I'm sick of hidden object games, It took 3 tries to finish the trial period because I kept losing interest. Hated having to clean off the cards to see them and the game ends not by completeing the solitaire, but by unearthing certain cards. Lost opportunity.
December 21, 2013
too bad
I must admit I was kind of excited to download a solitaire game with a story..... Too bad ... Story, not sure what the story was, after awhile did not care. The worst part was the deck is i guess a card shoe , solitaire is too be played by one deck only.
October 14, 2013
Really Bad
This was the most boring game of solitaire I've played. The music is terrible, even when I turned the volume of it down as far as possible it intruded on the game. I had to make connections in a hidden object type game...the connections didn't make sense, but you can click your heart out until you hit things by luck so I did that. There is no score, no undo, no wild cards, and a deck that's obviously stacked. One version of the solitaire had 10 available cards, you have to match 2 to remove them. You'd think that with 10 cards available, since there are only 13 different ones in a deck, there'd be plenty of matches. You'd be wrong. Time after time I was stopped because with 10 cards showing there was never a pair. Another version had an arrow on the deck so that when you exhausted the deck you could redeal it and go through it again to pick up that last card. Except that it doesn't redeal, it starts the whole game over and you have to do it all again. Also, the instructions in one place told me I was going to play Mah Jongg with the cards, which was exciting to me, but it turned out to be a simple matching game, not Mah Jongg at all. Just because you're playing a matching game with Mah Jongg tiles does not mean you're playing Mah Jongg...just like when you're playing rummy with a poker deck, you aren't playing poker. Worthless game, uninstalled very quickly.
September 26, 2013
What a shame!
Concept really good. I liked the story line and was excited to play but then I played....no skill involved at all. Especially when it came to the matching. Either by luck the cards you needed showed up or they didn't; like I said no skill just plain old dumb luck which on one hand I had none. After playing it about 5 times and running out of cards I said "Enough". There are too many games out there better than this to spend my money/credits on.
August 9, 2014
The Apple logo is a trademark of Apple Computer, Inc.