The Tiny Tale
Retrieve the four elements and restore a magical kingdom in The Tiny Tale! After an evil wizard stole the four elements, an entire kingdom was plunged into darkness. Now, under the command of the ancient shaman, the gremlins must retrieve these elements from the depths of the wizard's perilous dungeons. Enjoy the immersive atmosphere and recover the kingdom in this mystical Time Management game!
40 challenging levels
Diverse spells and enemies
Equip your little helpers
Game System Requirements:
OS:

10.9/10.8/10.7/10.6

CPU:

1.0 GHz (INTEL ONLY)

RAM:

512 MB

Hard Drive:

127 MB
Game Manager System Requirements:
Browser:

Safari 4.0 or later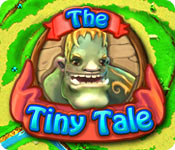 NEW299
The Big Fish Guarantee:
Quality tested and virus free.
No ads, no adware, no spyware.

Reviews at a Glance

The Tiny Tale
0
out of
5 (
0
Reviews
Review
)
Customer Reviews
Loved it!
This is a really fun little game filled with whimsy. No darkness, no demons, no witches and no murders, this is one fun, cute little game. It's a fun time management game with great music, graphics and an overall good feeling. If you're tired of the dark, dreary hidden objects games and need something new and cheerful, this is the game you need to play!
October 8, 2013
Hard but fun builder game...
First of all, I would like to tell the developers THANK YOU! This is one of the first times I've ever seen a GREAT game be released for mac users before it was released for pc. Kudos to that! Usually us mac users get really junky games when its released to us firsthand. I wanted to make sure I commended this and that I bought the game. Thank you! I love the characters in this game. It really gives the game something extra that when you get a certain amount of flowers you can change their clothes, walk, armor and other things. These changes would reflect in the game on the next level and I liked having the ability to do this. I found some staffs the big guy held seemed to work faster and some of the different walks the gremlins did made them do things faster as well. This was a nice touch instead of having to build some town or save a princess. It wasn't cheesy or cutesy but necessary to the game to do this. The gameplay itself starts off on the easy side in terms of getting the red flowers but then gets harder and harder as it progresses. If you do not beat the level in time, you get a bluish flower and do not earn the red one that counts towards buying your gear. I never ran out of time completely after losing the main time, so I don't know if you can still bypass a level if you are all out. There are also developer's times so even though you may get gold in terms of getting the red flower, you can challenge yourself by trying to do their times. I was only able to beat ONE level of developer times and I was able to get all red flowers except for about 6 levels and most of those are the land levels that have the spiders. I found the spiders one of the most challenging things than any other builder TM game that I have played. Not only were they fast but if they reach your treehouse, you lose 30 seconds off your time and those are the levels I did not get red flowers or developers time on. Just because you get a red flower does not mean you got the developer's time. The second to last level has to be done in a certain way or else you have to start over. I liked the strategy of it BUT it became too frustrating for me to try and figure out how to get a red flower. It took me forever just to figure out how to do the level without having to start over! I recommend NOT starting the mushroom town rebuilding until you have opened all passageways to the coins. I usually HAVE to get all times and gold medals before being done with a game but I felt like I had done the best I could with this one. I tried to replay the levels I did not get red flowers on but even after many tries, I still could not achieve red ones. I hear there are youtube videos out there and the forum for this game has lots of help from former players. All in all, I definitely recommend this game especially to TM builder fans who like a good challenge. This game is well made. It had a good story line and voiceovers. IF you don't like spiders, beware because these spiders are big like tarantula size or even bigger on the game. They are purple, yellow and brown so they don't exactly look scary but man are they a pain and the first few levels with them, I felt like they just came out of nowhere because I was not expecting them! I thought this game would be quite short BUT there are sooo many different things to beat in terms of times that it keeps you busy for awhile. Kudos to the developers! I look forward to more :)
January 1, 2014
Fun Game
This is a fun game. I've only completed half the levels but I am having a great time. Your times are saved so that you can try to beat yourself if you decide to replay a level. They also include a developer's time. I haven't beat a dev's time yet but it gives me something to try for later.
October 20, 2013
Tiny Tale and Big Fun
The levels vary in complexity and therefore some levels will be completed in good time and others will take too long, however there seems to be no penalty in taking too long, so go ahead and take the time to do a level right and not twice. The characters are funny to watch and that contributes to the overall game fun. I guess it is stupid fun, but enjoyable.
October 27, 2013
Ranking: Frustratingly Fun
I respect that others seem to love the storyline so much, but for me it was a bit long.. cute, but long. Reading it for the first time was a bit entertaining but the continual popups when replaying a level, or playing the game for a second+ time, it's more annoying than anything. A "Skip Dialog" button would have been nice. And this IS one of those games that keep you coming back to.. or at least it keeps bringing me back for the chance to beat those developer's high scores =0) Mastering levels seems like child's play in most games so having the developer's high scores there to beat is refreshingly challenging. I LOVE THAT! Frustratingly fun. Graphics/Sounds are adorable.. The dress up thing I wasn't into but my children loved. Overall I think it's a cute game and that extra challenge definitely made it buyable for me since I keep finding myself devoting more and more time to beating my scores =0)
December 7, 2013
Tiny Tale is Big on Fun
I really enjoy playing this game. The characters are cute, their customization options make me chuckle, and the storyline is engaging. I've replayed it dozens of times to try and beat the Developer's Time, and I give a little "woop!" every time "Beaten!" gets slapped across the DT. The shaman and his sleepy gremlins must rescue the four elements, and they each have their tasks to perform to achieve this goal. I like the four different background settings (but the spiders give me the creeps!) With that being said, there are a few things that frustrate me. There is no in-game timer so you can actually see what your current playing time is. You have to wait until you've completed the level to see what your time was, which is kind of a thing if you're trying to beat the DT. There is also no in-game indicator to show which level you're on. It's not the end of the world, but it would be nice to see that somewhere on the screen while you're playing the level. The dialogue can be really adorable, but it would be nice to have an option to turn it off so you don't have to keep scrolling through it when you replay. My biggest peeve is that you can't turn off the tutorial. If you want to replay the game often, or focus on beating the DT, as I mentioned earlier, it's frustrating to have to keep stopping the game for mandatory instruction breaks on stuff you already know how to do. Overall, I really do love this game, and only give it four instead of five stars because of the things I mentioned. As a player who likes to replay games and try to beat high scores, those issues can really be irritating. Nonetheless, the pros outweigh the cons in my opinion, and I definitely recommend this game.
December 15, 2013
Fun time management game
I played the free hour. I was so into it I was sorry the hour was up.
November 12, 2013
Cute Gremlins
This game is along the lines of: Roads of Rome; Kingdom for a Princess; Island Tribe. You collect resources and build stuff to complete the goals. There is a troll that does magic spells: replenish resources; work faster; etc. If let's you stack jobs, so you don't have to wait for your workers to get back home before you can click on the next task. Twist: you get to dress your gremlins and your troll. I'm enjoying watching the gremlins work. I've played several hours. The levels get harder as you go. I'd consider this as a family game, 8 and up. Not dark or creepy.
November 1, 2013
Interesting Spin on a TM Game
Basic time management game. What makes it different is what you win: the chance to change the outfits of the characters!!! Snore.
February 2, 2014
Marred by errors
This game was OK trying to get the developer times was a nice challenge However the errors in it were annoying. A couple of levels you got jammed and you had to log out and in having to do the conversations every time you retried a level was also tedious. OK but not great.
November 3, 2013
The Apple logo is a trademark of Apple Computer, Inc.
The Windows logo is a trademark of Microsoft, Inc.