Stranded Dreamscapes: The Prisoner Collector's Edition
Every passing day disengages little Emmy away from reality! Guide Helen Wheeler as she takes a risky journey inside the mind of her niece to get to the bottom of the problem. But be cautious! Childhood memories and wondrous fantasies are not the only things you will find here: the Dreamscape is corrupted. And you are not welcome.

This is a special Collector's Edition release full of exclusive extras you won't find in the standard version. As a bonus, Collector's Edition purchases count toward three stamps on your Monthly Game Club Punch Card!

The Collector's Edition includes:
The story continues! Help Helen's sister in the Bonus Chapter!
New challenging puzzles and HOPs!
Strategy Guide available
Access concept art, soundtracks, and other extras!
Game System Requirements:
OS:

Windows XP/Windows Vista/Windows 7/Windows 8

CPU:

1.6 GHz

RAM:

512 MB

DirectX:

9.0

Hard Drive:

696 MB
Game Manager System Requirements:
Browser:

Internet Explorer 7 or later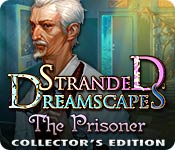 The Big Fish Guarantee:
Quality tested and virus free.
No ads, no adware, no spyware.

Reviews at a Glance

Stranded Dreamscapes: The Prisoner Collector's Edition
0
out of
5 (
0
Reviews
Review
)
Customer Reviews
Stranded Dreamscapes: The Prisoner Collector's Edition
37
37
Great for a SE, but no worthy CE
REVIEW BASED ON DEMO This game ist great. It has fantastic drawn backgrounds that are colourful and bright. The storyline is somewhat different from what we are used to in the HO genre (you have to move through the twisted dreamscape of a girl in coma and find out what keeps her from waking up) and the scenes are full of eerie, strange elements. It's a dark dream world where you would expect evil clowns and mad toys. I really liked this setting. The puzzles are rather easy, I played in advanced mode and didn't really need a hint or skip button. The music was pleasant and unobtrusive. HO scenes were lovely, slightly interactive, and items were really easy to find. Most of the HOS can be finished in under a minute. This game is just right for people who want fast success. However, there were no extras that would make the game worth the double price for a CE. No collectibles, no morphing objects, no achievements. The CE extras contain a bonus chapter, re-playable puzzles and HOS, concept art and a gallery, and since I'm not very interested in concept art and re-playing stuff, this isn't enough for me. The game would be a fantastic SE and I will most certainly buy it, but for a CE it's a bit meager. If you don't care for collectibles whatsoever, this game's for you, for all the others I'd recommend waiting for the SE.
October 5, 2013
A Lovely, Cozy Game For a Nice Rainy Day, But the CE Leaves Little To Be Desired...
BASED ON THE COMPLETED DEMO The game's story is easy and simple enough. Your niece is in some coma, trapped by her fears. With the help of the doctor, you put on a device that allows you to enter her dreams, where you have to fix her greatest fears in order to stop the nightmares. Once you've done this, the dreamscape changes before your very eyes from menacing and dark to bright and beautiful. This CE is hardly enticing, offering only: ** 10 wallpapers and concept art (the concept art sketches merges together onto the wallpapers, ugh) ** 4 replayable movies/cinematics ** 18 replayable puzzles ** 13 replayable HOS ** 4 music tracks ** 2 bonus chapters ** Strategy guide, though it doesn't follow your progress ** NO collectibles or achievements!! The gameplay is fairly satisfactory considering the puzzles, although they were a little too easy. The HOS proved to be a bit difficult because the objects were very small and hard to find because of the graphics. While this game was visually beautiful and the artwork was detailed, the scenes in this game were not sharp or crisp, instead having a very fuzzy gradient. Also, the music was good as it fit well with the scenes, though nothing to go crazy over. Things to note: ** 6 chapters in the main game ** There is NO journal to record your progress, tasks/objectives/goals, or any important info. ** Barry the teddy bear acts as your hint button, which is directional. ** Lockable inventory ** Only two difficulty modes to choose from. Advanced mode does not disable hint and skip options, but makes it charge slow. No sparkle indicators and a misclick penalty. ** There is an interactive map that allows you to teleport to locations, although it will only track active tasks in beginner mode (this is turned off in advanced mode). What really irked me about this game was that VO's were terrible and sound fake, especially the aunt that you play as. Her voice is annoying and sounds like she's talking through her nose. Character's lips move when they speak, though there is no lip-synch. Things like this should be fairly standard in a game by now. Overall, this game wasn't bad, but this CE is hardly compelling. The graphics, though pretty, have this washed-out, outdated kind of look, which makes the game feel nostalgic- and the good kind of nostalgia. I see myself using a free game credit once it comes out as a SE.
October 23, 2013
This Game Is Stranded on my No List
Again, we have Emily trapped in her dream world while her aunt, a scientist, attempts to cure her. The graphics are bright, colorful, and almost cartoonish. There's a bit too much interaction by the aunt's boss (or whoever that other scientist is). He became annoying to me. Early on you get a giant teddy bear helper who keeps jumping in to help too. The HOS are standard junkpiles. Nothing exciting about them. The mini games were OK. Most were been there, done that. This game, in my opinion, doesn't even come close to having CE quality. I'm not even sure I'd like it as an SE as I wasn't very fond of the story or the constant interruptions. Just not my dream game.
October 5, 2013
Average, But Enjoyable ...
Good Graphics & Sound ... But Lacked The Content Usually Found In More Recent Games, And Hardly Worthy Of A CE Price Tag ... I Got Mine On Special Just For The Two Extra Chapters Of Play To Complete The Story ... Wait For The SE And A Left Over Game Voucher Or A Deal ... It Will Give You Something To Do On A Rainy Day Or Wen Winter Comes ...
October 6, 2013
Hmmmmm
The story starts out with Aunt Helen trying a neurological experiment to reach her niece Emmy and bring her out of the fugue state she is in. Her mother is unavailable and is in a coma from doing some kind of wave transfer from herself to Emmy. Dr. Sullivan in the overseer in the experiment, but not sure if he is good or evil. Evil Emmy has taken over Emmy's mind and has changed Emmy's dreamscapes to what she wants them to look like. You also have Emmy's teddy bear, Teddy, to help you along in your journey. There are two levels, casual and advanced. The story itself has 6 chapters with 2 bonus chapters that are supposed to be Mary's story. The extras are locked until you purchase the whole game and include hops, puzzles, concept art, and the art gallery. In my opinion this should not have been a CE. I didn't need to use the strategy guide and if I wasn't sure what to do, Barry the bear was more than willing to help. The games were easy and the hos scenes were also very easy to locate even with some of the items being interactive. The scenes were good and done as watercolors meaning everything had a very soft look to it. Granted it was a dreamscape, but prior to entering Emmy's mind, it was also soft. It was an ok game but didn't grab me as a I have to have.
October 6, 2013
joining the SE not CE crowd
I really liked the way things changed as success was achieved. I like things pretty and bright and visually lush. There was a lot of hand holding and not a lot of challenge, but there were some games I skipped to get on in the hour allotted as far as I could. I am looking forward to the SE so as to play these. I liked the landscapes and the intricacy of the world. I liked the floating blocks and the sense of dream in the game. As a CE I give it a three but as a SE I'd give it a four or maybe a four and a half. The HObj games were not at all challenging and did not have any activity within them. I do not pay a lot of attention to the story during the trial as I am chomping at the bit to play the game. I think the story, while a little juvenile coming from a teddy bear what would we expect?, is probably better than I gave it credit as being. It is on my list of buy once the SE comes out.
October 6, 2013
Enjoyable Game
Not sure what the Standard game differences are, but this one had interactive map. Plenty to do. HO's, Some puzzles and task to perform. Lots of location. It kept my interest. Moved along nicely. The teddy bear was a nice touch. I would make this game a rainy day special. Art work was great and characters were just ok.
October 31, 2013
Not up to CE standard!
The game was not up to what I have come to expect of CE games. It was fun, but not very challenging. The hidden objects were almost too easy. The puzzles were not very original, but did manage to keep me somewhat engaged. There were no achievements and the "Doctor" was extremely annoying trying to get you to turn back. I completed the entire game (including extras) in about 2 hours and was left unsatisfied and feeling like there should have been more. Come on BFG give me something to sink my teeth into.
October 6, 2013
Very short -
Good game but not worth collectors price...wait for regular edition and use a credit....
October 13, 2013
been there, done that
This game is very similar to other games, and at first I actually thought this was in a sequence. It's a good little game, but not challenging. It's almost child like. The puzzles are easy and the map will get you where you need to go, but I used the hint button to navigate. I think with a little more time this game could have really been great. There aren't enough hidden object games to annoy you. I agree it's a buy when the SE comes out.
October 5, 2013
The Apple logo is a trademark of Apple Computer, Inc.