Stranded Dreamscapes: The Prisoner Collector's Edition
Every passing day disengages little Emmy away from reality! Guide Helen Wheeler as she takes a risky journey inside the mind of her niece to get to the bottom of the problem. But be cautious! Childhood memories and wondrous fantasies are not the only things you will find here: the Dreamscape is corrupted. And you are not welcome.

This is a special Collector's Edition release full of exclusive extras you won't find in the standard version. As a bonus, Collector's Edition purchases count toward three stamps on your Monthly Game Club Punch Card!

The Collector's Edition includes:
The story continues! Help Helen's sister in the Bonus Chapter!
New challenging puzzles and HOPs!
Strategy Guide available
Access concept art, soundtracks, and other extras!
Game System Requirements:
OS:

10.9/10.8/10.7/10.6

CPU:

1.6 GHz (INTEL ONLY)

RAM:

512 MB

Hard Drive:

321 MB
Game Manager System Requirements:
Browser:

Safari 4.0 or later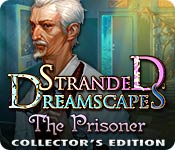 The Big Fish Guarantee:
Quality tested and virus free.
No ads, no adware, no spyware.

Reviews at a Glance

Stranded Dreamscapes: The Prisoner Collector's Edition
0
out of
5 (
0
Reviews
Review
)
Customer Reviews
Stranded Dreamscapes: The Prisoner Collector's Edition
37
37
Okay, I really liked this game....
So, I'll probably be in the minority of those who liked, liked, liked this game. Yes, it's kitchy. Yes, it borders on the childish. Not fairytales and unicorns and butterflies childish but, yes, childish. Storyline is that your niece is stuck in some kind of depression coma and it's desperation time to try to get her out. You, her aunt are desperate to help her so even though her doctor informs you of the risks, you put on this "magic" bracelet that takes you into her mind, with the warning that not all you see is real, which includes the talking bear companion/hint button you meet early on. LOVE the talking bear. Not as annoying as some companions I've come across. The story takes you into memories of your niece which have been turned into horrible nightmares - but why? Ah, and there is the game. You travel through various measures to find the answers and try to open the memories back into the good ones she needs. Along the way the bear gives you helpful hints and the doctor chimes in periodically with updates on your nieces' condition. The graphics are unbelievably clear and on point, creepy where needed and not when not needed. You feel as if you could really be there. The voiceovers are clear and concise, you can totally understand everything being said. Everybody and everything has it's own specific voice, obviously not one or two trying to be everybody or everything. The hint button/bear recharges quickly and takes you where you need to go if you can't figure it out or need a little nudge in the right direction. The HOGs are easy and not jumbled up piles, you do return to them, I think once that I could tell. I didn't get to do a lot of the mini-games, although once you have everything you need to do them, they are aplenty and none too difficult for the few I did. Two difficulties, average and difficult. I chose average and it was incredibly easy with all the sparkles, etc. GREAT for beginners, don't think a good choice for experts. I think I would have a great time playing this with my granddaughter. So, try it, nothing to lose there. This Glam-ma gives it all her approval with two thumbs up. I'm definitely getting ready to hit the "buy" button. Enjoy.
October 5, 2013
CONTRARY OPINION - I JUST LOVE IT & IT'S REALLY SCARY
I love scary movies and this game has got to be among the top 5 scariest/spookiest games I've ever played. The animations that turn ordinary objects into imaginative, scary, grotesque characters is the best I've seen. Objects just seem to naturally morph into creatures from your worst nightmares. The voice overs are pretty good; you get an interactive map; hint system recharges fairly fast. The HOS are very nicely done - you get a break from having objects morphing into horrific scenes. This is a game to play on a dark, stormy night. I would suggest with the lights off, but the graphics and animation might be a bit much. I think I would actually get a nightmare, even with the lights on at night. SUMMARY: Love that this nightmare of a game actually lives up to its description. There are quite a few games which promise you a scary and nightmarish atmosphere. Some came close to delivering, but next to this one, I will have to redefine what a nightmarish game is. Some people will likely have a difficult time accepting it. Beautiful graphics and first rate story.
October 19, 2013
Wow! It Blow Me Away
Best game and story in awhile. I've never played a game by this developer, what a treat.
October 6, 2013
Good game, but not a true CE.
Based on demo. Your niece is trapped in her dreams and you volunteer to save her. You enter her dreamworld and have to figure out her fears and how to overcome them. The dream version of your niece is a scary, red-eyed wraith spouting threats. This scariness is offset by your sweet, teddy bear helper named Barry. This game is billed as a CE, but there are no achievements, no collectibles, and no morphing objects to find. A CE version of a game must have these features to be a true CE in my opinion. Extra gameplay alone does not make it. Devs need to wake up and realize this. That being said, I enjoyed the graphics and artwork. The VOs are well done and the dialogue is pretty realistic with touches of humor. The HOSs are straightforward and nicely drawn. Puzzles are of medium difficulty. There is a map that lets you jump from scene to scene without any backtracking. The hint system works pretty well. Personally, I will wait for the SE version before I buy this game. The lack of true extras makes it a no go for the extra cost of a CE, but I liked the storyline and artwork enought to buy the game as an SE. Recommended as an SE.
October 5, 2013
Creepy Children And Talking Teddy Bears Scare Me!
I liked this game but there isn't enough substance in my opinion to make this a quality CE. The graphics aren't the best but, even though the story isn't anything new, it is a good story. Emmy has become so withdrawn from society that she is in a catatonic state. Emmy's Aunt Helen has volunteered to enter Emmy's dreamscape and try to figure out what's wrong with her. We discover an evil Emmy who has turned all her beautiful dreams into nightmares, dark scary nightmares! You must try to figure out what is scaring Emmy and show her why she doesn't have to fear those things. With every nightmare issue solved, Emmy's health starts to improve. There are no collectables, no achievements and no morphs, therefor I believe this game would be better suited as a SE. The HOS are well done slightly interactive list finds. Some of the mini games were new such as several gauges that when clicked on activates a needle, when that needle reaches the green zone will light up. The goal is to have them all light up at the same time, the catch is that they all move at different speeds so you need to click on the slowest ones first. I personally think this game lacked some bells and whistles, but, it's still a good game with an interesting story, enjoy!
October 5, 2013
Cannot believe this is considered a CE 3.5 stars
full demo: -pros -vo's clear and can understand them -graphics are clear -the teddy was cute -interactive map storyline was nice and a nice change but u still have to save a family member (what else is new? -cons nothing extra to achieve no unlockables tutorial was lame puzzles not really very original the scientist that pops in can become annoying and may take away from the enjoyment of playing at least it does for me... personal thoughts the teddy character i felt was very engaging a bit of comic relief. the voice for the main characters voice was the same as in "the golden years: way out west" hmm same dev? idk as u can see by the size of the file it will not be a very long game...unless you need the sg and bc you may want to wait for the SE. but me i have gotten CE addicted LOL i did like it very much altho this does not hold a candle to the better devs like yesterdays new release but still a very nice game :)
October 5, 2013
Bring little Emmy back to reality!
This story has been done before -- get inside someone's head and cure their fears to "rescue" them. But this time it is a little girl, and she's scared of things like dogs with red eyes and spiders and mean classmates -- all keeping in character with the little girl. You are her Aunt Helen, working with a doctor, who goes inside her mind and one by one attacks each fear. When the fear is finally conquered, the scary scene switches to a pastoral one, and Emmy gets a little bit better. Emmy's mother Mary tried a similar treatment but is now in a coma because something went awry. The demo doesn't cast any light on the cause, but could it be the good doctor? The interactive map is very nice, showing what actions can be performed where. The mini-puzzles are unique -- not too hard, but not too easy. The HOS are all lists, but the scenes are nice and bright all the way to the edges of a large screen monitor. And the hint button is your friend Barry, a teddy bear you find in Emmy's room, who gives you friendly tips along the way as well. There is a bonus scenario and a strategy guide, and the other normal bonus things. However, it doesn't have any achievements or morphing objects or collections to find, like most current CE games. So while I like it, I am not sure if it is CE-worthy. It also only has two modes of play - casual and advanced. And there is also a "scary Emmy" with red eyes who seems to have taken over Emmy's dreams. She only appears once in the demo, so it is not clear how much she is involved in the story.
October 5, 2013
Arachniphobes beware!
This Collector's Edition of this game has a lot going for it. We are Emmy's aunt searching for Emmy in her dreamscapes. There are two levels of play, aspect correction for those who need it (it fit my 25 In. screen perfectly), and great lip syncing. The graphics I thought were a bit blurry, but they sharpened up after the spiders' webs were removed, and spiders' webs and spiders were plentiful in the trial time period of one hour. There were the usual puzzles, minigames, and hidden object scenes that were pretty easy overall. I liked this game, and will buy it since it is on sale today. I recommend everyone should try it before you buy it.
October 5, 2013
Fun game
This is a well designed game that is fun to play - that's the whole point, right? The story is interesting and is well told. The VOs are good even if the lip movement isn't always in sync with the words. At least they are most of the time unlike some games where the characters are just dummies with words written below them. Game play is very good - good HOS and puzzles and interesting and varied locations. The map is a jump map which helps a lot. The HINT button works well without giving away the farm. The bonus chapter is actually good, too, and like the game it is of a good length and is a good story. I guess some don't like the lack of "collectibles", which, to me, is a bonus not a detriment. Who wants the spend time looking for hidden objects during game play? It distracts from the game and is completely useless except maybe to use to give yourself a pat on the back. The same with "achievements". What a waste. All in all, this is a fun game!
October 22, 2013
AGREE WITH MOST...GREAT SE, NOT QUITE CE
I enjoyed this game in spite of myself lol. I found the story interesting and a bit different and I enjoy Hidden Object scenes, so that contributed to my liking the game. I believe that puzzles and Hidden Object scenes were about even and I enjoy that. I began playing these games when they were Hidden Object after Hidden Object with no adventure, so there are many times that I enjoy just some good HOS. I agree that the game is really more of an SE and as such I would give it 5 stars. I was torn between 3 and 4 stars and went with 4 simply because regardless of the quality or difficulty of the game, I did enjoy playing it, and that is the whole point eh?
October 8, 2013
The Apple logo is a trademark of Apple Computer, Inc.
The Windows logo is a trademark of Microsoft, Inc.