Mayan Prophecies: Cursed Island Collector's Edition
Exclusive
After narrowly escaping the ship of spirits, Coast Guard Officer Alexis and her friends find themselves lost at sea in a life raft. A sudden storm shipwrecks them on an island, and the Mayans living there demand retribution for the artifact stolen from them centuries earlier. Alexis must return the artifact to its rightful place in the ancient temple before the Spirit of the Volcano causes the entire island to break apart. A young girl may be their best hope to appease it, but a shadow from their past could bring about their doom – and can they stop the evil poacher from escaping his fate? Join the crew and save the island from destruction in Mayan Prophecies: Cursed Island, a thrilling Hidden-Object Puzzle Adventure game!

This is a special Collector's Edition release full of exclusive extras you won't find in the standard version. As a bonus, Collector's Edition purchases count toward three stamps on your Monthly Game Club Punch Card!

The Collector's Edition includes:
Bonus gameplay chapter
Bonus Mahjong gameplay
Achievements
Screensavers
Wallpapers
Game System Requirements:
OS:

Windows XP/Windows Vista/Windows 7/Windows 8

CPU:

1.6 GHz

RAM:

512 MB

DirectX:

8.0

Hard Drive:

1433 MB
Game Manager System Requirements:
Browser:

Internet Explorer 7 or later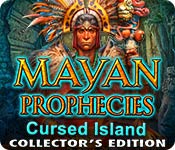 The Big Fish Guarantee:
Quality tested and virus free.
No ads, no adware, no spyware.

Reviews at a Glance

Mayan Prophecies: Cursed Island Collector's Edition
0
out of
5 (
0
Reviews
Review
)
Customer Reviews
Mayan Prophecies: Cursed Island Collector's Edition
33
33
Great Sequel
Every scene has a Morphing Object and a "collectible" Hummingbird, the 1st time through. There are 40 Hummingbirds and 40 Morphing Objects to gather. I'm a regular player and playing all of the HOPs and all of the Mini Games, plus the Bonus Game took me over 8 hours. I thoroughly enjoyed the game, and it had a nice flow. The graphics were clear and the music fit the game theme. Once the Bonus Game is completed, you can play Mahjong games as many times as you want. I feel like I got an extra Mahjong game along with my CE purchase. Thanks to the Developers for a great game.
October 7, 2013
Way to go!
As second Mayan Prophecies installment, it is great! I love the fact that you can play in three different difficult modes. Or use the custom mode and pick and choose what help you want. The puzzles HOS offer a challenge. And you don't always know where to go and What to do. There are also other world objects and Hummingbirds to find as a bonus.
October 3, 2013
I Loved this HO game!!
I really appreciate a hidden object game that has a story, and stunning artwork. This game has both! I am partial to mixing it up, showing imagination, by combining jungle and water and town stories, all in one game! Well done- loved it!!
October 4, 2013
FANTASTIC!
This is one of a few games where I have left the music on!! Great color, animation, sound and voice overs. Loved everything about this game. Can't wait for the next in this sequel. Thanks BF.
October 3, 2013
Enjoy the continuing story.
I think it is very enjoyable, I like the changing objectives. Will be purchasing
October 3, 2013
Wow Factor Missing!
I loved the first game of the series and really looked forward to the second installment. However after having played the demo, a feeling of slight disappoinment was my immediate reaction. If you recall, you narrowly escaped the ship of spirits along with your two companions and find yourselves adrift at sea on a life raft. Just like Gilligan and the crew of the SS Minow, you find yourselves shipwrecked on an island which is inhabited by Mayans who demand that the artifact is returned to them. Later they realise that only you can help them to stop the Spirit of the Volcano before it causes the entire island to break apart. Your adventure begins! Similar to the first game, the main menu offers three modes of difficulty that can be customized and offers a choice in settings. Game features include a journal, a map that does allow you to travel and an artifact that requires you to find its parts and inturn each part will relate the history of the Mayans. The graphics are bright but not as sharp as I would like but I did like the use of colors. Artwork is good, hand-drawn scenes that has a slight grainy qualty to it. Voice-overs and sound effects are not the best I have heard and you have the familiar sounds of drums and tune in the backgound. Gameplay is standard HOPA with alot of back-tracking involved and that is where the map comes in handy. HO scenes are interactive and really crowded but you do have the option of switching to a game of Mahjong. I actually found myself opting for Mahjong as I couln't be bothered to look for items amongst the rubble. Mini-games that I came across were generally interesting but not as challenging as I would have liked. You have your extras that include morphing objects and also mayan statues that when clicked, turn into humming-birds which need to be caught. There are also a list of achievements that pertain to the story. As a sequel, I personally found that this game does not hold a candle to its predessesor. There was something missing, whether it was the storyline or the gameplay, I found it rather dull and too mechanical. It simply did not have the WOW effect that I had experienced in the first game. Perhaps it is an off day for me or maybe I am just getting tired of the same mechanics of these games. However, I still am giving it four stars because it still has merits and it is a sequel which will prompt me to buy in order to find out the outcome of our heroine's adventure. Regardless of the fact that I am not overjoyed, I do enjoy the Mayan storyline and will add this to my collection.
October 3, 2013
2nd in Mayan Prophecies series: A solid game
There's lots to see and do in this game: collect morphing objects, collect hummingbirds [a little trick to find them makes it more interesting], interactive HOs and Map [which shows one's location as well as where there are still or new actions needed - sort of a "cheat sheet"]. The 4 modes of difficulty include a "Custom" mode, which I really appreciate. I miss this on other games, as I like somewhere in between two modes, it usually seems. There are the usual Extras including the requisite Strategy Guide. I was surprised that when I clicked on the Extras icon at the very start, I was able to see some of them; not the norm on Demo editions... I could even play the Mahjong game, which is an alternate way to complete a HO during the game -- I don't know if I've ever come across this before - not that I remember, anyway! Ok, you may be thinking, then why just 4 and not 5 stars? Even tho' there are plenty of interactions, etc., I just couldn't "get into" the game. There were very few drawbacks for me, but I guess the storyline just wasn't as captivating as other games released in the past month. The graphics are nice, being colorful watercolor-type scenes. The music was decent and unobtrusive; the vocals in the cutscenes, while a little long for my taste, did move the story along. [The length of the opening b/w movie was too long, but for the first time around I always let the whole thing play. Naturally, a skip for future plays, and gladly!].* Overall, a nice game to play for the first hour; I will have to decide if I "need" it for my collection -- but I'll wait for the SE version to come out to compare, for certain. I'm sure there will be others that love this game - I'm just not one of them! Definitely give it a whirl, it can't hurt to try!! :) *Although this game is 2nd in a series, it's not necessary to have already played the 1st one, MP Ship of Spirits. The majority of the intro for this game, is a review of what the characters came across in the first game. This made the intro long. A nice review, but unnecessary, IMO.
October 3, 2013
Can You Survive the Mayan Prophecy?
After your harrowing escape from the Ship of Spirits, you and your partner Gregory, along with the rescued cabin boy find yourselves adrift in the ocean. Your boat is swamped by an enormous wave and it seems all might end at that moment but Gregory saves the day. You awaken to find that you are on the beach of a strange island and this is where the adventure begins. When the first Mayan Prophecies was released it was a game that set the bar for what has now become fairly standard in most HOPA games by including a custom mode of gameplay where you can select exactly how you want to play the game ? a feature I love. Unfortunately the demo of this game seems to indicate a game that falls short of that innovative, wonderful first Mayan Prophecies game. On first impression, the graphics do not seem nearly as crisp or as intense by comparison. The artwork is very colorful and given the location I think it promises quite a visual treat, but there is not a lot of consistency with the graphics as some of them seem grainy while others appear very clean and crisp. The sound package is quite nice and there are voiceovers which are lip-synced: something I appreciate in a game as it adds a bit more reality to the characters. We have a diary that is located on the lower left of the screen along with the interactive map that you will receive shortly after beginning the game. With all the backtracking required in the game, the map is something you will use quite frequently. The HOS are interactive but have lots of items to sort through to find what you need. What I really like is that we can play a game of mahjong rather than search through the clutter and, since I love mahjong, I found myself just choosing that option at the beginning of each HOS. The mini puzzles are similar to those found in Ship of Spirits and start out easy to solve but I am sure they will become more difficult as the game progresses. The basic mechanics of the game are similar to those in Ship of Spirits and we, once again, have an artifact that helps us in difficult situations. We also have the other artifact that tells us the history of the island as we find its missing pieces. Another treat in this game is that we have morphing objects and hummingbirds that are hidden in different scenes in the game. The hummingbirds are a bit tricky to find but once you figure out how they are hidden it?s not too difficult to find them. The rest of the CE Content is standard fare with nothing earth shaking included. Overall the game has a lot of promise. It comes to us from a developer whose games, although not frequent, are of excellent quality and provide hours of entertainment. Since I am a big fan of Elefun Games, this was an instant purchase for me and I am sure that it will live up to my expectations. As always, I recommend you try the demo to see if this game is for you.
October 3, 2013
Cursed Ships Are Better Than Cursed Islands!
This is a continuing saga of the Mayan Prophecies but they do a nice job of filling in the story for newcomers. When they escaped the cursed ship, we assumed all was smooth sailing until their boat ran out of fuel and a huge wave nearly drowned them. Now they are on a cursed island and their troubles soon began! It's hard to make a sequel that can stand up to the original and unfortunately this one missed the mark as well. Don't get me wrong, I liked this game, it just doesn't come close to the previous game. The graphics are okay but nothing stunning and the voice overs are good and I have no complaints with the music. As with the previous Mayan Prophecies game you have lot's of achievements and as you discover Mayan relics throughout the game, a hummingbird will fly out and you must catch 40 humingbirds in all. The HOS are interactive list finds and the items are fairly easy to find. You can opt for a game of mahjong if you want. There aren't as many mini games as I expected but they were typical puzzles such as sliding shaped puzzle pieces along available path's until they are in their matching slots. I usually love morphing or beyond objects, but I was a little disappointed in the morphs in this game because I thought they were way to obvious, but perhaps they get more difficult to find as the game progresses. To sum it up, this is a good game to play, if it wasn't a sequel to a fabulous game I probably would have loved it, instead I feel a little let down. Enjoy!
October 3, 2013
Pretty good game.
Based on demo. This game picks up where the previous Mayan Prophecies ended. You and your two friends escape the doomed ship just to be marooned on a Mayan island. You need to return an artifact in order to save the Mayan people and the island from an impending volcanic explosion. Pretty standard stuff. The graphics are okay. The color palette is a little pastel-y and has a faded quality. Interesting choice from the devs. There are morphing objects to find and hummingbirds to collect. Achievements are also included in the game. The HOSs are pretty clear and if you like you can change to a Mahjong game instead. There is a journal and a map which lets you jump from one scene to another without backtracking through the scenes. The cutscenes and VOs are just okay---the acting seems stiff. This is an okay game. Nothing too exciting but pretty well done. Try it and see what you think. If I buy it, it will be the SE with a free coupon.
October 3, 2013
The Apple logo is a trademark of Apple Computer, Inc.