Sable Maze: Norwich Caves
Exclusive
Congratulations, Professor Edwards! You've joined the faculty of the oldest and most-respected university in the world. You've barely been teaching for a semester when tragedy strikes during the fall break. Four of your students have gone missing while exploring the dangerous caverns under the campus! Is the legend about the Labyrinth under the campus actually true? What's causing the abnormal physics in the water down there? You don't have much time, because the rain keeps pouring down, flooding the caverns. Dig deep and keep your head above water in Sable Maze: Norwich Caves, an intriguing Hidden-Object Puzzle Adventure game.
Game System Requirements:
OS:

Windows XP/Windows Vista/Windows 7/Windows 8

CPU:

2.5 GHz

RAM:

1024 MB

DirectX:

9.0

Hard Drive:

796 MB
Game Manager System Requirements:
Browser:

Internet Explorer 7 or later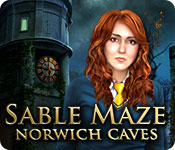 NEW299
The Big Fish Guarantee:
Quality tested and virus free.
No ads, no adware, no spyware.

Reviews at a Glance

Sable Maze: Norwich Caves
0
out of
5 (
0
Reviews
Review
)
Customer Reviews
Sable Maze: Norwich Caves
18
18
REALLY TERRIFIC SEQUENCE
SUMMARY: The first Sable Maze was amazing (I'd give it more than 5 stars if I could). Norwich Caves isn't quite up there, but it's still a really terrific game. Logical gameplay and refreshingly unique story. Definitely worth buying. HOS/PUZZLES: Ratio of HOS to puzzles is just right. The HOS are uncrowded and sharp. I like that everything requires some sort of interaction to cross objects off your list. There are even puzzles within some of the HOS. Puzzles are greatly varied; none are too difficult - you mostly have to figure out how and where to get the missing pieces. Puzzles are nicely tied to the story. GRAPHICS/SOUND: The environments are carefully crafted for the right atmosphere, with a lot of attention to detail. Caverns can be quite somber and the graphics bring that out without being drab and dull. Sounds can be individually adjusted, are very realistic and make you feel that you are right in the scene. Voice overs are natural sounding (like real actors) and appropriate to the scenes.
September 27, 2013
Great fun Hidden Object Game
As a non hearing gamer I found this a great game is easy to follow story line as good as any of the collectors editions I have played lately and I liked the different HOS where you have to find one item to use on another which is very clear the mini games quite challenging but logical in all a great game thank you
September 29, 2013
YAY! a Thinky Game!
What an interesting twist on Hidden Objects. Use your little grey cells and puzzle through the action sequence to find the final required object. Game premise is very interesting: find your way through a hidden maze and rescue the students; find the answer to the secret of the maze. Nice clear graphics and a find-your-way-map. Got credits to spend? Buy this now. Can't rate it any less that 5. Not sure? Give it a try. What's there to lose but a good time? Haven't clicked on help yet. Taking my time and puzzling along.
October 2, 2013
Great Hos's
This was a good game. I enjoyed it a lot. The best part were the hos's...the objects were all connected and it was enjoyable to not only find an object but figure out how to use it. I thought they were outstanding.
October 7, 2013
a good game that makes you think a little bit
played casual, low sound. hints take a little time to charge, 30-60 seconds. same with skips. neither not so long. i actually got through some of the mini games which is unusual for me. hints system is good and there is an interactive map. no diary, but the information you need is in the inventory. it sometimes applies itself such as a code for something. the woman in the beginning got on my nerves because she was whining a lot. i know she wanted to find her friends but she wasn't helping just wanted you to do it. you are searching for her friends that had disappeared along with an older man they were there helping. the "master of water" had been sealed for a long time but someone let him out and he was determined to drown the area and you needed to see him captured and sealed up again. sequel...there have been others in this series and i don't see why there won't be more. the graphics were clear as well.
October 8, 2013
Original HOS in a well thought out story.
The storyline is intriguing enough, and again, developing slowly. The visuals are quite good, and the puzzles fun. The HOS are less about finding objects as finding one, and then using it to find the next one, and so on, making it a mini adventure of its own. Hope to see more of these games.
August 20, 2014
Extracurricular Activities Under The Campus
BASED ON DEMO FIRST IMPRESSIONS I liked this game immediately. It doesn?t start with the hype of many other quality games, but it has an intriguing story that promises some chills and spills. Everything about the game seems to be good, not great, but there?s nothing wrong with good! SIGHTS & SOUNDS The graphics are excellent, I enjoyed their style and they are very clear and detailed. The cut scenes are really good. I was particularly impressed with the way they used of water and animations thereof. The sound track was nothing special, and very quiet compared to most games. But I did like the way it would suddenly change. WHAT?S HAPPENING A nutty professor (what other kind are there?), a bunch of resourceful but innocent students, and us left to find them all in the maze under the university. I appreciate the change of pace with this one, and the thought-provoking difficulties presented by the connections between the history of the university, the subjects the students are studying and the strange unnatural deluge of water that threatens everyone. This story definitely has me wanting to know what?s going on. MAKING PROGRESS The gameplay is evenly divided between mostly original puzzles/mini-games and HOPs that are a variation of the progressive silhouette ? these are still a list, but of the ?find and use? type. I found the instructions to some of the puzzles are bit confusing. Adventure gameplay is a bit tricky, I found myself needing help more than usual. There is an interactive jump map, which is good. There is no journal, which is bad. I could have used one. There is a directional hint and skip doesn?t take too long. I did need to skip a couple of puzzles in the demo. FAMOUS LAST WORDS I think this is a good SE game. It has the production qualities, a good story, interesting gameplay. The CE has all the usuals (including very interesting collectibles and trophies), but I was not tempted to buy it. I think the value is in this version.
September 27, 2013
THE WATER IS RISING!
The science professor has gone mad! Shortly after the Professor opens up the Norwich Caves under the university, his 4 top students disappear...or have they? Are they simply pawns in an evil scheme? This is a good game with lots of areas of interest but at times becomes a bit mundane. The HOS are progressive list finds where you must find one item and use that item to obtain the next and there are a lot of mini games some of which are new. The story is interesting and the graphics are well done and there are plenty of things to find in each area although there is a lot of back and forthing to be done so you will want to use the map for traveling, enjoy!
September 27, 2013
Interactive Jump Map a Big Help
Playing the demo, I was immediately hooked by the story and the ambience of the university and bought the game on the 50% sale. I like everything here except the progressive HOS. I found them to be somewhat confusing and needed to use a hint more than usual in order to know what action to take to obtain the next item. Others who are more experienced with this type of HOS may have no problem solving them. So far I have used the walkthrough once, and the interactive map has been not just helpful but necessary, as it isn't always evident where to go next. Nevertheless, I'm enjoying this game a lot. I will just say ditto to everything JustTheFacts said in her review and also recommend it. Good, fun game and worth the price.
September 28, 2013
Good game
I played the first in this series, and liked it more than this one. Having said that, it is still a really good game. It is not as long as the first one. I play on Hard Core, so I get no hints, and I did get stuck a few times because I had missed an area to explore (like under a curtain, or in a pond.) The storyline could've been so much better. The premise is good, but then it doesn't really develop. Maybe the CE does more, I don't know. Like the first in this series, the HO scenes are repeated only once, which I like. I really hate having to go back through the whole game to find a repeat HO to get what I need. There are many HO scenes, but a lot of adventure and puzzles in between. I usually find that HOPAs are mainly HO not much PA ;) Very nice graphics, puzzles are not your run-of-the-mill ones, yet none are hard. Overall a good game!
October 4, 2013
The Apple logo is a trademark of Apple Computer, Inc.