Sea of Lies: Mutiny of the Heart
Exclusive
A pirate's been executed, and the Baron takes a hostage to ensure you'll help him track down the treasure he left behind. Only it's not the plunder he's looking for...

Based on the true story of a famous pirate, Sea of Lies: Mutiny of the Heart takes you on a rollicking adventure as you track down a pirate's treasure and find out what really happened between him and the Baroness.
Game System Requirements:
OS:

Windows XP/Windows Vista/Windows 7/Windows 8

CPU:

2.0 GHz

RAM:

512 MB

DirectX:

9.0

Hard Drive:

661 MB
Game Manager System Requirements:
Browser:

Internet Explorer 7 or later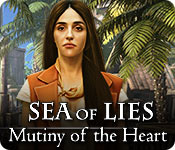 NEW299
The Big Fish Guarantee:
Quality tested and virus free.
No ads, no adware, no spyware.

Reviews at a Glance

Sea of Lies: Mutiny of the Heart
0
out of
5 (
0
Reviews
Review
)
Customer Reviews
Sea of Lies: Mutiny of the Heart
25
25
Short but Sweet
I really enjoyed this one. Straight HOPA, with a match 3 option for HO scenes. For me in casual mode, 3.5 hours. After hours and hours with other games that are nearly impossible to follow, I found this one very refreshing. You have the things you need when you need them and know where to travel. No brain drain. It was a nice way to spend a Sunday morning with a cup of coffee (or two)!
September 29, 2013
Good fun game just too easy
The graphics are really great, Has voice over and a lot of dialogue. This game is really easy to play and is predictable. Not much for running all over the place either which is good. The HOS are good and easy and you can switch to match 3. Also are interactive which was fun. hint button works good if needed. Good all around game just too easy to play.
September 29, 2013
Really Enjoyable Game... Even If The Story Did Annoy Me A Little
BASED ON COMPLETED SE GAME ***This review may contain spoilers for the story*** Now that I've finished Sea of Lies: Mutiny of the Heart, I'm impressed, but annoyed at the same time. I'm impressed at the game in general, but some things just annoyed me far more than they should. That being said, I'm still glad I got it. I did enjoy the story, even if it did have a few flaws. The way I see it, Eipix are kind of similar to me: Good at beginnings, middle is average and then the end is good again. The start was really good. It got me interested as soon as it started. The beginning of the story had quite a few unexpected twists that really got me excited. The end of the demo left me on a cliffhanger and I was desperate for more, so I bought it. But then, that's where the story went downhill a little. Everybody kept betraying me all the time. I mean, you've got to have one person betray you, because there needs to be a villain, but everyone? Come on. I'm entitled to at least one ally, aren't I? There's a good twist, but this was beginning to get beyond a joke. All the betrayals annoyed me, and I nearly quit the game out of frustration, but I stuck it out. I'm glad I did, because towards the end, the story began to get good again. Just when I thought I'd had enough of the twists, the game saved the best two until last. There is a debate going on as to whether this story has a conclusive ending or not. Some say yes, some say no. I say yes. The story may have a strange ending, and is not 100% dead on-conclusive, but it's still conclusive. It's completely obvious what's going to happen after the final cutscene, so there's no need to play on. The gameplay is pretty good. This is one of those games that had more attractive gameplay than storyline. The HOS are quite good and I enjoyed playing them. They were junkpile, but were a bit different. They included extra-step items, but also included a mini HOS in each one (the item indicated in green was the mini HOS). These mini-HOS came in silhouette form and were very enjoyable, adding extra length to the HOS. There are quite a few HOS in the game, which was enjoyable, however, they did cram on a few towards the end of the game. In the end of the game, there appeared to be one in every scene. There is the option of a match 3 instead of HOS. The puzzles appeared to be less frequent than the HOS. The puzzles were a little bit challenging and I had to skip most of them, but I did enjoy attempting them. What I would've preferred would have been a mixture of hard and easy puzzles, so I could at least attempt some. At the start of the game, you're given a necklace. There are 3 parts of the necklace to complete, each one giving details about the 12 labours of Hercules. I still have no idea what connection this has with the story, but it is needed for a puzzle later on. This particular puzzle was really fun to complete. There are also objects that require you to add on another part to complete (indicated by a green square around the object and a +). This didn't appear too often, but it was a nice feature. Other than that, I'd say this is your average HOPA. It's got all the usual stuff: A diary, map, etc. Experienced players should have no trouble navigating through the game. The graphics are pretty good. They're well drawn and detailed and every scene is clear. The character designs are especially good. They look a lot like real people. Overall, everything was crystal clear in this game. The voice-overs are standard. I have no comment. FEATURES 3 modes of difficulty: Casual, Advanced and Insane. Differences are hint/skip recharge times and sparkles. I played Casual. Hint/Skip- both recharge fairly fast for their difficulty. The hint is helpful and is available outside HOS. Diary- used quite often, keeps track of events. Map- The map is interactive and helpful. It lets you know where there is a task to do, but doesn't let you know if an area is completed. + Objects- These are the objects that require another part to complete. Not used often, but nice. WHAT DO I MISS OUT ON IF BUY THE SE? Bonus Chapter- Some say this is needed, but I say it's not. Even though it doesn't show it, it's obvious what happens after the final cutscene. Strategy Guide Achievements The usual stuff like wallpapers, music, etc. Replay HOS&Puzzles Making of- See some pictures of the team making the game. WHICH IS THE BETTER BUY? The SE by far. There's just not enough in the CE to make me want to buy it, and the BC isn't needed anyway, in my opinion. I'm happy with the SE. Overall, this was a decent game. It wasn't the best I've played, but it's certainly a lot better than others. This is one of my favourites from Eipix. It earns a well deserved four stars. It would get a 5 had it not been for some parts of the story.
February 14, 2014
Well Shiver Me Timbers
Such a fun game to play especially knowing it was based on true facts. Interesting to read of the myth of Hercules and the 12 labors. Clear and colorful graphics along with great character development. Adding the silhouette aspect to the HO scenes was fun as were the mini games. They were not too difficult, but different enough to be enjoyable. There was lots of action and things to do, one would never be bored with this game. The only thing I found annoying at times was the music. It started out light and lilting then certain parts became tiresome in its repetition, especially during HO scenes. I also enjoyed having to combine items in the inventory eg: bottle with map piece, needing a corkscrew & tweezers to get it out. All in all this is a great game, full of interesting and unique aspects. A super game for those rainy, bleak Sundays.
October 11, 2013
sometime simple is the best..
Light, interesting, and calming,,All was excellent..( was alittle to easy on hogs?hos?.. But I was playing on casual mode. My preference...will buy, Tks..
September 29, 2013
Review
a nice to play HOG, a very good Hint, a Strategy Guid is not needed. To many HOS's scenes but the cursor does not freeze and you can good click through. Don't like HOGs where the cursor always freeze. A nice story a very good graphic and sound make this game good to play. Had some fun with it.
October 21, 2013
Sweet Little Game
I really enjoyed playing this little game. Although it is short, it was kind of a relief not to run all over trying to figure out what to do next. It was fun, even though relatively easy. The hint refills quickly, if you even need it. I used it to see how long it took it fill. The map is really helpful and interactive. The visuals were fantastic. The graphics were clear and the sound was excellent. I admit, I did have a little problem finding a few of the items in the HOS, but probably more my eyes than the graphics. The music wasn't irritating and was right out of any pirate movie you have ever seen. If you prefer you can play a match 3 instead of looking. It was kind of fun to do too. As I said, it wasn't difficult and proof is I only skipped a couple of the mini games. I just didn't understand what I was to do in most instances and others I just wanted to get it over with. I won't bore you with the story line. You can read about that before you play it. The story was interesting and someone mentioned in the CE version, there was a better ending, but this ended just fine for me with the ladies racing.. well sailing back to save the boy. I just know those two cooked up some plan to get even with the Barron, but I can leave that to my imagination. All in all, this is a good game for a relaxing afternoon. I didn't keep track how long it took me to play, but it was long enough for me. I definitely recommend this game, unless you are a die hard adventure fan and then you might not care for the easy flow of the game. I bought it.
October 12, 2013
Completed Game - Relaxing, O.K. Game
I was really in the mood for something simple and relaxing with a pleasing environment, so this game fit the bill quite nicely. It is easy and flows along without much effort. No track shoes needed here. The artwork was quite well done, each scene was interesting. The music got a bit boring after a while...and the "TaDa!" at the end of every puzzle or HO scene became so predictable that I was singing it myself. I'm in the camp of those who were a bit disappointed with the ending, especially since it was based on a true story. I don't want to have to make up an ending that apparently actually - really happened and sort of feel that the CE should have advertised itself as the "complete story"...not a complete game with a "bonus". Those minor complaints aside, I had a nice relaxing time playing this game and would recommend it if that's the kind of thing you're looking for.
October 19, 2014
Differences to the Collector's Edition... :)
Played the CE and tried this Standard Edition to find any differences: You should know, that this Standard Edition leaves you with an open end. The Bonus-chapter of the CE is continuing the story! Other mentionable extras, offered ONLY in the CE: 45 map-pieces hidden throughout the game, achievements, replayable hidden-objects-scenes and minigames, strategy-guide. Very detailed and clear graphics, marvellous cutscenes, characters are very good animated. Intriguing story? Facts: 3 modes to choose from (changeable during the game), 5 chapters, lockable inventory, map shows you available action and takes you there, direction giving hint, respectively opens a portal for fast travel, detailed journal. There are 17 hidden-object-scenes (only 1 played twice). All slightly interactive from list plus 1 item, indicated in green, which can be zoomed in providing an additional Silhouette-HOS. You may switch into match-3 instead of playing a HOS. 16 minigames to play. Every single one on the easy side, like Sudoku, Slider, Rotation, Memory, Puzzles, direct light beams? Game ends after approx. 3 hours in the 2nd mode unfinished (therefore only 3 stars for the Standard-Edition?) I recommend the Collector?s Edition? :)
September 30, 2013
Beautiful, but...
This was just a beautiful game. Some of the other recent games had graphics I just didn't like, fake colors, weird lighting, just not easy on the eyes. This was the opposite. Great graphics made me watch all the way through the cut scenes. Great characters, lip movement and good voice overs. HO scenes were a bit easy and you have the option for a Match 3 game. But on easy level, the Match 3 flashed the tiles you were supposed to move and didn't like that. But the games is way too short. I finished the demo with 10 minutes to go. A look at the walkthrough showed me you would be 35% through the game in an hour and I don't like to buy games that don't even last 3 hours. So I'll probably wait until it's a DD. That's a shame for a game as good as this. The last game by this dev was quite a bit longer.
September 29, 2013
The Apple logo is a trademark of Apple Computer, Inc.