Dark Sisterhood: The Initiation
Exclusive
After receiving a letter from an old friend, you start a journey to the remote island of Cold Peak, a place with its own traditions where people observe a forgotten way of life. In this village ruled by fear and arcane traditions, you are drawn into a web of ancient cults and murderous deceit, where villagers are bound together by the law of silence. In order to save a little girl's life, you will have to unveil the mystery surrounding a cruel witch-hunt and the events that triggered it. Gain the confidence of the secretive people of Cold Peak in order to get closer to the truth and save the innocent.
Intriguing story and immersive atmosphere
Reveal an ancient power and discover the truth of Cold Peak!
Game System Requirements:
OS:

Windows XP/Windows Vista/Windows 7/Windows 8

CPU:

1.6 GHz

RAM:

1024 MB

DirectX:

8.0

Hard Drive:

842 MB
Game Manager System Requirements:
Browser:

Internet Explorer 7 or later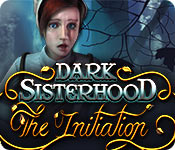 NEW299
The Big Fish Guarantee:
Quality tested and virus free.
No ads, no adware, no spyware.

Reviews at a Glance

Dark Sisterhood: The Initiation
0
out of
5 (
0
Reviews
Review
)
Customer Reviews
Dark Sisterhood: The Initiation
54
54
A darn good SE HOG/HOPA, that isn't a SE of a CE!
After reading many bad reviews, and calling this HOPA old school, I was scratching my head looking at the screenshots and watching the video! Since when is "Old School" a year or 2 ago?! I had to try for myself, and as I knew I would, I loved it! The graphics and storyline, are great! A teeny but pixelated, but much better as you go further into the game. (As I played I thought to myself..Am I playing the same game here?!) The opening scenes and voice overs are top notch. Nothing at all like most "Old school games." You play a friend of a perscuted "Witch" who must save her Daughter Lily (My DDs name, how endearing for me!) There is a diary and a Map. You have an inventory and it plays much more like a Adventure that a plain ol HOG! You can talk to people you meet along the way, so the voice overs continue in gameplay not just the opening scene. Some of the Mini-Games quite unique and I liked them, even though they're not my favorite part of a HOG. So that says a lot! I had no problems clicking or placing anything and bought this up in a snap! At 3/4 of 1gig again, this is no way like the old games that were 100-200MBs or even less! I'm thrilled to see a well done SE that is NOT one of a CE! My PCCs can be used, hooray! We've seen quite a few SE HOGs like this lately, so Mine are not expiring or gathering dust anymore. Even if I did not have one, I'd still buy this game, or spend a game credit on it. The only conclusion that I can come to, as to why some high quality SE games (esp HOGs/IHOGs/HOPAs) are being given bad reviews; is that they are being compared to CE games. No there is no Bonus Play, Screen Savers and all that. But that's not what is in a TRUE SE game! I own almost every single HOG on this site, including CEs. To me comparing a CE to a TRUE SE is Apples and Oranges! Also, in my opinion, "Old School HOG/HOPA" means, it is a straight one; no story, or a small one, no voice overs, story animated scenes and is 5-6 years back. Even those I still enjoy every now and then, when I want to just relax, not look in a SG or need a walk through. But, this is NOT one of them in any way at all!! Speaking of, I found the game to be of a fair challange (and I consider myself an Expert level player), without too much hand holding. You can choose a from a casual (hints refill faster, skips and sparkles) or Advanced (No skips, slow hints and a random click penalty), so you can play the game as you like. It filled my laptop screen just fine. Oh, and NO, my screenname has nothing to do with my rating of the game. Although, just as some really like Farming, Romance or Dash etc etc game Genres.. I do love a good "dark tale" and themes of Magic and Withcraft, esp based on the History of the "Witch Hunts", also Murder, Detective Mystery, Fantasy, Asylum or "Occult" (I deeply dislike that word and think some great games, have gotten a bad rap, or just outright slammed due to it's use.) Yes the game/plot contains some Magic/Spell/Witchcraft/Dark themes. Sort of reminds me of several "Salem" story SE HOGs I played, and it's graphics are just as good if not better then they were! Some of thhose didn't even have the well done voice over's this game has. Again, Old School it is not! In fact, this game could have been a CE with a little more work. If a must compare, from "back in the day".. lol that being the first CEs, or a few great SEs of several HOG "Must Haves" we all loved before CEs were offered twice a week. Some of which, became and lead to great CE series games. This could be one of them. I can't wait to see if the ending leaves room for a sequel! My hats off to the Developers, that I've not seen before. I hope to see more games from them!! But. Don't let me be your guide. If you enjoy a good HOPA, with good graphics, voice overs, great charectors, a well done story (I thought the storyline scenes were very high quality for a SE) and have PCCS to use.. You'll def want to give this one a try and decide for yourself! Unless the theme bothers you, I'm betting many find this a great SE game and use up a PCC that so many of us have to use! Though I am in sheer heaven and hope to see more SE HOGs like it, my PCCs are always waiting for one and I'm giddy with delight to see one as a TGT! If you can't tell already by my review (LOL).. I highly recommend this game!! I'm leaping with joy to have a SE HOG/HOPA come out on a Bonus Punch Monday that I can use a PCC on! Thank you, thank you, THANK YOU again to the Developers!! Great Job on a HOPA! Please keep more of these HOPA SEs coming, esp in this Genre! There are a lot of fish that enjoy them and are hungry for more!! Happy Gaming Fishes! ;)
October 1, 2013
Beautiful and unusual
Based on the trial. A definite buy for me. A change from the usual HOG mechanical clones, with an engaging story with a mystery. Her friend is not a witch but there is evil magic afoot. Truly spooky. didn't want to stop playing. Hand drawn art.
October 1, 2013
I liked this game
The natural and Quirky graphics are outstanding - allthough the hidden object scenes really are not too good. I loved the choosable ending where I decide how the game ends.
February 18, 2014
Keep an open mind...
I try not to often review demos, and generally when I do it's because something is so wrong or unappealing that I know I won't be buying it and just want to let like minded people know why. In this case I'm reviewing Dark Sisterhood:The Initiation just after finishing the demo because I'm not sure it's getting a fair shake, so before too many pass it up due to bad reviews, I'd just like to point out some things you might like about it. If you've gotten used to and appreciate all the bells and whistles of the series we've all come to enjoy here, then you might overlook a game that isn't quite as slick,from a dev you haven't heard of, but could just still possibly be a good time if you let go of the expectations of some of the recent games. I own hundreds of games here at BF and am sometimes surprised at finding some little gem many seem to have passed over. This may be one... maybe not, but it's a chance I'm taking because the story line is interesting. You've been summoned to assist a recently executed friend in protecting her daughter from the same fate. The charge is witchcraft. There seems to be more going on in the town than just accusations as the residents are all affected by a mysterious dark force and requesting assistance with their own personal problems in exchange for information to help you on your quest. Another reviewer cited how ridiculous that was, but come now, it's no more ridiculous than the insane fantasy lands that appear here every day where tiny animals talk and there are no real world physics to deal with. It's a tad slow in spots, admittedly, and the environment isn't all fuzzy and cute. The dirge like atmosphere does rather fit the plot and the HOs are varied from putting objects together to finding items, even if not interactive or horribly clever. They are at least appropriate items for the period (unlike a Bic lighter in Lincoln's office I saw this last week) and it does create a mood and maintain a good pace and sense of suspense. If you're like me and for you it's all about being lost in a game and a plot worthy of pursuit, I think you'll find some sympathy for your late friend and want to help her out in rescuing her daughter. Try to keep an open mind and at least give the demo a try. I'm using a freebie on it. I honestly don't expect every game to be a Blue Tea or Elephant and think new developers should be encouraged. This one just may surprise us. If I'm allowed to edit, I'll return to let you know how I feel at the end of the game. It's worth a shot for me on a rainy day while I'm a little limited in other things. I'm really fairly critical of clunky games when there are so many out there to choose from, but I also believe in being fair and not expecting (or even wanting) all of them to be alike, and currently the best rated all seem to be created from the same engine, all have morphing objects and collectibles and jump maps. Give me a good story and I can do without all of that. I want to be entertained, but I don't think there is only one way to do that. I hope you don't either.
September 30, 2013
Feels Kind of Clunky, But Not a Bad Game
When I saw the so-so reviews on this game, I just had to try it. Based on the Demo: The graphics in this game are a mix of painted images and what looks like photographed textures. The animations are awkward and the characters don't look entirely natural, but they are consistently unnatural, so they add to the ambiance. At first I thought the story would be a standard witch hunt style plot, but the makers added a little twist (an ominous outside force) that kept me curious - and kept me playing. Though there are an awful lot of hidden object scenes, they won my vote on two points: I couldn't find everything in 30 seconds, and there were mixes of whole objects and fragmented objects. I really love fragmented hidden object scenes. (Just a note: I was disappointed that I had to find a kettle in the very first hidden object scene. Have you ever played a game where you didn't have to find an iron, a kettle, an umbrella and a butterfly?) Instead of a general course of finding and using objects, this game divides it neatly into quests. You know what your supposed to be doing, so everything you find will probably be related to a given quest. If real life hadn't demanded my attention, I would have played the full hour. I think this is a pretty good game.
September 30, 2013
This Game Deserves Better Reviews!
The story opens with you going to help an old friend on an unfriendly island beset with 'witchcraft'. As explained by previous reviewers you have to 'help' the villagers along the way in order to progress in the game. For me, this is part of the FUN! The characters are so amusing, albeit old style hand drawn. They do talk to you. I had no trouble finding articles needed on my laptop and when I clicked on 'wide screen' it did fill my whole screen. The game has no little 'extras' that we've come to expect but the story seems like a good one with a good flow and I for one will buy it. There is a certain suspense attached to the game and I want to see how it turns out. Sometimes, less is more.
September 30, 2013
Much better than expected. A buy for me.
After reading the many not so good reviews I was not sure that I would even finish the demo but to my surprise I liked the game very much. I will admit it is a clunky game and could use some polishing to run a bit smoother however it is not so bad that I would not purchase the game. I really like the artwork and story line. It is dark and creepy just like I like my games. I know many are complaining about some bells and whistles not being there but I did not mind it at all. There are many games with these things like morphing objects, maps, interactive HOGs that I do not like as much as this one. This is a buy for me as I really want to see how the story ends.
October 2, 2013
A Very Good Story
I really got involved in the story line and remained so throughout. Many games seemed to get too interested in puzzles, HOs, etc., at some point during the game and the story becomes forgotten, but this one does not. I had no problem with the graphics, and the voiceovers were good. You mostly complete the action in one area of the town before moving on to another, so items don't stay in your inventory for long. I completed the whole game because I wanted to see the resolution. It looks as though there are two endings to choose from--an interesting idea. I like it very much.
September 30, 2013
Sigh......
I know I am in the minority here of liking the game, maybe, but I definitely want to give it a chance. I usually read some reviews before I submit mine but stopped after 3 because I didn't think this game was going to get a fair shake - at all. It is different if not slightly weird and somewhat disjointed until you play and finally get into that "zone". I believe it's meant to be during the time of the Salem Witch Trials as indicated by clothing, etc. The storyline is that you are racing to an island to rescue the daughter of your executed best friend and, in fact, in time see her whisked off by a whirlwind of roses - but to where and why? That is the crux of the game. You have to complete at least 3 quests in order to move on. After completing the quests you are given an object to help you get started in the next area. During the quests there are HOGs which I didn't find too difficult and DIYs (what I refer to as "do it yourself" items you need to get the pieces to complete). I hate those and in this game it can be difficult to tell when they've been completed - the color doesn't seem to change. The mini-games were not too difficult and I liked that the quest area was kept to a minimum without a lot of back and forth. That being said there is a jumpable map - very cool and a bush/hint button that is helpful but does take a moment or two to recharge. You will meet and chat with characters in the village who may or may not be helpful. So, saying all this, as I was playing the game I really couldn't decide whether I liked it enough to buy - did it give me that "wow" factor I look for. Not necessarily. But it did give me something else. A new and different type of game that is definitely not like the boilerplate games we've been getting lately and when the free trial ended (with 5 minutes to spare) I had hit that "zone" and wanted MORE. So, yes, I will purchase it with one of the many free codes I have because I have to know what happened to Lily, where she is and why the town is harboring ghosties and things that go bump in the night. Great for beginners. Experts probably not so much. This Glam-ma says play the free trial - you have nothing to lose but an hour of your time. I'm definitely getting it. It's just too different to pass up.
October 6, 2013
Witches and tricks
Normally, I can rely on the reviews of certain people here. However, this time I think some of the reviews are not relevant for me. Sure, this game is not as slick and shiny, with all the bells and whistles of other games, but it isn't a bad game at all. (Aside from being on the creepy side!) I thought the artwork was pretty good, and it wasn't at all grainy on my monitor. The voice work was very good. The trial game ended for me after only thirty-nine minutes, so the whole game probably is a short one, but I do get bored with some of the longer games, which I find tedious. I'm an impatient player and I always want to charge ahead in a game, not sit and mull over a puzzle for a long time. At least this game made more sense than some of the others I have played lately. I haven't played the full game yet, but I recommend you try it for yourself.
October 3, 2013