Dark Sisterhood: The Initiation
Exclusive
After receiving a letter from an old friend, you start a journey to the remote island of Cold Peak, a place with its own traditions where people observe a forgotten way of life. In this village ruled by fear and arcane traditions, you are drawn into a web of ancient cults and murderous deceit, where villagers are bound together by the law of silence. In order to save a little girl's life, you will have to unveil the mystery surrounding a cruel witch-hunt and the events that triggered it. Gain the confidence of the secretive people of Cold Peak in order to get closer to the truth and save the innocent.
Intriguing story and immersive atmosphere
Reveal an ancient power and discover the truth of Cold Peak!
Game System Requirements:
OS:

Windows XP/Windows Vista/Windows 7/Windows 8

CPU:

1.6 GHz

RAM:

1024 MB

DirectX:

8.0

Hard Drive:

842 MB
Game Manager System Requirements:
Browser:

Internet Explorer 7 or later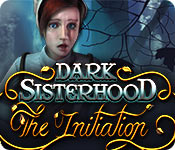 NEW299
The Big Fish Guarantee:
Quality tested and virus free.
No ads, no adware, no spyware.

Reviews at a Glance

Dark Sisterhood: The Initiation
0
out of
5 (
0
Reviews
Review
)
Customer Reviews
Dark Sisterhood: The Initiation
47
47
Good game
Even after the bad reviews, I decided to get this game. I'm glad I did because I thoroughly enjoyed it. The voices were clear and good. The scenery was great and the HOs were good. I enjoyed finding the parts of hidden objects, too, although some of them were a little difficult to find. The story was okay, and I just thought it was a good little game for the weekend. Recommend!
October 6, 2013
Sigh......
I know I am in the minority here of liking the game, maybe, but I definitely want to give it a chance. I usually read some reviews before I submit mine but stopped after 3 because I didn't think this game was going to get a fair shake - at all. It is different if not slightly weird and somewhat disjointed until you play and finally get into that "zone". I believe it's meant to be during the time of the Salem Witch Trials as indicated by clothing, etc. The storyline is that you are racing to an island to rescue the daughter of your executed best friend and, in fact, in time see her whisked off by a whirlwind of roses - but to where and why? That is the crux of the game. You have to complete at least 3 quests in order to move on. After completing the quests you are given an object to help you get started in the next area. During the quests there are HOGs which I didn't find too difficult and DIYs (what I refer to as "do it yourself" items you need to get the pieces to complete). I hate those and in this game it can be difficult to tell when they've been completed - the color doesn't seem to change. The mini-games were not too difficult and I liked that the quest area was kept to a minimum without a lot of back and forth. That being said there is a jumpable map - very cool and a bush/hint button that is helpful but does take a moment or two to recharge. You will meet and chat with characters in the village who may or may not be helpful. So, saying all this, as I was playing the game I really couldn't decide whether I liked it enough to buy - did it give me that "wow" factor I look for. Not necessarily. But it did give me something else. A new and different type of game that is definitely not like the boilerplate games we've been getting lately and when the free trial ended (with 5 minutes to spare) I had hit that "zone" and wanted MORE. So, yes, I will purchase it with one of the many free codes I have because I have to know what happened to Lily, where she is and why the town is harboring ghosties and things that go bump in the night. Great for beginners. Experts probably not so much. This Glam-ma says play the free trial - you have nothing to lose but an hour of your time. I'm definitely getting it. It's just too different to pass up.
October 6, 2013
Look Again At This One
With so many new CE games coming out on a regular basis it is sometimes hard to pay attention to the little SE that sneaks in on "tomorrow's game today." What one says is great, someone else will say is awful, it's all individual and based on individual preferences. This game is not a blockbuster, but I thoroughly enjoyed it. I read a lot of negative reviews prior to the trial and almost passed it by, but I'm glad I didn't. Never discount any game because it will hold something for someone. That is what this game did for me...look beyond, find an essence to the story, interpret it your way, sit back and just enjoy.
October 6, 2013
I've seen better and I've seen worse
This is based on the demo. I found this game to be somewhat fun. There is an interactive map, hints are helpful. The HOS are varied, although somewhat dark (in casual mode, there is no click penalty which helps). There is quite a bit of dialog, but pressing the spacebar lets you get through it quickly. Know I am in the minority, but enjoyed playing, although not sure if I'll buy it.
September 30, 2013
Fun but dark
First, this is a dark game. It deals with the witch scares in the 17th century and even had one person put to death before the beginning of the game that is refencened. Magic and witchcraft are also much in evidence. If this bothers you, do not buy the game. The HO are of two types, standard and find the pieces. There are not click penalties on either. There is A LOT of conversation and you have to finish ?tasks? for several of the characters for you to advance. There are the standard mini games. They are not too hard and the skip comes up fairly quickly. My main annoyance is the hint. It about a minute to recharge, even if it tells you that there is nothing that you can do in scene. And this is in the easy mode. All in all, a nice way to kill a few hours, but not 5 star material.
October 6, 2013
Glad I gave it a chance
Used a free game credit and am glad I did. Yes, it might seem "primitive" in comparison to other recent games but I welcomed the change from the usual lately. I was fine with graphics & sound, didn't experience any glitches, story was good, most puzzles pretty easy. I had fun playing this game and recommend it.
October 6, 2013
I enjoyed this game.
Can we have more like this please
October 6, 2013
Fun game with good storyline
I don't usually post reviews here but I though I would for this game because I've read so many bad reviews. I really enjoyed this game. I've seen many SE games (w/out CE version) often received "bad" reviews but actually good, and I believe this is the same case. I thought this game is a little gem. I mean, I've been tired of too many collections and achievements, but this game has different types of HOG with good variation of puzzles although puzzles are a bit too easy, but trying to entertain users with storyline and game itself. You may not feel you "accomplish" something but you can relax and enjoy while playing this.
October 3, 2013
Easy and Fun
I liked this game. I really liked the graphics although they were a little jumpy at times. The plot was good, and the games were easy. This had different types of hidden object games and the whole game was a bit different from the norm. Sometimes it's just nice to play an easy game that flows. There is a bit too much dialogue but you can get the drift and just move on. Find Lily! I'll buy it and find her. I got full screen, but I had to play with it.
September 30, 2013
Dark Sisterhood The Initiation
This game is fantastic. I'm writing this review because people I've come to respect on the review page who are almost always right are dead wrong this time. My friend in Turkey is just way off base this time . The story line is fantastic the graphics are perfect for the atmosphere, and someone said the people are ugly. Well I suppose if you live in perfect town everyone you know is beautiful and perfect. If you live in reality town as most of us do no one is perfect ! I expected to see monstrosities instead I only saw regular people who aren't fairy tale perfect, but who are acceptable as human beings. Since when did gamers become so snobbish? Just try the demo if your like me it's a definite buy .I think you'll love it .
October 9, 2013