Dark Sisterhood: The Initiation
Exclusive
After receiving a letter from an old friend, you start a journey to the remote island of Cold Peak, a place with its own traditions where people observe a forgotten way of life. In this village ruled by fear and arcane traditions, you are drawn into a web of ancient cults and murderous deceit, where villagers are bound together by the law of silence. In order to save a little girl's life, you will have to unveil the mystery surrounding a cruel witch-hunt and the events that triggered it. Gain the confidence of the secretive people of Cold Peak in order to get closer to the truth and save the innocent.
Intriguing story and immersive atmosphere
Reveal an ancient power and discover the truth of Cold Peak!
Game System Requirements:
OS:

Windows XP/Windows Vista/Windows 7/Windows 8

CPU:

1.6 GHz

RAM:

1024 MB

DirectX:

8.0

Hard Drive:

842 MB
Game Manager System Requirements:
Browser:

Internet Explorer 7 or later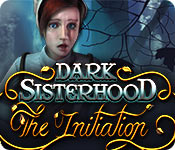 NEW299
The Big Fish Guarantee:
Quality tested and virus free.
No ads, no adware, no spyware.

Reviews at a Glance

Dark Sisterhood: The Initiation
0
out of
5 (
0
Reviews
Review
)
Customer Reviews
Dark Sisterhood: The Initiation
53
53
Look Again At This One
With so many new CE games coming out on a regular basis it is sometimes hard to pay attention to the little SE that sneaks in on "tomorrow's game today." What one says is great, someone else will say is awful, it's all individual and based on individual preferences. This game is not a blockbuster, but I thoroughly enjoyed it. I read a lot of negative reviews prior to the trial and almost passed it by, but I'm glad I didn't. Never discount any game because it will hold something for someone. That is what this game did for me...look beyond, find an essence to the story, interpret it your way, sit back and just enjoy.
October 6, 2013
Not that bad
Of course everyone is entitled to his or her option, I happened to like this game, it was not the best game they have pot out but it is far from the worse. I was looking for a game to pass the time that did not tax my mind too much but was still a challenge, this game certainly fulfilled this requirement. It took a couple of pages to grab my interest but I was very satisfied.
October 1, 2013
Make sure you pick up all the items in HOS
I truly liked the story and the game play. The first time I played, I didn't get the ladder and could not check out the glittering object... I do play casual, since I'm not an expert player, I want to be able to skip the mini games in case I can't get it. The first HOS I encountered for the Reverend Quest required that I find the fragmented items. I didn't get everything and accidentally backed out of the HOS. I went ahead and placed the church sign and talked to the Reverend, and could not get back to the scene to pick up the rest of the items. So just a word of advice... get everything before you leave the scene! Not sure if it is just for this one, or any others. I had to restart the game! The story and quests for finding items are pretty cool. I like the game, and plan to purchase just for the story. I like the fragmented items, but I've been finding things by being clicky... I know, it's cheating. The demo ends after the second quest for the graveyard attendant, and that one was interesting. Truly a great story, can't wait to see how it plays out. Yes, I'm buying it, even with the glitch, that is how interesting it is.
October 8, 2013
Fun but dark
First, this is a dark game. It deals with the witch scares in the 17th century and even had one person put to death before the beginning of the game that is refencened. Magic and witchcraft are also much in evidence. If this bothers you, do not buy the game. The HO are of two types, standard and find the pieces. There are not click penalties on either. There is A LOT of conversation and you have to finish ?tasks? for several of the characters for you to advance. There are the standard mini games. They are not too hard and the skip comes up fairly quickly. My main annoyance is the hint. It about a minute to recharge, even if it tells you that there is nothing that you can do in scene. And this is in the easy mode. All in all, a nice way to kill a few hours, but not 5 star material.
October 6, 2013
Good game
Even after the bad reviews, I decided to get this game. I'm glad I did because I thoroughly enjoyed it. The voices were clear and good. The scenery was great and the HOs were good. I enjoyed finding the parts of hidden objects, too, although some of them were a little difficult to find. The story was okay, and I just thought it was a good little game for the weekend. Recommend!
October 6, 2013
I've seen better and I've seen worse
This is based on the demo. I found this game to be somewhat fun. There is an interactive map, hints are helpful. The HOS are varied, although somewhat dark (in casual mode, there is no click penalty which helps). There is quite a bit of dialog, but pressing the spacebar lets you get through it quickly. Know I am in the minority, but enjoyed playing, although not sure if I'll buy it.
September 30, 2013
Dark Sisterhood The Initiation
This game is fantastic. I'm writing this review because people I've come to respect on the review page who are almost always right are dead wrong this time. My friend in Turkey is just way off base this time . The story line is fantastic the graphics are perfect for the atmosphere, and someone said the people are ugly. Well I suppose if you live in perfect town everyone you know is beautiful and perfect. If you live in reality town as most of us do no one is perfect ! I expected to see monstrosities instead I only saw regular people who aren't fairy tale perfect, but who are acceptable as human beings. Since when did gamers become so snobbish? Just try the demo if your like me it's a definite buy .I think you'll love it .
October 9, 2013
Glad I gave it a chance
Used a free game credit and am glad I did. Yes, it might seem "primitive" in comparison to other recent games but I welcomed the change from the usual lately. I was fine with graphics & sound, didn't experience any glitches, story was good, most puzzles pretty easy. I had fun playing this game and recommend it.
October 6, 2013
Spooky Stuff
A great SE that wasn't a CE. I love these soft releases and just got a chance to demo this one. It was a buy for me. The story line is creepy with witches, and black magic, but I like that. I didn't find the graphics grainy. It's a dark game, but in subject and play. The HOS are well done. You get quests to do to appease the townspeople. It was a very short demo, so I'm assuming the game itself isnt too long. That's ok though. I am enjoying the game immensely. It's so nice to play something different and unique instead of the cookie cutter usuals that are released.
January 4, 2014
Don't write it off until you try it for yourself!
I really liked this game. No it doesn't have all the bells and whistles of some other games, but the sure sign for me of a good game is when I can't stop playing it! That was the case with this one, I was totally immersed in it! I didn't care that the puzzles were easy, and in fact the HOs were not so straightforward all the time. Some of the items were very well hidden and they were varied which was good. You also had to think about what to do next which personally is a must for me. All in all I think this game has been rather harshly judged - and whilst I usually pay close attention to reviews - in this case, play the demo and judge for yourself please!
October 8, 2013