Dark Sisterhood: The Initiation
Exclusive
After receiving a letter from an old friend, you start a journey to the remote island of Cold Peak, a place with its own traditions where people observe a forgotten way of life. In this village ruled by fear and arcane traditions, you are drawn into a web of ancient cults and murderous deceit, where villagers are bound together by the law of silence. In order to save a little girl's life, you will have to unveil the mystery surrounding a cruel witch-hunt and the events that triggered it. Gain the confidence of the secretive people of Cold Peak in order to get closer to the truth and save the innocent.
Intriguing story and immersive atmosphere
Reveal an ancient power and discover the truth of Cold Peak!
Game System Requirements:
OS:

Windows XP/Windows Vista/Windows 7/Windows 8

CPU:

1.6 GHz

RAM:

1024 MB

DirectX:

8.0

Hard Drive:

842 MB
Game Manager System Requirements:
Browser:

Internet Explorer 7 or later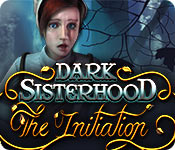 NEW299
The Big Fish Guarantee:
Quality tested and virus free.
No ads, no adware, no spyware.

Reviews at a Glance

Dark Sisterhood: The Initiation
0
out of
5 (
0
Reviews
Review
)
Customer Reviews
Dark Sisterhood: The Initiation
54
54
I enjoyed this game.
Can we have more like this please
October 6, 2013
Fun game with good storyline
I don't usually post reviews here but I though I would for this game because I've read so many bad reviews. I really enjoyed this game. I've seen many SE games (w/out CE version) often received "bad" reviews but actually good, and I believe this is the same case. I thought this game is a little gem. I mean, I've been tired of too many collections and achievements, but this game has different types of HOG with good variation of puzzles although puzzles are a bit too easy, but trying to entertain users with storyline and game itself. You may not feel you "accomplish" something but you can relax and enjoy while playing this.
October 3, 2013
Easy and Fun
I liked this game. I really liked the graphics although they were a little jumpy at times. The plot was good, and the games were easy. This had different types of hidden object games and the whole game was a bit different from the norm. Sometimes it's just nice to play an easy game that flows. There is a bit too much dialogue but you can get the drift and just move on. Find Lily! I'll buy it and find her. I got full screen, but I had to play with it.
September 30, 2013
It Was Just Okay, But I Liked It!
This was purchased as a Daily Deal for $2.99 so after reading some very bad reviews I played the demo and to my surprise I was willing to buy it. I'm not sorry I did. There are a lot of things most may not be able to adjust to. For instance the HOS are list and image find -- the scenes are bleak as are all the visuals of this game but there is a hint button which I used often and there is a good walk through provided by BF. Many of the objects are hard to find simply because of the dingy visuals. I turned down the music. This hint button works outside the HOS -- sometimes good information sometimes not. There is a very good transporting map. The story is chopped up into about 5 segments. You have 3 quests to find in each segment. I played in the casual mode and everything I needed to look at was highlighted with sparkles. The story line is a little weak. Your friend has sent you a letter to rescue her daughter on an island. When you arrive your friend, Bloom, has been hanged for witchcraft and her daughter, Lily, is missing. The citizens are looking for Lily, as they believe she is a witch too. There is a lot of drag time in this game. For that reason I almost didn't buy it. It sometimes became so tedious I almost quit, but I persevered. After completing a puzzle you will have to back out. At the end there is a long dialogue which you may want to skip after the talking stops because the written dialogue takes a while to scroll through the screen. This game just isn't as polished as more modern games. Play the demo and read some reviews. I hope this was a bit helpful. Thanks for reading.
September 22, 2014
Okay, This Is Officially Creepy
BASED ON DEMO FIRST IMPRESSIONS Nice to see a stand-alone standard edition with a walkthrough and strategy guide, so first impressions are positive before it?s even downloaded. The intro is dramatically done, with okay cut scenes and very good voiceover. The main menu page shows some good graphics, but unfortunately the visuals don?t follow through. This game feels like an adventure game. There is a lot of dialogue, lots of characters and we are presented with quests by them. But it is not an adventurer?s game. The bulk of the gameplay is HOPs with some easy other puzzles every now and then. SIGHTS & SOUNDS The graphics are, unfortunately, not much good. Very dark, grainy, and the later cut scenes are quite pixelated . The characters are weird, ugly, just plain strange, and I wonder if the graphics are a deliberate part of that atmosphere. The graphics are not so bad that you can?t see what?s going on, or have any problems finding objects, but I didn?t adjust to them. They still irritated me at the end of the (30 min) demo. Sounds are great. The voiceovers are very well done and the background noises suitably icky. WHAT?S HAPPENING Okay, now admittedly witch hunts always creep me out, but this is one game where the atmosphere really suits the mood of the tale. You are too late to save your friend, Bloom, when she is executed for witchcraft, but you are set upon saving her daughter, Lily. There is definitely something evil going on, and no doubt you?ll have to face it before the game concludes, but first you have to survive the villagers. Some characters you come across, just like in an adventure game, are not at all interested or involved in your story. Others give you quests to perform in order to get their help. All of them are scared silly. That?s all you really know at the end of the demo. MAKING PROGRESS This is really, ultimately, a HOG. There are two types of HOPs. A straight list (no interaction) and fragmented objects. At this stage, you haven?t returned to any of them. The puzzles are very easy, and there are not many of them. In terms of the adventure gameplay, each character gives you a set of 3 quests. Items needed for completing it are all used up at the end and you receive an item from the character that lets you progress. There is a map, for which there is little need, but it is a jump map (no interactivity). There?s also a journal and a hint that gives you hints. This game is not much really, poor graphics, simplistic gameplay, and yet I find myself oddly compelled by the story - witch hunts, evil lurking invisible nearby, corrupted ignorant villagers. While I can only give it 3 stars, I know I?ll be buying it. I?m just not sure why. *cheeky grin*
September 30, 2013
Witches and a cemetery and a lost little girl
I actually was enjoying this game when the demo ended rather quickly. While not as sophisticated as some of the games presented as CEs, it is fun to work on something a bit easy yet with some nice features. Particularly if you have a coupon! You receive a letter from your friend Bloom Witmer, who is jailed as a witch in the town of Cold Peak. She is worried about her daughter, Lily. When you arrive (nice ocean graphics), you find Bloom has been executed, the town has turned on Lily and Lily has disappeared into the cemetery by some unknown force. Along the way, you meet a few characters - the Reverend, and a Cemetery worker, who assign you three quests each, after which they give you an object you need on your journey to find Lily. There are only two modes of play - regular and advanced. There is a diary, a lockable inventory, an interactive map (no sparkles however), and a hint button that tells you what you need to do next. The HOS are a bit dark, but they are either a list or a FROG. The quests require you to find three specific items for each character. The mini-puzzles are easy. The graphics are good, but it doesn't play on a full wide screen monitor -- you have the black bands. All in all, if you are looking for a fairly easy game with an interesting story and a different way of finding objects via quests, this game is for you.
September 30, 2013
Full screen on wide monitors
When the game first loaded it was not full screen on my wide monitor. I toggled the full screen option off, game went to a window as it should, toggled it back on and viola! it was true full screen on the monitor.
September 30, 2013
An OK Dark Side Game
This COULD have been a great game, but alas, it falls short of the great games BF puts out...Graphics are fairly flat--"sparkle" areas of interest are there but you have to look closely...Mini games are easy---HO's #not many as far as demo goes# have small items, but take your time as the demo is very,very short...Interactive HO's where you find "pieces" are equally small in nature, but again, take your time..Map is ok, but really don't need it...VERY slow to react once you've found items or have completed a task..Like the idea that you have to perform favors for the wierd townsfolks #series of 3#...Not too hard to do...Ok to play, just not to buy for me..
September 30, 2013
Disappointing Game
The storyline in this game is interesting but the illustrations in the HO sections are difficult to make out and some sections are quite dark so it's difficult to know what to look for. The map could have given more clues as to whether or not there was something to search for in a given location. The hints were particularly frustrating as they weren't clear enough to be of much help. When completing a puzzle the game didn't always close that window automatically so I wasn't sure I was done. Not much fun to play when I felt frustrated alot.
March 20, 2014
Decide for Yourself
Confusion and uncertainty were my feelings when I saw a bunch on negative reviews here. Out of curiosity I played the demo and it was not as awful, dreadful or whatever as some reviewers pictured it. I do not think it is objective to set the same criteria for CE and SE because these are 2 completely different categories. And Dark Sisterhood contained everything I would expect from a SE. With a creepy storyline, good sound and voice overs and quality graphics it deserves to be at least tried. My only complaint is weak technical execution. I suppose this is the main reason why many advise to pass on the game.
October 28, 2013