Dark Sisterhood: The Initiation
Exclusive
After receiving a letter from an old friend, you start a journey to the remote island of Cold Peak, a place with its own traditions where people observe a forgotten way of life. In this village ruled by fear and arcane traditions, you are drawn into a web of ancient cults and murderous deceit, where villagers are bound together by the law of silence. In order to save a little girl's life, you will have to unveil the mystery surrounding a cruel witch-hunt and the events that triggered it. Gain the confidence of the secretive people of Cold Peak in order to get closer to the truth and save the innocent.
Intriguing story and immersive atmosphere
Reveal an ancient power and discover the truth of Cold Peak!
Game System Requirements:
OS:

Windows XP/Windows Vista/Windows 7/Windows 8

CPU:

1.6 GHz

RAM:

1024 MB

DirectX:

8.0

Hard Drive:

842 MB
Game Manager System Requirements:
Browser:

Internet Explorer 7 or later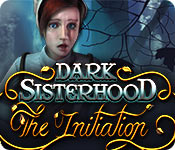 NEW299
The Big Fish Guarantee:
Quality tested and virus free.
No ads, no adware, no spyware.

Reviews at a Glance

Dark Sisterhood: The Initiation
0
out of
5 (
0
Reviews
Review
)
Customer Reviews
Dark Sisterhood: The Initiation
51
51
Just OK
This game had the potential to be good. However, it fell flat. The demo took only 21 minutes to complete and that was with starting over because it had a couple of glitches. I wanted to like it, but....
September 30, 2013
Could Have Been More ...
Good Graphics, Sound & Voice Bits ... But Nothing Special ... It's A Short Demo, Followed By A Short Game ... However, It Is Nicely Done ... The Game Seemed To End Abruptly, And It Seemed Like The Developer Ran Out Of Ideas ... Worth A Voucher Or Deal ...
October 5, 2013
SOME BUGS THAT NEED TO BE FIXED
AT THE CABIN YOU SHOULD GET A LADDER, MAGIC BUCKET WATER,SHAWL ONLY LADDER GOES IN INVENTORY GAME CAN'T CONTINUE . AT THE CHURCH SIGN GOES IN INVENTORY BUT DOOR HANDLE AND INCENSE BURNER DO NOT .THAT'S AS FAR AS I HAVE GONE ON THIS GAME.
October 4, 2013
It's a Pass For Me
Your journey begins with a letter from an old friend from the remote island of Cold Peak, where the villagers observe a forgotten way of life and are ruled by fear of old and forgotten traditions. Your friend Bloom has been found guilty of witchcraft and is executed. Now you need to save her daughter from a similar fate. A story of the occult, black magic and a mysterious evil force that has the entire village out for blood. your mission is to gain their trust and try to find Lily before they do. Actually the storyline is the only feature that got my attention and if like me, you enjoy tales of the occult and witchcraft, then you would probably not hesitate to try the demo. However I just could not get passed the poor graphics, the hand drawn artwork and the lack of any special effects as well as the gameplay. A very standard HOPA that offers two modes of difficulty to choose from, alot of hand holding from the black bar tips, a journal, a map that will allow for travel and a hint system that does offer your next move. Despite all this, game play is clunky and slow. There are two types of HO scenes, fragmented or a list. There is no interaction and some items were almost impossible to find. I had to resort to using the hint button only because I lost my patience. Mini-games were too easy and the only challenge to the game is figuring out where to go and what to do. Again, the hint button will offer that information. The game reminds me of the earlier HOPA games and I have enough in my collection if I am in the mood for nostalgy. I really cannot recommend this game, even with a sale going on. My sincere advice is to play the demo and just pass on this one.
September 30, 2013
Outdated, glitchy and overly easy
Story: The story is about a town that is suffering from a spell that makes strange things happen. The villagers believe it is Witchcraft and has killed a woman they suspected. As the spell wasn't lifted, they are now chasing her young daughter It is your task to save the village and the girl - and while doing that you meet people that only will help you if you help them first. Pfft.... how serious are they taking the spell when they won't help the only person who can save them without getting something for themselves - greedy, pathetic and so totally stupid in a gameplay !!I Pros: There is a map, so you can travel fast between locations Cons: I could have lived with this totally outdated game, but it really tore me apart, that I sometimes had to place the right item 5-10 times before it was accepted - the devs should be able to do that so much better ! Once I had to back out of a HOS - and when I did that it wouldn't let me back in, and as I needed the item I would have earned there, I had no other option than to start all over. Even though I did that - I finnished the demo with 25 minutes left - not very promising length. And if I add the rediculously easines on top of all that... NAH... won't be buying this game - not even as a DD or with a cupon
September 30, 2013
WITCH HUNT!
In a land where time stood still, where townspeople fear the unusual, a witch hunt has begun! Sounds awesome, right? Well, not exactly. The story had plenty of potential but everything else about this game was glitchy and cheap! I had to make several attempts just to place inventory items where they belong. There were voices of several townspeople, but no people shown and the main character would talk before the scene even showed up. The HOS weren't even fun, there are list finds as well as fragments but some items were impossible to find because they were unidentifiable or too small or too dark. Unfortunately, poor graphics and a complete lack of entertainment or fun factor makes this a no go.
September 30, 2013
storyline brought me in, gameplay disappointing
While the storyline sounded great, the game play was very disappointing. Slow transitions of screens, sluggish feeling to the whole game. Felt like a very early HO game with the way it played and moved which took away all enjoyment for me. I purchased this and regretted it as soon as I started playing. For regular HO and Adventure players, skip this one!
October 1, 2013
This Is A Sisterhood I Would Not Join
Based on the demo, I started this game with high hopes. I was disappointed as it comes across as stiff and slow. The characters, which are computer generated against a drawn background and they don't seem very real. Also, there is a wait between everything, scenes, HOGS, etc that should not be there with today's technology. The game itself is not bad, but the technical end makes me not want to fool with it. The storyline, which is about saving a wrongly executed "witch's" child while dealing with various characters. I might buy this if it were on sale, but it's not likely. I just advise playing the demo before you buy.
September 30, 2013
Just Sad-Very Badly Sad
I haven't written a review in a while, even though there have been a couple of games worthy of mention. I am not going to add anything else to what Nilosh said, because he wrapped this game up in a nutshell. If anyone has even a little trouble with cluttered miniature HOS scenes/objects then eyes BEWARE! Have your reading glasses or magnifying glass handy. I, like Nilosh, enjoy stories of the occult and am getting extremely tired of time period pieces, ice covered all white scenery games and island and ship themes that anything out of those genres peaks my interest. Plus I could have gotten this game with a promo code. But no such luck. I fought to stay awake from pure boredom. I have never totally dogged a game like I am today. If this game allows anyone pleasure from playing it hooray...but it won't be me. Truly SAD!!
September 30, 2013
Pass on this one!
BASED ON THE DEMO This game looks, plays, and sounds like its 10 years old. Frustrating to play, uninteresting, and not worth buying.
October 3, 2013