Questerium: Sinister Trinity
Three men, friends since childhood, perform important roles in their communities: professor, mayor, banker… But when a meteor falls not too far from the city, Professor Gustav learns that the meteorite is emanating some sort of unknown energy, and begins a series of experiments without the mayor's permission. Financed by the banker, the professor builds an evil machine that causes the meteor's energy to spin out of control, destroying the city and mutating its plants and animals. Citizens are evacuated, but rescuers fail to find and evacuate two children. In Questerium: Sinister Trinity, you play the investigator hired to work the case, and it's up to you to destroy the evil machine, rescue the abandoned children, save the city and arrest the professor!
Discover 20 secrets in mysterious locations
Unlockable achievements
Develop your own garden
Game System Requirements:
OS:

Windows XP/Windows Vista/Windows 7/Windows 8

CPU:

1.6 GHz

RAM:

512 MB

DirectX:

9.0

Hard Drive:

353 MB
Game Manager System Requirements:
Browser:

Internet Explorer 7 or later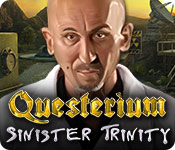 NEW299
The Big Fish Guarantee:
Quality tested and virus free.
No ads, no adware, no spyware.

Reviews at a Glance

Questerium: Sinister Trinity
0
out of
5 (
0
Reviews
Review
)
Customer Reviews
Questerium: Sinister Trinity
34
34
Excellent game!
I liked everything in this game. Great atmosphere! Would recommend everyone to play this game.
October 7, 2013
An amazing game just for SE!!
I just finished this game and I was very surprised at the length of the game, I believe it should be CE. I enjoyed it so much but one problem is that I didn't find all money and missed one flower, if the game includes Blog Walkthrough it certainly will help alot. It is one of the best SE games. Thank you Developers.
October 5, 2013
Questerium: Sinister Trinity
Love this game. * Great sound * Challenging hidden object scene * Can decorating garden * Achievements There are 20 secrets and 15 unique flowers in every areas. We can used the secrets to decorating garden. Cool game!
October 3, 2013
VERY Impressed!
I just finished Questerium, and, WOW, was that a run! I loved, loved, loved this game. I played it on the hardest level possible, and took an embarrassingly long time to complete it, but thoroughly enjoyed every sometimes frustrating minute. There is a lot to do and collect, some of the puzzles are very challenging but doable with persistence, the hidden object areas are even good. As there were no map hints, sparkles, etc. (just really basic puzzle instructions) in the level I was playing in, I did go to the forum twice. Note: there doesn?t appear to be a walkthrough, but that made the game even more interesting and challenging for me. I?m happy to say I figured out what to do with an inventory object prior to getting an answer for my question in the forum, and the other time I just looked up some basic hints for one puzzle ? the electricity red and blue buttons game - as the instructions were a bit too vague. I highly recommend this game, and am going to look for more by this company.
October 20, 2013
SE that plays like a CE!
With achievements, collectibles, and garden area... but the main thing is the quality of this game. I personally love live actors when the acting is well done and voices are superb. The length of gameplay is super long.. so many times I thought I was almost at the end only to find out I had to trail the villian, open new doors, explore new areas. The jump map was indispensable! There's no walkthrough but the hint system works pretty well. Kudos to Urse Games... you don't have that many out there but if you keep them coming like this one you will have a loyal customer. (and the best thing is I got it on the ONEDAY sale for a great price!)
October 23, 2013
Loved it!
I loved this game!! The only thing I didn't like is that I couldn't find all the secret places and there was no way to go back and to try to find them before you finish the game. And I wish I could of skipped through all of the cut-scenes. But other than that it was really fun.
October 1, 2013
Fantastic first from a new developer!!
I'm so glad that I decided to give this one a shot because I was pleasantly surprised! I love when a new developer comes out because it opens up a new group of thinkers with different stories and styles. These folks definitely gave it there all on this one. This game plays very much like a CE, with all the little extras we have all grown to enjoy. Not once during my game play did I think that this was a SE. I don't need to go into the story line because there are enough other reviews on here that have already done that. The only thing I would tell the developers is the real people characters tended to take WAY to long either walking or talking and the gaps between speaking to each other needed to be shortened up. Other than that, congratulations and I hope to see more from you in the future!!
November 2, 2013
Great Game with Hidden Surprises!
Another crazed professor is on a rampage and out to destroy the city with his terrifying machine that mutates humans and plants. It is up to you to stop him before things go too far! A great science fiction/fantasy tale with live actors, voice overs and terrific graphics. I loved the art-work and the use of actors which I find terrible amusing. Main menu offers four levels of difficulty settings but be warned, if you do change this option during gameplay, you find yoruself repeating a previous scene which gets a bit confusing. This may be some minor technical glitch therefore I have opted not to change the setting. Game features include a map that offers progress and allows for travel. You have a journal and a phone that will provide hints. A HOPA with plenty of adventure and hidden object scenes that are both interactive and very well laid out. Mini games are relatively easy but some do require patience and I like spending time on it. Now lets get to the extras and for a SE game, there are plenty. You have a list of collectables, mutated flowers scattered throughout the game. You have secrets to collect which is hidden stashes of money and with the money, you get to up-grade a garden which is entered through the room of achievments. So I ask myself why this game is released as a SE? My guess is that it probably is a short game and as there is no SG, I cannot tell you how many chapters are involved. Nevertheless, a great game and a steal what with the sale on today. A definite buy for me!
October 1, 2013
Challenging and fun...solid 4.5
Almost missed this game today. Some movements are a bit jumpy. Graphics look hand-drawn, but nice. Games play isn't bad. Voice overs are good and sound FX are appropriate. Music is nice. It is a pleasing change to see "real" people in a game and not just computer generated. HOGs are not difficult and fairly clean. Games are not extremely difficult, but do take some thought and a little time to complete. Jump map is nice and very helpful. This game could definitely use a WT. You need to find "special items," which is done quite differently than all other games. Well done. The collectables are not as easy to find as you think and take time and patience, but it does make the game more challening and fun. Hint system takes a very long time to refill on easy mode...hate to think what it does on "Professional" mode. Hint is not all that helpful. Tells you what you need to do but not where to do it (no arrows pointing in the general direction). For some reason, the hint doesn't work well either. Sat and waited 5 minutes in one area to get a hint, but I had used it and then it didn't want to work again. Need to fix that glitch. This is a very nice SE and well worth the punch credit I just used to get it. It is one of the most challenging SEs I have seen in a very long time. I think it was probably going to be a CE, but changed their mind for some reason. I believe the seasoned gamer will find this one enjoyable. As always, try it for yourself and see what you think. We all have different tastes in games and you may not care for this one at all. Thanks for the reviews.
October 1, 2013
ELECTRIFYING!
Not a bad little adventure game! Decent graphics, good voice overs, original mini games and HOS that are unusually fun! I was surprised at how entertaining this game turned out to be. There are lot's of achievements to earn and you collect money throughout the game to build a garden as well as plants to collect in a book! Your mission as a detective is to locate two children left behind after the town has been evacuated. The town has been attacked by mutant plants, and the mad scientist, aka, father to the very children you are searching for, is responsible! The HOS are very interactive and I for one thought that the devs did a wonderful job making the interactions interesting, not just the same old pick up knife and slice an apple. The puzzles were new, and not easy but that's the way I like it, that's why they have a skip button. This one fooled me, it looked to be another low budget HOPA but turned out to be a decent game, enjoy!
October 1, 2013