Questerium: Sinister Trinity
Three men, friends since childhood, perform important roles in their communities: professor, mayor, banker… But when a meteor falls not too far from the city, Professor Gustav learns that the meteorite is emanating some sort of unknown energy, and begins a series of experiments without the mayor's permission. Financed by the banker, the professor builds an evil machine that causes the meteor's energy to spin out of control, destroying the city and mutating its plants and animals. Citizens are evacuated, but rescuers fail to find and evacuate two children. In Questerium: Sinister Trinity, you play the investigator hired to work the case, and it's up to you to destroy the evil machine, rescue the abandoned children, save the city and arrest the professor!
Discover 20 secrets in mysterious locations
Unlockable achievements
Develop your own garden
Game System Requirements:
OS:

Windows XP/Windows Vista/Windows 7/Windows 8

CPU:

1.6 GHz

RAM:

512 MB

DirectX:

9.0

Hard Drive:

353 MB
Game Manager System Requirements:
Browser:

Internet Explorer 7 or later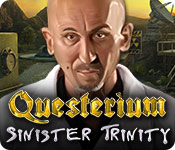 NEW299
The Big Fish Guarantee:
Quality tested and virus free.
No ads, no adware, no spyware.

Reviews at a Glance

Questerium: Sinister Trinity
0
out of
5 (
0
Reviews
Review
)
Customer Reviews
Questerium: Sinister Trinity
35
35
What A Sleeper....
Based on finished game... An SE that plays like a CE, I especially loved money hunting on my own. You really do have to look for it, but an interactive map and your handy multi-tool will keep you just one step behind the laughing, bald mad scientist for a fun afternoon of great quality gaming. Your original mission is to rescue two children from an evacuated town. Our villains are three pillars of the community, experimenting on a recently discovered meteorite and their evil saga is told via your journal and found evidence. You'll be looking for 15 strange plants, 20 secret cashes of money and much more with great interactive HOs and a jump map that keeps you informed of what's left to do. If you don't know which way to turn, the hint is *next action* advice, but I only had to use it once. Believable voice overs and live action mixed with colorful, detailed graphics, great ambient sounds and a background music so subtle I'm not even sure I recall it, only that it must have been fitting as the environment as well as the pacing of cut scenes with action is really engaging. Much here for puzzle lovers - I got stuck on a couple and found them clever and fun to solve. Bonus offerings are a garden purchased with your found dough and achievement area for those of you who like the bells and whistles. The story line was enough to keep me going, even if not the most original I've seen - and yet there's much here for most of us who enjoy a little HO with our adventure. Turn up the sound, turn off the lights and at least give the demo a spin. Betcha a few stolen bucks you don't wait for the hour to be up. I enjoyed this game so much, I'm off to buy their other offering which I don't believe I was so excited about at the time. Now I think "Mystery Heritage:Sign of the Spirit" needs another look too... Happy gaming?
October 2, 2013
Can't get all the trophies!
I really enjoyed this game but I have one beef with it. I just couldn't get the trophy for beating all the mini games without using a hint. There is a mini game that in my opinion is unbeatable. It's a 4x4 grid and you have to turn all the red lights to green. I worked on it for such a long time and I finally tried to find a how-to on the internet and there isn't one. At least not that I could find. Does anyone know the sequence to this puzzle? So frustrating! :))
October 26, 2013
Great look!
BASED ON THE DEMO I really like the look of this game. It has hybrid cut scenes with drawn background and live actors. The storyline--2 children missing after a disaster, and a crazed glowing man chasing them--is typical of a lot of recent HO games, so don't expect anything new here as far as storyline goes. This is a well drawn game with a nice challenge level (there are 4 to choose from) and it played flawlessly. Its very good, but not amazing...a solid 4 stars!
October 1, 2013
A Nice Enjoyable Game ...
Good Graphics, Sound, Effects, Voice & Video Bits ... This Game Has Many Features Of A CE For A SE Price Offering Great Value For Money (Or A Voucher) ... I Found The Sound To Be A Little Glitchy. The Video Characters Often Seemed To Be Looking The Wrong Way And The Quality Of The Acting Was A Bit Lame ... But I Thoroughly Enjoyed The Game Anyway ...
October 5, 2013
Fantastic SE
Great game - who doesn't love a mad scientist? Such a relief to play a different storyline - no curses, ghosts or rituals. Very happy to have a decent standard edition game come out. I earn a lot of punch card rewards and quite often they expire before I find something worth playing. I have only 2 complaints about this one: the cursor is pretty picky so it often tells you that it is the wrong item so you have to click around in a few spots to get it right on and the puzzles are not just challenging (in a fun exciting way) they are mostly just plain tedious (a blog walkthrough would be super helpful on several of them). Maybe playing it the second time around will be better.... I'm not fussed on the "build your own garden" thing but that may appeal to others. All in all very high quality and lots of fun to play. Thanks devs!! Please release more SEs like this one :D
October 4, 2013
Enjoyable & Fun
Yes, some of the puzzles were too long for me so I skipped them. The HO's were fun. Liked the story, turned off the music after awhile. Sad I couldn't find 2 of the monies and 1 flower.
October 1, 2013
Demo review
Usual 'sinister' story line- dark and mysterious. Graphics are decent- combined with live action cut scenes which can't be skipped which is frustrating in a timed demo mode but would be ok in the full game. HO scenes are pretty clear and some items need interaction to reveal them which is less boring than just HO. Hint button is helpful and mini-games and puzzles were engaging without being too difficult. I just really started get into it when my trial ended but I will be certainly buying the full game. 7/10.
October 1, 2013
Don?t Ignore This Little Gem
BASED ON DEMO Wow! Achievements and collectibles on a stand-alone SE, why was this a soft release? Well, I suspect there was originally going to be a Collector?s Edition, but somebody decided it didn?t have what it takes. I think that was a wise decision, because despite all the appealing characteristics of this game, it just doesn?t FEEL like a CE. The soft release, though, that was harsh. Intriguing story (but not, I feel, very well handled) ? 3 leaders of a community (professor, mayor, banker) discover a source of free energy after a meteorite hit. Slight hiccup, it?s mutating everything. We are the detective who goes in after the evacuation to find two missing children. I?ll cover as much of the relevant points as I can, but there?s a lot to this game. *Good graphics - clear, bright, no roughness around the edges, but not top quality. Not at all dark. *Live actors who are quite amusing, and excellent voiceovers, even of the children. *More than averagely interactive HOP lists, quite difficult in fact. *Hard and mainly original puzzles. I don?t think I actually solved any. Thank goodness skip is quick (on easiest of 4). *Early on, you get a multi-tool (swiss army knife) and you get to keep it after you?ve used it. *Directional hint. *Interactive jump map that also tells you (if you want) where the money is. *Collectible money (20) for creating your own garden, off to the side of your Achievements Room, accessed from game. *Collectible mutant plants (15) which are collected in their own book. *4 difficulty levels. Highest level ? no black bar help. There are also a zillion clovers everywhere that we can?t collect, and that?s why I think it was originally going to have a CE. I guess there?s nothing really inspired here. But there?s nothing wrong with it either, and for a stand-alone SE, I think it?s very good!
October 1, 2013
I've played better
It was ok. Most of the puzzles were solvable but I did skip a few where my attempts ended up being just wild guesses. And it had one of the weakest plots I've come across. When I start a new game I typically bookmark the Big Fish walkthrough in case I want some help. Be advised I didn't find any. A search found what should have been a walkthrough but it required me to sign up for some newsletter. I declined.
December 8, 2013
Where has this game been hiding :)
Wow! I was just browsing the adventure games genre and saw this game. I looked at the lowest rating review of 3 stars based on the demo headlined "Don?t Ignore This Little Gem" and decided it to give it a try. Wow, based on 45 minutes into the demo and the 'doorknob' - made me laugh, I am going to buy it. Based on 45 minutes into the demo I am giving it three stars. The HO is extremely interactive, the entire demo is interactive. The story has a great start and the actors, real ones. Oh my, I just love it and I am hoping that the entire game is so wonderful. Bye now, I have a game to enjoy! I may give another review after I complete it.
October 10, 2013