Settlers of the West
Settlers of the West puts you in charge of city planning in the 1850's American frontier! Tame the wild west from the comfort of your couch as you join Lucy or Walt's epic adventure along historic trails. You decide what to build, what to upgrade, and what jobs to assign Settlers to so that your settlements flourish! Trading posts, saloons, churches, you name it! Almost 30 unique and upgradable buildings await with wagonloads of personality in this entertaining town and resource management adventure!
Historic trails, towns and infamous most wanted outlaws
Almost 30 unique and upgradable buildings
Delightfully charming art and music
Game System Requirements:
OS:

Windows XP/Windows Vista/Windows 7/Windows 8

CPU:

1.0 GHz

RAM:

256 MB

DirectX:

9.0

Hard Drive:

102 MB
Game Manager System Requirements:
Browser:

Internet Explorer 7 or later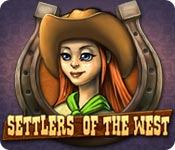 NEW299
The Big Fish Guarantee:
Quality tested and virus free.
No ads, no adware, no spyware.

Reviews at a Glance

Settlers of the West
0
out of
5 (
0
Reviews
Review
)
Customer Reviews
Settlers of the West
31
31
Not easy, but fun!
I wouldn't recommend it for beginners, but if you're a fan of the genre, you'll probably love it. I spent some time retrying each level again and again, but I enjoyed the challenge. Although I didn't make gold on every level, I never had a problem reaching the next ones.( I finished with 36 Gold and 7 Silver.) It's challenging, but not frustrating, if you get the hang of it.
October 23, 2013
Awesome
This game is so cool and I have fallen for it hook, line, and sinker. It has 4 difficulty levels I put it on expert but I love a good challange, will go back and play it in pro mode. once you figure out what plan you need its easy and fun great game hope we get northern tale 2 and monument builders statue of liberty soon. i would buy way more games if they had them.
October 14, 2013
My apologies to the slow at hand
This may be the best game TM game Big Fish has ever released. I have played for 5 days on reg. and have still not gotten all gold. I have read the reviews from people who do not like the fact that there is not a casual mode. Easy fix, DONT PLAY!!!! I am sorry your hand are "not what they used to be" but this games challenges the mind more than the hands. It is a refreshing break from fish and farms! Good job on this one BF!
October 17, 2013
Well Planned Strategy Resources and Roads Game
I play every one of these type of games - My Kingdom for the Princess, Northern Tales, Royal Envoy, and even the more unusual ones like Outta this Kingdom and 12 Labours of Hercules. I love them all - it's my fave genre. This one is a gem that didn't get a lot of attention. It's well planned and has a lot of careful thought that's gone into it. It's not excessively clicky, everything is planned just right. Things are properly highlighted and everything is clear and noted well - just the kind the stuff that says someone really put thought into putting the game together. Every single level has something new and different. It's also one of the few games that when I finished, I went on and did every single level in the "platinum" timing. Now I always do all the games in the timed method, but I usually don't go on in the hardest or "expert" mode - normal is usually good enough for me. This is the first game that I went back and played the entire game in expert mode, and it was a good but not completely impossible challenge. I didn't count the levels, but I'm sure there were at least 45, so doubling that makes a LOT of gameplay. The only negative for me was the story cartoon in-between could have used a little more work. The story itself was actually pretty cute - a girl getting taken advantage of by a rotten crook while she's townbuilding - but the rest of the game was very well put together. I REALLY enjoyed this game. It's a hidden gem. Loved it, , and I highly recommend if you like these games!
October 18, 2014
Was This How The West Was Won?
In reality I would probably give this TM, wild wild west, game a 3-1/2 stars. Even though the game has potential, the graphics are good, music is appropriate, the tasks to complete at times becomes too confusing. In my opinion there are too many sub-menu's and the fun factor diminishes because of it. The object of this game is to build houses to bring in settlers, those settlers then need to be dragged to the main building to hire for workers. Then you need to click sub-menu's to research for a building such as a doctor's office, drag a worker to research and then have another worker build the doctors office than drag the worker who has been researching to the doctors building. Sick people also need dragged to that office and can't work. You need to open up different menu's to build an outpost, then research, another button to do trading and so forth. I wanted to love this game but became frustrated too much trying to figure everything out in the allotted time. It therefor was just an okay/like game for me.
October 1, 2013
TM to the Max!
This game is hard. This game is really hard. This is not your normal TM game. This is TM on steroids. If you don't want to work hard don't buy it. Not a lot of direction. They give you your goal . They do not give you the steps to achieve it. You have to think with this game. Some may find it fun. Some may not. It is a definite mind work out. You have to build and assign workers . You have to raise technology. There is a lot of "Technology is required here, But we have not found out how to get it." statements. This is where the game goes wrong for me. No hint. You click around till you figure it out. That is if you figure it out. Checked the forum. No success. I will keep on clicking because I bought it. Try the trial. You decide. Just remember it is HARD. I am only recommending this game for people who want to spend the time and work hard.Swim on fishes!
October 2, 2013
Pretty Cool
This is a fun little west game. It is challenging it will definitely keep you thinking and on your toes, but its not to hard to reach gold or silver level in the begining but as you advance it gets harder to achieve, but I like the fact that it makes the game more challenging
October 1, 2014
Progress is slow
I posted this in the game forum, but then I realized that it may help someone before they buy it. I really wish I would have noticed that you have to get points to progress before I bought this game. I have played several levels over and over again and still come up with silver. Because of this, I'm not able o get to any more levels. The game is essentially over for me unless I can figure out some trick. I switched to the novice mode but it isn't helping. I really don't want to keep playing the same levels and be stressed trying to get gold on every level to progress. I thought this would be a fun and relaxing game . . . its not.
October 1, 2013
Another typical tm
pros -clear graphics -4 modes of play -cannot comment on music or sound i usually keep mine off especially on tm's -you choose male or female player cons -withing just a few levels it is nearly impossible to achieve gold --tutorial is only for 2 levels, there may be tips throughout but i did not play long enough to know for sure...i get frustrated easily like the no timer ones best :) -personal thoughts- this is not a bad game. i played the easiest level and still could not get gold; i don't mind the challenge but o do not care for impossible! not sure if i will use my game credit on it or not...but this is a tm persons dream ^^
October 1, 2013
building game kind of
I love time management building games BUT I don't like games where I have to move the people around send them there and that's it but not this game have to keep picking the people up move them where you want them and sometimes they stay sometimes they don't its a good concept but could have been lots and lots better its a better kids game to learn well only my opinion recommend for kids
October 1, 2013