Settlers of the West
Settlers of the West puts you in charge of city planning in the 1850's American frontier! Tame the wild west from the comfort of your couch as you join Lucy or Walt's epic adventure along historic trails. You decide what to build, what to upgrade, and what jobs to assign Settlers to so that your settlements flourish! Trading posts, saloons, churches, you name it! Almost 30 unique and upgradable buildings await with wagonloads of personality in this entertaining town and resource management adventure!
Historic trails, towns and infamous most wanted outlaws
Almost 30 unique and upgradable buildings
Delightfully charming art and music
Game System Requirements:
OS:

Windows XP/Windows Vista/Windows 7/Windows 8

CPU:

1.0 GHz

RAM:

256 MB

DirectX:

9.0

Hard Drive:

102 MB
Game Manager System Requirements:
Browser:

Internet Explorer 7 or later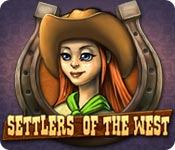 NEW299
The Big Fish Guarantee:
Quality tested and virus free.
No ads, no adware, no spyware.

Reviews at a Glance

Settlers of the West
0
out of
5 (
0
Reviews
Review
)
Customer Reviews
Settlers of the West
31
31
Not much fun
I usually like TM games but this is not my favorite. I played the trial and would not by the games or use a game credit.
October 1, 2013
an average nothing new game
This review is based on demo. It seemed interesting but somehow it fell flat and I just couldn't get into the game's objectives. Although it tried to do some different objectives from usual ones of this kind, there were not new, just copied from other games. Still have a go, it is not a bad game and some people will like it. Simple it just was not for me. I love the wild west topic, it was a nice change from Roman and Vikings and medieval games.
October 3, 2013
Confusing
Although this game has many objectives, (build 3 houses, build mine, build log mill, upgrade buildings), the graphics are very cartoonish, like the kind you read in the newspaper. Bright colors, but still in the "westernly" brown shades. There are 4 levels to choose from but to me even the lowest level was confusing. It talks about a "task list", but there isn't one, it's the resources bar you have to click on, and anyway the tasks are up on the right hand part of the screen. It is a timed game which is frustrating because even in the first levels there is much to do in very little time; build 3 level 4 settler homes, collect 1500 gold (after building the mine and hiring a worker), build town hall, etc. You have to drag people from place to place before you can get the resources they want you to collect, and if you don't have enough lumber to build you must just sit and wait until there is enough which is also frustrating! The music becomes irritating quickly, the cutesy little banjo and guitar type of music you would hear in a western themed cartoon. Sound effects include the typical yahoos, yeehaws and other annoying whelps. There is a lot of dialog to read. If you are a very fast player and love timed building games in a western cartoon setting, you might like this game. If not, I do not recommend this game.
October 1, 2013
Winning levels and moving on problems
This game requires the player to get as many points as possible on each level of the different sections, in order to move on to the next section. I have ended up replaying level after level in order to try to move on, and I can't do it. I am very happy enjoying a game and just finishing levels so I can move on and play the whole game. If I had realized that I would have to play each level until I got gold I never would have tried it, and I sure would not have bought it! Games that have a "no time" option are my favorite, then I can just enjoy finishing the game.
October 2, 2013
It Could Have Been an Excellent Game
The graphics are great bright and cartoony. The music appropriate and not too annoying. Storyline is not bad but the pop ups are annoying and get in your way when you are trying to make a deadline. The goals even in novice mode (the easiest) are just too darn hard and you cannot progress until you get enough points to do so. I love time management games and usually start with normal mode and not have to do too many lvls over to get gold. In this game I have had to restart in novice thinking that that would make it easier - It did though nowhere near enough to be able continue my game. This game desperately needs a patch that fixes the modes and times allowed for levels or cancel / reduce the points required to continue. I have completed all the lvls in gold time except one (silver) and I still do not have enough points to continue from Santa Fe which is barely into the game and this is with having to replay lvls over and over to get the gold and one silver. This is not FUN. As this game stands now I would not recommend this game to anyone except the most hard core TM player with lightening fast reflexes and that would be for the normal mode.
October 3, 2013
Impossible Times!
I tried the same level 20 times and I was still nowhere near the time suggested for gold. I'm a pretty good stategist and usually enjoy TM games but this one is WAY frustrating. The game play itself isn't bad and overall I coulda liked this game but I don't see the point in playing something I can't win.
October 10, 2013
Can't advance, could have been good
This is getting a 2 star because I cannot advance. After getting stuck in Santa Fe without being able to advance I googled to see if I needed to get all gold or if there was a problem with the game. It turned out that I discovered it was a problem with the game. I wish I would have known that before purchasing. They suggested uninstalling and then reinstalling the game. It worked until I completed that set of levels and needed to advance again. Again, I had to uninstall and reinstall. By the time I completed the third set and tried the uninstall/reinstall trick, it no longer worked. Now I am completely stuck with no way to advance and have only completely less than 20% of the game levels. This was beyond disappointing. I actually liked the game a lot. I played the trial, enjoyed it and bought it. I did not realize it was broken though. It needs some game fixes so I would not recommend it to anyone at this time. Steer clear for now, folks. It's fun but broken.
October 19, 2013
Way too short a game with unrealistic times
There are only 10 levels to this game, and if each level takes about 10 minutes or less, the game is too short. The times are unreasonable and impossible. Levels may suggest they can be done in 3 minutes, but after the third attempt I am still at 10 minutes. Timed games are hateful anyway, but unrealistic times are even more hateful. Essentially, there is nothing to recommend this game. Save your money for a well written game.
October 7, 2013
can not progress
This game is too hard to progress past 10 levels.I am very sorry I spent my money on it.
October 8, 2013
Without gold medals, No progress
The concept or idea of game is fun. But it's not "player-friendly" game at all. A player has to finish each level within given time in order to get a gold medal which gives 3 points, and it is NEVER easy even in NOVICE mode. Even though the game company gave out the patch, the level of difficulty I feel is "Super-Ultra-tedious" in novice mode. It's because without a specific amount of points, you can't progress this game. Towns of the next level doesn't simply appear on the map. Go browse the game forum. You can easily find many frustrated players like me. I bought this game yesterday and all I've got is STRESS!!!
November 3, 2013