Zombie Solitaire
Play your cards right and you just might escape the apocalypse in Zombie Solitaire! It's been two weeks since an infected tofu burger transformed some poor soul from a gentle vegetarian into a brain-devouring zombie. One thing led to another and now the slobbering undead have taken over the city. There's only thing to do, run for your life! Before you can get your sweet behind to salvation on a zombie free island, you'll need to puzzle your way through exciting rounds of solitaire and fun mini-games. But watch out! The hungry zombie horde is hot on your heels!
Over 100 solitaire levels
Nine zombie-rific adventure settings
Ten useful power-up cards
A whole lotta zombies
Game System Requirements:
OS:

10.9/10.8/10.7/10.6

CPU:

1.0 GHz (INTEL ONLY)

RAM:

512 MB

Hard Drive:

81 MB
Game Manager System Requirements:
Browser:

Safari 4.0 or later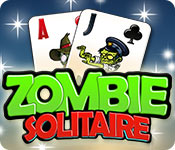 NEW299
The Big Fish Guarantee:
Quality tested and virus free.
No ads, no adware, no spyware.

Reviews at a Glance

Zombie Solitaire
0
out of
5 (
0
Reviews
Review
)
Customer Reviews
I Love This Game!
I have a few solitaire games to break up the monotony of one HOPA game after the other (HOPAs are my favs). This game is one of the best in the genre. I love the silly, but cute story line; the repetitious, but strangely compelling music; the zany, but adorable graphics; and the easy, yet rewarding game play. Not being a 'pro' at solitaire, the game was not so easy that I didn't have to strategize a few times, ie. where to spend my coins and which pile to blow up first. I even lost a time or two. It was all in good fun. Getting out of a zombie-infested city and onto a safe island has never been such a hoot. Btw, at the end, a cartoon girl is 'topless', but she's behind a large grill lid and you can't see anything. You wouldn't even know she was bare if she wasn't holding up a little black object that looks vaguely like a swim top. Nothing to offend or excite, unless you have the most sensitive of sensibilities. I wouldn't have even noticed, except another reviewer made a big deal out of it. All in all, this is a keeper and one that I will play again. Thanks, Big Fish!
October 28, 2013
Fun and Different Solitare
Lots of fun, and surprisingly challenging.
October 10, 2013
Luv this game
This is fun. Simple, good graphics, good music and sound. The game is easy in the early play and gets more challenging in later levels. You buy power ups. One trick to make money - go back to earlier level (1 - 3) and play them to make easy money for the later levels. No timed levels, fun mini games. Just enjoyable.
October 14, 2013
funny
funny game - kill the zombi :-) music is very bad and dont fit into the game
October 3, 2013
Wonderful
I thought this might be a cool game that I would place once. Boy was I wrong. I keep playing this game over and over, even after finishing it.
August 25, 2014
Cute Zombies?!
What will they think of next?? Played demo...in shopping for solitaire today, this is one of the better ones. Lots of great power ups to earn or can buy according to levels accomplished. I thought the blood splats for a lost game were humorous. Even had a map, but I don't think it was needed. Really enjoyed my hour and will purchase when good sale comes along. Love solitaire games with extra added attractions, as sometimes card games quickly becoming boring.
August 12, 2014
Love it
I do enjoy this type of solitaire. it has some fun mini-games that start each new area. I like this game. It is fun, challenging, clear graphics. the one thing I do not like is the bouncing balls, too much noise. I would have liked to have seen different types of solitaire within this game. But all in all I would recommend this game for the times when you don't want to play a serious game
January 13, 2014
A Zombie Mission Of Fun!
I love the graphics. music & of course, the Zombies. Neat items to buy at the 'store' to help you throughout your Zombie Card Attack Missions. Good Zombie weapons are a strategy must for this game! This is truly a funny & delightful solitaire game! A must have for your solitaire collection!
January 1, 2014
I knew Tofu was evil stuff!
I don't usually have tons of fun with solitaire games since they all seem to be the same 'ol same 'ol, but this game was a riot (I wish we could give 1/2 stars...this would be 4.5# A man is eating a tofu sandwich when he is turned into a zombie. Serves him right. You go home and find the map your dad left for you for just these occasions #this becomes your game map# and make your way around the city to get to the harbor, jump a ship and get out of there. Maybe I've played Plants vs. Zombies way, way too much #like, a LOT) but these graphics kind of remind me of that game. There is a good sense of humor throughout and creative graphics showing tangled vines around locked cards, "infected raven" cards who look well, infected. Everything is zombie. ~ Game Options are: ~ Adjust music ~ Adjust Sound ~ Window can be set at 16:6 or 4:3 or windowed ~ Can be set to system cursor, game cursor or touch pad ~ Bounce coins, or don't You win gold coins as you remove cards, and you can set those to bounce around on the bottom of the screen like ping pong balls. It is incredibly distracting when they do, but then again it makes it harder to concentrate which might be a good thing.) Music is actually good with a magnificent, rousing and robust classical piece when you clear all cards in a game, creepy-corny zombie music or music with a slightly hip 50s flavor. I actually left the music on which is rare. There looks to be about 95 different game set ups/screens. If you clear the game you earn 3 stars. Using the map you can go back to or jump around to any game you want. Each game will tell you how many Zombies you have to "kill" to win the hand, so every one doesn't require that you clear the board. Power ups are earned along the way and include things like extra coins, extra cards to use on the side if you get in a jam, cards that explode, tombstone cards that can be used if there are no matching cards, Zombie Slap cards that remove any card of your choice. You get the idea. Graphics are large and clear. I really liked this game! Lots going on and funny to play. Good for when your brain needs a break - just be sure to hold on to it :)
October 2, 2013
Zombies for the Season ... Fun, Relaxing Solitaire Game
I like to play Solitaire when I just want to relax both the body and mind. This game lets you do just that. Some Solitaire games can certainly be more challenging, but this one, while not very challenging is just fun to play. It's the usual play where you add cards to the pile that are either one higher or lower. You get power-up cards and gold to purchase additional power-ups. Throughout the game, you have the usual challenge of having to find cards to unlock piles that have vines around them or other obstacles preventing you from playing until you clear the obstacles. The graphics/visuals are great! The sound quality is also good but can become annoying. Like most Solitaire games, there is only one level to play. Not much of a storyline, but with Solitaire "who cares?" -- Smile Expert players may find the game too be to easy, but as I said, I love most Solitaire games and for me, this one is great for filling in time (that I should be using to get some work done). -- Smile
October 2, 2013
The Apple logo is a trademark of Apple Computer, Inc.
The Windows logo is a trademark of Microsoft, Inc.