Zombie Solitaire
Play your cards right and you just might escape the apocalypse in Zombie Solitaire! It's been two weeks since an infected tofu burger transformed some poor soul from a gentle vegetarian into a brain-devouring zombie. One thing led to another and now the slobbering undead have taken over the city. There's only thing to do, run for your life! Before you can get your sweet behind to salvation on a zombie free island, you'll need to puzzle your way through exciting rounds of solitaire and fun mini-games. But watch out! The hungry zombie horde is hot on your heels!
Over 100 solitaire levels
Nine zombie-rific adventure settings
Ten useful power-up cards
A whole lotta zombies
Game System Requirements:
OS:

Windows XP/Windows Vista/Windows 7/Windows 8

CPU:

1.0 GHz

RAM:

512 MB

DirectX:

9.0

Hard Drive:

83 MB
Game Manager System Requirements:
Browser:

Internet Explorer 7 or later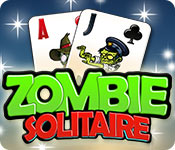 NEW299
The Big Fish Guarantee:
Quality tested and virus free.
No ads, no adware, no spyware.

Reviews at a Glance

Zombie Solitaire
0
out of
5 (
0
Reviews
Review
)
Customer Reviews
I knew Tofu was evil stuff!
I don't usually have tons of fun with solitaire games since they all seem to be the same 'ol same 'ol, but this game was a riot (I wish we could give 1/2 stars...this would be 4.5# A man is eating a tofu sandwich when he is turned into a zombie. Serves him right. You go home and find the map your dad left for you for just these occasions #this becomes your game map# and make your way around the city to get to the harbor, jump a ship and get out of there. Maybe I've played Plants vs. Zombies way, way too much #like, a LOT) but these graphics kind of remind me of that game. There is a good sense of humor throughout and creative graphics showing tangled vines around locked cards, "infected raven" cards who look well, infected. Everything is zombie. ~ Game Options are: ~ Adjust music ~ Adjust Sound ~ Window can be set at 16:6 or 4:3 or windowed ~ Can be set to system cursor, game cursor or touch pad ~ Bounce coins, or don't You win gold coins as you remove cards, and you can set those to bounce around on the bottom of the screen like ping pong balls. It is incredibly distracting when they do, but then again it makes it harder to concentrate which might be a good thing.) Music is actually good with a magnificent, rousing and robust classical piece when you clear all cards in a game, creepy-corny zombie music or music with a slightly hip 50s flavor. I actually left the music on which is rare. There looks to be about 95 different game set ups/screens. If you clear the game you earn 3 stars. Using the map you can go back to or jump around to any game you want. Each game will tell you how many Zombies you have to "kill" to win the hand, so every one doesn't require that you clear the board. Power ups are earned along the way and include things like extra coins, extra cards to use on the side if you get in a jam, cards that explode, tombstone cards that can be used if there are no matching cards, Zombie Slap cards that remove any card of your choice. You get the idea. Graphics are large and clear. I really liked this game! Lots going on and funny to play. Good for when your brain needs a break - just be sure to hold on to it :)
October 2, 2013
Zombies for the Season ... Fun, Relaxing Solitaire Game
I like to play Solitaire when I just want to relax both the body and mind. This game lets you do just that. Some Solitaire games can certainly be more challenging, but this one, while not very challenging is just fun to play. It's the usual play where you add cards to the pile that are either one higher or lower. You get power-up cards and gold to purchase additional power-ups. Throughout the game, you have the usual challenge of having to find cards to unlock piles that have vines around them or other obstacles preventing you from playing until you clear the obstacles. The graphics/visuals are great! The sound quality is also good but can become annoying. Like most Solitaire games, there is only one level to play. Not much of a storyline, but with Solitaire "who cares?" -- Smile Expert players may find the game too be to easy, but as I said, I love most Solitaire games and for me, this one is great for filling in time (that I should be using to get some work done). -- Smile
October 2, 2013
Enjoyable Halloween Solitaire
I enjoyed playing the game and I even like the bouncing balls that drive some people crazy. I like special effects and sounds in my games - very satisfying to be rewarded when you do well. It is your typical solitaire game - nothing new. If you can afford the power-ups, it's nearly impossible to lose. Some levels without them are almost undoable. My only complaint is the screen transitions. Every level goes flying by every time you start a new game or go to the store. And the map that you keep being directed to is entirely unnecessary. Both of these features become increasingly annoying the longer you play. And wait until you want to go back and get a higher score on a previous level - every time it loads, it zips to the last level so you have to arrow yourself back to the beginning. If you like this type of game, and the above stuff doesn't drive you crazy, I think it may be a keeper. I bought it with a credit.
October 3, 2013
Good Solitaire game
The reason why I gave this a four star is because even though it's more then OK I really didn't love it either. I loved the music good for Halloween and as for the visual, they did an excellent job. Rooms looked realistic. This game has put me in the Halloween spirit. But, the solitaire is straight forward and it's not really challenging. As for the storyline, I't OK. I'm not a fan of zombies'. Since this is the beginning of October and Halloween is coming up, I'll wait to purchase this. Even though I like this game, I'm going to wait to see if there is something better. If not, then I'll purchase this.
October 2, 2013
A spooky solitaire for Halloween! (OR THE ZOMBIE APOCALYPSE)
Who knew tofu would turn you into a zombie??? The developers of this game obviously did! They took the idea of the zombie apocalypse and used their braaaaaiiiiiinnnns to merge it with solitaire. And it's a ton of fun! On the positive side, the game looks great and the storyline is funny and immersive. At the beginning of each level set (ingeniously tied to your escape plan map) you have to solve a quick little adventure puzzle and this alone kept me playing, wanting to see what the next adventure would be. On the negative side, the levels play through pretty quickly and after 60 minutes, I had played through 30 of what looked like probably 100ish total levels. I'm hoping they get more challenging as the game goes along, but with the powerful extra cards you can buy, you can make quick work of most of the game. But overall, a must for any zombie fan! Tofu, anyone???
October 8, 2013
Great fun
My review is based on the demo. I really enjoy this type of solitaire - the one-up-or-down type, with Fairway Solitaire being my absolute favorite. This compares well with that classic game. Instead of being on a golf course, however, you are fleeing for your life from zombies. At the beginning of each chapter, you have to find play a little, easy mini-game, and then you play several levels of the card game to move on. There are power-up cards that you earn as well as extra cards that you uncover. You can also purchase these cards with the gold coins you earn throughout the level. I certainly had fun playing the game, and will probably buy it. However, I do have two nits to pick. First, there is no 'back' button so that if you miss a play, you can't go back and fix it. Secondly, when you reach the last card in the deck, if it doesn't have a play, the level ends not giving you a chance to use one or more of your extra cards to complete the round. For this reason I had to take away one star. But, as I said, all-in-all a fun game.
October 3, 2013
Different Solitaire
I played through the demo and I'm going to buy this one. I'm a big fan of solitaire and thought this would be too simplistic, but it does have a challenging edge to it. Once you figure out how to play to win, you can try to play every room to get three stars and it'll be more challenging. I don't care for the graphics, which could be much better, and the gameplay often is a little slow. But there's no timer, which I like, and you can challenge yourself each room to get all the stars without any penalties. Powerups are achieved by buying them with gold you win, but there's plenty enough to at least buy a couple.
October 3, 2013
Fun Game
I like this game. It is fun, challenging, clear graphics. I would have liked to have seen different types of solitaire within this game. I do not like the bouncing balls. Too much noise. But all in all I would recommend this game for the times when you don't want to play a serious game or just want to decompress from a hard day at work.
October 3, 2013
Health Scare - Avoid eating Tofu Burgers!
I bought this game with a free credit. It's certainly not worth buying otherwise. However, I did enjoy playing the one hundred and three levels. The basic story line is a guy eats a contaminated Tofu Burger and turns into a brain-eating Zombie and the disease spreads. You and a few others have to excape to Saved Island. At the start of each main level: home, town, factory etc, there is a ludicrously easy mini puzzle. That is you have to go down into the sewers, and surprise! surprise in order to do that you lift up a manhole cover. Then its the one up one down cards. that is a Queen can have a King or a Jack on it. The only obvious drawback is there is no undo button. So proceed carefully. If you kill all the zombies required you will receive three stars, and if there are more zombies left over than the target three bloody splats are your reward. I didn't know until late into the game that the gold you receive at the end of each level to buy extra-special cards ie ones to turn cards up so that you can defeat the zombie ravens and the weeds can be sold back to the shop. I might have done that when the level doesn't have weeds or ravens. I found the most useful card to buy was "New Deck". I certainly didn't try out all the different card choices in my first full game. There are numbered tombstones as well to help you win. It was fun to play over the Halloween holiday and that's really all I can say about it.
November 2, 2013
Zombies
The game was fun but it is rather hard to get started. I had problems understanding how to actually start playing the game. It is a game one plays at their own pace.
October 2, 2013
The Apple logo is a trademark of Apple Computer, Inc.