Zombie Solitaire
Play your cards right and you just might escape the apocalypse in Zombie Solitaire! It's been two weeks since an infected tofu burger transformed some poor soul from a gentle vegetarian into a brain-devouring zombie. One thing led to another and now the slobbering undead have taken over the city. There's only thing to do, run for your life! Before you can get your sweet behind to salvation on a zombie free island, you'll need to puzzle your way through exciting rounds of solitaire and fun mini-games. But watch out! The hungry zombie horde is hot on your heels!
Over 100 solitaire levels
Nine zombie-rific adventure settings
Ten useful power-up cards
A whole lotta zombies
Game System Requirements:
OS:

Windows XP/Windows Vista/Windows 7/Windows 8

CPU:

1.0 GHz

RAM:

512 MB

DirectX:

9.0

Hard Drive:

83 MB
Game Manager System Requirements:
Browser:

Internet Explorer 7 or later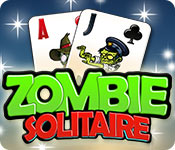 NEW299
The Big Fish Guarantee:
Quality tested and virus free.
No ads, no adware, no spyware.

Reviews at a Glance

Zombie Solitaire
0
out of
5 (
0
Reviews
Review
)
Customer Reviews
EXCELLENT ZOMBIE SOLITAIRE! BWAINS!!
Who doesn't love zombies? Who doesn't love solitaire? Best of both worlds here! There are new and exciting twists to this game. The goal is to pick a card on the solitaire board that is higher or lower than your shown deck card. If there is no playable card then you choose another deck card until hopefully the board gets cleared before you run out of deck cards. There are some cards that are blocked by vines or evil ravens until you uncover a machete card for example. Other bonus cards are available like a zombie slap which allows you to discard any card. You also collect cards 2-9 which can be used in order to progress with a larger combo. If you kill enough zombies and the deck is getting low a "run away" button is available but who knows you may still win, Gold is collected with each card you play or clear and the gold is used to buy more bonus cards.The game has a good zombie sense of humor and really is one of the better solitaire games out there, enjoy!
October 2, 2013
really just plain fun
after all the blood and guts hog games... this was really cute.. love my solitaire games...but thought the grandkids would love it more..WRONG.. nana loves it..just has a cute way of just enjoying a game.. ok ..coins falling and binging every place.. was a little much ..but love this just for the fact..it makes me smile and giggle.. smiles from NY
October 2, 2013
A Zombie Apocalypse you WANT to see!
This review is based on the demo. STORY: Zombie Solitaire makes light of a serious subject: What will we do when the world turns to zombies from eating tofu burgers? Culinary tastes aside, the answers arrive in the form of a map that guides you from home to a safe house. 5 stars! GAMEPLAY: The only negative thing I can say is that there is only the standard (one up, one down) style of solitaire. You hardly miss alternate versions, though. The game is packed full of fun special cards that allow you to nudge the cards a little in your favor while taking out zombies that block your way. Gold stars are the currency here, and gameplay gives a generous pocketful. Use them to buy special cards to help you out of sticky situations. 5 stars! VISUAL/SOUND: "Zombie" music plays throughout the game. Music and sound effects are great, adding to the fun. The artwork is clear and each card has a zombie on it, enhancing the experience that you are truly getting rid of zombies along the way. 5 stars! CHALLENGE: As mentioned earlier, there is only one style of solitaire. Alternate games would have been nice, but with all the fun it's not a big issue for me. The challenge factor will vary with your experience playing this type of solitaire. 4 stars! OVERALL: This one's a keeper! After playing the 1 hour demo, I intend to buy the game. Thanks, Big Fish, for offering a light, fun alternative to the dark HOG's you've been featuring recently.
October 2, 2013
Zombies and Solitaire Yawweee!!!!!
Great fun if you love the higher-lower Solitaire. Got your Fairway feel with the Zombie twist. The Story line is a plus. A fun Game and a must have for Zombie and Solitaire Lovers. Beware it is Highly Addictive. Enjoy this and maybe the Gov. Shutdown will go away. Right. LOL. Love ya, Mary.
October 2, 2013
Very entertaining
I do enjoy the one up, one down type of solitaire. Nothing new with the card play, at least during the demo. There are cards that need to be unblocked, you get bonus cards in the deck, can buy other bonuses in a shop, etc, but there was enough quirkiness to the game that kept me highly entertained. Something a bit different to other card games are the fun mini-games that start each new area. I liked the cartoony look, the zombie sound effects and creepy music. Cards are clear to see and a good size. A definite purchase for me.
October 3, 2013
MOOD SETTING GAME!
I really enjoyed this game. It got me excited for the upcoming Halloween season. A true solitaire fan will greatly appreciate this game. I loved the "extras" you could purchase with the levels passed. I certainly needed them from time to time. I enjoyed the storyline, as small as it was. It was cohesive. In between each "venue" of play, there was a very mini interactive scene to progress you to the next level. Not difficult at all. It was a load of fun & I would definitely recommend it.
October 4, 2013
Great Solitaire Fun!
I really enjoyed this game. It's relaxing, funny, and in my opinion different from other solitaire games. For one there isn't an undo option so you really have to be sure before you select. The "wild" cards are different than I've seen before too. Though tombstones are the same as like wedges from fairway solitaire. I just really enjoyed sitting back and playing this one. A fun game and a definite buy from me.
October 8, 2013
Good Solitaire game
This is your typical solitaire game...the zombie graphics and the bonuses make it a fun game. I enjoyed it. Just a relaxing fun game, no running around just relaxing solitaire. I'd recommend this game to others.
October 5, 2013
Love this game!
I usually will purchase all the card games because I get tired of looking for things in all the hidden object games. I enjoy all the card games but this one is really a hoot! I reviewed a sample version of this a while back and couldn't wait for it to be released. I am pleasantly surprised at how many levels it has. Love the entire zombie aspect of it ---- I am a big, big, big fan of Zombieland and loved that check list - just like in the movie! - We could have used a Tallahassee character. Made it more fun.
October 4, 2013
So much fun
I loved this game even though I have only played the demo so far. I intend to buy it and continue. Just fun, silly and a real stress release game. There should be more like this. Even though its a solitaire game there are differences that keep you interested.
October 8, 2013
The Apple logo is a trademark of Apple Computer, Inc.